For years, the Loaded Tesseract has been one of the best all-around longboard decks in the game, and it's easy to see why. It's been under the feet of the best riders, and has been on a plethora of race, dance and freeride podiums. This deck has seen it all and has the accolades to prove it.
Loaded were kind enough to send me a Truncated Tesseract to review and I've been riding it for a few months now. I've got a solid grasp about what makes this deck stand out – and also on what holds it back. I'm eager to share the details.
Check out my review of this deck below and find out if this deck might be the one for you.
Specs:
Length – 33in
Width – 9.5in
Wheelbase – 24.5-26 in
Concave – Wheel flares, w concave, rocker
Wedging Angle – 3.5*
Lightweight – 4lbs/1.8kg
Loaded Truncated Tesseract Review
Expectations:
Going into this, I had one or two at the forefront of my mind.
I had previously skated decks with similar concave to the Tesseract and I hadn't really enjoyed my experience with them. So I wasn't sure if I was going to end up liking this deck.
This would be the first 'drop' deck I would get to skate extensively, so I was looking forward to seeing how this feature would affect its performance.
First impressions:
The first thing that stood out to me were the concave features. The features made the deck feel intuitive and natural. I instantly knew where my feet were on the deck. I didn't have to look down to make sure my feet were in the right position for slides, or worry that they might be in an otherwise sketchy position.
Another thing that struck me was how stable the deck felt. As much as I had read about drop decks and how stable they are, it never truly clicked until I stood on top of this one. Additionally, I felt that the Loaded Tesseract's small drop wouldn't amount to much practically, but after skating it for a while I was surprised to find that it did.
After skating it for a bit more, I found that the board twitched less from pebbles and waves in the pavement and that it hooked up a smidge smoother in the slides – in comparison to my top mount board.
And whilst it didn't make the biggest outright difference, it made me feel more comfortable and confident about skating really fast.
Check out the Truncated Tesseract here on the loaded website and get more information on the rest of its features.
I'm doing a series of posts covering the gear Loaded & Paris sent me. You can check out the other reviews here:
The concave features are useful
As mentioned earlier, the concave features are intuitive and are really useful. They acted as reference points and helped me know where my feet were.
The wheel flares let me know where my feet were in reference to the trucks, and the W let me know how close or far my feet were to the centerline of the board.
The wheel flares were also nice to push against when doing slides, railing corners and when I was tucking. The W kept me locked into the board when I was doing both stand-up, and hands down toeside slides.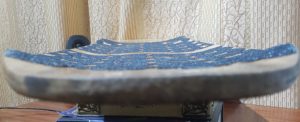 However, the W in the front made it harder for me to comfortably transition between heelside to toeside slides. This was mainly because I had to shift my feet to slide either way and the W got in the way of doing this.
I felt that if I moved my feet too quickly, the board would feel twitchy and unstable – something I didn't experience on my board with flatter concave. As I'm sure you can understand, this didn't inspire confidence when I was doing slides at high speeds.
So because of this, I would take longer to set up for either slide – getting my foot in that 'sweet spot' sliding positions wasn't as easy or as natural feeling as before.
But that said, this wasn't that big of a deal when I was casually riding. But when I decided I really wanted to send it, it was kind of annoying. I couldn't really maximize my speed down the hill and cut the time between setting up, sliding and being in tuck as I usually could.
The above said you won't experience this issue if you don't change your foot position when setting up for either slide.
The rocker adds a smidge of stability and …
The rocker (drop) lowers you down, putting you slightly lower than the nose, tail and mounting points of the deck. This brings your center of gravity (c of g) closer to the ground, making your skateboard feel like it has a smidge more of stability.
Lowering your c of g in relation to the trucks also means that you exert less of a direct force on the trucks and that they exert less of a direct force on you. This results in a few things:
You feel like your setup feels more stable when going fast. This is because any twitch or wobble you would usually feel is 'blurred/smoothed' out by the drop. This directly translates to a feeling of stability and thusly confidence at speed.
The case is the same when sliding. Harsher hookups feel smoother and your setup will feel more forgiving when transitioning from gripping to sliding.
You feel more stable and less tippy when sliding. High-siding less likely to occur because you are pushing against your trucks, rather than sitting on top of them.

If I had to say any negative about the drop it would be that it may reduce the amount of weight placed directly over the wheels. If you're racing, this might be an issue, but if we are being honest it is probably entirely negligible and makes little to no difference. However, it may make toesides feel awkward, especially if you learnt them on a true topmount.
The construction is high-quality and lightweight
The deck only weighs 4lbs (1.8kg) and is rather lightweight. This is thanks entirely to its construction.
The deck is made from a combination of bamboo, fiberglass, and a bottom layer of cork to dampen vibrations.
In a practical sense, the difference in weight can be felt when kicking out and pulling slides back in. You don't have to fight the board as much for control and this makes a big difference when are you using it to do stand-up slides.
Also, it is a lot easier to carry around. This is kind of useful when walking back up hills and stuff, and keeps your arms feeling fresh for longer. But that said, it shouldn't be a determining factor as to why you pick this as your downhill skateboard.
Finally, the high-quality construction means this deck is durable and damage resistant. It is built to last.
The wedging doesn't affect stability
Initially, I was worried that the added 3.5* of wedging on the deck would make my trucks feel too turny and unstable for higher speeds. But I found that it didn't affect stability at all.
In fact, all I got was extra-turn, with little to no loss of stability. It was surprising.
I reckon that the drop canceled out the instability you tend to get with higher-angled trucks, but take that with a pinch of salt. I am not 100% certain of the science behind that claim.
**I skate my longboard trucks split so this might be a bit different if you skate your trucks symmetrically. But in general, I think you will be ok.
It's pretty good for freeriding
As I said earlier, the loaded tesseract has a really smooth slide initiation, is stable in the slides, and hooks up smoothly when coming out of slides. In a practical sense, this translates to good performance when freeriding.
Thanks to this deck, I found myself doing hands down slides and stand up slides at speeds I used to be wary of.
I felt I could poke out slides at higher speeds and not worry about high-siding on the hook-up. I also felt I did not have to push out as much or use as much force to get my skateboard to go from gripping to sliding.
What's not so good about the Truncated Tesseract?
It is quite expensive
At $200, this deck is certainly on the pricer side of things.
Understandably, this is already out of pocket for a lot of people and eliminates the deck as an option for them. Why pay $200 for a deck when there are a host of other cheaper options?
I would argue that the deck is well worth the investment. The concave features and design make it suitable for all types of riding (downhill, freeride) and it's the type of board you will be able to use for everything without really having to switch or replace your gear.
Finally, given the high-quality construction, I believe this deck will last a long time.
So when you purchase it, you are making an investment, based on its durability and how long it will last you.
In summary, the all-round and durable nature of this board makes it worth it. You would be making an investment into something that will last and have a consistent level of performance for a long time to come. It should be high on your list of downhill boards you want to buy.
The concave isn't good if you have flat feet
The concave is well placed and is generally very functional. However, at times it can feel like it gets in the way, especially at the front of the deck.
I see no need for W concave in the front, the wheel flares already give you something to push against on your toesides and are made even more redundant when you use a footstop (which most people will do).
This issue is not so bad when you are using the stock grip, but it is amplified when you use sharper, stickier grip like Seismic Lokton or simply use grip soles.
However, I think this issue is a consequence of my personal preference, riding style and the shape of my feet.  This is because I have large feet with low arches. Steep concave and W in the front feels uncomfortable underfoot.
In fact, I thought my case might be isolated so I reached out to some other longboarders with low arches and asked them how they felt. I made a post in the #WhatGearShouldIBuy longboard group.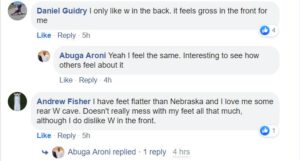 Some people have commented on how comfortable the W is in general, but most highlighted that they didn't like W at the front of the deck, especially those with flatter feet.
Though towards the end of the discussion, the general consensus was that W at the front simply sucked for everyone and would feel uncomfortable after riding for a long time.
If you have flat feet, you should take these opinions into account before buying this deck.
Though that said, the W in the front will be really useful for someone who doesn't use a footstop and/or will have smaller feet with higher arches.
The grip doesn't last too long
All Truncated Tesseracts come with Mob grip as stock. The grip is fairly decent but doesn't last too long, especially if you use a grip sole.
You can expect to replace it within a 6 to more weeks worth of riding.
Fortunately, Loaded has some pre-cut out griptape available that you can use to replace your worn grip. However, you can purchase any coarse grip and replace the tape on your own.
What is this deck good for and who should get it?
In general, it is good for freeriding and downhill. 

I would hesitate to recommend it for dancing or freestyle, but Loaded offers the Basalt and Original Tesseract which are great shapes for those styles of riding.
If you're an advanced beginner looking for a deck to help push your limits and your riding skills, this is the one for you.
If you're an advanced rider looking for a deck that can do it all, this needs to be at the top of your considerations. (You can also get the Cantelleted Tesseract for a true quiver killer).
However, if you are a complete beginner I would recommend you steer away from this deck. In general, it is a good downhill focused deck, but it might be a bit much if you are just starting out.
Your turn! What do you think?
For me, this has been a really hard review to write. There is a lot I like about the Truncated Tesseract, and whilst there is a little I don't like about it, However, I do feel strongly about those little things and they hold a big sway on my opinion.
Personally, I think this type of board simply isn't for me and my riding style, but I do still think it is fairly good. You will still see me use it in videos in the foreseeable future.
Finally, you must remember, just because those little things affect me, doesn't mean they will affect you and your experience with the board. The Loaded Tesseract is still a great all-around board and will work well for majority of riders. You can't really go wrong with it as a choice.