Slide gloves are arguably the least important part of your longboard gear. But that said, a good pair can go a long way.
The guys over at Loaded recently sent me a pair of their Leather Racer gloves to review, and I've been using them for a while now.
Loaded have been in the game for more than a minute and have been trying to perfect different aspects of the gear we use. Their slide gloves are no different and they've been through several iterations to get to the design they have now.
Read on below to find out how my experience with them went and if they may be the right gloves for you.
Specs:
Goatskin leather
Carbon knuckle and finger armor
Breathable leather mesh up top
Coolmax® wicking fabric (internal)
UHMW palm and thump pucks
High-density finger pucks
Sizes – S/M and L/XL
Loaded leather race gloves review
First impressions
When I first got these gloves, I was surprised by how stiff they felt. I knew that since they were leather they would need a period of time to break in and get flexible. But even with that thought in mind, the gloves were uncomfortably stiff. I couldn't even flex my fingers properly to keep them from touching the ground.
To fix this problem, I had to use an old puck as a puck riser (with velcro stuck on one side). Doing this raised my fingers further from the ground and basically fixed the issue.
***Granted these gloves came with finger pucks – which when used made this a non-issue. But I personally preferred to ride without them.
I was also worried about how breathable and hot these gloves would be. Living in a hot climate (Nairobi, Kenya), I needed something that wicked away the heat, and kept my hands cool throughout the day.
These gloves did an excellent job of that. I was able to skate them in fairly hot weather (29*C weather) without my hands getting too sweaty or feeling too hot. Given they are made completely of leather, I was fairly impressed by this.
If you are looking to buy these gloves, you can get them at the Loaded website here.
I'm doing a series of posts covering the gear Loaded & Paris sent me. You can check out the other reviews here:
The slide pucks are decent
Whilst the glove itself is pretty great, the slide pucks are lacking in durability.
The pucks themselves performed fairly well. They slid well over a chunder and smooth pavement without catching at all. They gave a really buttery slide that wasn't too glidy and didn't suddenly pull you back.
But whilst they did perform pretty well, the pucks didn't last that long and wore down kind of fast.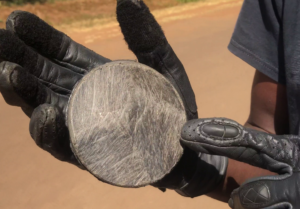 They advertise the pucks to be made out of Ultra High Molecular Weight (UHMW) plastic, but I don't think that's true. I think the pucks are either made from Delrin or a different type of plastic. Perhaps they are made from UHMW, but their version of it isn't that great.
UHMW is supposed to be long lasting and I felt these wore down too fast.
So if I was skating big hills really intensively, I think they would only last me a few weeks and would have to be replaced soon.
***I didn't really use the finger pucks so can't make a comment on them. But I believe they will work well with the palm puck and slide even better, given you will have more points of contact with the ground.
Flexibility improves with time but could be better
As I mentioned above, the gloves come feeling stiff when they are fresh out of the box. This is natural with leather and it will soften with time.
So when new,  it can feel awkward and frustrating to use them. But after a couple of sessions, the flexibility improves and they feel more natural on your hands. You just have to give them time.
But that said, I don't think these gloves will ever become flexible enough that I won't need to use them with a puck riser. Maybe my fingers aren't strong enough, but I need a puck riser to stop myself from touching the ground when I slide.
However, I should also consider that these gloves were made specifically with the finger pucks use in mind. Maybe the guys at Loaded knew that the stiffness would be an issue and thats why they included the finger pucks?
I doubt it, but I can't fault them as they provide a solution (albeit one I don't want to use) with the pucks.
Their breathability is pretty good
I used to have Kevlar and Canvas gloves that did not have perforation holes. In the winter time, these felt really nice and would keep my hands warm and toasty in 0*C weather.
However, as soon as it got a bit warmer, they quickly become uncomfortable. The hot air built up in the gloves and stayed there as it really had nowhere else to go.
As you can imagine, my hands got really sweaty and would feel uncomfortable all the time. Not ideal if you are constantly hiking up hills or are being beaten down by the sun during a session.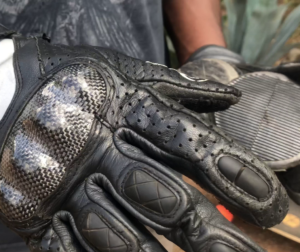 I was really cautious about how the Loaded Race Gloves would deal with the heat given that they are leather. Leather is notorious for having poor breathability and these gloves had plenty of it. Fortunately, they had loads of perforation holes, so I was hoping those contributed to the breathability effectively.
However, I was pleasantly surprised to learn that these gloves wicked away heat really well. I mean, my hands did get kind of sweaty, but I could wear the gloves the whole day in hot weather and not really feel uncomfortable.
This for me was super important. Given I skate pretty often, I needed something that would be comfortable and not cause me any issues. These gloves fit the mold perfectly and kept my hands cool. Happy with that.
The protection is ace
Even if they aren't advertised as such, these gloves offer good protection for your knuckles and hands.
The leather doesn't tear as easy and can withstand abrasion better than other fabrics. If you fall and don't happen to go on your slide gloves immediately, you can count on these gloves to stay together until you come to a stop.
The armored knuckles protect your fingers and their bendy bits. Joints happen to be areas where abrasion is more likely to occur. It's nice to see that Loaded recognize this and have buffed these spots so they can protect you from potential injuries.
They look a lot better in person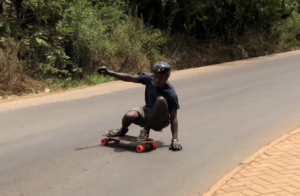 A big worry for me was how these gloves looked. The design didn't look that great in the pictures, so I was worried about looking like a kook wearing them.
However, after seeing some photos and videos of myself with them on, I was sold.
They looked sleek, pretty badass, and kinda cool. Plus they came in black and pretty much matched any clothes I had on.
Built to last
Given they are made from leather, I believe that these gloves will last me a long time. Leather is typically a really durable material, so I don't expect these to rip unexpectedly. I also expect them to handle the wear and tear of use fairly well.
Another thing to note is the high-quality stitching. There are no exposed threads that can be torn and most seams are hidden by a layer of leather.
I have a lot of confidence that these will last. Possibly a year or two if I take care of them properly.
Who do I recommend them for?
These gloves are pretty much great for everyone looking to do some slides. Whether you are a beginner, intermediate, pro, a tech slider, or a freerider. These gloves can find a place in your heart (or hands).
The fingerpucks make them especially desirable for beginners. I also recommend them to kids who have bigger hands.
You can get yourself a pair at the Loaded website here.
Note – You probably will need a puck riser with these gloves just to keep your fingers from touching the ground. It is an added cost if you buy them, but they are fairly easy to make yourself.
**If you use the fingerpucks, you don't need to worry about this.
Are these gloves the one for you?
If you don't think these gloves are right for you, check out my guide on slide gloves and pucks to see some alternative options.
These gloves are high-quality from start to finish. They are a good option if you are looking for something that is built to last. Yes, they are on the pricey side of things, but if you can afford the upfront cost you will enjoy the long-term benefits of owning these gloves.
However, if they are a bit out of budget for you, check out the Bern Slide Gloves here on Amazon.com. Whilst not as good as the Loaded gloves, these are a suitable solution for beginners.
So it's a big yes from me. I know what pair of gloves I'm going to be buying if Loaded still have these in stock two years down the line.