Bearings are the sort of item that don't make that much of an impact on how your setup rides. However, a good set can make the difference. A good set will make life around skating that much easier and make it a little bit more enjoyable.
Todays guide will cover the Loaded Jehu bearings. These built-in bearings are some of the best you can buy on the market, but the question is, are they worth the money? Find out more below.
Specs:
Rubber shields
Made from chromium steel
Built-in spacer and washer
Comes in pink
Cost – $23
https://youtu.be/F9wVL9MbK7E 
I'm doing a series of posts covering the gear Loaded & Paris sent me. You can check out the other reviews here:
Loaded Jehu Bearings Review
Great roll speed out of the box
The first thing that impressed me about the Jehu was their roll speed. Right out the box, they were fast.
I think this is mainly because they used a thinner lubricant that meant you didn't have to take time to break them in.
However, it also meant that there was to be a shorter interval before their first maintenance was due – maybe a month or two. This is because the thinner lubricant wouldn't stay as long in the bearing as a thicker one would.
They produce a smooth and quiet roll
The bearings had a very smooth roll and made little to no noise. This was really nice and I actually managed to sneak past people in my skateboard, which was a first for me! It was a nice change from the rattly bearings I had previously been skating, and it made me feel less subconscious about riding my board in quiet, public spaces.
Built-in with rubber shields means easy maintenance
Being built-in, you don't have to handle a lot of moving parts when it comes to your bearings and wheels. This makes it a lot easier when you are swapping wheels and taking your bearings out to clean them.
You only have to handle two bearings versus the 2 washers, 1 bearing spacer and 2 bearings you would otherwise have to handle.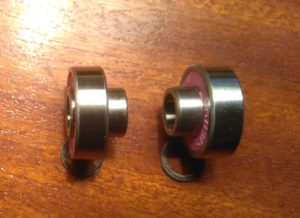 VERSUS

The bearings also come with removable rubber shields. These are really great because they let you access the inside of the bearing for thorough cleaning so you can get your bearings to perform like new. I personally like these because I can really clean out all the gunk that has built up inside
The retainers are high-quality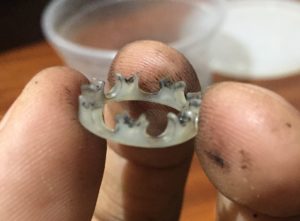 You can actually take out the retainers, put them back and have the bearings perform just like new. Comparatively, some bearings come with really weak retainers that bend out of shape once you take them out.
For example with my Sabre bearings, I took out the retainers to thoroughly clean the bearing races and balls themselves. However, once I put back the retainer, I found that it got in the way of the balls spinning. The bearings didn't freeroll as well as I did.
The bearings were pretty great before I touched them, but didn't perform as well after.
The Jehu has really great retainers that don't deform after maintenance.
The rubber shields aren't the best
The rubber shields work well. They keep lubricant in and keep the dirt out. However, I did encounter an issue once I had been using them for a while.
The bearing closest to the hanger would have its rubber shield slightly bent in. This is a result of the hanger pressing and rubbing against the shield as the wheel rotated. The rubber shields would then press in against the bearings and cause them to slow down just a smidge.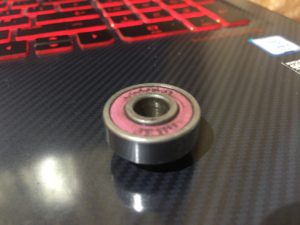 The bending of the rubber shields also meant that dirt could enter into the bearing with ease. This meant that the bearings would gunk up quicker and I would have to maintain them more often.
However, this issue can easily be fixed by placing a washer on the hanger to stop the hanger touching the shield.
But the above said and done, I think this is a problem you encounter with most built-in bearings anyway. Others have complained about their bearing sets behaving in a similar. However, this is my first pair of built-in bearings, so I can't really confirm that this is an issue across the board. Given it is a really simple to solve the issue, I don't think it's necessary to give it too much thought.
If built-in bearings aren't your thing and you want something a bit more traditional, check out the Bones bearings w/ spacers and washers here on Amazon.com.
What do you think?
If you're looking for more information on bearings and a buying guide to boot, check out my article on all you need to know about skate bearings.
I think the Jehus are high-quality bearings that can find a home on each and every setup. If you are looking to get yourself a set, you can buy them here on the Loaded website.