Buying a longboard can be a bit tricky, especially when there are hundreds of knock-off brands out there. You don't know who to trust – who's selling you a quality longboard or is just out to make a quick buck. Fortunately, this week's article is a simple guide to which North-American longboard brands are the best.
Put simply, if you get a longboard from any of the mentioned on my list, you won't regret it.
We'll be focusing on longboard decks in this piece, and will be targeting wheels, trucks and other skate accessories in succeeding articles.
We just started up our Patreon account! For less than the price of a cup of coffee once a month, you can support us. Click here to take a good look at all the tier options you can subscribe to.
The Best North-American Longboard Brands
Landyachtz Longboards Review
Landyachtz are a skateboard brand based out of Vancouver, Canada. They started as a group of guys who simply weren't satisfied with the products that were on the market – they needed gear that was more durable, rigid and that could stand up the abuse they put it through without breaking within a few sessions.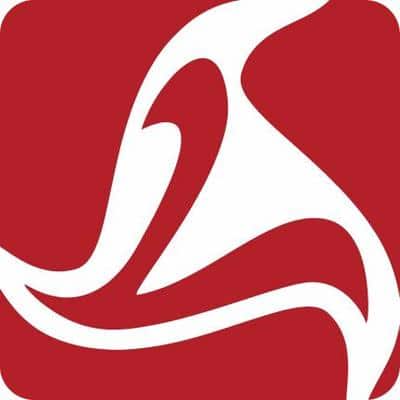 So what did they do? They started their brand and 22 years later, they've proven the worth of their products over and over.
If buying anything from Landyachtz.com, use the code – "AroniSkate&Explore15" for 5% off.

Unsurprisingly, because Landyachtz are behind what is arguably the most popular cruiser board on the market – the Landyachtz Dinghy (click here to check it out on Amazon.com). They also have great policies when it comes to the materials they source for their skateboards and how they choose to impact the environment. An all-around great brand that cares about the community and how their products affect various people and lifestyles.
Their skate and explore series is an absolute gem and something anyone that likes skating should watch – if I had to point to a piece of media that got me hooked on longboarding, it would be that series.
Landyachtz is the parent company of the brands Hawgs wheels and Bear trucks –  so you know, any gear from those brands is gonna be quality too.
I think it's worth supporting brands like Landyachtz. They make high-quality skateboards, support the community and continue to push the progressions of gear – even with however little money, there is in the market right now.
My favorite beginner longboard from Landyachtz – Tugboat Review:
As popular as the Dinghy is, it would not be my go-to pick if I was buying a new longboard. This is because it is quite small, which does not translate to much comfort when you skate it – though it does make it a good option for kids and people with smaller feet.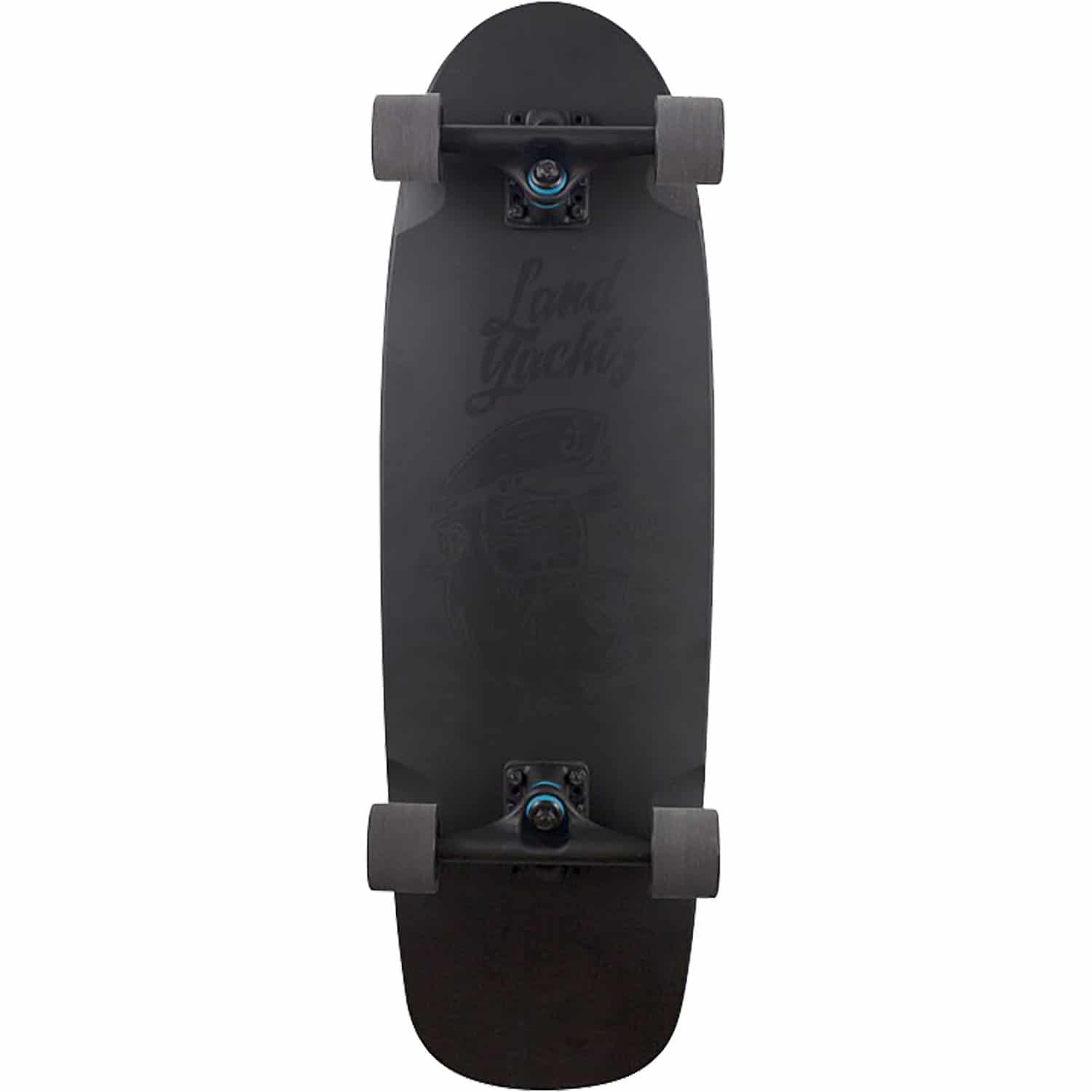 My pick is the Landyachtz Tugboat. At 30inches in length and 9inches in width, this board is a whole inch wider than the Dinghy and 2inches longer in length. This simply means it is a bit more comfortable to stand on without sacrificing the portability and maneuverability of a tiny cruiser board.
And just like the Dinghy, this board can fit in your locker at school, under your desk at work, or comfortably under your arm whether you're in a train, bus or standing in line to buy tacos.
Finally, I think this complete is fairly beginner-friendly. With the slightly wider trucks and longer wheelbase, it feels a bit more stable and makes skating it feel a little less hectic. If I had to choose a board to cruise with every day, this would be the one. Find out more about it here on Amazon.com.
(the above said, I recently got sponsored by Landyachtz and have been skating the Drop Cat 33 A LOT. Easily one of the best cruiser boards I've tried stock and have been absolutely loving mine. You can read my review of it here.
Check out my "best of the best" article series:
Loaded Boards Review
I think these guys need no introduction. Loaded have been around since the 2000s and have been serving it up from day one. Through their high-quality gear, world-class marketing and an extensive array of media catering to beginners, these guys don't pull their punches and are a force to be reckoned with.

The gear these guys build is high-quality, full stop. This is directly attributed to the design process. At every step of the process, a product is heavily scrutinized before moving on and no effort is spared – the best materials are used. It changes hands from the in-house design team to the ambassadors (who are often some of the best at what they do in the world).
This ensures whatever product they are putting out is perfect. The flip side of this is that things can be a bit pricey for consumers, but hey, you want the best too right? A good example of the longboards they make is the Loaded Dervish Sama, check it out here on Amazon.com.
If you're looking for a longboard for dancing, check out the Loaded Bhangra here on Amazon too.
Similar to Landyachtz above, these guys are the parent company of Orangatang wheels. And in a trickle-down effect, Orangtang Wheels make high-quality gear worth buying too. 
Loaded are indispensable to the longboarding community, so if you see something you like, make sure you get it.
If it means anything to you, these homies (Kyle Chin in particular), sent me a complete longboard with some additional accessories to review – you can check out the first article in the review series here – Orangatang Kegel Longboard Wheel Review. I've said it before, but thanks again to Loaded for looking out for me, I more than appreciate it.
My favorite beginner longboard from Loaded – Loaded Poke Review:
If I had to suggest a board for a beginner to buy from Loaded, it would be the Loaded Poke. Before we talk about the board itself, it's important to note that it comes complete with high-quality parts. Featuring 50*, 150mm trucks from Paris Truck co. (another great American brand) and high-quality 70mm Stimulus wheels from Orangtang wheels. The accessories alone make this longboard worth it.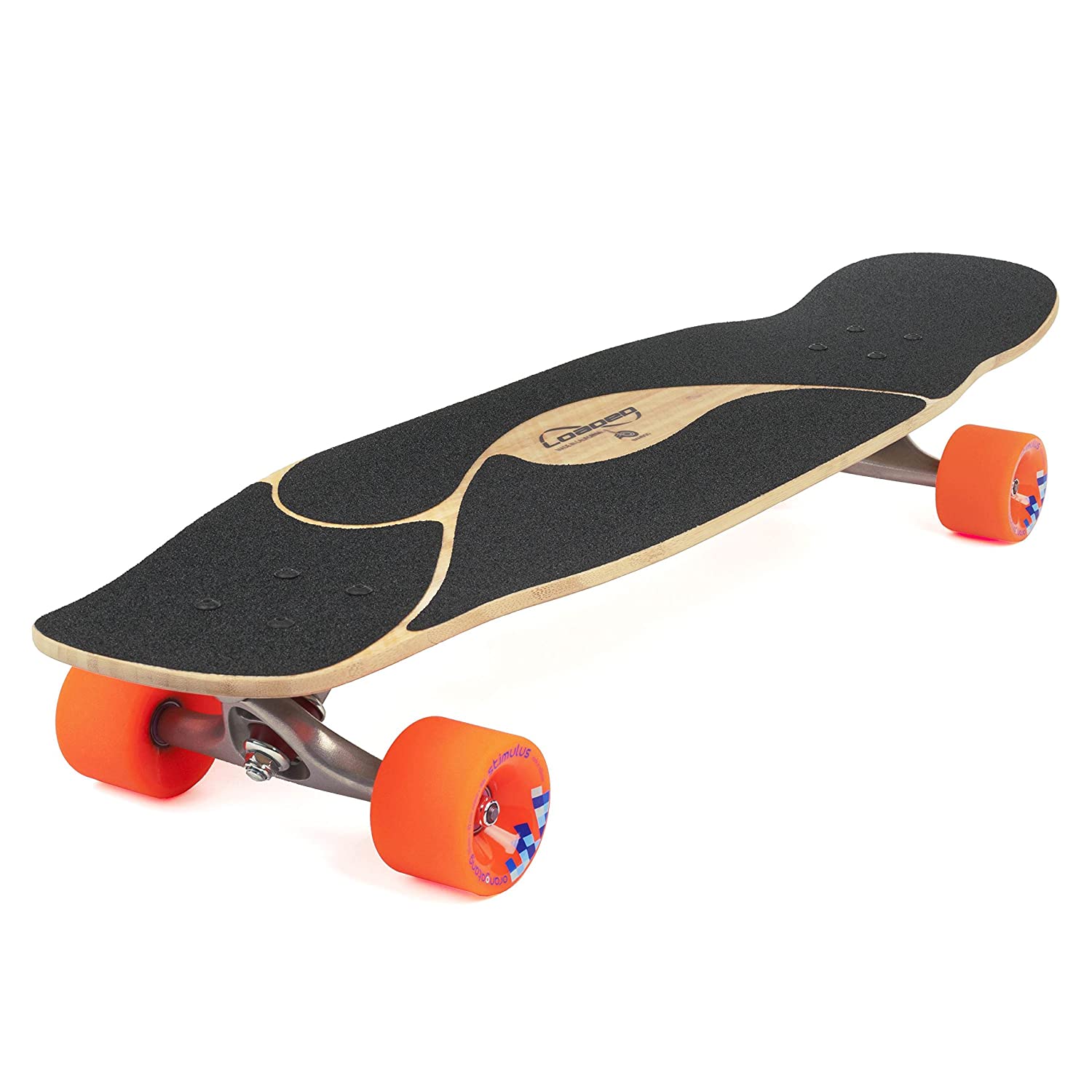 The deck itself is pretty impressive, coming in at 34inches in length and 9.125inches in width, this board will provide a comfortable ride, whilst remaining fairly maneuverable thanks to its 50* trucks and short length.
Finally, for a bit of added comfort, the board features a tiny bit of flex and a rockered profile. The flex aids in absorbing road vibrations whilst the rocker cradles your feet and provides a comfortable feel.
Check out the Loaded Poke here on Amazon.com.
Kebbek Skateboards Review
Not as well known as the brands above, Kebbek Longboards is a company that deserves more attention than it has been getting. Based in Montreal, Canada, these guys have been around for over 27years – and any company that lasts that long is certainly doing something right.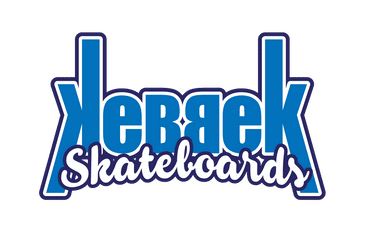 These guys get it, as much as Loaded makes high-quality gear, these guys make gear that is both high-quality AND affordable. Most skaters don't need a skateboard made with exotic materials, they understand that something made from Maple that sticks together and feels good is more than enough to make most skaters happy.
Affordability + reliability, what more could you want from your skateboard? But that said, they do have a handful of models made with fiberglass and bamboo –  so your interests are catered for if that's what you're looking for.
Kebbek does a ton in terms of supporting the industry. From supporting the greatest downhill female skater of all time – Emily Pross, to sponsoring events both big and small around the industry. I have seen the Kebbek banner on more events than any other brand over the last few years.
Check out Emily in the video above, killing it on one of the gnarliest tracks on the East coast. Also, take a look at Emily's pro-model skateboard here on the official Kebbek website – it is a more downhill oriented longboard and will be a good pick if you're looking to start downhill.
My favorite beginner longboard from Kebbek:
If you're looking to get an affordable beginner downhill skateboard, I would say Kebbek is the right brand to go along with. My go-to pick would be the Juergen Gritzner pro model.
The board comes in at 9.75inches in width and 38inches in length, with wheelbase options between 23.8 and 27inches. It comes complete with reverse kingpin trucks and 73mm wheels – I think the trucks are the weakest component on this setup and should be replaced if possible.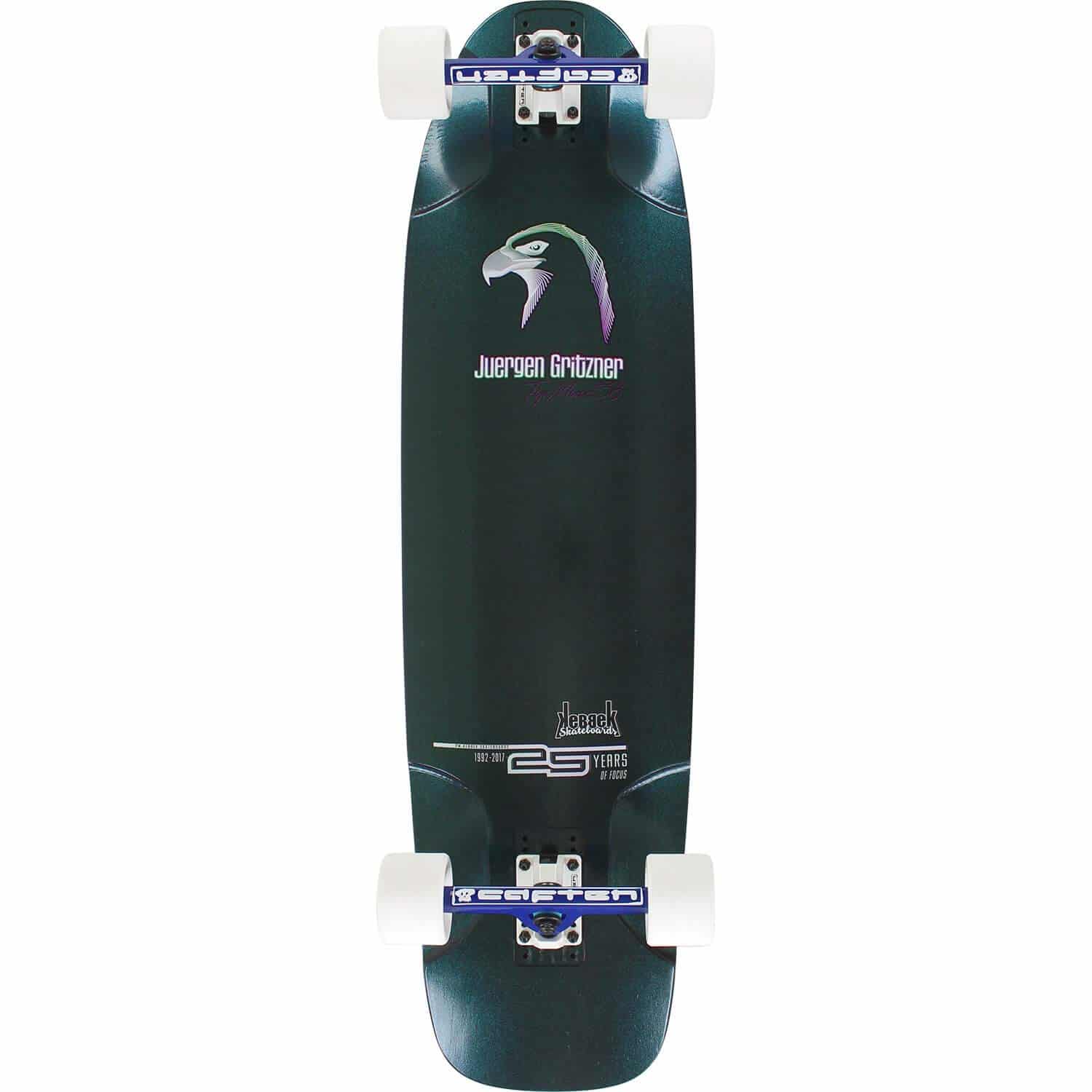 The deck was designed with all-around skating in mind so it has a few features to accommodate that. It has a kicktail so you can ollie over curbs and do a few nifty tricks with it, and it has mellow concave and subtle features allowing it to feel comfortable when you're simply using it to push around town.
Being able to use it comfortably outside of a downhill skating environment is an underrated advantage. I've had downhill decks I HATED to skate outside of hill bomb sessions cause they felt uncomfortable for anything else – I highly rate the Juergen because of that. Check out the Juergen Gritzner pro model here on Amazon.com.
Sector 9 Review
A brand that almost everyone has come across. Sector 9 is synonymous with cruising, carving, surfing, pool skating, and beach vibes. If you think longboard, you will probably picture a Sector 9.

Consistent with a lot of the stories in this article, Sector 9 came together through a couple of friends simply hanging out and making skateboards together. Fast forward to 26 years later and they are one of the biggest and most reliable brands in the industry.
Surfing, skateboarding, longboarding, Sector 9 does it all and has something for everyone. Whether you're looking for a mini-cruiser or something you can carve with down to the beach, you can for sure find something in the Sector 9 line-up
Sector 9 is the parent company of the Gullwing (and if I'm not wrong, RAD wheels too). Gullwing makes some great products too and is worth checking out for longboard trucks.
Sector 9, like a lot of the brands on this list, do a ton to support the industry. They support events here and there and ship their riders out to events now and again. If I'm not wrong, the full (American) Sector 9 team was out in force at the Devils Peak event in Colorado – which given the state of the industry, is quite something. If I had to put my money behind a brand, it would be one that supported deserving riders (whilst making gear I would like to ride of course).
Looking for the best cruiserboards on the market? Check out my guide review some of the best here.
My favorite beginner longboard from Sector 9 –  Sector 9 Pinnacle Review:
If you're looking to carve down a hill in style, Sector 9 is the right choice. With their background in surfing, they certainly have an idea of how to make a longboard feel right.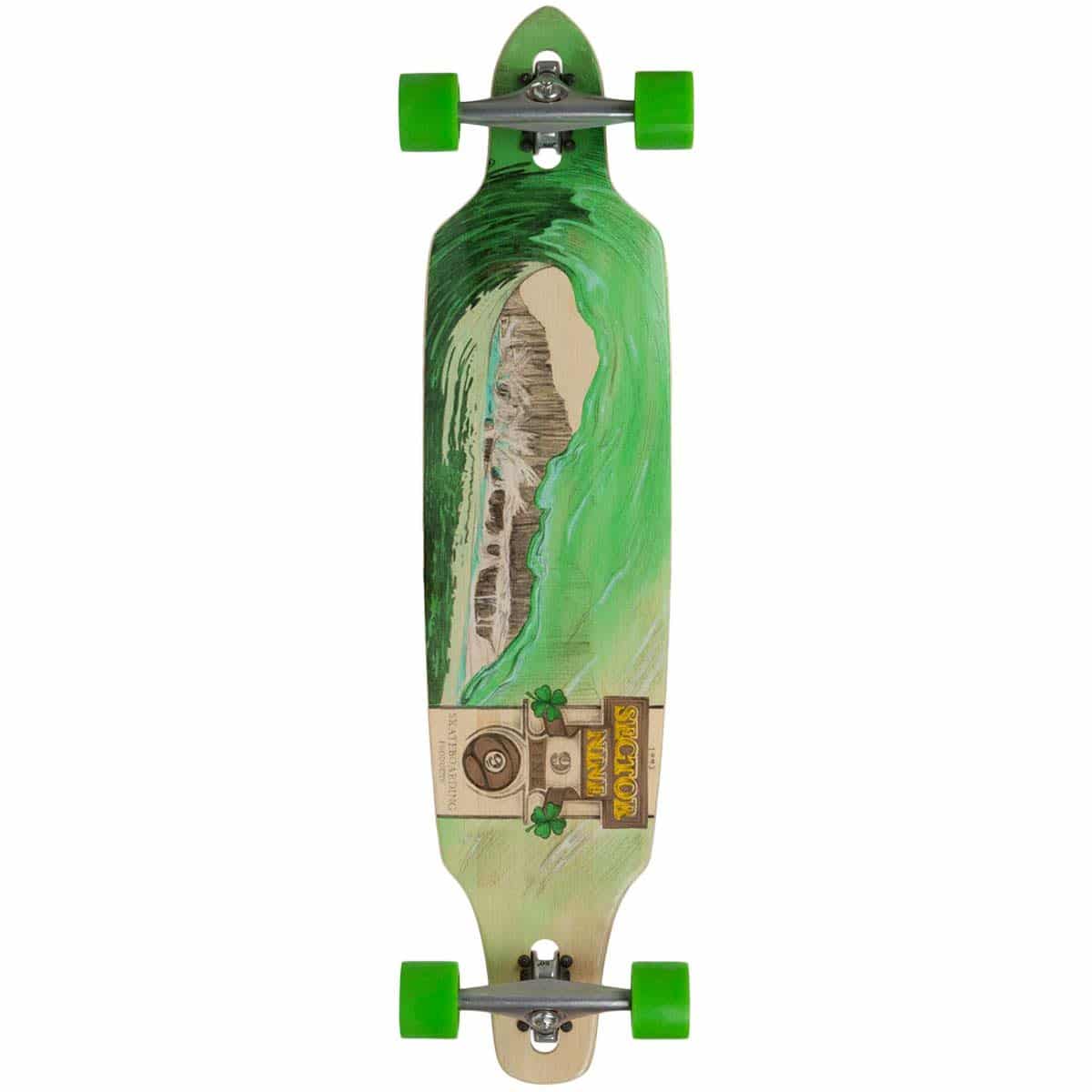 My go-to pick is the Sector 9 Pinnacle. This board comes in at 42inches in length, and 9.6inches in width. A bit hefty, but perfect if you're looking for a smooth and stable ride.
What makes it stand out is that it is a drop-down deck. This means the trucks are mounted on top of the deck and come out through it. Allowing the deck to feel a bit more stable and making it easy for beginners to quickly adjust to riding it.
The complete comes with large 74mm, 78a wheels. To keep it short, these wheels will allow the skateboard to roll over cracks, pebbles and other road imperfections with ease. All whilst providing a smooth ride.
Find out more about the Sector 9 Pinnacle here on Amazon.com.
Pantheon Longboards Review
Kind of a baby in comparison to the brands above, Pantheon is no slouch. Over the last few years, they've been putting out all sorts of boards and challenging the way we believe wood can bend. Born in 2009, this company is now based in Colorado and has boards under the feet of some of the best riders in the business.
In comparison to the other brands above, Pantheon is more intimate with the products they create. They don't create products for the sake of creating them but focus on putting together boards that they believe are the best and that will stand the test of time. Working on various prototypes with their riders, using all sorts of materials until they get what they think is perfect, Pantheon is unrelenting and impressive in this regard.
This perfectionism is admirable, but also means a product that costs more for the consumers. And whilst this may set you back quite a bit, it is worth the cost if you want a product that is perfect and that will allow you to take your skating to the next level. If anything, Pantheon customers are some of the most satisfied and happy buyers in the longboarding community – I say that with full confidence.
A bit different from the other brands on the list, Pantheon doesn't necessarily cater to all riders. Their line-up isn't as extensive and they mainly feature a handful of high-end downhill and long-distance specific skateboards. Check out their full-line up here on their website.
As great as their skateboards are, I would hesitate to recommend them to beginners due to how 'genre-specific' they are and their high cost. Beginners are more suited to general cruiser-type boards unless they know exactly what they want.
My favorite beginner longboard from Pantheon:
My go-to pick from Pantheon would be the Pantheon Trip Double Drop longboard. Coming in at 33inches in length and 9.25 inches in width, this deck has been designed and optimized for long-distance pushing and commuting.
The deck sits super low to the ground thanks to the 'double-drop' feature. This does two things – the first is that it allows the skateboard to be super stable. Being so low to the ground you're not so topsy turvy and it feels a bit more comfortable to skate – something that will be nice for most beginners. Secondly, it makes it easier to push as you don't have to reach too far to get down to the ground.
The deck features a bit of flex. This allows it to provide a comfortable ride. The flex acts as suspension, absorbing and soaking up any road vibrations. Nice if you expect to skate over a variety of terrain.
Find the Pantheon Trip here on their website.
Comet Skateboards brand Review
Comet Skateboards have been around since 1997. They're one of the OG US longboard manufacturers and they've built themselves up to become one of the most respected brands in the market. They have recently changed "leadership", but their ethos largely remains the same – to create high-quality, eco-friendly longboards and to foster the community.

They have by far the best about page of any brand I've ever seen. Absolutely worth checking out. Find it here.
With the leadership change, Comet now focuses on creating "perfect" completes, designed around an experience, and being perfectly rideable out the box … but what does this actually mean?
Completes from other companies are usually just bolted together. Yes, they'd be rideable, but most riders would need to make one or two customizations to get them feeling perfect – changing a bushings, adding risers, maybe switching trucks, wheels, bearings etc. …
Comet uses all the resources available to them to make a complete "perfect". This means changing every component as they see fit, and using after-market parts where necessary. Nothing is held back …
And admittedly, this does seem abit ambitious .. pretentious even. Perfect is subjective after all … However, Comet seems to have figured something out. In a hobbie where people customise every aspect of their board, the Comet cruiser is being called "the best" by a significant amount of people. And this an interesting phenomenon to say the least.
My favorite beginner longboard from Comet – Comet Cruiser review
So this is the "perfect cruiser" I've been talking about above. Lets get into what makes it good.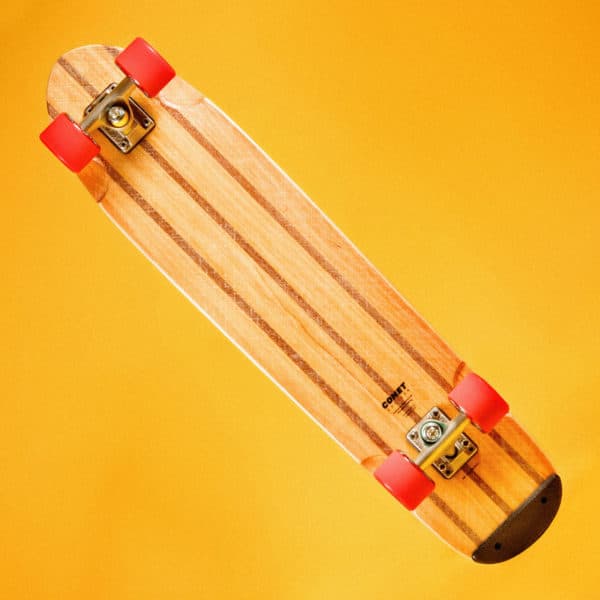 The Comet Cruiser comes in at 34inches in length, 7.875 inches in width. It has a shoulder width wheelbase of 20inches and it has a kicktail and small nose. The components it comes with are 108mm Paris TKP trucks, aftermarket SHR Venom bushings, Powell Perlta Snakes for wheels, Zealous bearings, soft wedges, a plastic tail guard and Jessup grip.
The deck is flexible and lowers you to the ground, allowing for a comfortable ride where it's easy to push and footbrake. The narrow trucks and wheels allow for a quick turning, nimble ride. However, the longer wheelbase and being low to the ground allow for a stable ride. The wedges and aftermarket bushings also aid in stability.
Finally, the wheels roll fast and are easy to slide. You don't have to slide them, but it's a good thing to try if you want to reduce your speed without footbraking.
The only really negative things about this deck might the narrow width and the price. The width is subjective, but some riders may find it a bit narrow. Finally the price is set at $250 (on sale for $225 09/22/2020). It is a bit expensive, but you'd pay the same for a complete from Loaded or any other high-quality brand. But with this you get more for your money …
If you're interested in learning more about it, check it out here at the comet website. Use the code "downhill254" at checkout for a 5% discount.
Rayne Longboards Review
Another great Canadian brand? What is in the water up there? Rayne Longboards have been around since 2004, specializing in bamboo & fiberglass longboards.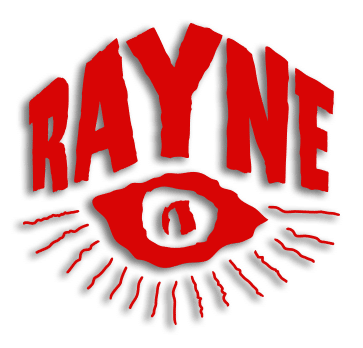 To produce what they believe are the best longboards, Rayne works closely with their talented list of team riders, working hard to build both functional and aesthetically pleasing skateboards. And the quality shines through – their boards have been and continue to be the choice product for some of the best skaters in the business.
And it's easy to see why. If you look through Raynes product line-up, every single product is eye-catching and unique it's own way. Rayne works hard to make these longboards attractive as they are and we thank them for that.
If you're looking for a great longboard to start dancing on, the Rayne whip dancer is a good option. Check it out here on Amazon.com.
Though as always, with anything unique that uses 'exotic materials', there comes a price. Similar to Loaded above, Rayne's longboards tend to be on the pricier end of the spectrum. But for a product that is lightweight, waterproof, durable and functionally ergonomic, the price is arguably worth it.
My favorite beginner longboard from Rayne – Rayne Minotaur review
As much as the Whip above makes a great dance longboard, it's just too long to make it a nice cruiser too. My go-to pick from Rayne would be the Minotaur 34inches.
A bit longer and wider than your basic skateboard, the Minotaur makes an excellent alternative to the Landyachtz Dinghy. At 34inches in length and 8.9inches in width. The Rayne Minotaur will be comfortable to skate and cruise around on, whilst still having the maneuverability and nimbleness you'd like from a small cruiser.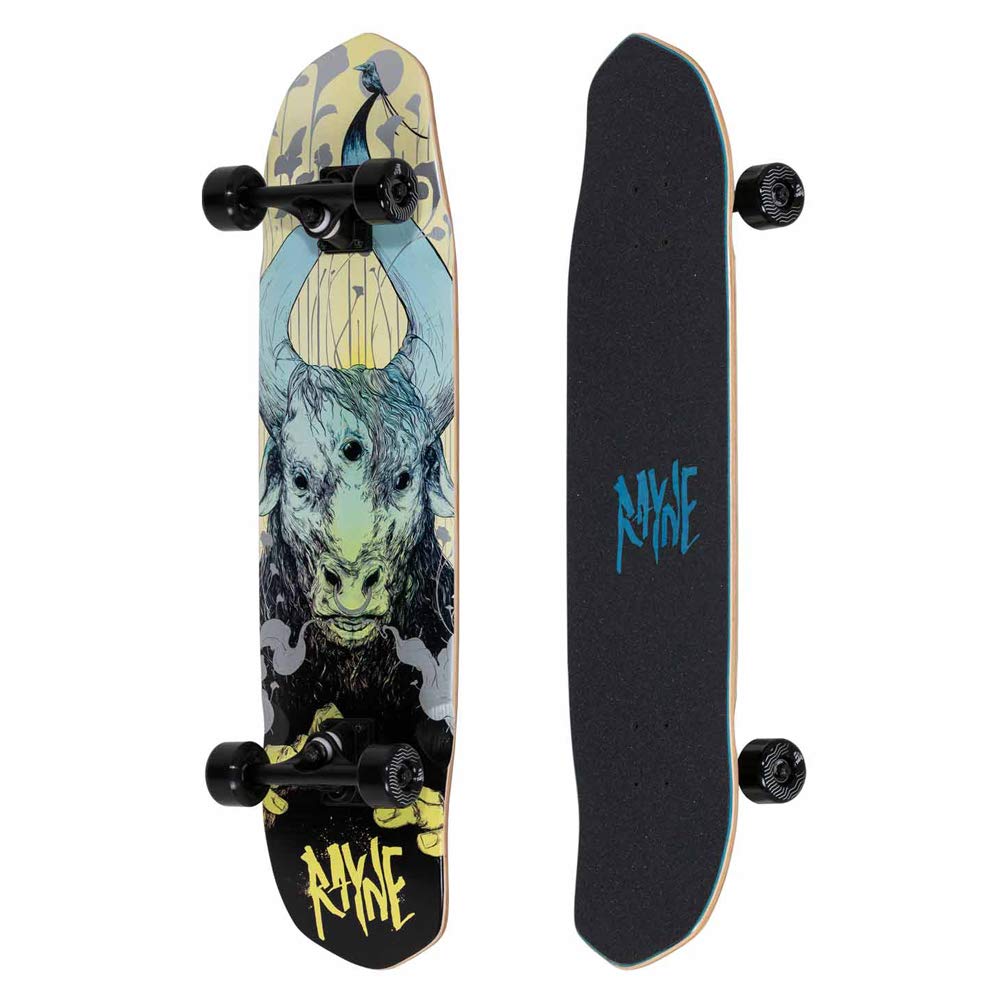 Where it does fail is the wheels. At 60mm in height, these wheels won't be able to handle cracks and pebbles with ease. If you're not careful, you could find yourself getting caught in a crack and flying forward. The choice of wheels is understandable, as this complete is designed to be used in skate parks too.
If you live somewhere with smoother roads and sidewalks, then I highly recommend this board to you. Check out the Rayne Minotaur here on Amazon.com.
Check out my in-depth guide to the best mini cruiser longboards here.
Arbor Collective (Arbor skateboards) Review
Having started in 1995, these guys have been about sustainability since day one. And that ethos is consistent with their themes and action today.

Though they started as a Snowboard manufacturer, these guys quickly became skaters too. This started placing longboard trucks on old snowboards and bombing hills when there was no snow. This quickly snowballed (see what I did there????) into their skate line today.
Out of all the brands on here, Arbor is the most consistent with their theme. These guys set out to make boards that are both minimalistic and aesthetically pleasing. A glance at their line-up confirms that this true. This is as much of a 'lifestyle brand' as you'll find in the longboard industry.
Check out the Arbor Oso foundation cruiser in the video below. Out of all the boards on this list, this is my favorite aethetically.
Arbor makes everything. From snowboards to cruisers, to downhill-specific longboards. There's a little something for everyone and they pride themselves in that.
Fortunately, because they stick to traditional materials like maple and bamboo, their skateboards and products tend to be rather affordable. Whilst you'll still have to dig deep and pay a premium on some of their products, you can be satisfied knowing you are getting something from a high-quality brand.
My favorite beginner longboard from Arbor – Arbor Pilsner Review
This board has (almost) everything I believe makes a small cruiser board great:
A 8.25inch width. A skateboard this wide has a ton of room! This simply makes it easy to balance on and very comfortable to stand on. Super ideal if you're cruising from one class to another, or down to the store to get a beer.
A length that is a maximum of 29.75inches. For most people, this length of the board allows them to comfortably stand on a board without feeling likes it's too small or too long.
A wheelbase between 15inches. I find that cruisers within this wheelbase tend to have the perfect balance between maneuverability and stability. They don't feel too twitchy but are still nimble enough that you can dodge crowds and cracks as you skate along.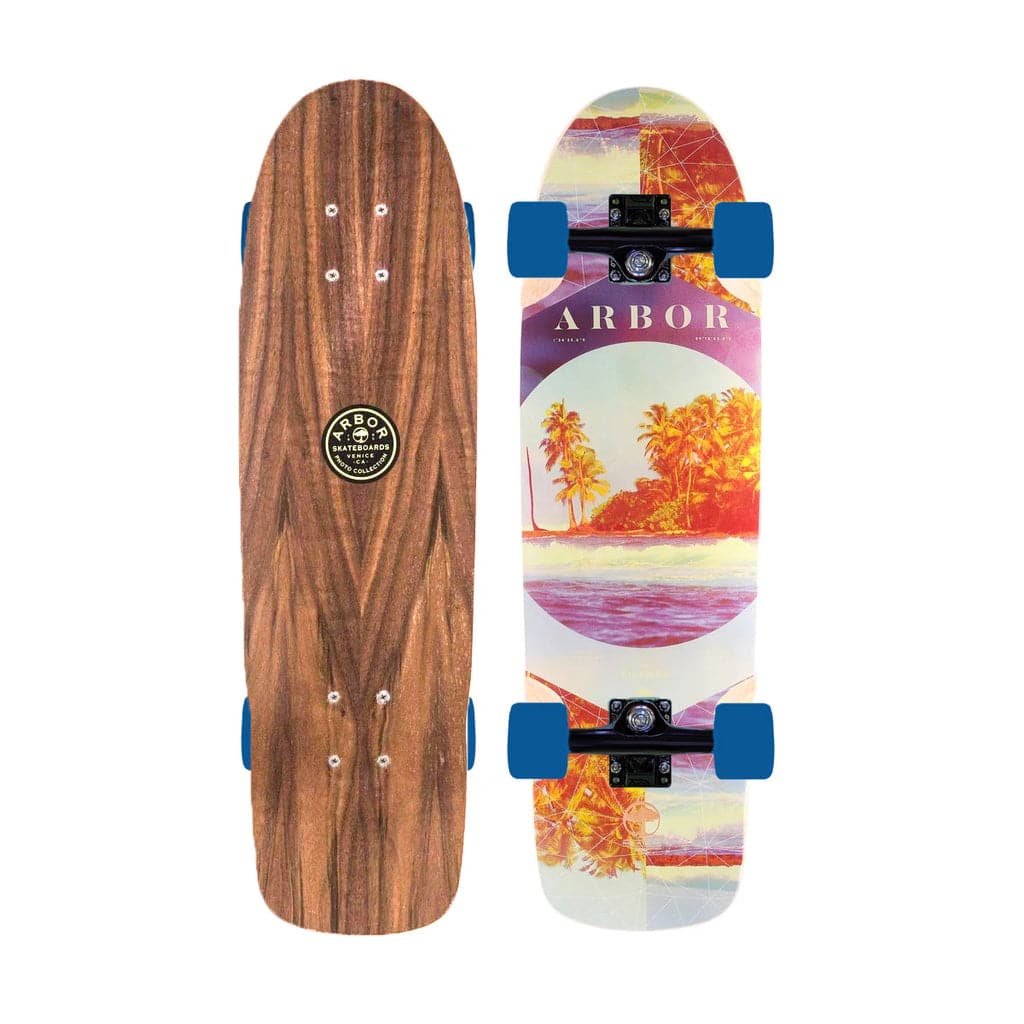 All this complete is missing is 150mm reverse kingpin Paris trucks, and 70mm wheels. It would then be perfect in my eyes, but I am a bit odd and ride some odd things hah …
That said, this board will function beautifully and feel great to skate. The small 60mm Fireball wheels won't feel great on really rough roads but will work well on smoother sidewalks and handle a bit of roughness with ease. The Paris TKPs will be nimble and will feel good at those slower cruising speeds. They'll also feel quite stable and won't twitch much as you pick up speed.
Check out the Pilsner here at the Stoked ride shop. **( that's an affiliate link, I make a small commission at no extra cost to you. You'll just see the "downhill254" code at the checkout 🙂
It's a pretty good board and I know any rider would be stoked to have it on their feet.
Fireball Supply Co.
Fireball Supply Co. is a brand run by the Stoked Ride Shop guys. They make high-quality accessories for skating and have a few pretty rad cruisers in their line up. They also collab with brands like Arbor and have limited edition products too. They have loads cruisers collabs with Arbor, pairing their decks with Paris trucks and fireball products.

You can tell that these guys truly care about their products and aren't after a quick buck. They take time to design and manufacture their products, to ensure they are high-quality. And it shows in how they perform. For example, the Dragon bearings are by far some of the best I have used.
Though I'm a fan of built-in bearings, the Dragon bearings have really impressed me. They work really well with the Dragon spacers and let you crank down the axle nut without fear of damaging the bearings. Right now I have the Race bearings but will be trying the Endure in the future.
Finally, their cruisers are fairly affordable, especially when you look at the competition and what they offer. For the same components, other brands would price their products at around $150 or more. Fireball sells theirs for less, pricing their products at around $100, easily the most affordable cruisers in the game. And they don't have any knock off products, only high-quality parts like Paris trucks, mob grip, Dragon bearings, and a 7ply deck. It's surprising how they can afford to do this.
My favorite cruiser from Fireball – Fireball Mini Cruiser Limited Edition
Fireball recently sent me this cruiser to test out and ride. Honestly, I've been in love with it and have really enjoyed riding it. They built this thing right and I hope other people catch on about it. Also, it looks amazing. The graphic is easily one of the best I've seen on a skateboard. If you're looking for a small cruiser, but don't want anything as tiny as the Landyachtz Dinghy, this is the one to go for.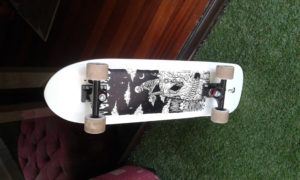 The complete itself is high-quality but remains affordable. It comes with Fireball Tinder wheels, Dragon bearings, Paris trucks, Mob grip, and Fireball hardware. Any other company selling this would retail it at $150+. Fireball sells this for just a hair over $100. You get a lot of quality in this affordable cruiser.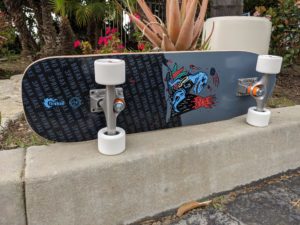 It comes in at 29.5 inches in length and 8.5inches in width. It's wide and long enough to be comfortable for most cruising missions. However, the wheel flares can feel uncomfortable to stand on. That said, you can simply adjust your feet to not stand on them.
You can also pick it up here directly from the Stoked Ride Shop Website.
**(that's an affiliate link, meaning I make a small commission at no cost to you. Helps me keep the website and stuff, running :). You'll just see the code "downhill254" at the checkout.
Prism skate co. Review
"We believe that skateboards should be designed by skateboarders, not accountants."
Prism skate co., is a brand that is owned and managed by skaters. They started out because they felt that what they wanted out of their skate gear wasn't reflected in the market. And similar to how the other companies on here started, they decided to go out and do it themselves.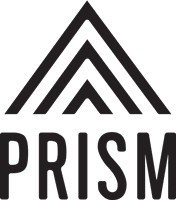 But as the majority of the brands on this list have a similar story, what makes Prism different? For one I believe it's their style and way of going about things. Because as much as they are a brand and business, they still feel relatable somehow – like they're just a bunch of guys who started a skate company and are figuring it out as they go along.
Finally, these guys simply have some of the best skate edits in the industry, with each succeeding edit more inspired and visually beautiful than the last. And ALWAYS mixing it up in a fresh and unique way, telling a story more than just showcasing skateboarding. It's like each edit is a love letter …
Check out the Tom's Wurld skate edit below to see what I mean for yourself. I guarantee it will be the best thing you've watched all week.
The guys behind this brand are the same homies who behind Caliber trucks and Skate Blood Orange. If you've enjoyed any of those skate products, you know Prism can be held up to the same standard.
In terms of pricing, I would say Prism are reasonable with their products hovering between cheap and expensive, in that sweetspot where they are affordable enough for the majority of consumers. Given that they only use high-quality components, it is certainly impressive.
These guys make boards for everyone. From the seasoned downhill skater, to the guy simply needing a board to cruise down to the store. Disappointingly though, they don't make longboards for dancing – but thats also consistent with their theme, only making boards and decks that they have experience with.
My favorite beginner longboard from Prism – Prism Revel Review:
My go-to pick from Prism would be the Prism Revel 39. Coming in at 9.37inches in width and 39inches in length, the Prism has been designed for cruising and carving, more than anything else. It comes with a 10inch wide 50* Caliber truck, that will be perfect for cruising and initiating turns quickly.
And like the Sector 9 Pinnacle above, this board is also a drop-through, with the trucks mounted on-top of the deck.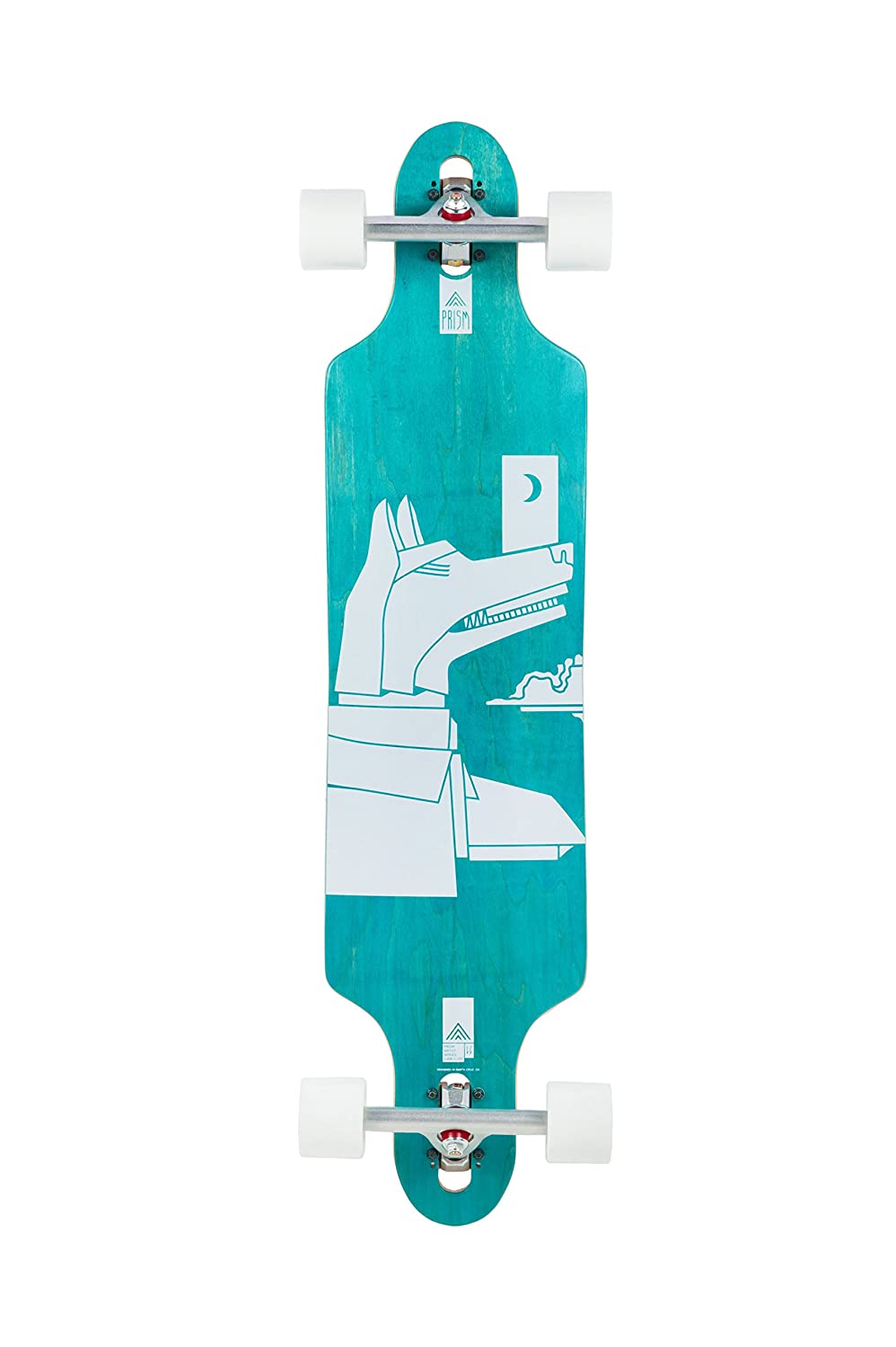 Though the drop-through mounting and its the long length of the board make it stable, the deck will feel abit sluggish for some. I recommend the slightly smaller Loaded Poke if you want something a little more nimble.
Finally, it comes with tall 69mm wheels. These wheels will be able to handle most city environments with ease. It will easily roll over cracks, pebbles, and other road imperfections. Get the Prism Revel here on Amazon.com.
Companies not reviewed but that are still great:
It's not realistic that I could go over every company worth buying from, and this list certainly wouldn't be complete without them. Though I've only briefly mentioned the following brands, their products are just as good as the brands expanded on above.
Seismic Skate Systems
A maker of everything, Seismic are a Colorado-based skate company. making products that tend to shake up the industry. Though not as well known for the boards they make, Seismic has a respectable line-up that caters to the various disciplines. A bit on the pricier side of the spectrum, it's worth checking out to find something you like.
DB Longboards
A company based in the PNW (Pacific Northwest), these guys were founded in 2003. Since then, these guys have built longboards that feature the latest technology, be it composite lay-ups or urethane bumpers, their boards have it.
Though a bit pricey, their line-up features boards that cater to various styles. Finally, because they are built to handle the PNW climate, most of their boards are waterproof!
Moonshine MFG
Originally a wakeboard manufacturing company, these guys realized they could apply the same technology used in wakeboards to longboards. A short while later and they had a unique product that stood out in the market. The result? Some of the lightest and most durable longboards in the business. The flipside though is that their boards tend to be a bit on the pricey side.
See it for yourself, check out their completely waterproof Spark cruiser board here on Amazon.com.
Original Skateboards
You've probably come across one of their viral youtube videos. These guys make great Pintail boards, cruisers and freestyle decks.
Though their products are great, they tend to drift to the pricey end of the spectrum. That said, their pintail are affordable though and are worth taking a look at if you're looking for a really long, longboard.
Madrid Skateboards
The company behind this year's IDF world champion. These homies specialize in downhill skating, pool boards, and 80s throwback cruisers. They've been around for a minute, with over 50 years of experience in the market.
They've made iconic boards which have been featured in various films. From Back to the future back in the 80s, to Stranger Things more recently.
Madrid has a VERY extensive line-up of skateboards, featuring boards in all shapes and sizes. Worth checking out as it as you might just find something you'll like.
Finally, because they stick to traditional materials, their products tend to be rather affordable.
Descent Longboards
Another 'baby' brand. These guys started up recently and are already making shockwaves in the community. The brains behind the company are Tanner Morelock and Seth Gouker, operating out of Colorado.
Specializing in high-end downhill skateboards, the decks made by these guys are already under the feet of some of the best skaters in the world. So if you're looking for something high-end AND downhill-specific, Descent may be the right place to look.
Drang Skateboards
Based somewhere in Utah, these guys build a ton of longboards and allow you to make your own board, crafting whatever you like from the ground up. Want a longboard with Triaxial carbon, carbonized bamboo, and crazy bends? These are the guys who can make that happen.
Pssst. Don't tell anybody I told you, but Drang manufactures a ton of longboards for other brands. The brands send in their designs and stuff, and Drang makes the rest happen. So instead of going to another brand to get your stuff, why not get it from the source themselves? Check out the Drang website here.
Zenit Boards
Another Canadian brand, Zenit are pretty cool. These guys are based in Montreal and have been making boards since 2012. But don't let their young age fool you, these guys make high-quality longboards.
Zenit design and produce every single board by hand in their Montreal workshop. They also press each board individually – whilst some companies press 5 boards at a time, pressing a single one ensures that it perfectly conforms to the intended. These techniques and manufacturing processes ensure that each and every longboard is up-to-standard.
Finally, Zenit have a board for every longboard style. Their dance boards, in particular, are quite popular in Asia (if I'm not wrong), and for good reason I believe.
Bustin Boards
Bustin Boards is a company based in New york. If you've seen a longboard pushing around Manhattan, they're likely skating a Bustin longboard.
The Bustin moto is "skate everything" and they make all sorts of boards to support that. From boards with low center of gravity that are perfect to push around, to downhill race machines, and e-skateboards. Bustin certainly has their finger in every pie and is proud of it.
Powell-Peralta
A brand with a ton of history. Like Madrid, Powell-Peralta has been around for a while, with over 40years of experience in the skate industry.
Powell-Peralta focuses on making skateboards, pool-cruisers, and high-end downhill skateboards. They are one of the brands that truly believe in produces high-quality gear, no matter the cost.
Though their longboard line up is limited to downhill skateboards, it is worth checking out if you're in the market for one.
These guys are owned by Skate One – the same guys who one Bones wheels and Aera trucks.
Subsonic Skateboards
From electric to slalom, these guys make skateboards for every longboard style and discipline. They seem to do it right too because their products are loved by the community.
Their products are on the pricey end of the spectrum, once again because this brand uses exotic materials like fiberglass. Which is necessary to give their decks the necessary strength and durability to conform to the crazy concave shapes they use.
Others brands that are pretty great too:
Prototype racing,
Chroma skateboards,
Rolling Tree, I own the Rolling Tree Acedia and it's mint.
GMR skateboards,
Meat Bicycle Skate co.,
Eastside Longboards,
Omen Longboards.
Conclusion: I hope this list has been helpful
The main purpose of this list is to prevent people from buying from china-sourced brands like Atom, Quest, Volador, Sola, Minority longboards, Playshion, Yocaher, Globe etc.
As much as I believe that those guys make decent enough skateboards for some beginners, their decks tend to not be durable, cheap, and not feel that nice to skate. Finally, those brands don't support the industry and take away money from brands that care about and support the community.
Finally, if you would like me to make a post for wheel, truck and longboard accessory companies, leave a comment to let me know.