Slide Perfect are a wheel manufacturer out of the UK. I've skated a couple of their wheels and been impressed. Lets see if their new wheels – the Slide Perfect Fluxx can match up. Check out my review below.
*Note, this review will focus on how these wheels behave WITHOUT the skin on.
We just started up our Patreon account! For less than the price of a cup of coffee once a month, you can support us. Click here to take a good look at all the tier options you can subscribe to.
Specs:
Diameter: 76mm
Width: 65mm
Durometer: 78a
Core-Placement: Centre-set
Color: White
Slide Perfect Fluxx Review
Expectations:
I had previously ridden some Slide Perfect wheels back in 2017 -the Slide Perfect Momentums. The main thing that stood out to me throughout my time on those wheels was how smooth they slid. They didn't slow you down too much but had a really smooth slide that was controllable and relatively consistent. Slide Perfect wheels are KNOWN for sliding easy and being controllable, so I was expecting the Fluxx to behave similarly. However, they did claim that it had a ton of grip, so I was interested in how that balanced out with the slide.
They also claimed that the wheels would have a really high roll speed, which I was a bit excited about. Roll speed, plus grip, plus affordability? If all the above were true, then these wheels were a game-changer. Read on below to find out how my experience riding them turned out to be.
You can buy the Slide Perfect Fluxx from their website here.
How fast are these wheels and do they keep their momentum?
The first thing I wanted to test was how these wheels rolled. They were advertised to have a high-roll speed so I was keen to see if this was true. Also, who simply doesn't like and want to have fast-rolling wheels, amirite!?
Unfortunately, the claim was a bit of hype. I found that wheels didn't have that high of a roll-speed and didn't keep much momentum either. This was a bit disappointing, but honestly, not that surprising. This is because when you first pick up these wheels, you notice how soft and squishy the urethane is. And realistic, urethane that feels that soft typically doesn't have a high top speed or keep momentum all too well.
For an example of this, you can compare how a flat tire and one filled with air behave. The flat tire slugs along, fighting itself to build-up speed, whilst the "full-of-air" (hard) tire simply rolls along with ease.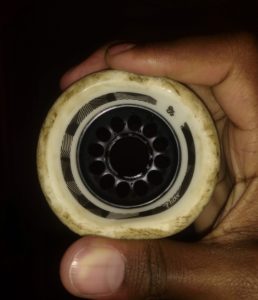 And yeah, this was a bit disappointing to find, but after riding them for a while I decided the trade-off was worth it. The urethane was too squishy to be fast, but this gave it the right characteristics for a smooth and controllable slide. I write more about this below.
In summary, the wheels don't have too great of roll speed. But the trade-off for a smooth sliding and braking experience may be worth it.
How did the Fluxx feel when sliding?
I believe this is where these wheels truly shine and live up to their hype.
The wheels slow you down quite a bit, though not as much as some grippier wheels like Venom Magnums (without the skin) do. However, they slow you down considerably when you slide, but surprisingly, have a very smooth slide.
Surprisingly, it doesn't have a directional slide – this is demonstrated perfectly in the Insta clip below. To explain this, most wheels tend to drift towards the right or left as you slide along, especially if you're sliding under 90*. As you can see in the clip, I did keep my toeside slide well under 90*, but simply keep sliding along in a straight line. The wheels did not drift to either side.
Now, this feature can be nice for open road riding. It allows you to stick your lane whilst keeping the slide under 90*.  However, it does feel a bit awkward on some corners, especially if you need that 'drift' of the wheels to help you slide and get to the apex of the corner as you do so.
You CAN get these wheels to turn as you slide with a bit of practice, but it is something that may throw off your game when you ride and slide them the first couple of times.
How consistent was the slide?
The slide was super consistent, but would sometimes change according to the pavement/tarmac/asphalt you were riding them on.
On some pavement, the wheels would grip quite a bit more, and really slow you down. On others, they kind of glide across and lack a similar slowing down power.
However, in all situations, they did slide smooth and feel controllable, even on the varying terrain.
But bottom line, these wheels feel great and controllable during the slide. I personally found myself feeling very comfortable and confident when sliding them. I sometimes found myself pushing my limit, and even pushing how fast I could go around open-road corners (bad behavior without a spotter yes, but these wheels man …).
Are the wheels durable?
I've had the wheels for over two months now and they have worn down a meager 3mm. This has been with me abusing them and sliding them a ton. I think this is an 'average' rate of slow down, but given how soft and grippy these feel, I'm surprised they haven't worn down more.
What surprised me most about this wheel?
What I didn't expect was how much road vibration these wheels absorbed.
In another form, that squishiness and softness was an advantage. And again, I do think it's worth the trade-off for roll-speed. I also think it's why these wheels should be a consideration for everyone when skating on open-roads.
The vibration absorption makes it easier to skate tons of different pavements – chunder, smooth roads etc. And still feel in control and like your board won't suddenly bounce out from under you. This is simply how you want your skateboard to ideally behave.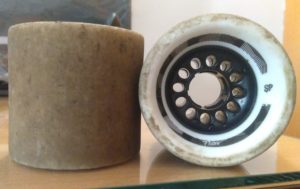 A lot of Kenyan roads aren't very nice and can feel sketchy to skate, and this feeling is amplified when going fast. I know that I can tuck over most chunder and just keep going fast – I've done so on loads of other wheels and lived. But having a wheel that absorbs the bumps and waves just makes that experience a little calmer and gives me a little bit more confidence as I skate. Personally, I think that is really, really valuable.
In summary, the softness of the urethane allows the wheels to absorb a ton of road vibration, allowing you to feel more confident as you skate down a hill or on varying terrain (think chunder).
Who do I think should this wheel is for?
Open-road skaters:
The wheel are smooth-rolling, smooth sliding and feel consistent across most types of pavements. They also absorb a TON of road vibration, turning a hectic skate experience into something more manageable. Trust me, once you skate these wheels on a chundery road, it is hard to consider doing the same on other wheels.
These wheels do hold you back in terms of roll-speed and momentum, but the trade-off is worth it if you're skating a rougher roads, with bumpy corners and fast straights.
If you are on a budget:
At £34.45 ($45, 39.49 Euro), you're getting a high-quality wheel for a fairly affordable price.
In comparison to other downhill wheels – think Seismic Alphas, Magnums, Cueis etc., you are getting a decent set of wheels at a fraction of the others price.
If you want an easy sliding DH wheel:
Surprisingly, even with their smooth slide, these wheels still slow you down quite a bit.
Their slide feels smoother and more controllable than a wheel like the Orangtang Kegels, but slows you down a lot more than they do.
Who should probably avoid these wheels?
Long-distance pushers
The wheels don't have much speed and don't keep their momentum. You'll find yourself struggling to keep up and wasting a lot of your energy to keep these wheels rolling.
Freeriders
The wheels are both sharp lipped and wide. Whilst they wheel provide an excellent hands down sliding experience, they aren't the wheels if you are looking to do stand up slides. The round lipped Slide perfect wheels may be the most appropriate options. Check out their store here.
Racers
I wouldn't recommend them if you're looking to win a race. They simply don't match up to the speed of higher-end racing wheels. However, if you are at a freeride or skating an open road, these wheels are simply the way to go.
Downhill skate beginners:
Though this wheel does slide smooth and is controllable, it might still be much for beginners to handle. I think a more appropriate wheel in the Slide perfect line up maybe their Momentum V2 wheels.
Perhaps, once you get to grips with how to slide, this wheel may be a good introduction to how grippy, wider downhill wheels perform and behave.
What are some important things you need to know before you buy?
These wheels are wide at 65mm and may stick out from under your board, especially if your trucks are just as wide as your deck is.
I went from 165mm trucks to 150mm trucks on the same deck to try and accommodate for this. With 165mm trucks the wheels + truck combo felt sluggish and didn't feel too nice when sliding. I recommend you get narrower trucks for these wheels.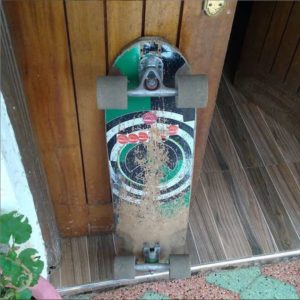 Conclusion
I'm gonna be bold and say that these may be my favorite open road wheel so far. Though the roll speed does leave something to be desired, these wheels have great performance when it comes to sliding, gripping corners and slowing down. They also absorb a ton of road vibration and make skating intense roads feel a little bit more relaxed.
These wheels are well worth the money – and given how affordable they are, can fit into most budgets.
I hope they get the spotlight they deserve.