Cruising is easily the most enjoyable part of skateboarding. It's simple, it's fun, and anyone from a seasoned pro to someone who learned to skate 5minutes ago can enjoy it.
Today's article is a guide on how you can get yourself the best cruiserboard possible. I'll be covering how the deck, wheels, and trucks factor into the riding experience, and what type of components you should look out for.
I've also thrown in some great cruiserboards you could choose from if you would like.
We just started up our Patreon account! For less than the price of a cup of coffee once a month, you can support us. Click here to take a good look at all the tier options you could subscribe to.
Best longboards for cruising reviewed
In general, all the longboards below are beginner-friendly. Any beginner can step on to them and feel confident about riding them.
I've split them into categories that sort them according to price. Price isn't an exact determiner of quality in all cases, but because I've hand-picked these, I can guarantee you get what you pay for.
If you're looking for the best North-American Longboard brands, check out my article on them here.
Cheap, but easy to ride – Sola bamboo 38inch
The Sola Bamboo 38inch is one of my favorite cheap longboards. It doesn't come with great components, but it has a decent deck and a fairly nice design.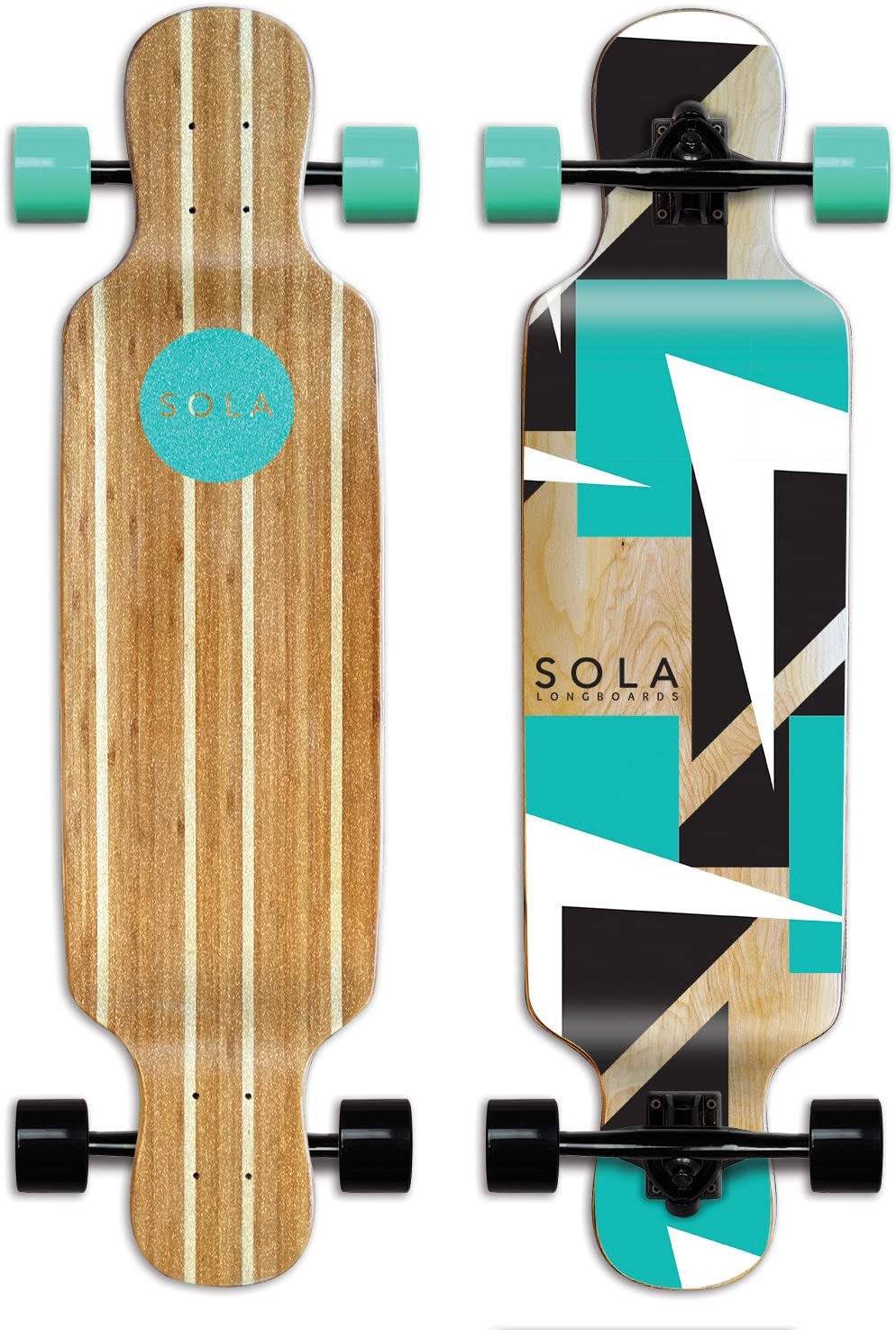 The deck is drop mounted, which means the standing platform is lower than where the trucks go (see image below). This brings the ride closer to the ground which makes it easier to push, more stable, and easier to footbrake. It's not much, but when you're pushing for 3+miles, you can feel the difference. This is why I like this deck.

Otherwise, the deck comes in at 38inches in length and 9.75inches in width.
But you do get what you pay for. The Sola Bamboo deck is quite cheap and isn't the strongest. I've heard that some decks have broken on people. If you're heavier than 200lbs+, I recommend you avoid this longboard.
The story is the same with the components. The wheels are ok, but the trucks are Chinese knock-offs – they will turn ok, but won't be as smooth as higher quality ones.
Still, if you're on a budget, the Sola Bamboo is an ok choice. I do recommend you spend a bit more and get something like the Magneto (or Landyachtz) below, but this is great if you're on a budget. Check out the Sola here on Amazon.com.
Avoid this one – Retrospec Zed Bamboo
As someone more experienced with longboarding, I would urge you to avoid this deck altogether. It won't give you the best riding experience.

Despite what you may have seen online – other reviews, testimonies, etc., this deck isn't all that good. Like the Sola above, it has a cheap quality deck and comes with cheap quality components. Again, you do get what you pay for.
But despite the cheap stuff, what irks me about this deck is how large it is. It comes in at 44inches in length and 9.5inches in width. It has both a nose and kicktail which adds to this size.

But the thing is, you can't actually use the nose or tail, so that's just wasted space. And because it is so large, it feels sluggish and slow to turn. It is more unwieldy than anything.
Ultimately, that's my thoughts as an experienced rider. Most beginners don't really care and this board does do it for them. Though I recommend you don't get it, the decision lies with you. Check it out here on Amazon.com.
Best budget option – Magneto cruiserboard
If you're on a tight budget, the Magneto is the best choice. The components aren't impressive, but the deck is quite good.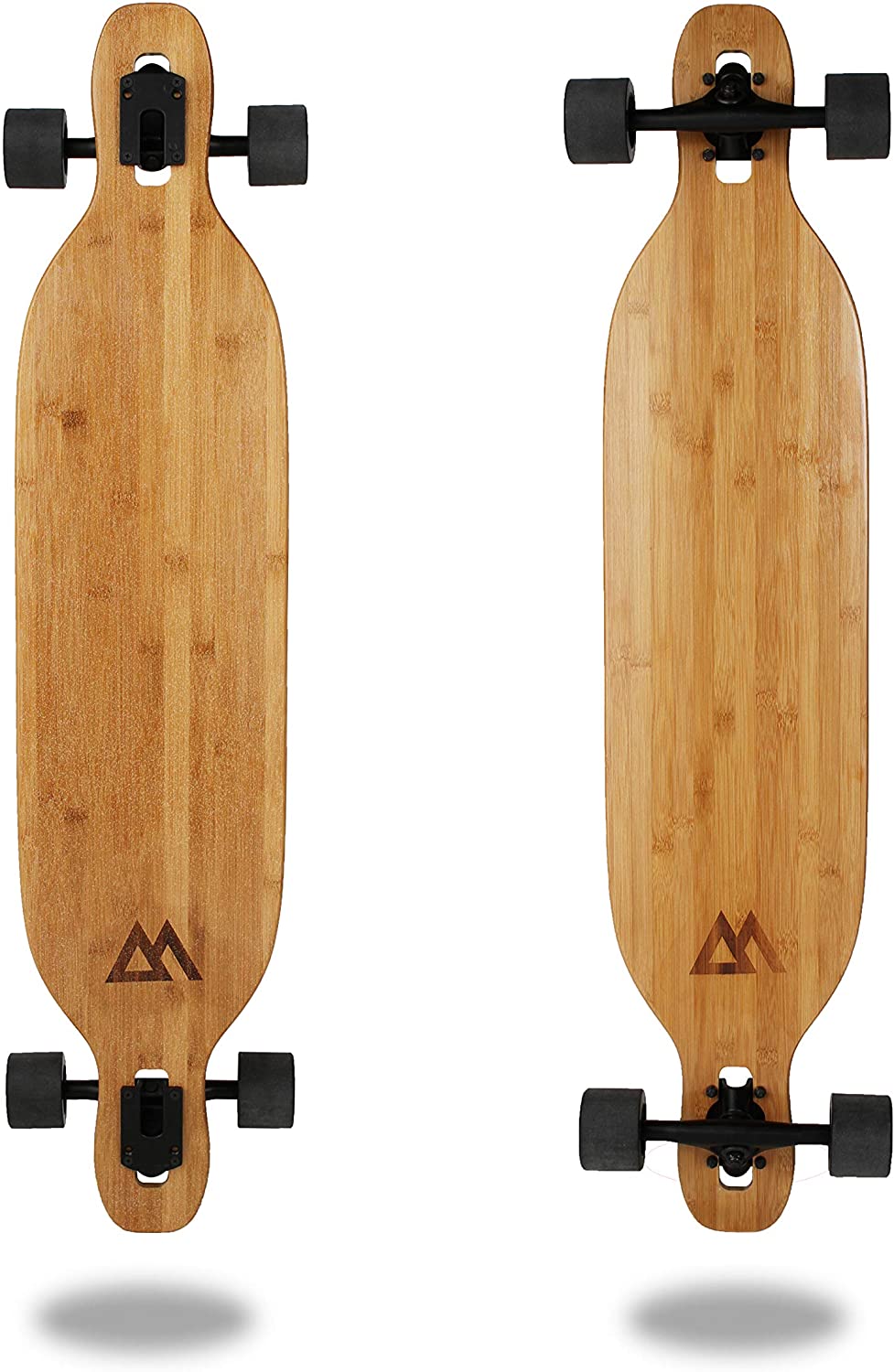 The deck of the Magneto cruiser is vertically laminated. This means it is lighter weight than other boards (which are horizontally laminated). It needs fewer plys to achieve a strong deck, whilst allowing the deck to remain flexible. It's as good as decks on the high-quality completes (it's great for heavier riders too 220lbs+).
Because it is also drop-through, the flexible deck combination makes this complete hella playful, and fun to ride. But where this complete falls is the components.
The trucks are cheap Chinese knock-offs of Paris trucks. They won't feel as smooth and will bend after some use. The wheels are ok, but they won't ride as fast as higher-quality ones.
I do think the Magneto is the best budget option.  The components suck, but you can upgrade those eventually. The deck is stellar. Check it out here on Amazon.com.
Avoid this one – Atom Drop Through
This a classic example of a cheap longboard going for a high price. In terms of quality, it isn't much better than the boards costing less than $100 above. You're not getting a good deal here.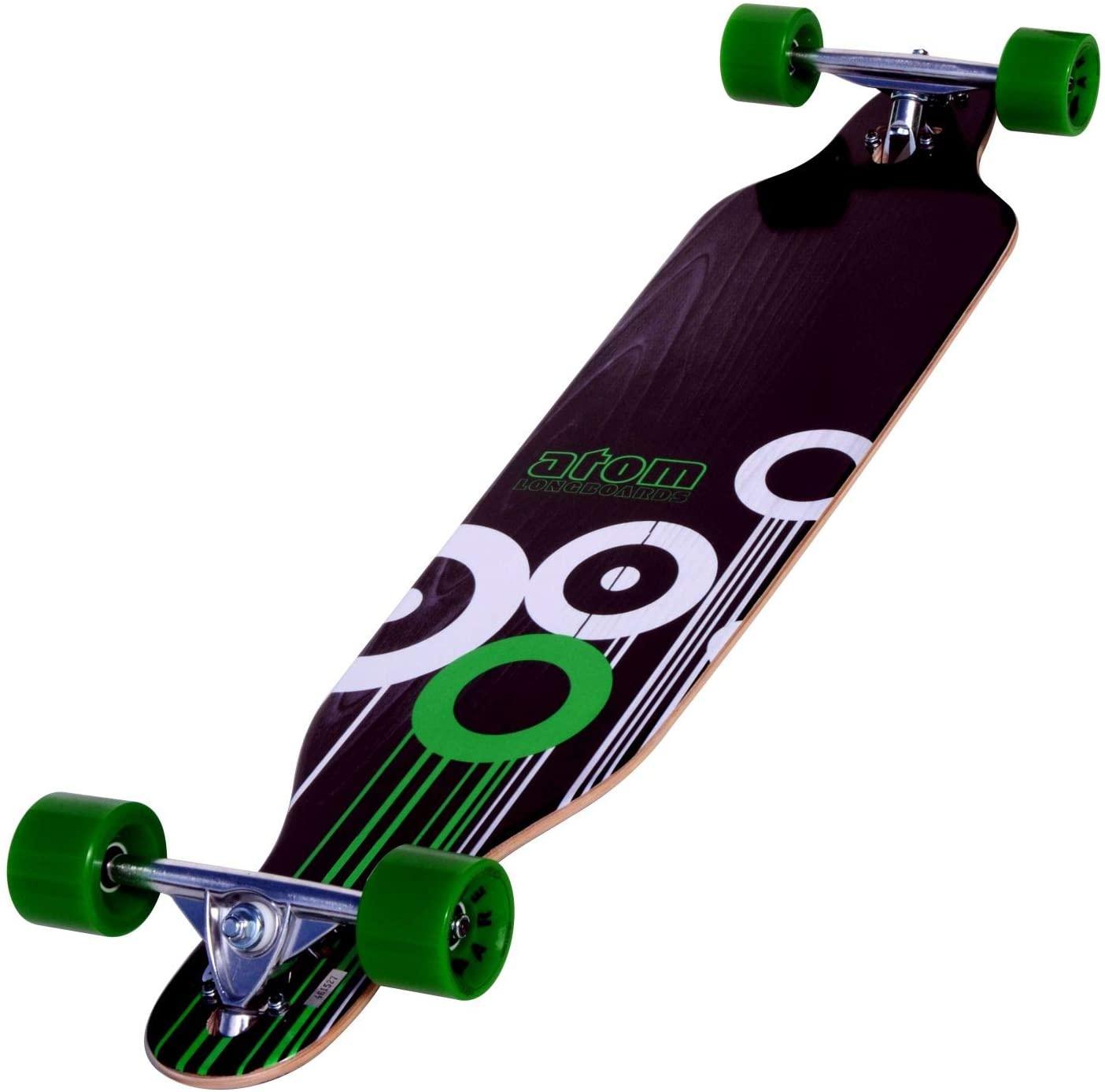 The only good thing about this deck is how solid it is. It is made of 9plys of maple. It will be good for heavier riders weighing 230lbs+, so it's not a bad option for them actually.
But the story is the same, it comes with cheap components that don't offer a nice ride. It has cheap trucks and cheap wheels. The trucks aren't smooth and don't lean and turn in a very controlled way. When I rode it, it didn't inspire a lot of confidence – I had to tighten the trucks but that wasn't an effective solution. They make this complete not worth it at all.
For the price, you'd rather go for the Magneto and call it a day. That said, check it out here on Amazon.com for yourself.
The easiest to ride (best value for money)-  Landyachtz Drop cat
This is one of the best boards to pick, if you want an easy riding experience and to also use your board as a transportation option. It comes in two main sizes. The first is 33inches in length and 9.6inches in width. The second is 38inches in length with a 9.9inch width.
Both boards are high-quality. If you're a bigger rider, the large 38inch option will ride better for you. If you're a smaller rider, the smaller 33inches option will be more comfortable and easier to control.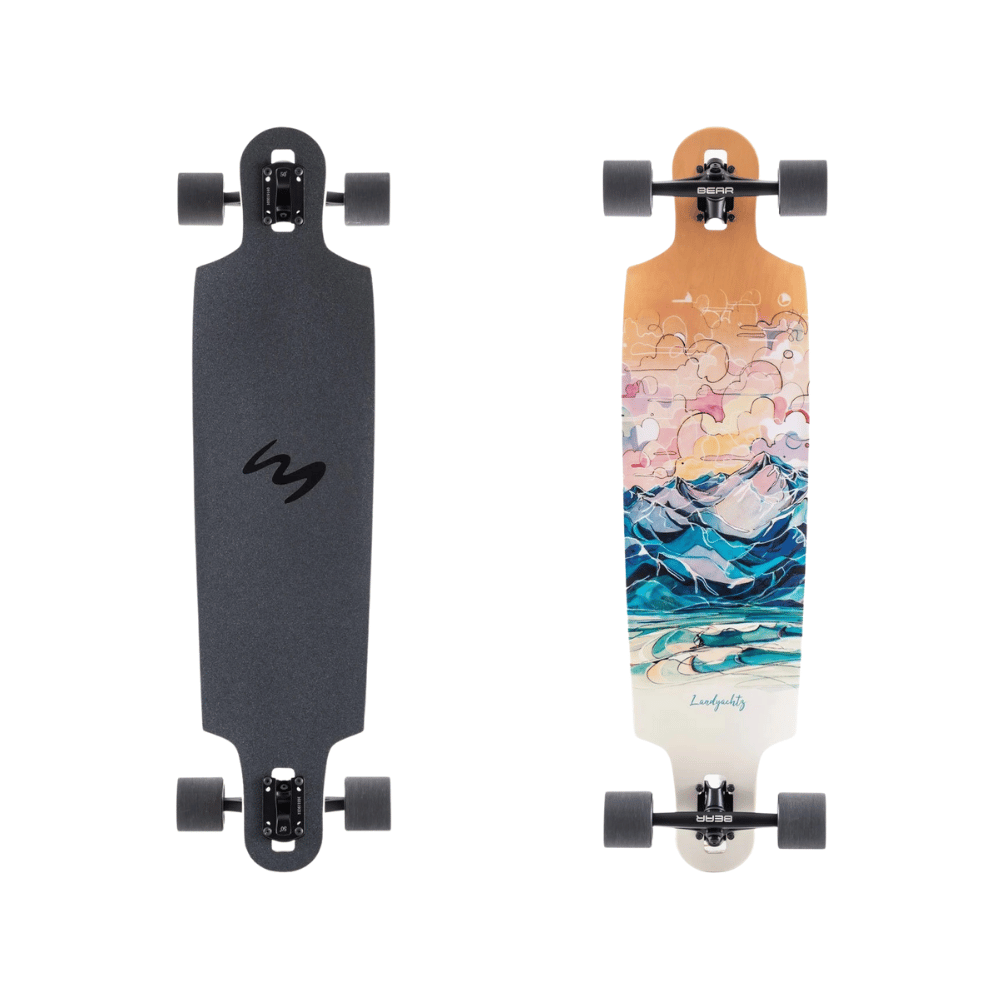 Size aside, the Drop cat comes with high-quality components. It has Bear Grizzly trucks, 72mm tall Hawgs wheels, and Abec 7 bearings. Finally, it has drop-through mounting and the deck has a rockered platform and flex. Check it out in action in the video below.
The rockered platform and drop-through lower your center of gravity and they bring the standing platform of this board close to the ground. This makes it stable, easy to push, and easy to ride. Despite this, it is still responsive to rider input and changes direction on a dime. The wheels also hold their speed for a long time, so you can coast without having to push too much.
All these features make the Drop Cat one of the best cruisers I've ever ridden.
You can read an in-depth review of the Drop Cat here.
This is one of the best cruising boards on the market. It's responsive but remains stable, which is a hard combination to find. If you want the larger 38in option (better for bigger riders and it's a bit more stable too), check it out here on Amazon.com. Or here at the Stoked ride shop.
You can also buy both version of the Drop Cat here at the Landyachtz website. Use the code – "AbugaSkate&Explore15" for 10% off.
If you would like the smaller 33in option – I recommend it for smaller riders, people with small feet, and people who want a nimble, but easy to ride board, you can find it here at Stoked ride shop.
Great for kids – Arbor Collective Zeppelin Bamboo
The Arbor Zeppelin is a high-quality board at a steal of a price. Seriously! It only costs about $170 which is a steal for what you get in terms of quality.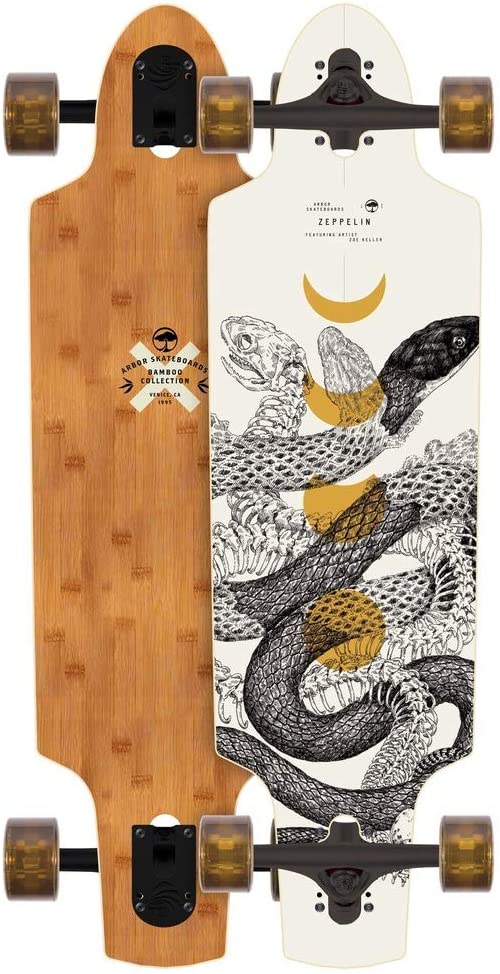 The Zeppelin has a flexible drop-through deck, made of 7plys of Maple, with a bottom ply of Carbonized Bamboo. Like all Arbor boards, the wood is sourced from sustainable sources of supply. The Zeppelin also comes with high-quality components, featuring Paris trucks and big 65mm wheels.
In terms of size, the Zeppelin is actually quite small, coming in at 32inches in length and 8.75inches in width. This makes it a great option for kids and people with smaller feet.
Most drop-throughs are quite large and can feel too big and sluggish for people who are a bit smaller. This board will be able to provide the "drop-through" riding experience in an appropriately sized board.
Find out more about the Arbor Zeppelin here on Amazon.com.
Simply super fun – The Landyachtz Ripper/Super Chief review
A bit of a throwback, this is an homage to the pintail era of longboards the Ripper/Super Chief comes in that unmistakable shape, which is honestly a bit refreshing to see amongst the more modern shapes.
This deck is great, and it rides like a hybrid between the Drop Cat and the Landyachtz Dinghy. The quickness and playfulness of the Dinghy, but the comfort of the Drop Cat.
Catch my in-depth review of the Ripper here.
The Ripper comes in at a decent length of 36.9in with a width of 9inches and a relatively small 24.9in wheelbase. It comes with 130mm Polar Bear trucks and 63mm tall, 78a Fatty Hawgs. The components are high-quality.
The biggest drawback of this deck is the small wheels. They won't coast as long, so it's not the best if you have skating for long distances (10+ minutes or 3+ miles) in mind.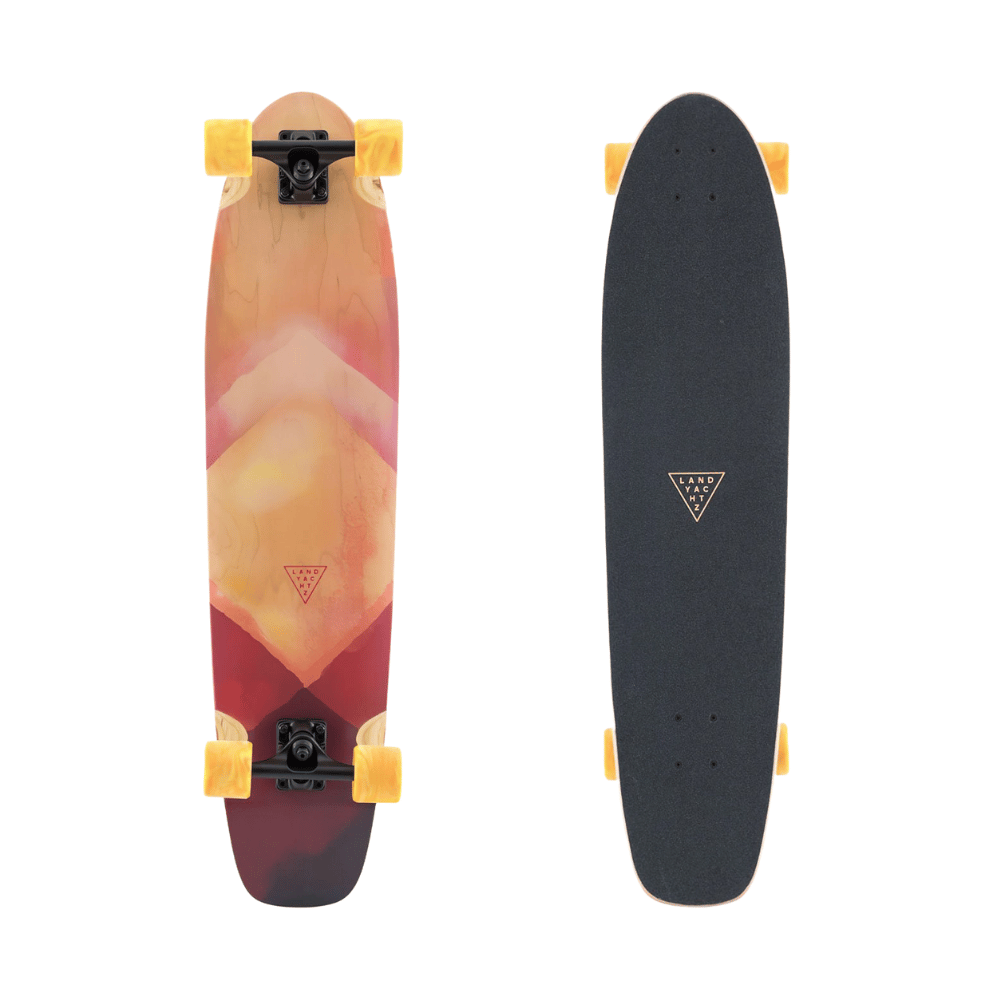 I'd say, go for this board if you want the playfulness of a mini-cruiser, but the comfort of a bigger cruiser. It's a great option if you want something to mess around on, than to actually use to get around. Check out the Landyachtz Ripper here at the Stoked ride shop.
You can also buy the Ripper here at the Landyachtz website. Use the code – "AbugaSkate&Explore15" for 10% off.
Also, check out the Landyachtz Super Chief here on Amazon.com. (The main difference between the two is simply the graphic and the shape).
Worth it – The Comet Cruiser review
In the world of longboarding, if an Arbor complete is a Honda Civic, the Comet Cruiser is a high-end sports car, fine tuned with no expense spared to make it perfect. Yes, this isn't your run of the mill cruiser.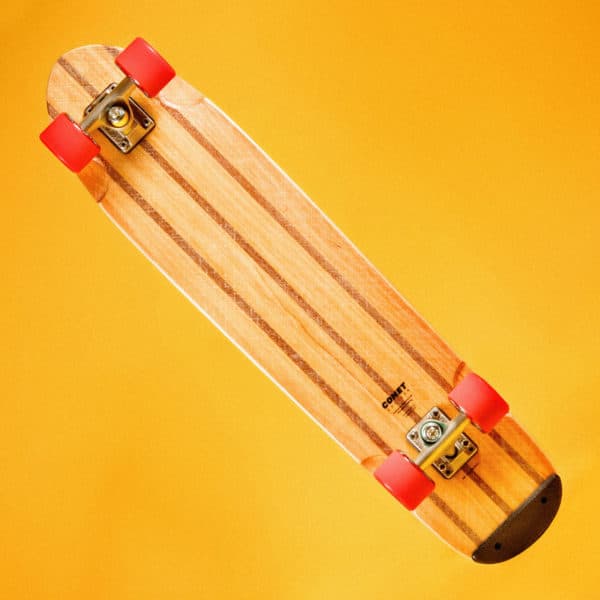 The Comet Cruiser is arguably the most popular cruiser amongst pro longboarders – and that's something. It's not common for a wide group of people, known to customize every aspect of their gear to have a majority agreement on something. This board gets a lot of things right …
The Comet Cruiser comes in at 34 inches in length and 7.87 inches in width.  It has a wide 20.25inch wheelbase and a kicktail. The kicktail comes with a UHMW tail guard to prevent it from wearing. For the wheels and trucks, the cruiser uses wedged and dewedged 108mm Paris trucks, and Powell Peralta Snakes for the wheels. Finally, it has a Zealous bearings and after market Venom SHR bushings inside the trucks.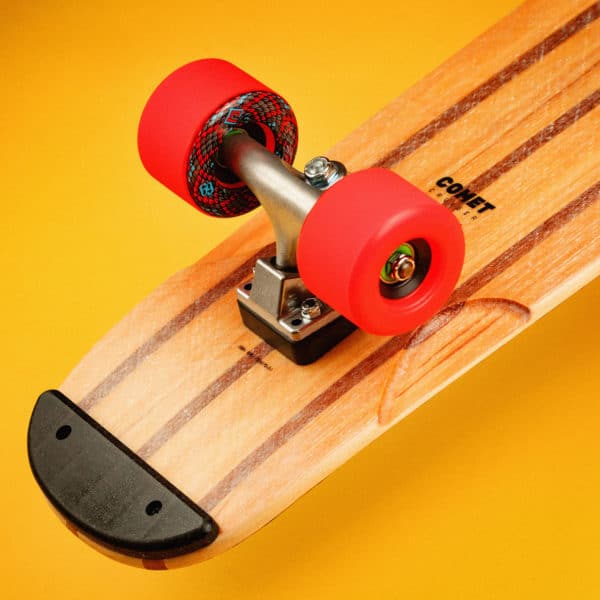 All-together, these components allow this board to be quick turning and to have a nimble feel. The SHR bushings give the trucks a very "juicy" feeling, popping and pushing you in and out of the turns. The flexible deck allows for a comfortable ride, absorbing road vibration and lowering you down to the ground so pushing and footbraking is easy.
The wedged and dewdged trucks allow for a stable ride, encouraging all the turning to come from the front truck (something the Drop cat has as well). It also means no wheelbite. You can turn crazy deep with this board, without ever worrying about the wheels catching. Finally, the Powell Peralta Snakes make sliding (powersliding) super easy …
However, the Cruiser does retail at $250. This isn't that expensive when you consider the quality of what you get. For comparison, most Loaded cruisers cost about the same (or more) and don't come with aftermarket parts … for what it is the Comet is a fairly decent deal …
You can pick up a Comet cruiser here. Use the code "downhill254" at the checkout for a 10% discount.
Kind overpriced – The Loaded Poke review
This board is a high-quality option through and through. Like all Loaded longboards, it features premium parts from the bottom up.
The Loaded Poke comes in at 34inches in length and 9.1inches in width – fitting perfectly in my suggested ranges for comfort and control. It comes with 150mm Paris trucks and large 70mm, 80a Orangatang Stimulus wheels.The deck is made from a combination of bamboo and fiberglass, which keeps it lightweight and allows it to have that little bit of flex for comfort.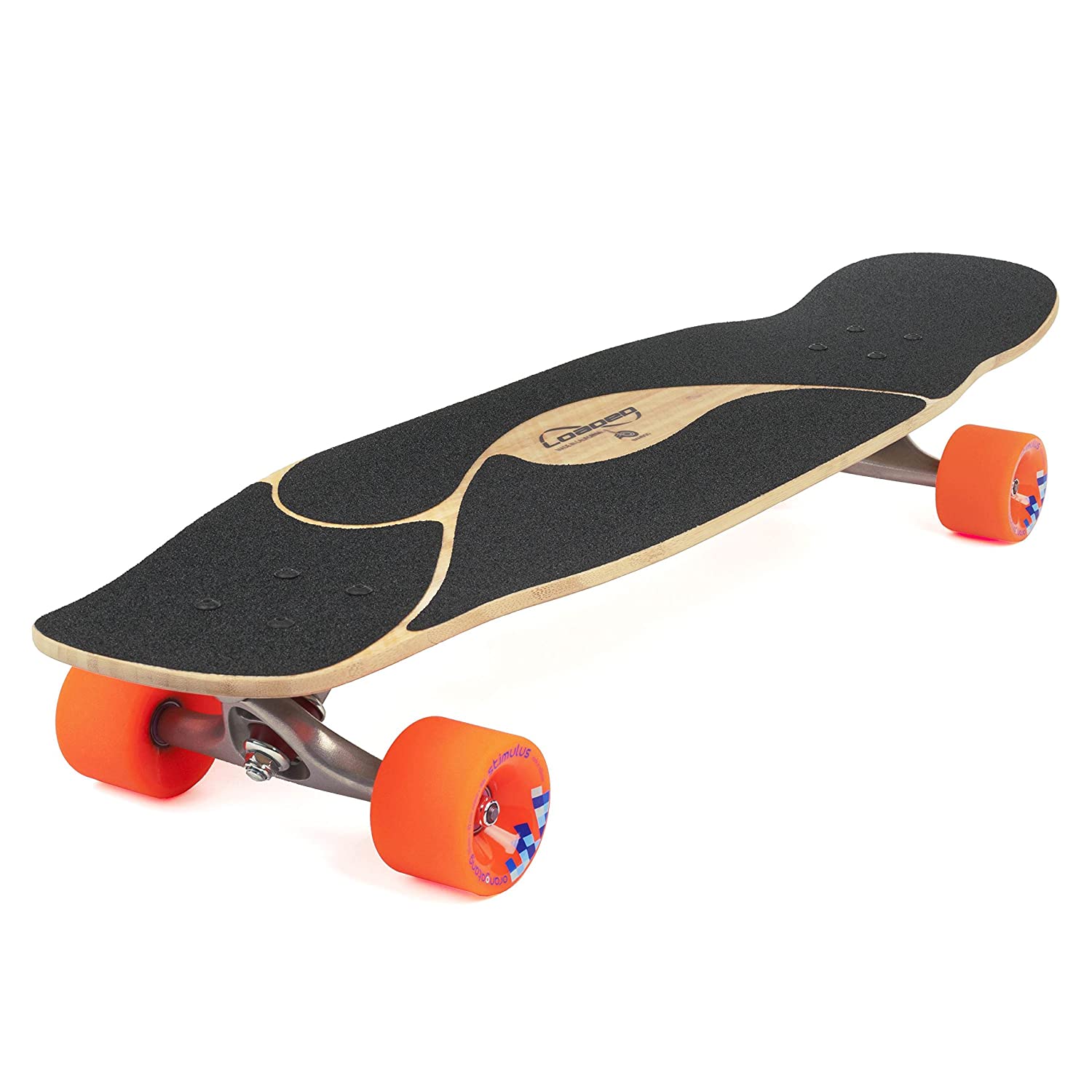 Out of all the boards on my list, this fits perfectly in my 'description' of what a great cruiser board should be like. However, it is quite expensive, check out the Loaded Pokes cost here on Amazon,com.
Still, I believe it is worth the money if you can afford it, but that said, the cost alone alienates a ton of deserving skaters out there. No choice but to start saving up.
High-quality/Overpriced drop-through – Loaded Tan Tien
Coming from one of the oldest longboard brands, the Tan Tien is a high-quality longboard. A bit expensive ($300+), but it is the right price for the right rider.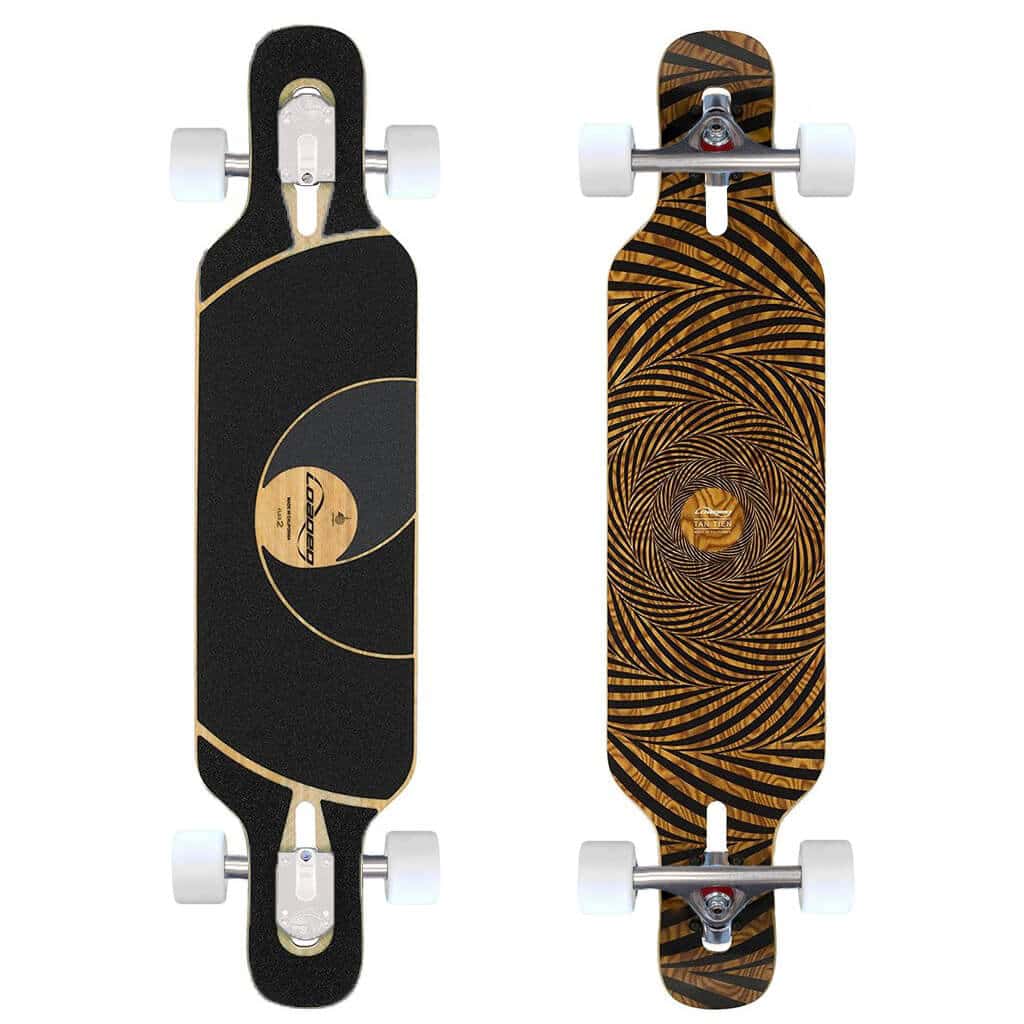 What's unique about the Tan Tien is its deck. It has a vertically laminated deck, that features a kicktail. Most decks are horizontally laminated. A vertically laminated deck is thinner, stronger, and lighter in weight. You can use less material to achieve the strength you want from the deck.
A core feature is that it comes in 3 different flexes, and you can pick flex appropriate for your weight. The options accommodate riders with weights from 36kg/80lbs to 122+kg/270lbs+.
Though components-wise, the Tan Tien is pretty basic, featuring Paris trucks and Fireball Tinder wheels.
The Tan Tien would work well as an all-around deck. Because it has kicktails, you can use it to do freestyle tricks – its lightweightness helps with this too. You can also use it to learn to slide as well.
Is it worth it for the price though? If you're a heavier rider wanting a high-quality, flexible drop-through, yes. Otherwise, maybe not.
Check out the Loaded Tan Tien here on Stoked Rideshop.com.
Other brands to get stuff from:
Ehlers makes excellent budget longboards.
Pantheon longboards makes great cruisers and commuter longboards.
Rayne longboards.
DB longboards.
Bustin boards.
How to pick the best longboard for cruising
This part of the article talks about the components that make a cruiserboard feel good. It's key to read if you want to understand how different parts of the skateboard affect the overall ride.
A good rule of thumb is to aim to get a cruiser board that turns good, rolls smoothly, and feels comfortable to ride. These attributes are usually dictated by a handful of features. Learn more below.
What is cruising?
Cruising is a type of skating where you don't really have a destination. You're in it to enjoy your board and the feel of skating. You're just in it to maximize the vibes.
You can cruise on any board, but boards that make the experience as easy, natural, and as comfortable as possible are the best choice.
What type of boards are suited for cruising?
No mini-cruisers
Like I said earlier, you can cruise on any board. But I would argue mini cruisers aren't suited for it.
Check out my guide to the best mini-cruiser longboards here
This is because, after 10minutes of riding, mini-cruisers get a bit tiring to skate. They have small wheels so you have to work hard and keep pushing to keep their speed up. They're also very reactive to your input and you have to work to keep them going straight.
They're not suited to the stress-free, easy-to-ride experience you want from a board for cruising.
No downhill, dance, or trick boards either
Boards that are built to suit a specific function usually aren't the most comfortable to skate with – outside of that specific function.
For example, Dance and freestyle boards usually too long and come with small wheels not suited to the urban environment.
Downhill setups are usually quite stiff. They reflect a lot of road vibration and aren't very turny at slower speeds.
Boards made for tricks have small standing platforms and small wheels that can be stopped by pebbles.
What to look for in a cruiser?
Make sure it's comfortable to stand on
It shouldn't be too long
If a board is too long it will have a huge wheelbase. Whilst boards with huge wheelbases are more stable, they tend to be a bit slow to turn and feel sluggish to ride.
The main goal behind a long deck is to try and get as much stability out of it as possible. But if you're doing the majority of your skating well below 30mph, you don't need to worry too much about stability.
Shorter decks turn well and work really great for cruising and carving. You should aim to get a deck that is anywhere between 32inches to a maximum of 40inches length. This also ensures you have enough room to comfortably stand shoulder-width apart.
It should roll smoothly over most terrain
A wheel that can roll well over most terrain will provide a nice comfortable ride. It will roll over pebbles, cracks, and all types of road imperfections and it will make skating over rumbly feeling asphalt feel a lot smoother and comfortable.
Which aspects should you look out for to guarantee that your wheel will roll smoothly?
Wheel diameter
The aspect that makes the biggest difference is wheel diameter.  In short, a bigger wheel makes roads feel smoother and rolls over pebbles, small rocks and big cracks with ease.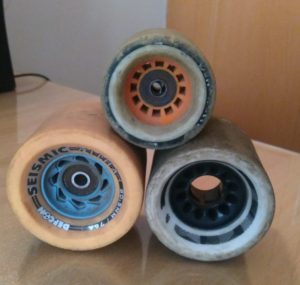 Most skateboard wheels can't roll over pebbles mainly because of how small they are. Most are around 50-60mm in height, pebbles are large enough that they can stop the movements of these wheels. Bigger 65mm+ wheels can blast pebbles and even small rocks out of the way.
You should aim to get wheels around 70mm in height.
Has a nice smooth, comfortable ride
Apart from the wheels, the smoothness and comfortability of the ride is then determined by the deck.
The following features help determine how your skateboard will feel.
Low standing platform
A low standing platform means a board that is stable, easy to push and easy to ride.
You can pick a board that has a drop, a drop mount, drop-through, or rocker to get a lower standing platform.
Flexibility
A deck that has a bit of flexibility tends to be comfortable to ride. The flexibility absorbs a ton of road vibration and evens out the ride as you go along.
As you go over a bump or a crack, the deck flexes allowing the wheel to go up whilst you and where you're standing on the deck remain in the same position in space. In the same way, the suspension works in a car – where the wheel goes up and down whilst the car remains in the same position in space.
The flipside though, is that it isn't the best if you're looking for 'precise' control. It will also make it easier to get wobbles as you go faster and faster (+25mph).
Very light concave
Concave is when the deck has a cup-like shape.
Concave simply doesn't feel comfortable to skate with especially if you're pushing around, or are on top of your deck for long periods of time.
It forces your feet to rest in an uncomfortable position, which simply isn't nice to be in for too long. This is amplified if you have particularly big feet.
Fortunately, most cruiser boards don't have too much concave. Some downhill longboards do have a considerable amount and are one of the reasons most of them aren't very good for simply cruising around.
Has a good turn
The turning of a skateboard is typically handled by the trucks. High-quality trucks have a smooth turn that is easier to control. Low-quality trucks want to suddenly dive in either direction and aren't very nice to use.
You can learn more about skateboard trucks here.
Avoid cheap trucks
Some trucks are made cheaply through the inaccurate casting process. Their components do not fit right with each other and this leads to their turn not feeling perfectly smooth and consistent.
Some cheaper trucks also use poor-quality bushings and pivots. They have no rebound so they don't support you well when you engage the truck. They make the truck feel floppy.
Finally, the impreciseness of cheap trucks is also the main reason a ton of people get wobbles as they start going faster.
Get high-quality trucks
You should aim to get a skateboard that has trucks from brands like Paris trucks, Caliber truck co, Bear trucks, Atlas trucks, Rogue trucks, Ronin trucks, Gullwing, Randal, Sabre, Bolzen, and Arsenal trucks.
Trucks from these mentioned brands would work well and feel good.
They have high-quality bushings and pivot that allow for a smooth controlled turn.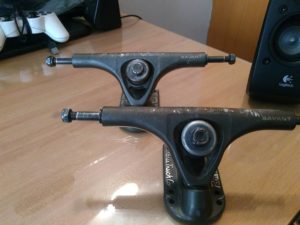 Check out my review of every truck in the Paris trucks line-up here.
Decent bushings and pivot
High-quality trucks like the Paris v3 trucks come with decent pivots and bushings. These are essentially the 'suspension' of your truck. Higher quality bushings and pivots allow your truck to turn in a smooth, consistent way. Simply allowing it feel more controllable and precise.
What are cruisers not good for?
They're not the most portable
Most of them are a bit bulky and are difficult to carry around. They aren't portable and it's quite awkward to carry them – they're awkward to have on hand when carrying them in queues, the bus, etc. They just seem to get in the way. Don't get one if you want something portable.
Not super nimble
They're also often not very nimble. They don't react to your input very quickly. It's difficult to weave in between objects with them. This slowness does make them more stable and forgiving to ride. But you lose some maneuverability because of it.
Not great for speed
Finally, they're not a good option for downhill and for skating fast. If you plan on going over 25mph, get a proper downhill setup. Most cruiser boards are flexible and are too maneuverable for speed skating. Both those features can lead to wobbles when you skate fast.
Which board do you think is best?
To wrap this up, I'd have to pick the Landyachtz Drop cat as the best choice in the line-up. Given all, its features, components, and reasonable cost, I'd say it wouldn't be wise to not pick it. It rides well, looks great, and makes you smile when you ride it. What more could you ask?
If you can afford it, the Comet Cruiser is a stellar choice too.
Hope this list has been useful. Cruising really and truly is one of the best parts of skating, and if you pick the right board, you'll be motivated to go out time and time again.