Summers is around the corner and your kids need a way to stay busy. Longboarding is both a fun way to stay fit and a good reason for your kids to get out of the house. It requires little supervision and will be sure to tire them out.
But it all banks on you getting the right board for them. If you get them something that isn't smooth and sucks to ride, they simply will not touch it.
Today's article is a simple guide to getting your kids the best longboard for their needs. After reading it, you will know how to pick something smooth turning and enjoyable to ride.
12 Best Beginner Longboards for Kids Reviewed
Find out about the best longboards for cruising in 2020/2021 here.
Volador Maple Longboard – Best for bigger kids
If your kid is a bit on the heavier side, this longboard might be the right one for them. At 40in in length, 9in in width and 8plys thick – this board is going to be strong, and easy to handle.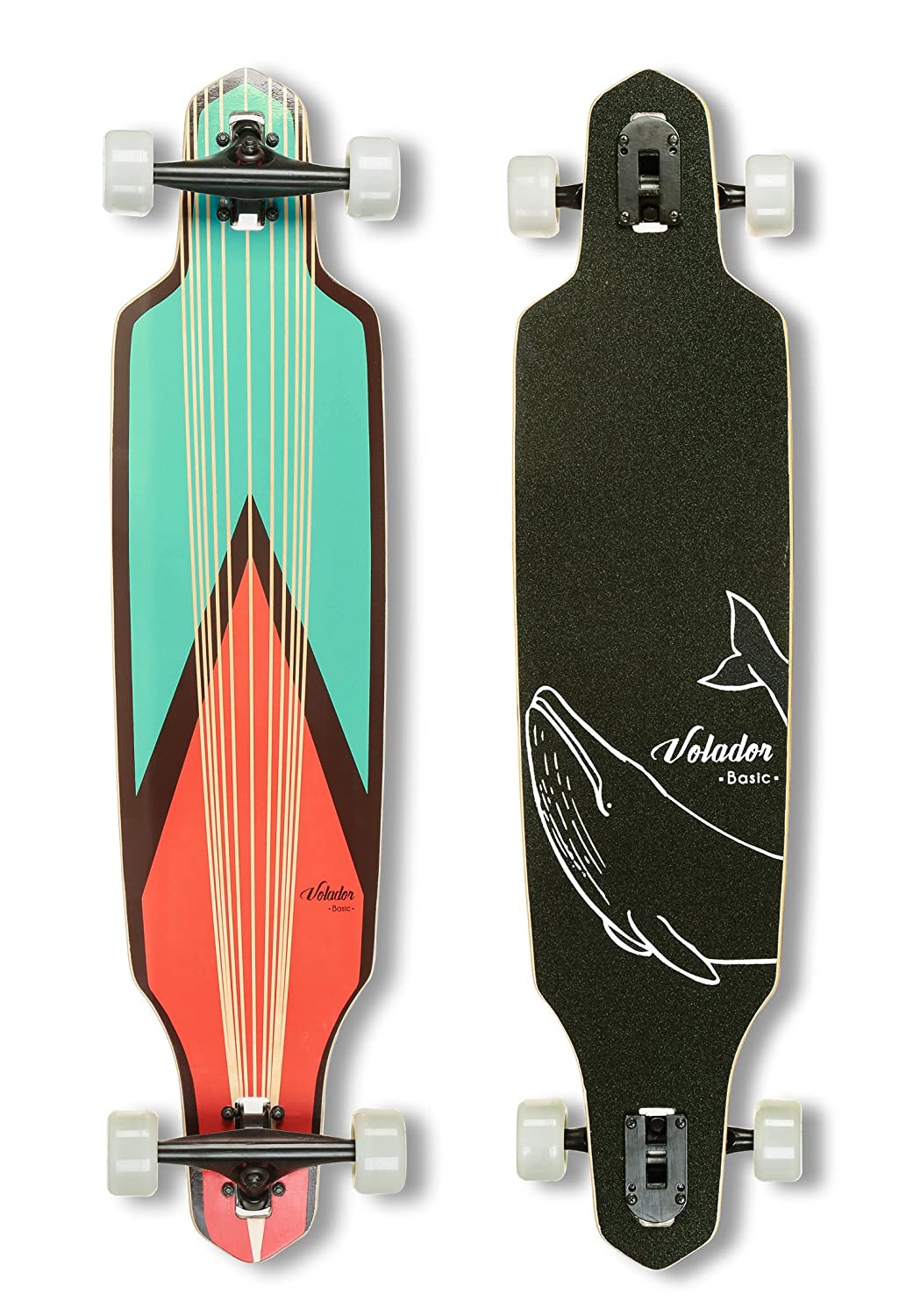 It comes from the brand Volador. These guys are specialists in creating affordable longboards for beginners to ride. Your wallet won't suffer too much if you get this board – but you get what you pay for in terms of quality. Another budget board you can look at is the Whome below,
The deck comes with drop-mounted trucks (trucks mounted on top of the board) and big 70mm wheels. This combo ensures that the longboard turns smoothly, feels stable and can roll over cracks, pebbles and rough roads with ease. Check out the longboard here on Amazon.com
The bad thing about this board is how big it is. At 40in, it might feel like too much to handle for smaller kids. However, some might like the length and may enjoy the extra space on it. The components aren't very good if we're being honest. The trucks aren't the best.
Landyachtz Dinghy 28″ – Best for smaller kids
Coming in at a small 28inches in length and 8inch in width, the Landyachtz Dinghy is a skateboard designed to help you get quickly from point a to point b, to be easy to carry around and to be easy to store. Fortunately, this also makes it perfect longboard for small kids (with smaller feet).
Its small size is complemented by the high-quality components it comes with. The Bear trucks and Hawgs wheels ensure a smooth, controllable turn and an easy roll with fast acceleration. Meaning this board is nimble and fun to skate with in small spaces.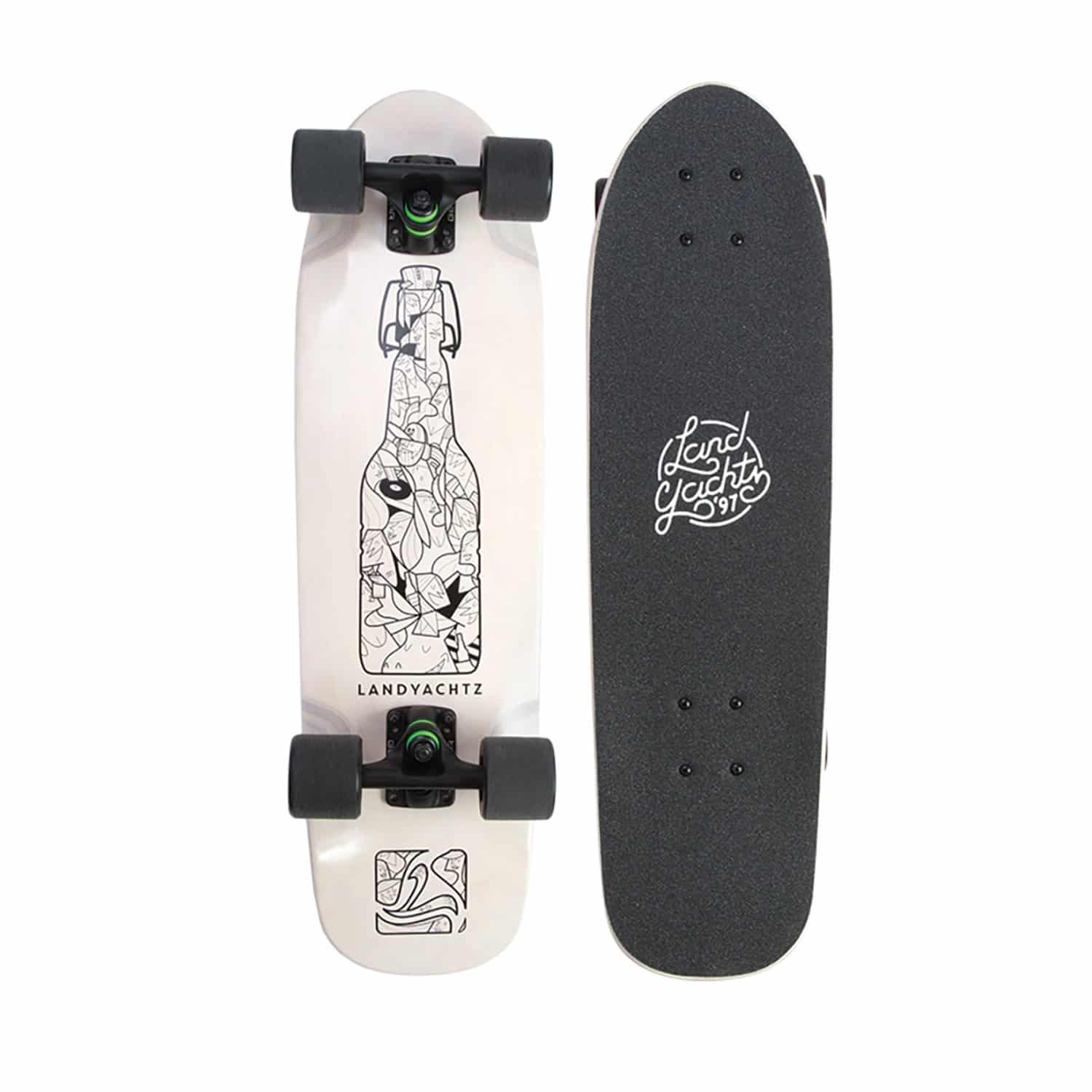 Finally, the Dinghy deck is made with 7plys of maple – ensuring durability and a superior feel over plastic (think Penny boards).
Buy the Dinghy here at the Landyachtz website. Use the code – "AroniSkate&Explore15" for 5% off.
This is my favorite board on the list. It comes from Landyachtz, a brand that supports a ton of longboarding activities. If my feet were smaller, it would be my personal go-to option – but it simply feels uncomfortable for me and my bigger feet.
You can also check it out the Dinghy selection here on the Stoked Ride shop website.
Landyachtz also have one of the best product videos for this skateboard. One of the best I've come across,
Fireball mini cruiser – Affordable Dinghy Alternative
One of the most underrated cruisers in the market. This one comes with great components, a great design, and comes in a shape that is easy and comfortable to ride. It costs about $30 less than the Dinghy but is pretty much better than it in almost every way. the Fireball Mini-cruiser is great.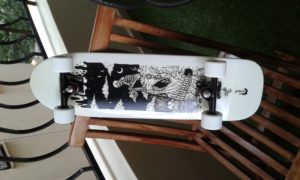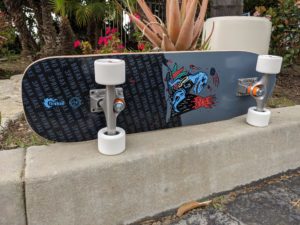 I personally choose to ride this board with my younger siblings. It's both stable, smooth turning, and rolls fast. Despite the small size of the wheels (60mm), it still provides a smooth ride and doesn't feel rough. The trucks are Paris tkp trucks. They feel really smooth when turning and feel quite stable too.
Finally, the main reason this is better than the dinghy is its 8.5inch width and 29.5inch size. It is only slightly wider than the Dinghy, meaning it is more comfortable to ride. But it still has comparable the maneuverability and portability with the Dinghy due to it's small 29.5in length.
For only a hair over $100. the Fireball Mini-cruiser is one of the best cruisers money can buy. Check it out here on the Stoked ride shop website.
Comet cruiser – best money can buy
If longboards were cars, the Comet cruiser would be a Ferrari – and something like the Globe cruiser below would be a 2001 corolla.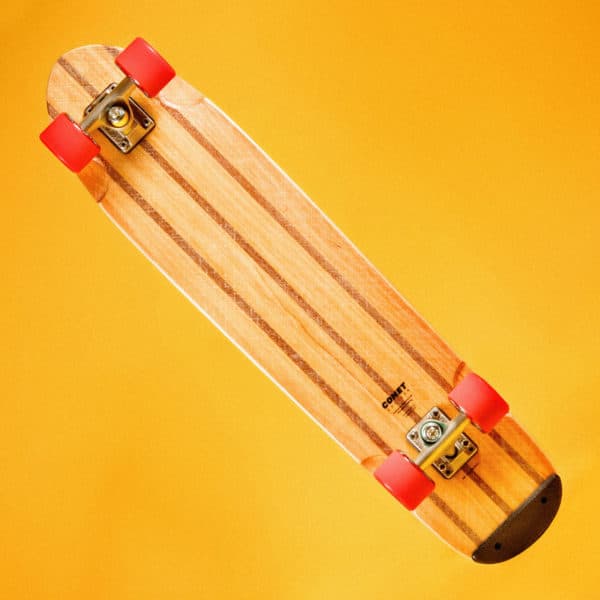 What makes this board so good is that everything is fully tuned and adjusted to perform perfectly out of the box.  It's not a cruiser that has been haphazardly put together. Every component compliments the other and everything has been switched out for after-market parts which improve the ride.
When it comes to actually riding it, it rides like a dream. It's an easy to ride board that is nimble, quick to turn, but it doesn't want to wobble or twitch when you start moving. It inspires confidence and it's easy to learn on it.
It also sits quite low (the deck is curved with the middle sitting low) and this makes it easy to push and aids it in being a bit more stable. It's certainly the best, if not one of the top 3 cruisers on the market.
If you're interested in learning more about it, check it out here at the comet website. Use the code "downhill254" at checkout for a 5% discount if you choose to buy it.
The folks at Comet are perfectionists and this board is a testament to that. I've had friends buy two of these boards justt cause of how good they are. The price is off-putting for some, but if you want a board for life, this is the one to get.
To learn more about Comet, check out my review of them here.
Loaded Coyote – High-quality Dinghy alternative
Another famous longboard brand, Loaded Boards has been around for a while, making some of the best longboards on the market. The Loaded Coyote is similar to the Dinghy and Fireball above. But it's been optimized for cruising and uses softer wheels. The Coyote comes with soft 65mm, 77a wheels, and angled risers.
The angled risers increase how much the board turns, meaning it will be able to take tight curves even at slow speeds. They also increase height so wheelbite won't be an issue. The soft wheels also make the ride a lot smoother, they'll roll over cracks and rough surfaces without providing harsh feedback.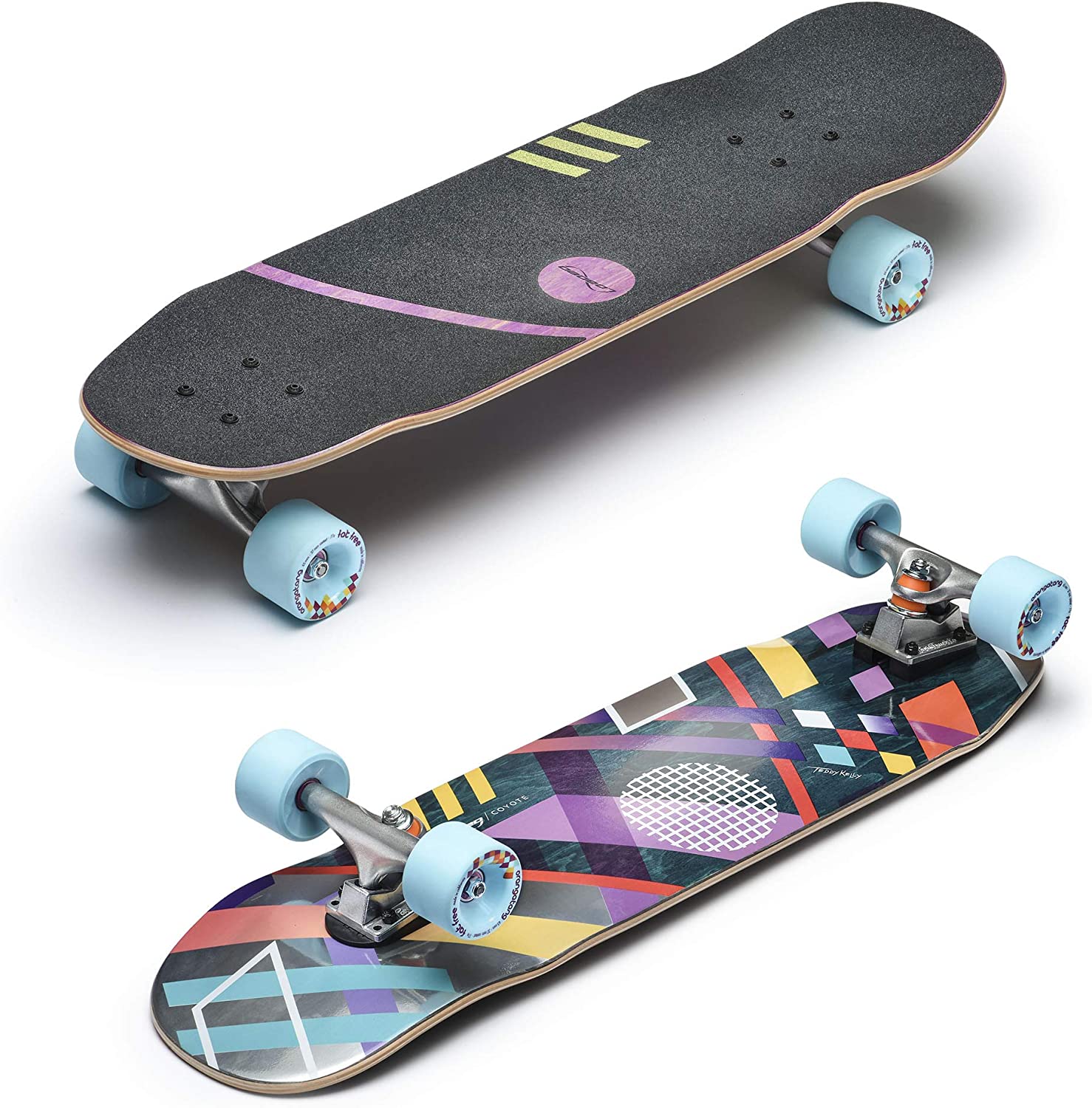 The bad thing about this board is its price. It costs more than $200 for no special reason. The components are comparable to the completes above, and the deck is just made from traditional maple. Whilst it is a good cruiser and comes with one or two custom bits, you are paying a premium.
Still, if you really like the cruiser and you will ride it alot, then I guess $200 isn't a bad investment. Also, Loaded are a quality brand have some of the best customer service. If anything goes wrong, you'll be able to get a replacement. Check out the Loaded Coyote here on Amazon.com.
Landyachtz ATV – Best for tricks
If your kid wants a board they can cruiser around on but still do tricks with, the Landyachtz ATV is the best bet. It's built like a basic skateboard but comes with softer wheels for a smoother ride. Normal skate wheels are quite hard and don't roll smoothly on asphalt or uneven pavement.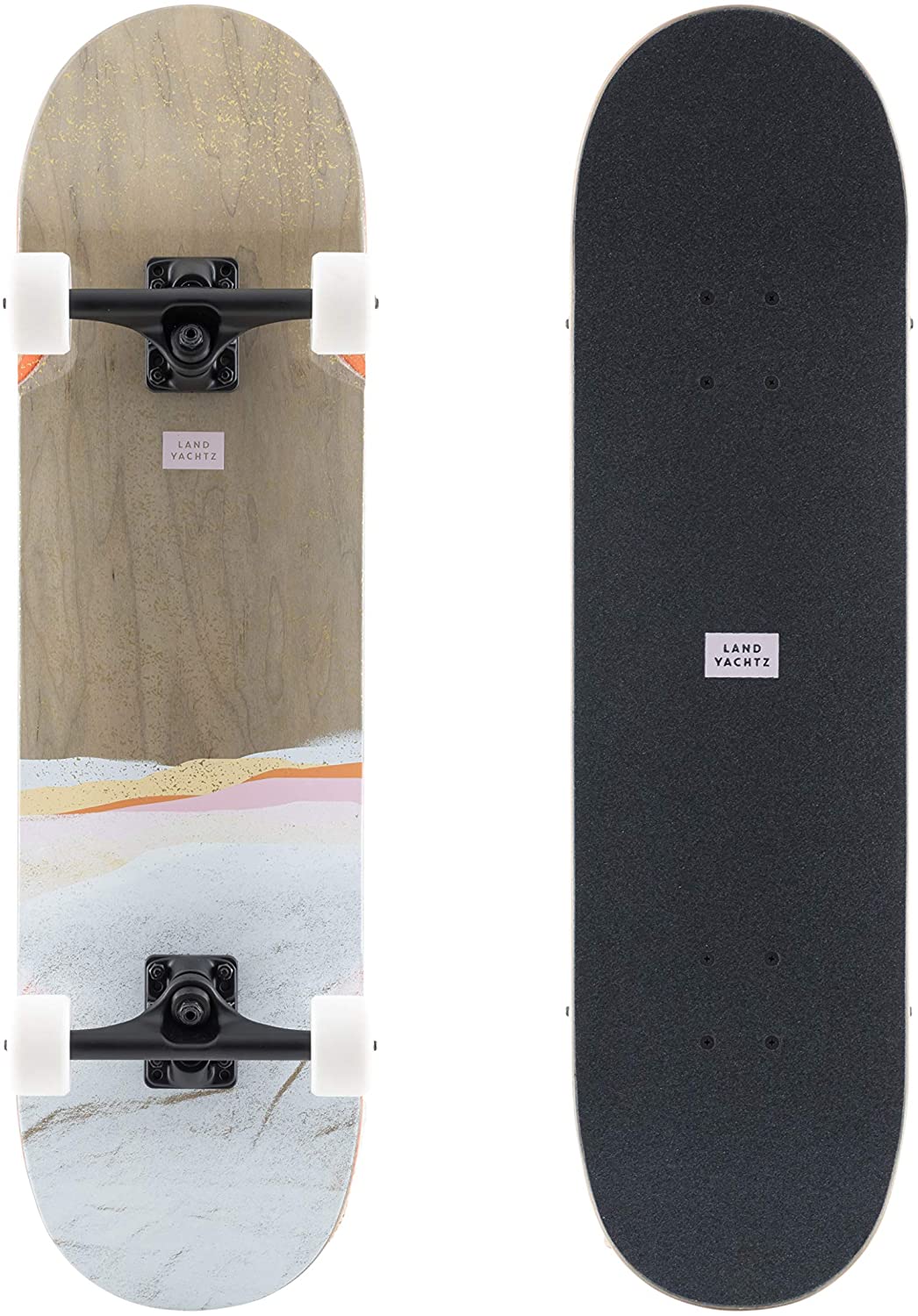 This hybrid skateboard will work well as a cruiser. It comes in at 32inch in length and 8.6inches in width. It's wider than the Dinghy above, ensuring a comfortable ride. It comes with soft 78a, 60mm tall Chubby Hawgs – these wheels will provide a smooth ride, whilst remaining light enough to do ollies and tricks with.
Buy the Landyachtz ATV here at the Landyachtz website. Use the code – "AroniSkate&Explore15" for 5% off.
Finally, the deck comes in a classic popsicle shape. It has two kicktails and is made from Canadian maple and composite ensuring durability and good pop when learning tricks. Find out more about the Landyachtz ATV here on Amazon.com.
Stoked ride shop BLANK cruiser – best budget option for tricks
This is THE budget board. At only $84 it's one of the best value for money boards on my list. It comes with high-quality components but sacrifices graphics and design to lower its overall cost. If your kid doesn't mind a blank design, this is the best board for cruising and for learning tricks.
The Stoked blank cruiser is made by the guys at the Stoked ride shop. They made the deck themselves and sourced the components from other brands local to them (they own fireball which is why the wheels and other components are available cheaply to them).
In terms of components, the cruiser comes with high-quality parts – Paris TKP trucks, big 60mm Fireball Tinder wheels, Fireball hardware and Fireball Dragon bearings. And finally the deck is made from hard rock maple. It will have a good pop for doing tricks (if you're kid is interested in doing tricks).
Separately, the components above cost a lot more than the $84 price. So yeah, this is a very good deal.
Finally, the narrow width of the board makes it quite suitable for kids (and generally everyone with small feet). And the wheels will be good for cruising, but still, be light enough that they can learn tricks,
So altogether, if you're looking for quality on a budget, it's certainly the board to go with. Check it out here at the Stoked Ride Shop.
Fireball x Arbor Rally cruiser – Best value for money
Coming in at a price just shy of $100, the Fireball Rally cruiser gives you the best value for money. It has premium components, featuring RKP Paris trucks, Fireball Tinder wheels, Dragon bearings, and the Arbor Rally deck, Bought separately, these would cost $150 when put together.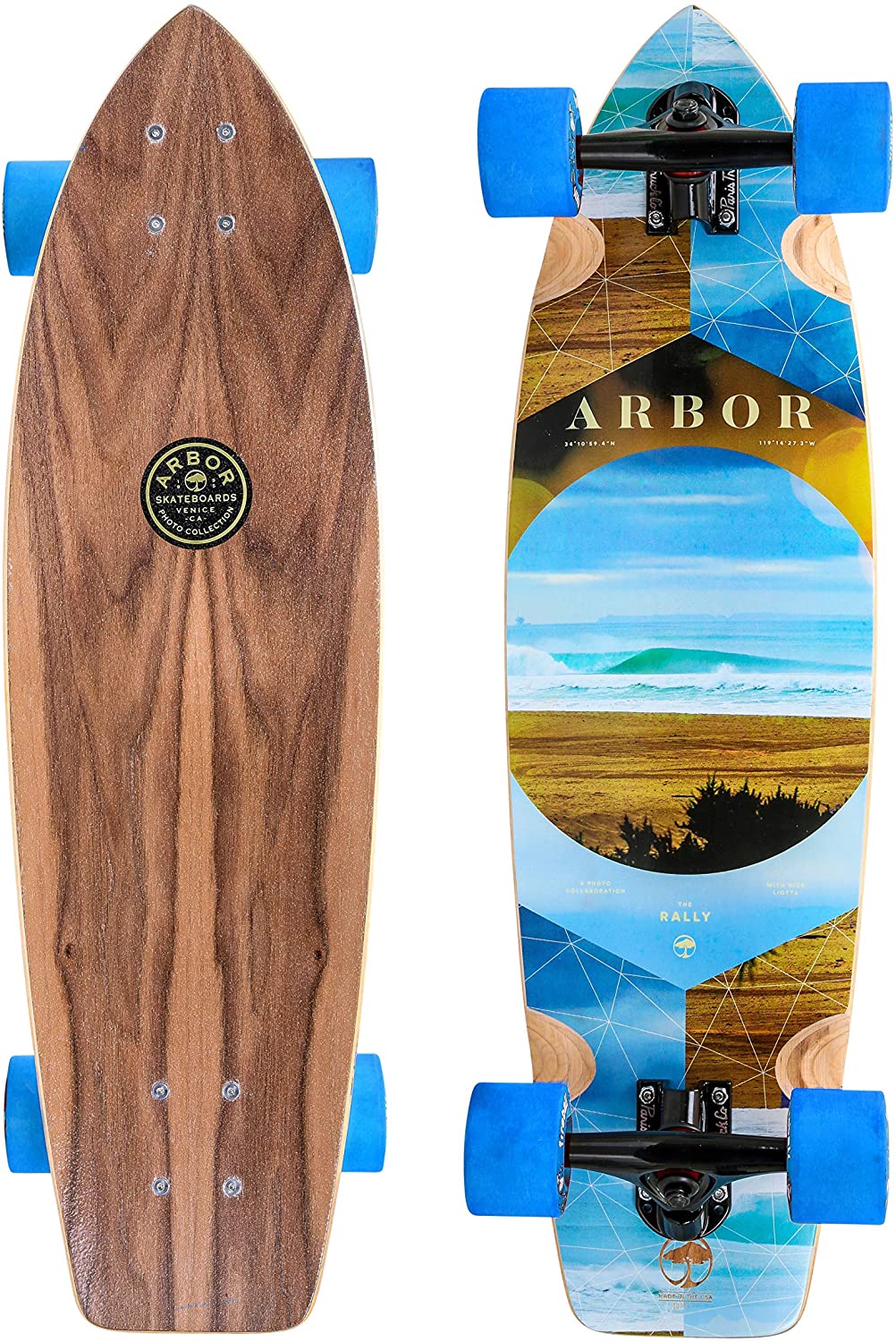 If you're on a budget but still want to get a high-quality board, this is the one to pick. The Rally cruiser itself isn't too long or too wide. It comes in at a small 30.5 inches in length, with a width of 8.9inches. This cruiser is pretty much the perfect amount of long and wide.
Because it doesn't have a kicktail, this board has a longer wheelbase than others of similar length on the list. This just means it will be more stable and will have a smoother turn. With all things considered (including price), this might be the best longboard on my list.
One downside is that it will ride tall. So some short kids may struggle to push it around. But if your kid is taller than 5 feet, this shouldn't be an issue. Find out more about the Fireball X Arbor Rally cruiser here on the Stoked ride shop website.
Sola Bamboo – Best all-around option
The Sola longboard comes in a stylish design. Featuring a color theme that is shared between the wheels, trucks and deck graphic – all finished by a clear grip job that exposes the bamboo deck on-top.
The longboard itself is pretty great. The 'Future' option features a 'dropped deck' – which means the standing platform is lower than the trucks. This simply means your closer to the ground so you are more stable and it is easier for you to push and footbrake. Perfect features for beginner and kids just learning to cruise and turn on a longboard. I think it's the best longboard for kids .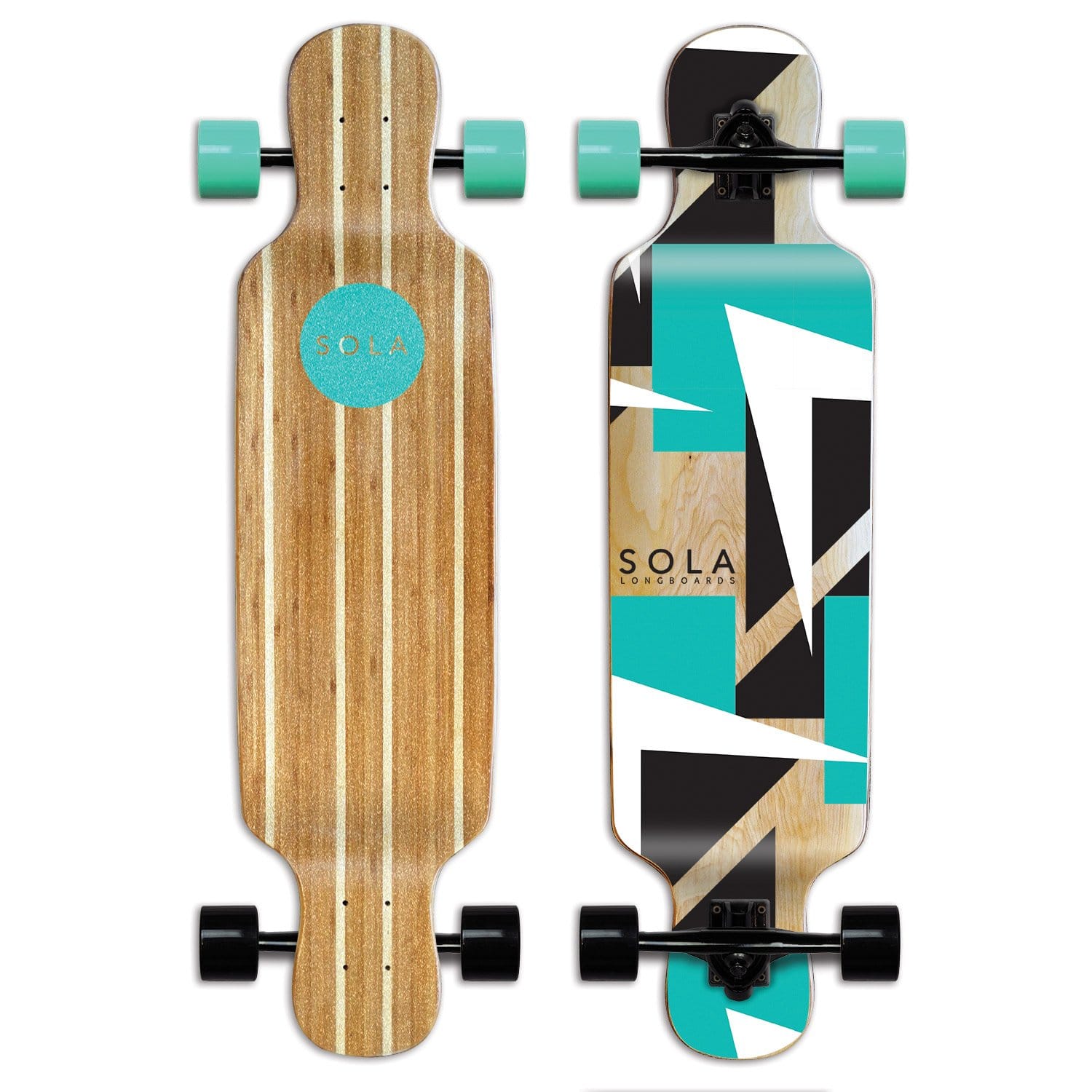 Finally, the longboard features 70mm wheels and 7inch trucks. This means a smooth roll over most surfaces and nice controlled turning.
The length and width make it a friendly option for kids of all sizes – but may be best for early teens. Small kids will still be able to handle this, but early teens are the best fit. You can see more of this longboard here on Amazon.com.
The longboard is decent and for the price, you can't really complain –  the trucks and deck aren't the greatest. But if you want something of higher quality, check out the Landyachtz option below.
Landyachtz Drop Cat 33 – Easiest to ride and good for heavy kids
From the brand that needs no introduction, the Landyachtz Drop Cat 33 is one of the best cruisers for kids on the market. It's small 33inches size and 9.6inches width make it good for kids, especially those who want a bit more standing room.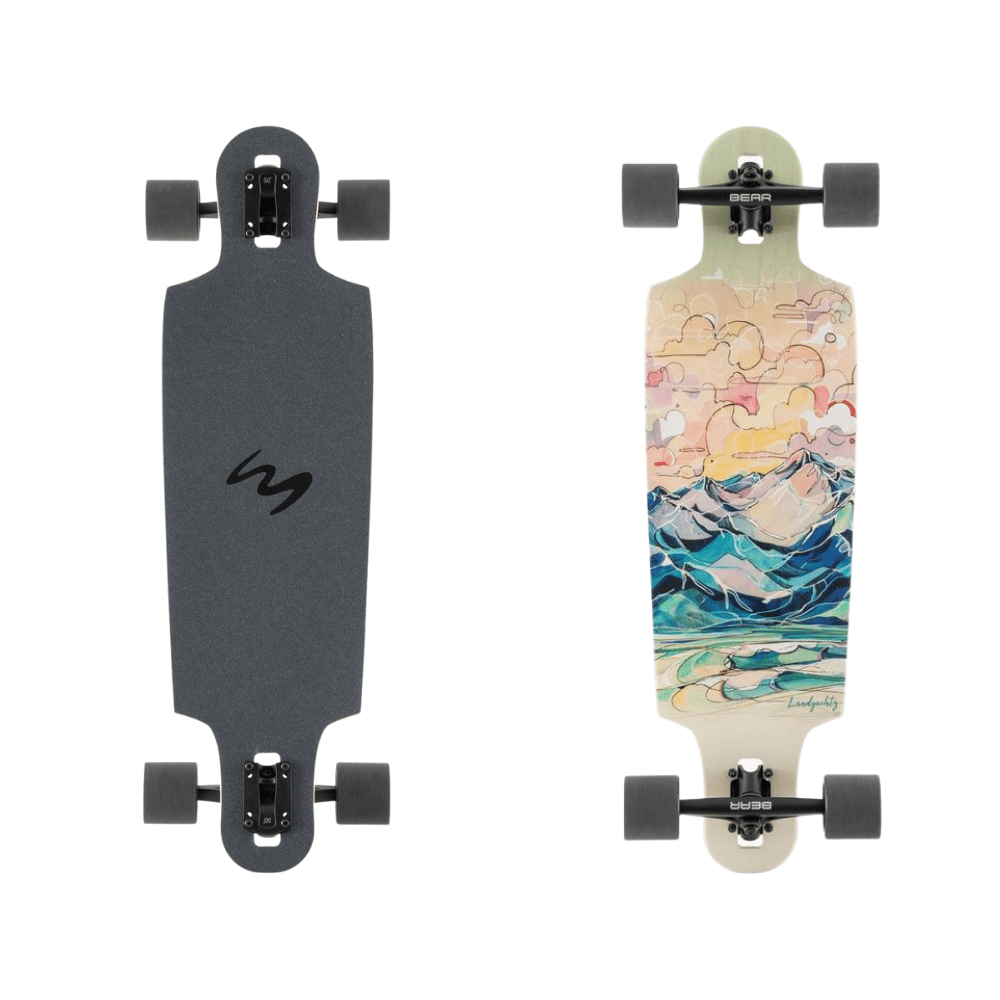 The Drop cat is both drop-through and has rocker. This simply means it sits quite low to the ground. This makes it stable when skating and easy to balance on. It also makes it quite easy to push around. Kids with little legs won't struggle to get their legs down to push.
Buy the Drop Cat here at the Landyachtz website. Use the code – "AroniSkate&Explore15" for 5% off.
Finally, it comes with high-quality components. It has Bear gen 6 trucks, Hawgs wheels, and Bear Spaceballs bearings.
The Drop Cat is my favorite cruiser in the Landyachtz line up.
The only bad thing about this board is its cost, it's pretty good for $189, but understandably won't fit most budgets. That said, it is worth the investment, especially if your kid already knows how to skate and is sure to make the most out of this board. Check it out here on the Stoked ride shop website.
Whome 31in Longboard – The budget option
The most affordable option my list. The Whome 31in is both affordable and appropriately sized for small kids. It comes from Whome, a Californian based company focused on producing longboards that will fit a budget.
This deck is primarily good for early teens and smaller kids looking for something bigger and more comfortable than the Landyachtz dinghy above. The 8.25in width makes it more comfortable and easier to balance on than the Dinghy – the Whome is a bit friendlier to those with bigger feet.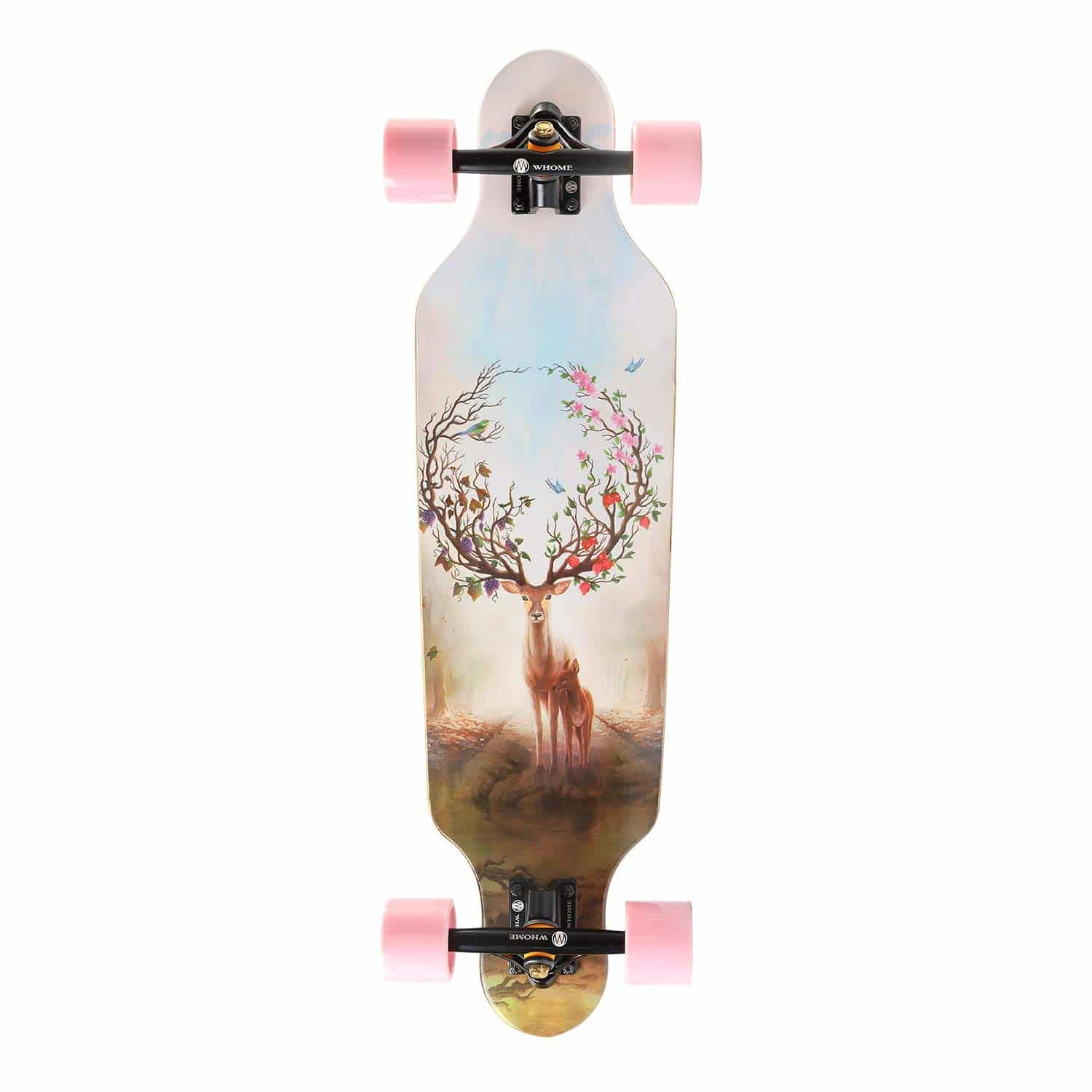 The wheels are a bit small at 63mm. It won't be that much of an issue on smooth roads, but may not have such a nice ride on slightly rougher asphalt and on pavement with cracks.
Finally, the longboard comes with some decent graphic designs. Some of my favorite on the list. Check the line up out here on Amazon.com.
For the price, you can't complain much about this board – but you get what you pay for. But I do wish the wheels were slightly bigger – I guess a rider just has to stick more towards smoother pavement.
ReDo Skateboard – A decent budget option
If you're on a budget, the Redo cruiser will be a good option. It comes in at 34.5inches in length and has a narrow size of 8inches. A perfect size and length for kids. It also comes in the classic pintail shape, which is great if that's what you're looking for.
Its width is similar to the Dinghy's at 8inches. However, it is much longer at 34inches and has a longer wheelbase. In short, it will be more stable and smoother turning. This means it will be easier ride and balance on.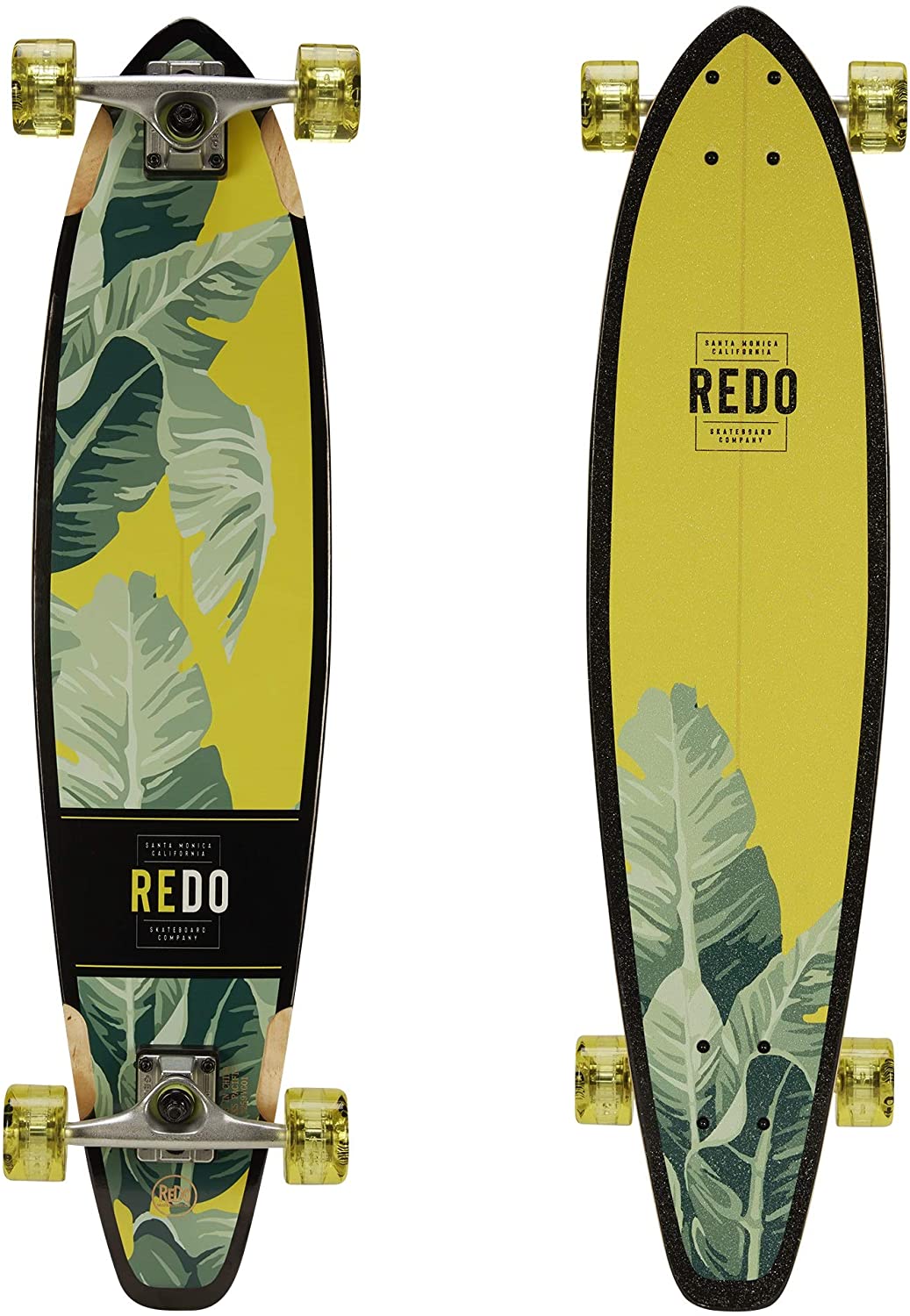 When it comes to components the Redo does ok. It has TKP trucks and 65mm tall wheels. It will roll great on smoother roads and will have a good turn. However, it will struggle with cracks and pebbles, just like the Whome above. Finally, it comes with risers to allow for deep turning without any worry of wheel bite.
For a price less than $60, you're getting a budget quality longboard – you get what you pay for. It's a shame about the wheels as if they were bigger, they would provide an even smoother ride. Still, the Redo pintail is decent and will work well. Find out more about it here on Amazon.com.
Globe Blazer XL Cruiser – The coolest design
Coming in at 36in in length and 9.7 inches in width. This board is perfect for older kids who don't want a board as long as the Comet or Volador above, but something shorter and just as comfortable. The board comes from Globe, another Californian based company that makes decent cruisers.

Different from other trucks on my list, this cruiser features tkp (traditional kingpin trucks) just like a normal skateboard. These are basically closer to ground making pushing and foot braking easier. They turn just smooth as the RKP (reverse kingpin) ones as well.
Unfortunately, it means that the wheels have to be smaller too, to avoid wheelbite. At 62mm, they won't be as smooth rolling as their 70mm counterparts. Which is fine if you think your kid will be skating places where it is mostly smooth.
All in all, I think this cruiser is a decent option – but limited by its wheels. For something more 'all-terrain', check out the Sola above. That said, it will still work well for cruising somewhere smooth. And whilst the Blazer does seem a bit more expensive than other options, it's components are high-quality guaranteeing a good ride.
Find the Globe Blazer here on Amazon.com.
Deleven Penny style board –  Good for little kids
If you have a toddler who is keen on learning to skate, the Deleven board might be perfect for them.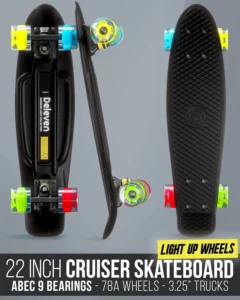 At 22inches in length and 6inches in width, the Deleven board is suited to riders who are really small in stature. Paired with the small wheels, and stiffer bushings, the board actually provides a fairly forgiving and easy ride.
Finally, the light-up wheels it comes with are actually pretty cool. And as a bonus, you get a skate tool with your purchase – allowing you to adjust and maintain the board as needed.
If you are a bigger rider, I urge you stay away from this board – it doesnv't provide a great riding experience for bigger, taller riders. Also, it has fairly hard bushings, that even I with my 80kg/180lbs weight struggled to turn. For the best riding experience for your kid, you may need to buy some softer after market bushings.
Check out the Deleven cruiser here on Amazon.com.
How to get your kids the best longboard
Make sure it's right for their size
A younger child with a smaller stature should go for something like the Penny or Tugboat from Landyachtz. A bigger kid would be more suited with a board like the
If they are too small for the board, they won't have enough weight and leverage to make the board turn. Vice versa. If they are too big, a small board will be too reactive to their input and feel too turny and twitchy. It will also be uncomfortable to ride as it will feel likely skating on a tightrope.
Kids between 5-10 can ride the Landyachtz Dinghy and feel comfortable. Older teens could ride the Sector 9 board and feel more at home on it thanks to how wide and long it is.
Don't get something too cheap
As the saying goes, cheap is expensive. Getting something cheap will mean a poor riding experience. They generally won't enjoy riding it and may even put it down after a few session of using it. Even worse it might break soon after a few session.
You want to invest in something that turns smoothly, is stable and feels good underfoot. High-quality parts usually helps to guarantee this.
Make sure they like it – Involve them in the buying process
Nothing will turn a kid off more from a board than if its something they don't like. So you need to make sure it will be something they like – understandably difficult if you are buying them their longboard as a present.
(Check out some skateboard related gifts here).
Make sure they are involved in picking out the board. Make sure it's in a color they like, or features a badass design they think is cool. You could buy the highest quality board in the world, but they won't ride it if they don't like it.
Protection is necessary – get them safety gear
Safety gear is an important addition to the stuff a beginner should have for skating. This is because as with anything, a beginner is prone to making mistakes and messing up once in a while.
In some activities, they could mess up, fall, and get back up again without much worry. But in skating, they could mess up and injure themselves – mostly because skating takes part on asphalt and not somewhere softer like grass.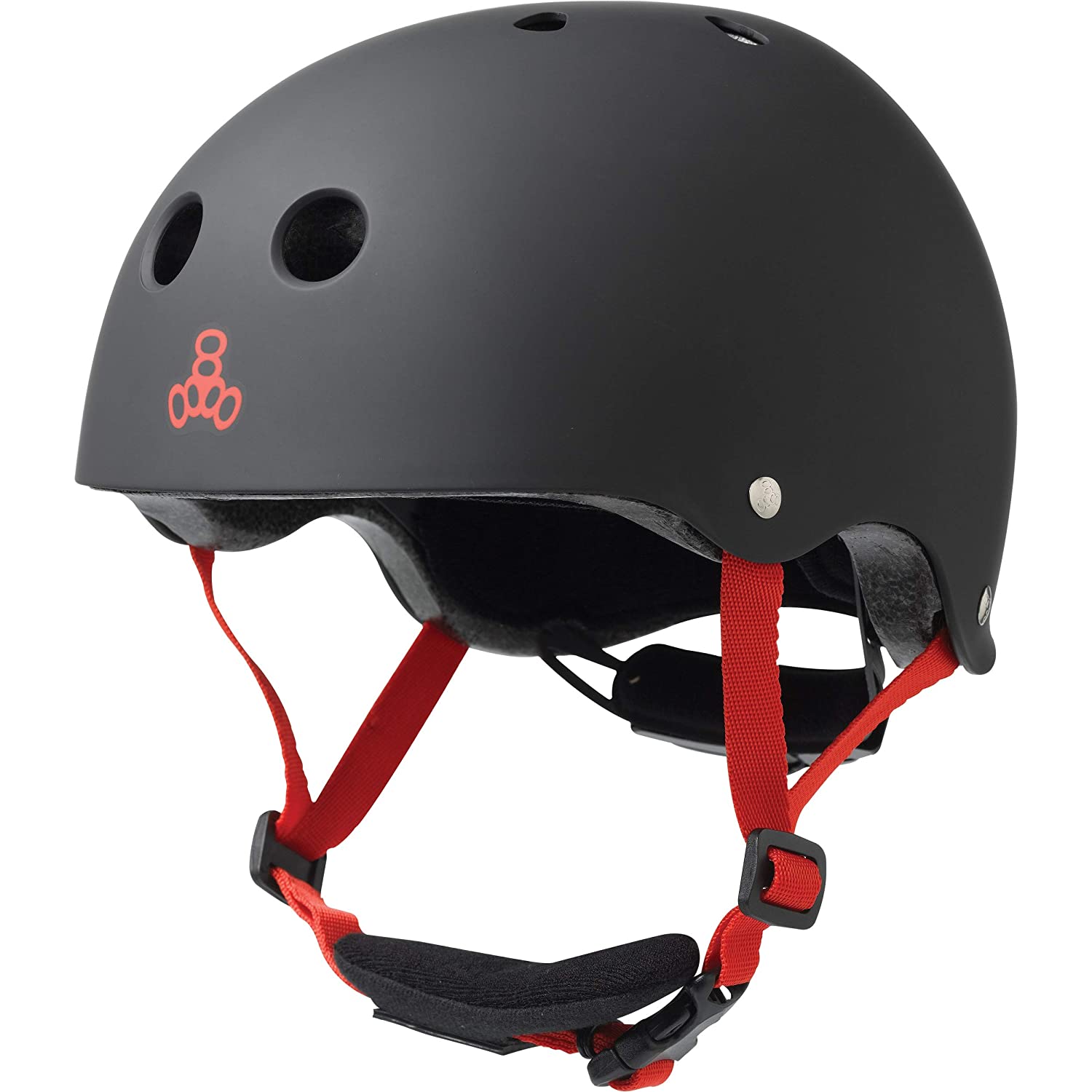 These injuries could go from being light scrapes, to bruises, a sprained ankle, to a concussion. Whilst they aren't likely to happen, they are in the realm of possibilities. As well, injuries like the above could easily put off a skater from skating, Better to keep them safe and bundled up, so they can fall, get up again and do it over and over.
Find out about the best helmets for kids here..
What protective gear should you get them?
At the least, you should get them a certified helmet, some knee, elbow and maybe wrist pads.
Here is a list of safety gear you can check out on Amazon.com:
Which longboard do you think is best for your kid?
The best thing that ever happened to me was getting into longboarding. Beyond it being something to do, something that let me get from point a to b. It was a lot of fun and helped me keep busy during the summer.
Whether I was skating with my friends, or just out for a cruise to help clear my head – skateboarding helped me.