There are a lot of helmet options for kids out there. But today, I'm looking at the best, safest, most stylish, and most colorful options. Keep reading if you want to find the best helmets for kids for skateboarding, longboarding, and rollerblading.
Best helmets for kids – skateboarding, longboarding, & rollerblading
Triple Eight Little Tricky – certified sweatsaver (most comfortable option)
Starting off our list, we have the most comfortable helmet on the market. The Little Tricky comes with a thick layer of padding that allows it to comfortably sit on the head and fit a majority of head shapes. It has extra pads too, which you can switch out when the others get worn.
The helmet is also dual certified, featuring the CPSC and ASTM F1492 certifications. It comes in 4 attractive colors, with no fancy designs but a nice minimalistic look. When it comes to sizing it has only one shell size for head sizes 19.25 – 22 in (50 – 56 cm). This is good as your kid can keep this helmet as they grow in head size.
It is a bit pricey at $40, but you are paying for quality, superior comfort, and safety. One of the best options if you aren't on a strict budget. Check out the Little Tricky helmet for kids here on Amazon.com.
You can also pick the XS/S version of the big Sweatsaver (it fits 20 – 21.25 in, 51 – 54 cm) if your kid has a slightly bigger head. Check it out here on Amazon.com.
Bavilk toddler Helmet – budget option & best fit
At about $20, the Bavilk helmet is one of the most affordable helmets on my list. What also sets it apart is some of the features it comes with.
The Bavilk helmet comes into main sizes, a small 48-54 cm / 18.9″-21.3″, and a medium 54-57 cm / 21.3″-22.4″. It will fit more snugly and securely than a helmet with one general size. To add to that, it also has a little dial at the back that allows you to tighten the helmet a little bit more for an even more secure fit. This is an excellent feature if a good fit is important to you (it should be).
But what holds this helmet back is its single CPSC certification and that it doesn't come in any fancy designs (just a variety of cool colors). So whilst it's not as safe as a dual certified helmet, this helmet is still a decent option. It's great if you're on a budget, and are willing to compromise on safety a little bit.
Check out more about the Bavlik helmet here on Amazon.com.
S1 Mini lifer – best all-around Helmet
The S1 mini lifer is the best all-around helmet. It is certified (safe), super comfortable, and comes in great colors (but limited options).
The S1 has the most size options available. Whilst this shell size remains the same, the pads come in different thicknesses that allow you to change the size. You also get two extra pads a size up and a size down which you can play around with for a more snug or loose fit. You can pick from 6 different sizes from X-Small 18.5″ to X-Large 20.5", with different sizes at every 0.5inch increment.
The S1 is dual-certified. It has both the ASTM F1492 and CPSC certifications 
The S1 helmet is my favorite on the market. I have a regular-sized one for my adult head and I like it. It's sleek, stylish, and lightweight. The pads do wear out in 6 months but you have extra so you can always replace them. It's worth it IMO.
But it is quite expensive. One of the more expensive options on the market. Check it out here on Amazon.com.
If you want to buy a longboard for your kid, you can check out my indepth guide to the best longboards for kids here.
OutdoorMaster kids helmet – BEST (safety, price, fit, comfort)
If you're in the market for a budget option that ticks all the boxes for safety, the OutdoorMaster helmet is an obvious choice.
The helmet comes at an insane price of less than $20 and it doesn't cut any corners. It is comfortable, fully certified (featuring both the ASTM F1492 and CPSC certifications), has a tight fit, and great ventilation. You wonder if they making any money with this helmet at all. The budget cost makes it one of the best helmets for kids.
Like the Bavlik above, it also has an adjustable dial you can twist to get the helmet to fit better. But it also comes in two sizes; small – 46-52cm / 18.1″-20.5″, and medium – 52-56cm / 20.5″-22″ so you're still getting a fairly decent fit.
Where this helmet falters is how bulky it is. When wearing it, you kinda look like a bobblehead. Also, whilst there are loads of colors to choose from, you don't get any fancy cool designs.
So whilst the helmets is the best in other departments, it fails in looks. It's great if that isn't a deal-breaker tho. Check out the OutdooMaster kid's helmet here on Amazon.com.
Atphfety Helmet – avoid this one
.Whilst this helmet aces it in the looks department with its cool shark design and fin. It doesn't perform very well elsewhere. It should be avoided altogether.
I say avoid this helmet because it is a little bit on the unsafe side. Whilst it complies with the CE certification it doesn't have any of the more stringent ASTM and CSPC certifications for skateboarding and cycling respectively. It's not as safe as the other options on my list.
And whilst the fin is really cool, it is unsafe as it can cause the helmet to twist on impact which can cause a lot of damage to the neck.  I also reckon this is why it doesn't have any of the important certifications.
So in my opinion, avoid this helmet altogether. Feel free to check it out here on Amazon.com for yourself.
Dacool Helmet – avoid this one too
Another helmet to avoid, Dacool helmet comes in an attractive package. You can get it with a set of knee, elbow, and hip pads. However, like the Atphfety helmet above it is not certified so should be avoided altogether.
Because it's not certified you can't be sure that this helmet will prevent brain damage during a fall. It should be avoided if you actually wants to protect your kids head.
Find out more about it for yourself, here at Amazon.com.
Nutcase Little Nutty Helmet – best designs + safest
This is the safest helmet on my list and it also has the best designs and all the features you could think of. It's the safest because it features a fairly new technology called MIPS.
MIPS reduces the rotational forces in an impact and helps reduces the forces the eps foam has to absorb, which reduces the chance of a concussion and brain damage from occurring. It's the next step in helmet safety technology.
If you want the safest of safest helmets, make sure whatever you choose has MIPS.
This helmet is also pretty great, it has all the relevant certifications (ASTM + CPSC), the best and most attractive designs, has a visor for shading, has a dial to ensure a perfect fit, and thick comfortable pads. It's easily the best on my list.
When it comes to sizing, you can choose the toddler – 18.8-20.5inch (48-52cm), and youth – 20.5-22in (52-56cm).
If you want the best designs (easy pick for your kid) and the best safety, the Little Nutty is a no-brainer. However, it is quite expensive, the most expensive option on my list. I do think it is 100% worth it though.
Check out the Little Nutty here on Amazon.com.
Nutcase Baby Nutty – best for baby's (small heads) + MIPS
This is one of the best helmets for kids. It's one of the safests options. There is really nothing safer than this, it's honestly the best choice.
It has all the best safety features – MIPS, and the ASTM and CPSC certifications, best designs and colors, a velcro style dial that allows for a snugger fit, etc. It has all the bells and whistles.
It's gonna be great for baby's with head sizes between 18.8inch – 20.5inch and the velcro dial ensures a tight fit (but not too tight).
If you want to keep your baby's head the safest, this is the option to go for. Check out the Nutcase Baby Nutty helmet here on Amazon.com.
FAQ: Read before you buy (buying guide)
Safety matters – get the certified helmet
The only way you can guarantee that helmet is gonna keep your kid safe is by making sure you pick one that is certified. Two main certifications can be applied to skateboarding, longboarding, and rollerblading helmets they are:
The ASTM F1942 protects against multiple smaller impacts. And the CPSC against a single big impact. All the best helmets for kids have these two certifications.
Always lookout out for these certifications. They'll typically be listed on the product description. They must also be listed on the helmet, so you can find them on the inside too. Refer to the images below.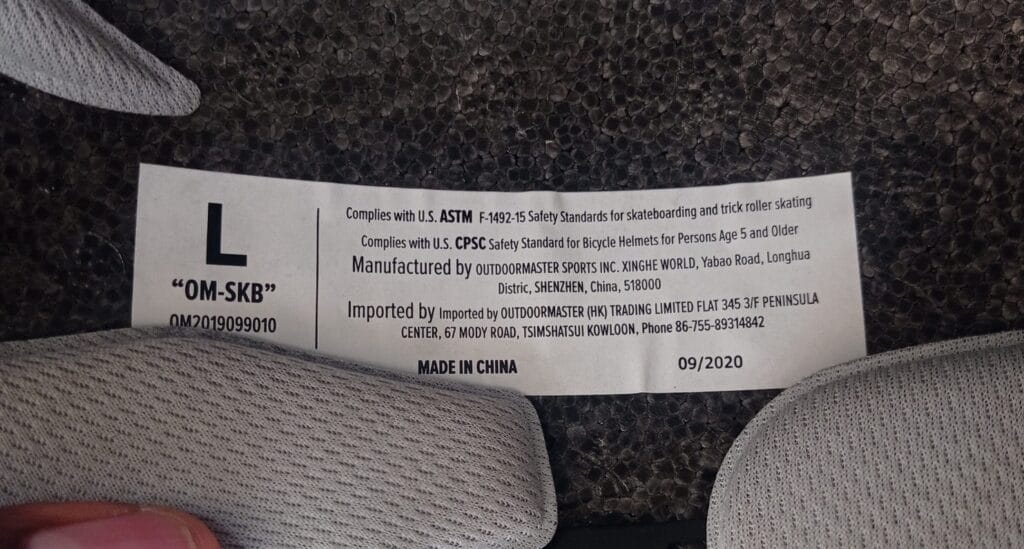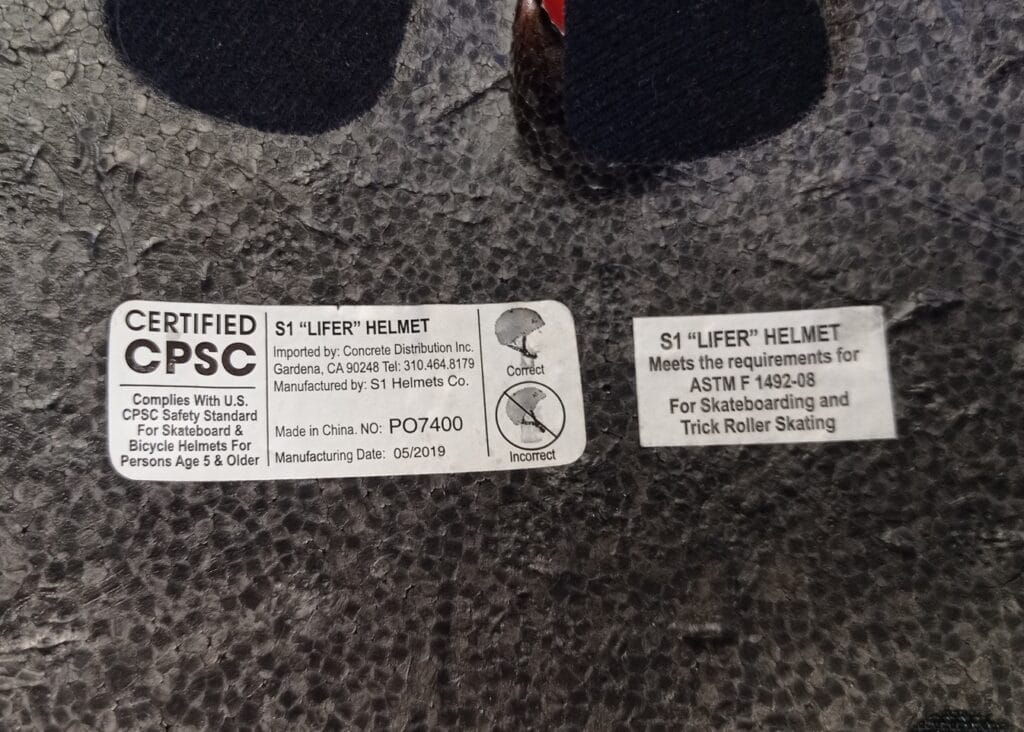 Most helmets will have either but the best helmets are gonna have both. They'll often be marketed as "dual certified".
And once a helmet has had an impact (once they've smacked their head in it), it should be replaced. The EPS foam that absorb the impact gets used up and can't be used again.
MIPS is a good addition too
Nowadays there is also a technology called MIPS. MIPS is a great addition that allows the twisting/torquing forces that occur when a helmet hits the ground to not affect the head, preventing injuries caused by the rotational forces. It just adds another layer of safety.
It's not as popular in the skateboarding world (just yet) but it's very popular in the cycling and motorcycling world.
Creative helmet designs, a problem? Do those with protruding bits cause an issue?
Some kid's helmets come with protruding designs like horns, or plastic ears, or even a plastic mohawk. Just like the helmet below.
These designs can be a safety hazard.
During an impact, these designs can make the helmet twist in an awkward way which in turn leads to the twisting of the neck of the wearer of the helmet. This can lead to further injury.
Now if a helmet is certified then I guess it's ok and the protruding bits don't cause an issue but if it is not certified I'd say avoid it altogether.
Make sure you get the right size
Make sure you get the right size helmet for your kid. This will ensure that it sits snugly and that it will be comfortable to wear. If it's too big it will be quite roomy and if it's too small it won't fit properly and it won't be comfortable.
It should be in a style they like (and comfortable too)
Probably just as important as getting a certified helmet, make sure the helmet you pick is in a style they like. 
If your kid doesn't like the helmet then they probably wouldn't want to wear it. This is pretty bad as the helmet is that keeps them safe. So the easiest way to ensure that they always want the helmet even when you're not present is to get them one that's in a style they like, in a color they like, and is cool.
If you can, involve them in the buying process. Might take longer, but this way you can guarantee they'll get something they'll like.
Cycling vs skate helmets (the difference explained)
Because I know someone is wondering, allow me to explain the difference between cycling and skate helmets.
Cycling helmets 
Cycling helmets sit further up on the head and don't extend as far down the back of the head as skate helmets do. This is because cyclists are very unlikely to fall and hit the back of their head or the front of their head, so the helmets are allowed to sit a bit higher and cover less of the head.
Cycling helmets also only tend to have the CPSC certification for one hard impact. Because when they fall and hit their head, the head isn't likely to bounce off the ground and hit it again.
Skateboarding helmets
Skateboarding helmets sit lower on the head. In the USA they have the ASTM F1942 certification for multiple small impacts. The helmet is more likely to bounce off the ground in environments where skateboarding is done. 
Other pads are a good idea too
It's also wise to get them other pads as well. Knee, elbow, and wrist pads are good choices if you haven't gotten them already.
I highly recommended a gear set, where you get all 3 bits of kit.
Triple 8 has a high-quality but affordable set option, available here at Amazon.com. They're going to be comfortable, durable, and they'll be flexible in them.
Replace the helmet after …
You should replace their helmet after:
An impact – the EPS foam can only absorb impacts one time before it is useless.
Once they grow out of it – helmets that don't fit are uncomfortable and suck to wear.
Once a year if you can afford it – helmets get little bumps throughout the year/use that slowly degrade the EPS and reduce its effectiveness. Other factors affect the EPS too.
What do you think? Got the perfect helmet for you kid?
If you're still on the fence I highly recommend the Triple Eight helmet. It's comfortable, affordable, and looks good. You can't go wrong with Triple Eight. But if safety is the number one priority, the MIPS helmets from the Nutcase brand are the best.
Big thanks to all my patrons for the support – Jed, Mowgii, Jan, Jay, Bryan, Owen, Samil, Daniel, Alex, Kasajja, Leah, Helge, DeLacoste, Anthony, Ismail, and Justin. I couldn't write articles like this without you guys' support