The Rocket Micro is Rocket and Ian Freire's slalom downhill board offering to the world. Is it something special or a re-hash of what is becoming a popular formula? Find out more about this board below.
Specs
Length: 30.5" / 77.5 cm
Width: 8.75" / 22.3 cm

About 8.6" where you feet go

Wheelbase: 20.8" – 23" / 53 – 58.5 cm
Concave: Rocker with aggressive wheel flares
Construction: SFI-certified bamboo, Carbon fiber, Natural flax fiber, Glass fiber, Embossed ABS top sheet
Weight:  2.8 lbs / 1.3 kg
Cost: CHF 259/ $259
Interview with Rocket longboards and Ian
Unlike usual, today we have an interview from BOTH Rocket and Ian – usually it's just an interview with the pro for whom the board was made. 
But since the Micro has been made with a pretty unique construction, I was interested to learn more about it from Rocket.
Rocket (Daniel)
About Rocket longboards
Rocket are industry leaders in their own right, making some of the highest quality boards around – the name Rocket is pretty much synonymous with quality in the longboard industry/scene. 
A Rocket board is serious business (and they certainly come with a price point to match).
Having made their debut in 2013, they've been on a steady climb, slowly building their reputation and growing into the business and board manufacturer that they are today.

1. What were some design goals you had with this deck?
Ian was riding a Werewolf for its release video. He noticed the advantages a short, narrow board can have. And also how much fun it can be. Ian already had a Pro model in two different widths. When it came to revising his pro models, we decided to make the two boards even more different. The Macro is similar to the first version and the Micro is a modern racing board with the same features as the big one, which has already proven itself. 
2. Is the deck made with different materials? (Carbon)?
The micro has a very interesting and complex construction. We combine 4 different types of reinforcement fibers. Carbon and glass fibers for exceptional responsiveness and natural flax fibers for vibration dampening. The whole thing is combined with a bamboo hollow core to make it lighter. As far as I know, at 1.3 kg / 2.8 lbs, the Micro is the lightest series-produced racing board on the market. 
3. What performance advantage or simply, what advantage does this new construction bring?
The advantage of the new construction compared to LAF technology is the damping and smoothness with almost the same agility. The new boards ride and above all slide more smoothly than the old ones. This is a huge advantage, especially on rough asphalt.
Ian Freire 
About Ian Freire
Ian is in my opinion, one of the greatest freeriders of all time. 
There's a lot to unpack there as to why I think he is one of the best, but just check out the video below. 
And Ian's not just extremely good at stand-up slides. Ian is a formidable hands-down racer too, and holds his own on the race circuit.
1. What were your design goals for this deck Ian, what were you looking for?
About the design, the Micro is basically a shrinked version of the original pro model, before we used to have two width options and decided to change it up and make it one big and one small to follow the trend of the small boards that's been going on… one of the things that always bothered me a bit when I tried small boards was the excessive concave so by making the Micro very similar to the big one we created a new kind of small board that gives you freedom to move your feet and change your stance, I think that was the main goal for the board and it fit the rocket line up really well.
2. How do you set it up yourself?
(Include your setup + weight, maybe a little information about your choice of trucks would be cool too)
My setup right now is Cuei wheels and ronin trucks katana 144, with ronin stock bushings double ice tea on the back, and yellow/red in front.
I weigh around 70kg and use the biggest wheelbase option.
3. How would you suggest others make the most out of this deck?
I would suggest people riding it with trucks around the 130mm range.
I've been wanting to chop mine so the wheels will be perfectly parallel to the edge of the board
I think the wheelbase really depends on your height and what you're used to
but since I'm used to riding bigger boards the biggest wheelbase is the most comfortable for me and still has insane grip.
We've been getting a lot of positive feedback from the team riders and people that bought it, I'm sure if you're looking to try a small board but aren't sure you'll feel comfortable or stable on it the micro is the best option!
My Rocket Micro setup
I tested the Micro with a bunch of different trucks, but I felt most comfortable riding slalom DH trucks on it. The short wheelbase options were suited to trucks that had a big split angle.
I tried it with Bear Smokies but ended up settling on Slalom Rogues for it. 
Slalom Rogues feel best with the footstop set more over the baseplate, and this worked well with the wheel flare position of the Micro.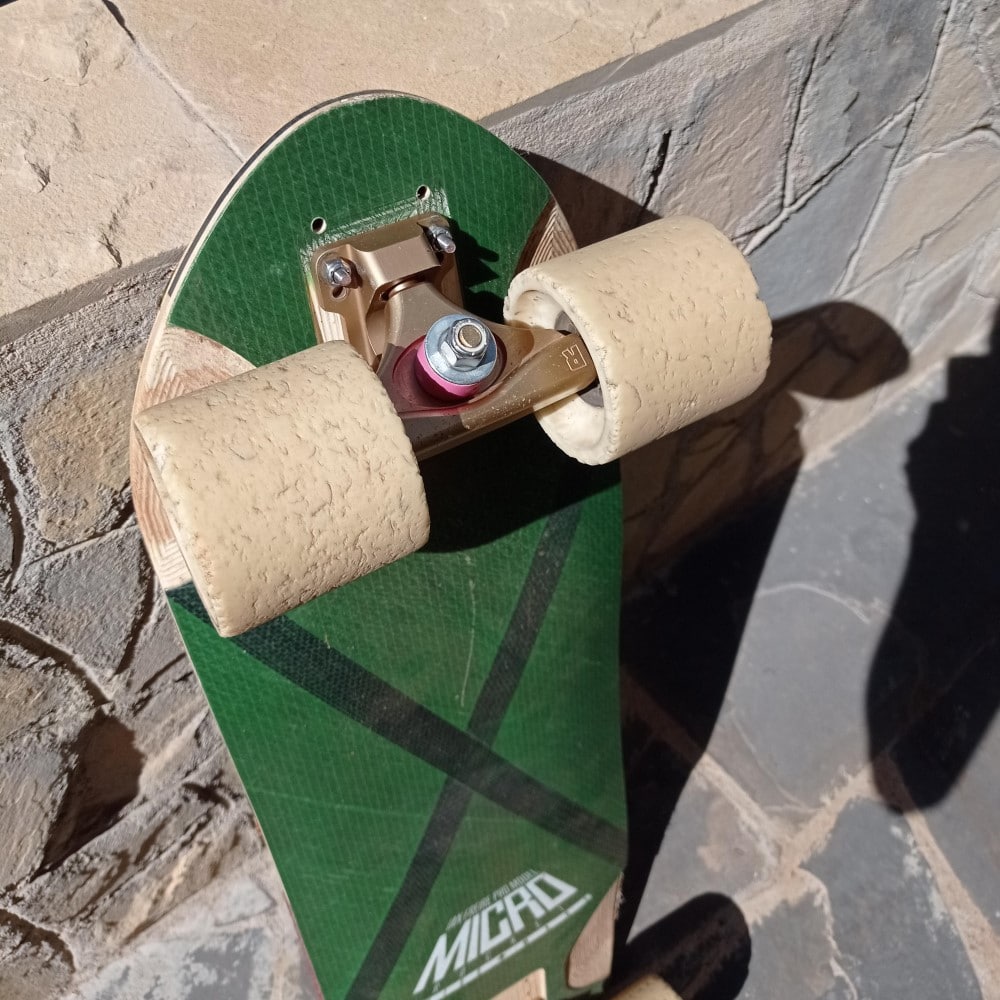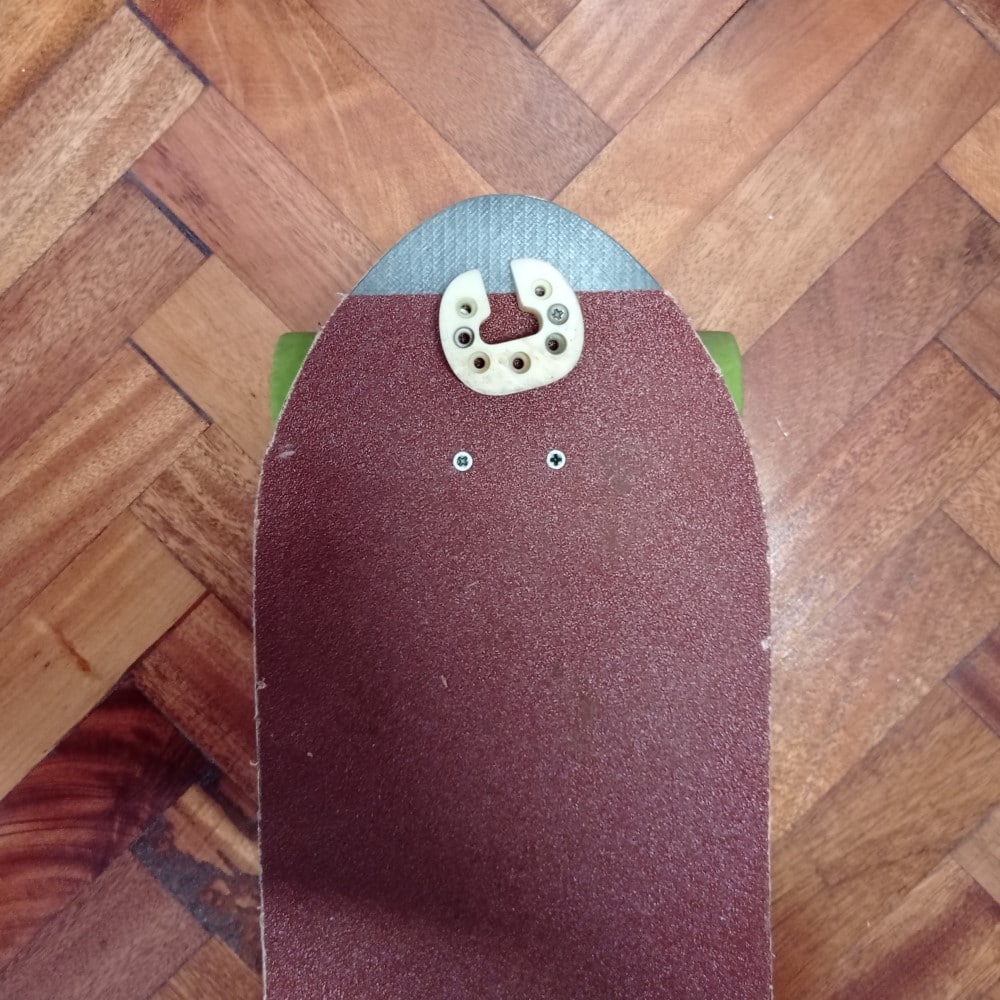 Trucks: Slalom Rogues
Wheels: Various
Griptape: Dark Matter
Footstop: Comet
Wheelbase: 22.5"
Rocket Micro Review
Disclaimer – Rocket sent me this board for free, but I will be unbiased in my review and critical where I need to be. 
Summary
Rocket is known for their aggressive concaves – so as someone who LOVES minimal and mild concave, I was actually a bit skeptical of getting this board. However, the Micro concave is aggressive, but mild where it needs to be. You get aggressive wheel flares for your toes, but mild concave under your heel. They hit the jackpot with this concave combination because it feels both functional and comfortable. 
These features enhance your riding experience, without getting in the way. 
However, with how the concave is set up you need to have the appropriate stance otherwise you couldn't comfortably ride it. If your stance is too long or you don't naturally place your feet in a certain position, you won't be able to ride this board as intended. That said, it should work great for most.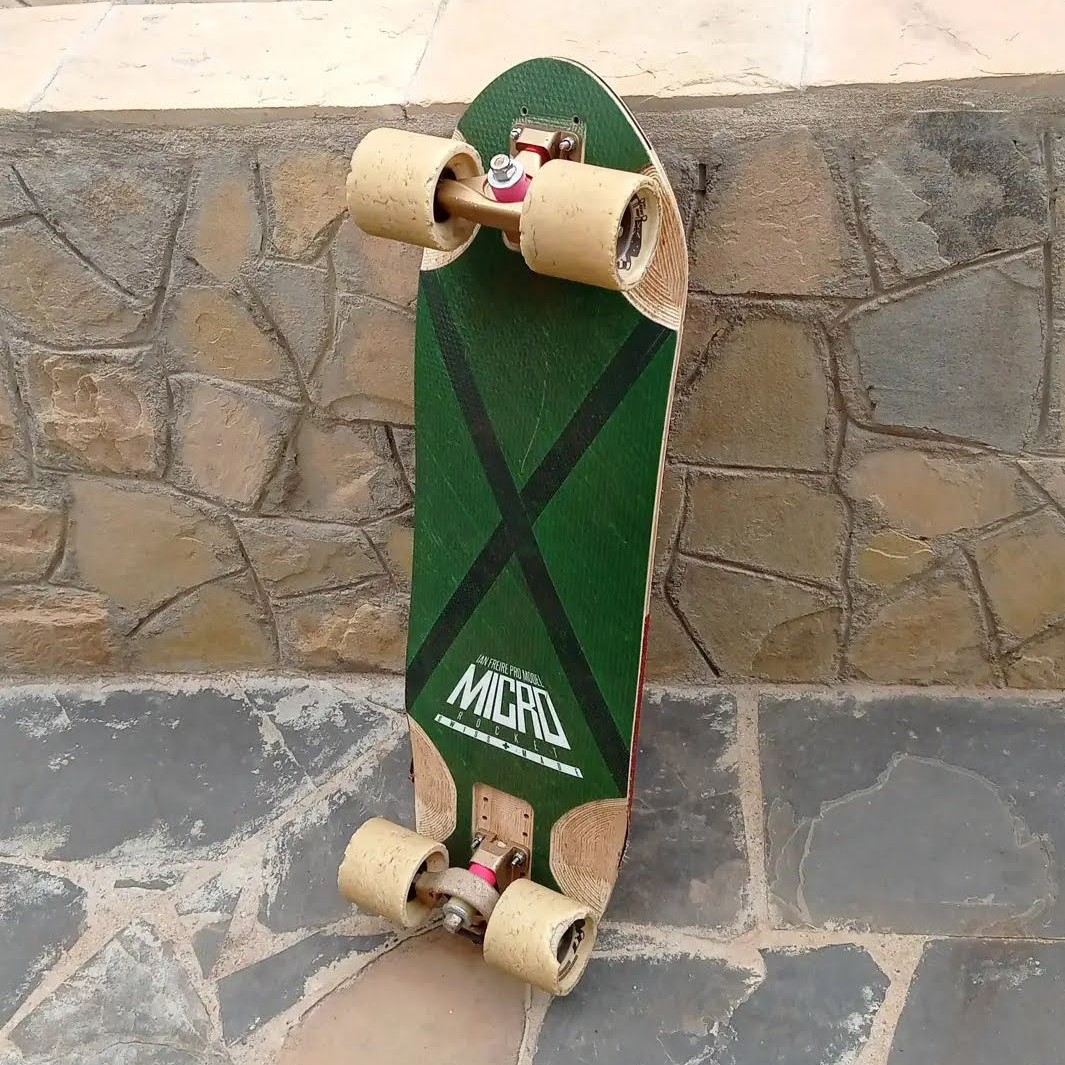 The construction of this board is legit. It allows the board to be lightweight, but still incredibly stiff. It also helps dampen vibration from road imperfections, so you get a slightly more comfortable ride over rougher roads.
However, if you are a racer, you may need to consider a weight for the board. The lightweightness negatively impacts overall acceleration down the hill. That aside, the lightweightness is amazing for all other uses.
Altogether, the Micro is a pretty sick board, and I highly rate it, and I'm glad to have it in my quiver. 
My biggest issue is how the board handles impacts, but for the most part, shouldn't be too big a deal.
Rocket Micro concave explained
I haven't ridden the old Ian Freire Pro models, so I can't make a comparison between these two.
The concave on this board is arguably its most defining feature.
In the front and back you have flares over the wheel wells, dips after/before the wheel wells, and a very aggressive raised section in the middle.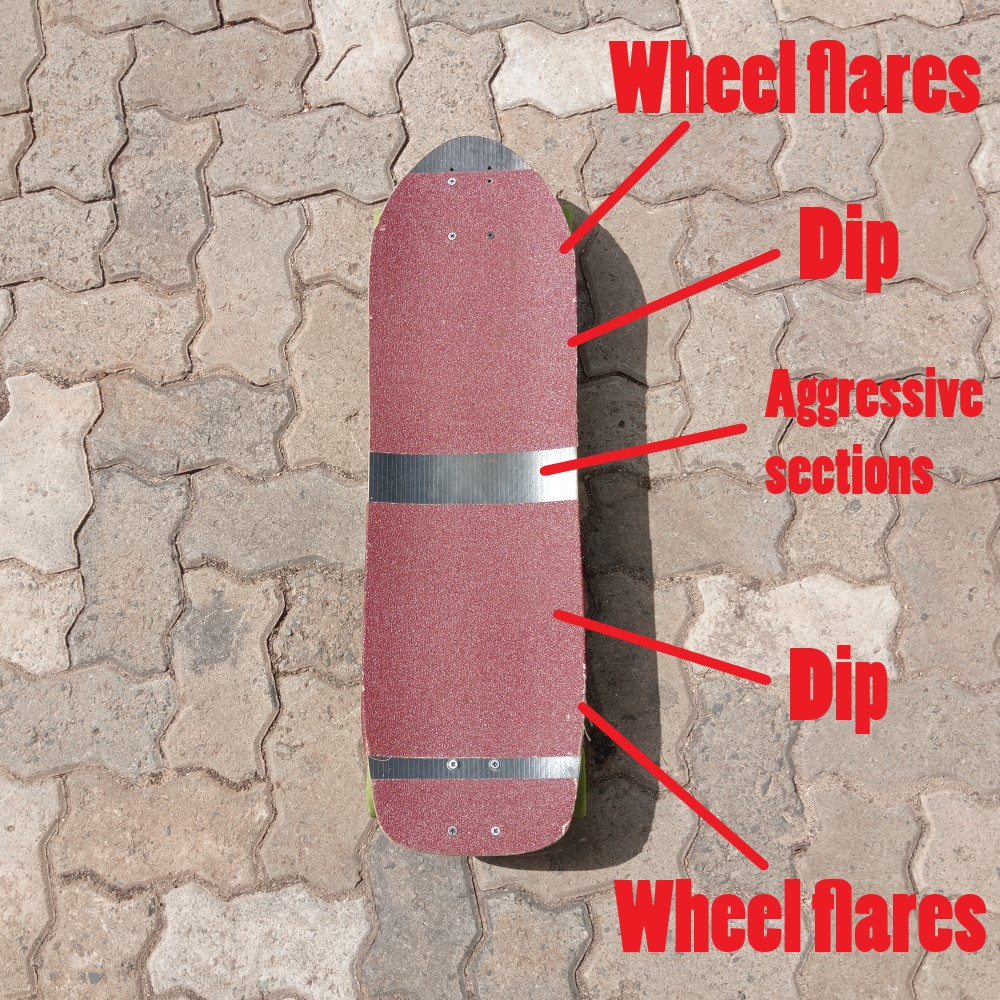 These features enhance your leverage over the board or allow you to dig into the board during slides.
Does the concave enhance your riding experience?
Toeside
The concave is so good and, it naturally places your feet on the flares and in the dip. Your feet feel quite natural in those spots.
But yeah, the raised flares in the front give you a bit more leverage toeside, which is awesome for tuck leaning, and sliding toeside. The dip in the rear on the toeside side allows you to really dig your back foot in when tucking, and when doing toeside slides too.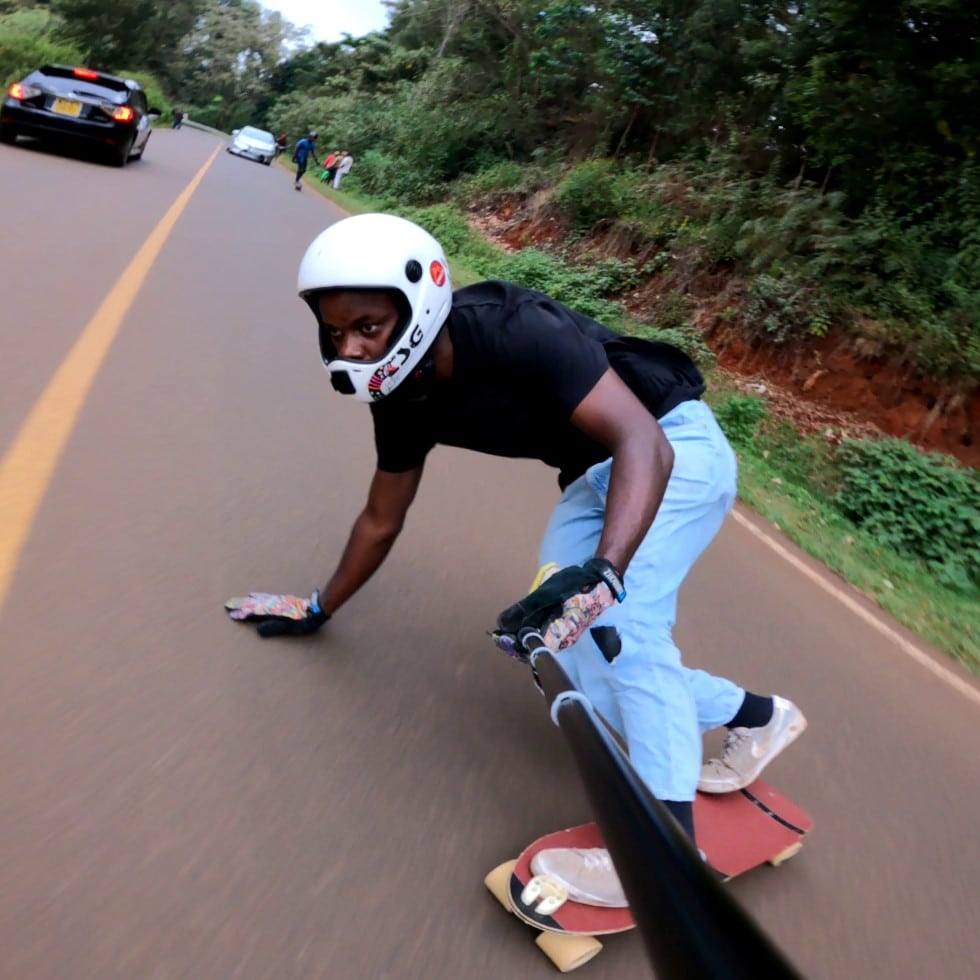 The concave in the rear is very reminiscent to how a torque block feels under your toe and under your heel.
Heelside
The dip under your heel allows you to really lean and sit into the deck. It also gives you a locked-in feel and what feels like better leverage for heelside turns and slides.
I especially love the dip under the heel. It is insanely comfortable to me and how I would want all my boards to be like in the future.
In the rear, the dip under the heel gives you something to dig your front foot into.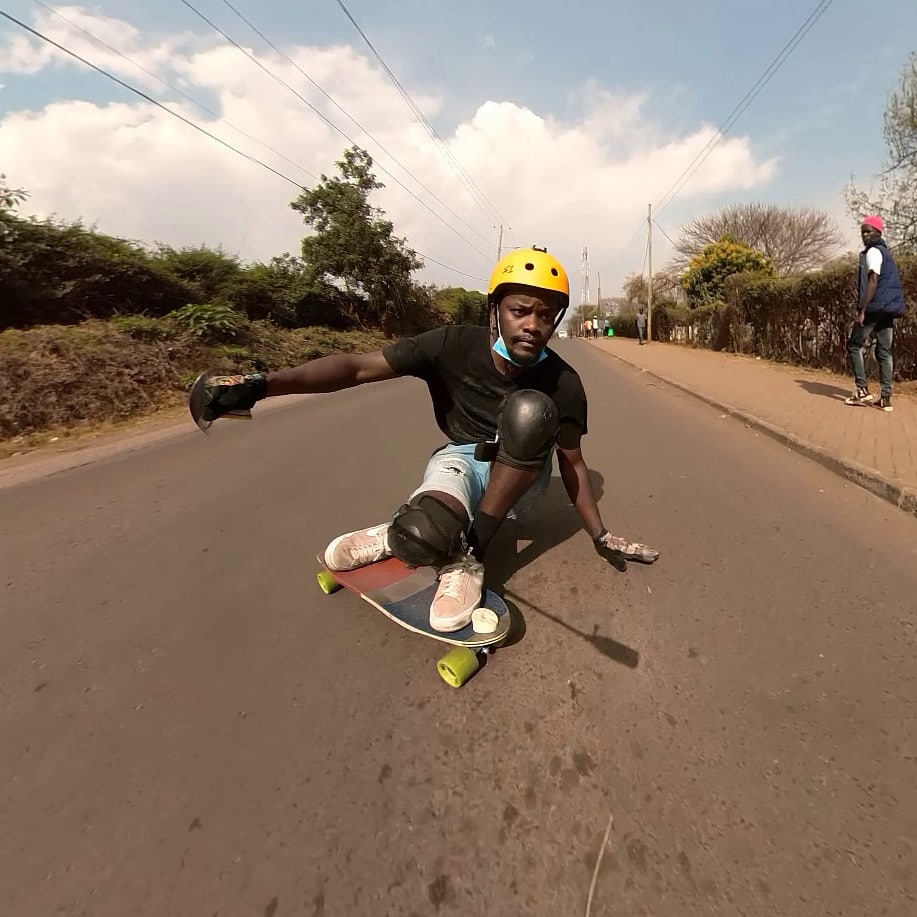 The concave on this board is extremely functional … however …
I think the concave may not work for everyone
You have to place your feet diagonally to access the wheel flares and the dip on the front of the board. If you don't place your feet diagonally, the deck feels awkward. You have to stand in a certain way to engage with the concave.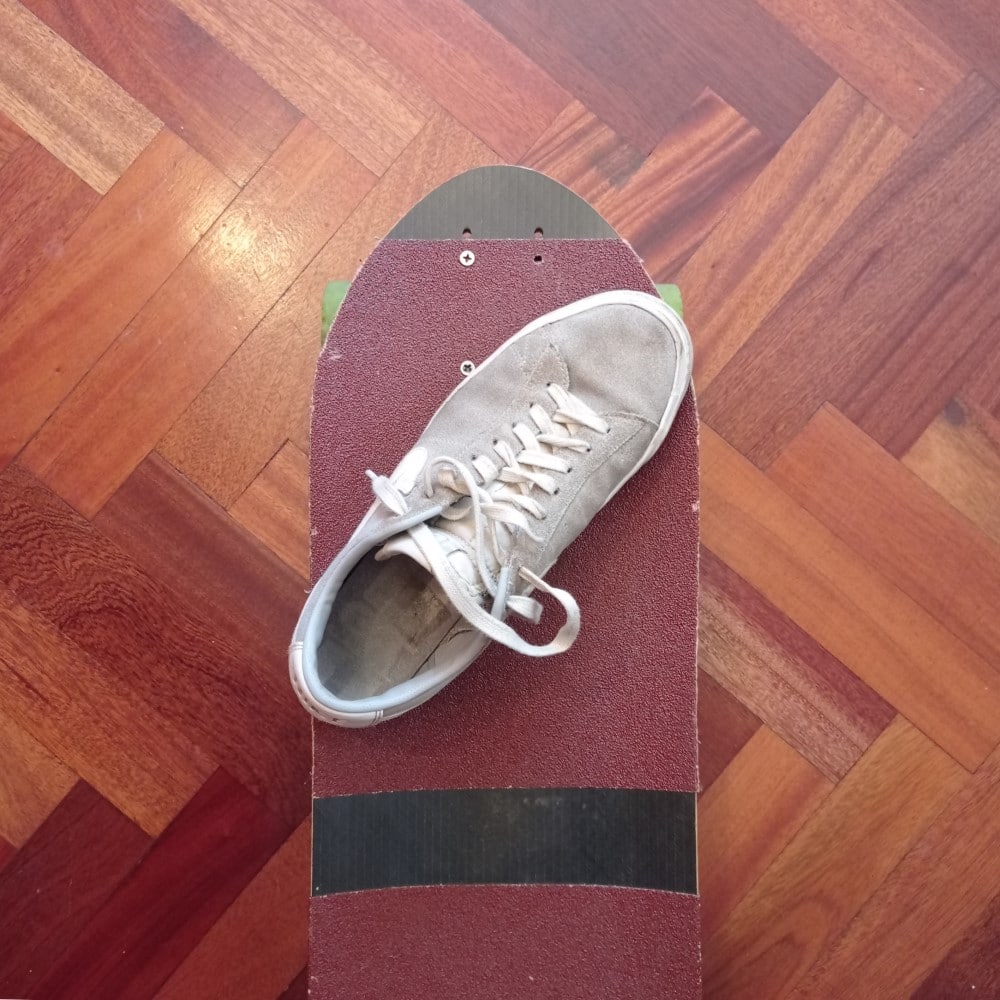 I don't think it's that big of a deal, different boards may require you to shift your feet to make the most out of them. However, this will be unnatural for some. Some of you may not end up liking this deck at all because of this.
That said, if you do sit on the flares (at the front) with your heels, it's not that bad. It's liveable, but it is definitely uncomfortable.
Finally, because the concave is aggressive, if you have a super long stance, you will not be able to skate the board comfortably. The concave is aggressive in the sense that it wants you to place your feet at a specific distance and use the board a certain way.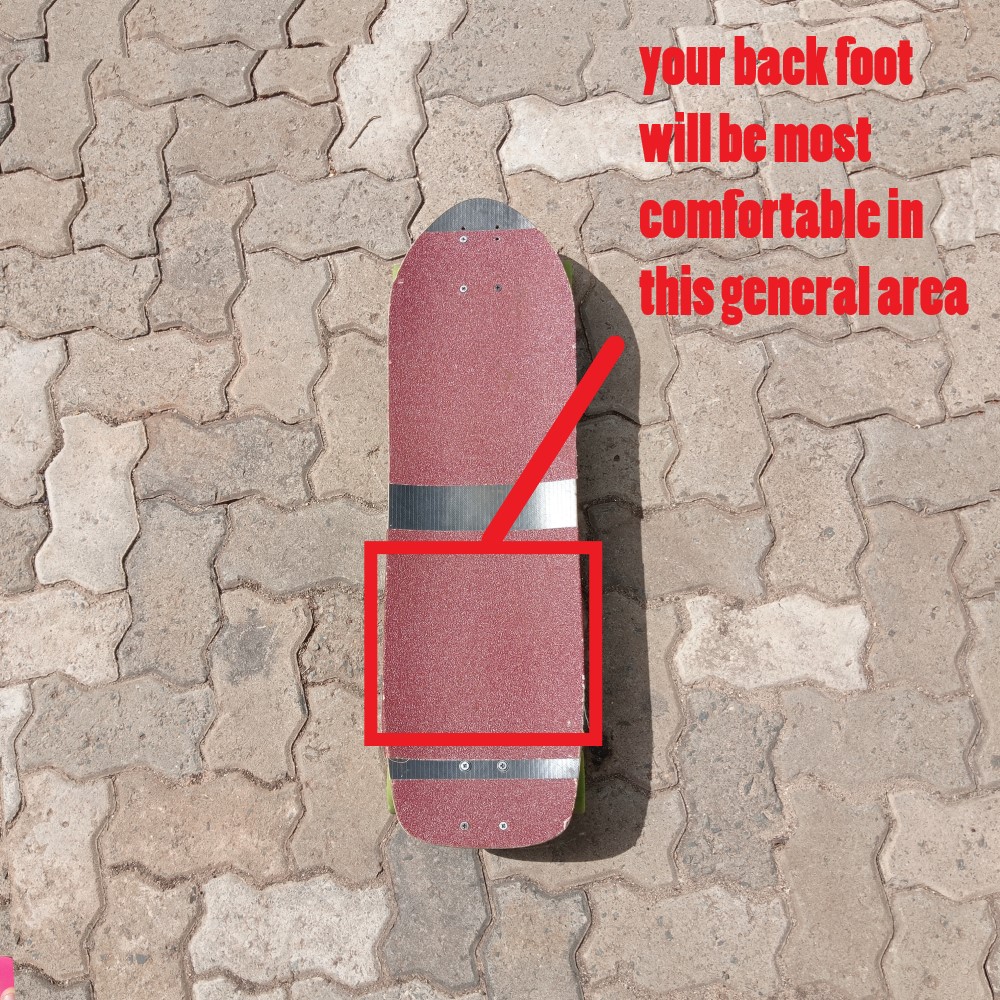 If your foot at the back stands behind the dips/on the wheel flares, you can still use the board (if you're determined), but you will be uncomfortable.
If you don't have a stance that is just right for this board, you may struggle using it.
And the above said, it will work for the vast majority of people. Just not for those on the extreme end of the stance spectrum.
The board also has Rocker 
This board features a lot of rocker – which is a signature feature of Rocket boards.
Initially, I didn't like rocker; I wanted a pure topmount board for all the grip … I like it now though. 
Rocker is more comfortable to stand on and ride. It provides a little less grip, but helps improve control in slides. 
I think it leads to better performance overall.
Is it lightweight
The board is one of the lightest I have skated. It is a refreshing experience.
It is a lot easier and a lot less exhausting to push or carry the board up a hill.
The lightweightness does affect your top speed though, but only by a little. I noticed I wasn't catching up to my friends whilst drafting as easily as I usually do.
If you're racing, a metal weight may be a good idea to weigh the board to the maximum allowed weight, so you can get as much acceleration (or rather weight to overcome drag) as you can. It will allow you to be competitive. 
For most uses, the lightweightness is great. It makes it even easier to manhandle the board; it's quite easy to kick this board out into a slide and to control it in the slide too. Those snappy, quick slides are amazingly easy to do on this board.
Does it have any torsional flex?
The board has a tiny bit of torsional flex, but you might as well count it as none.
How is the construction?
The construction is good, the board is lightweight but still stiff. 
However, I am not 100% confident in the board's ability to handle slams though. I feel like it will chip or splinter. Ofcourse, you will need a significant force to do this – like your board going into a wall at 40mph. Which if you skate fast, CAN happen.
The board didn't hold up as well as I would have liked it to from the small bangs that it took; other boards like the Small Blind didn't show any damage from such bangs, but the Micro had small dents. But this only happened on the sections that didn't have the urethane bumper, or where the board was hit at an odd angle.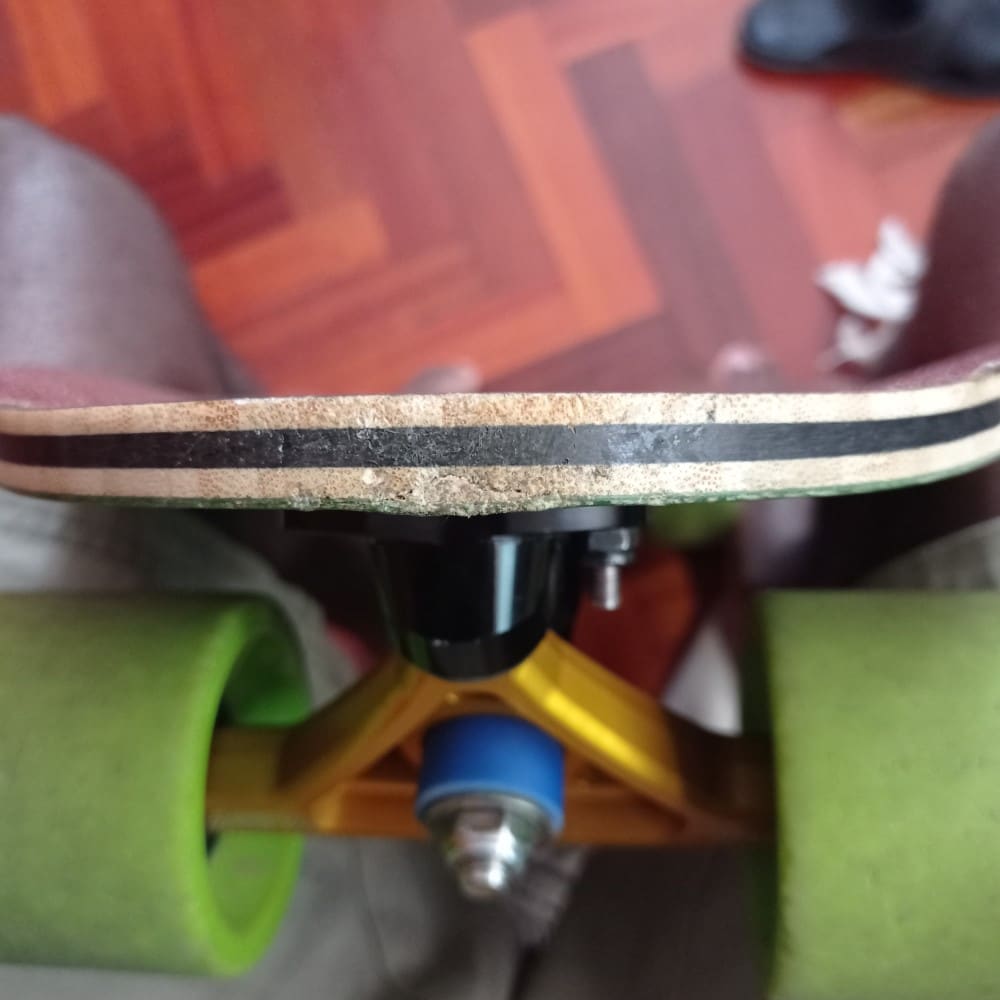 Where the urethane bumper was hit head on, there was little to no damage.
I would compare the durability of this board to a 7ply, fiberglass deck.
I'd say though, it would be better if the urethane bumper was either thicker, or covered more of the nose and tail, maybe until where the wheel wells started.
The board with such a bumper would likely be more expensive, but I'd have more peace of mind about my board withstanding any abuse.
Does it absorb road vibration as well as they say?
The micro definitely felt smoother over roads than other boards did. It did absorb vibrations and help dampen the impact of skating over road imperfections.
How deep are the wheel wells and flush mounting?
The wheel wells are about a ⅛-¼ inch deep. However, the wheel flares ensure that you don't get wheelbite.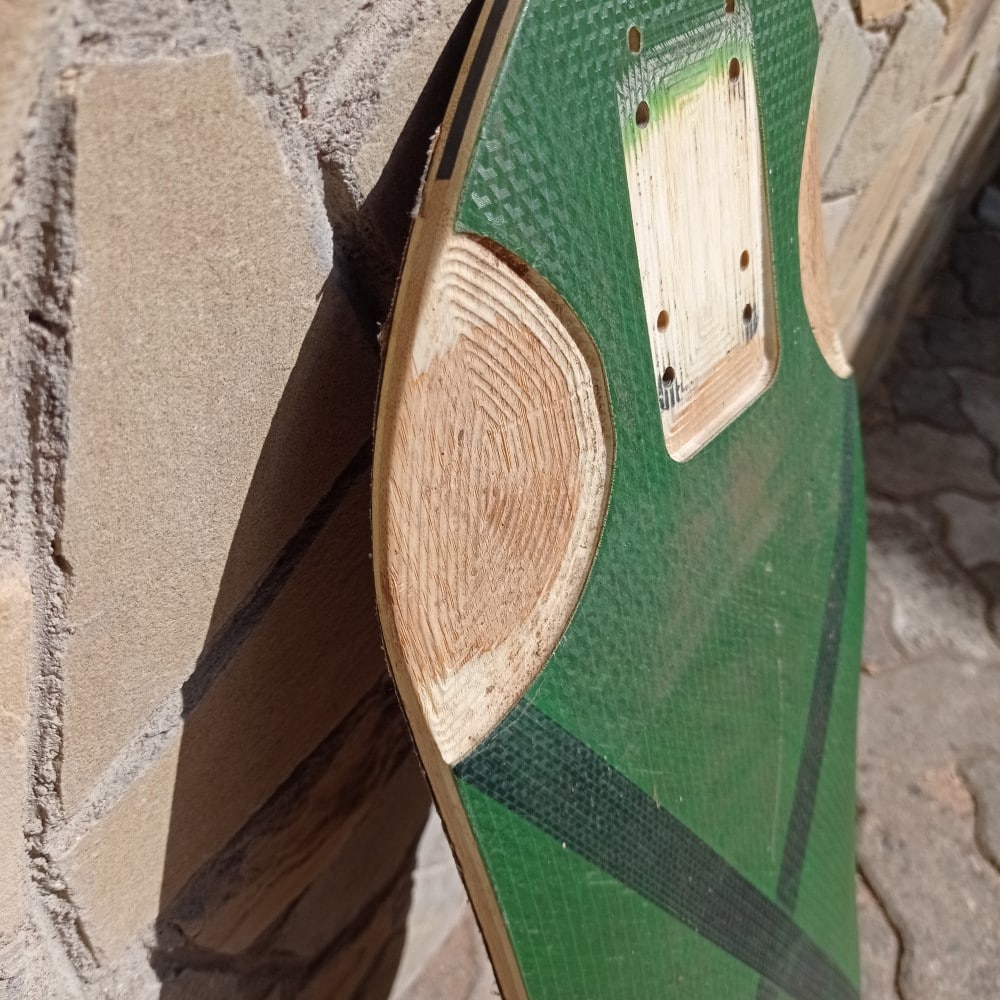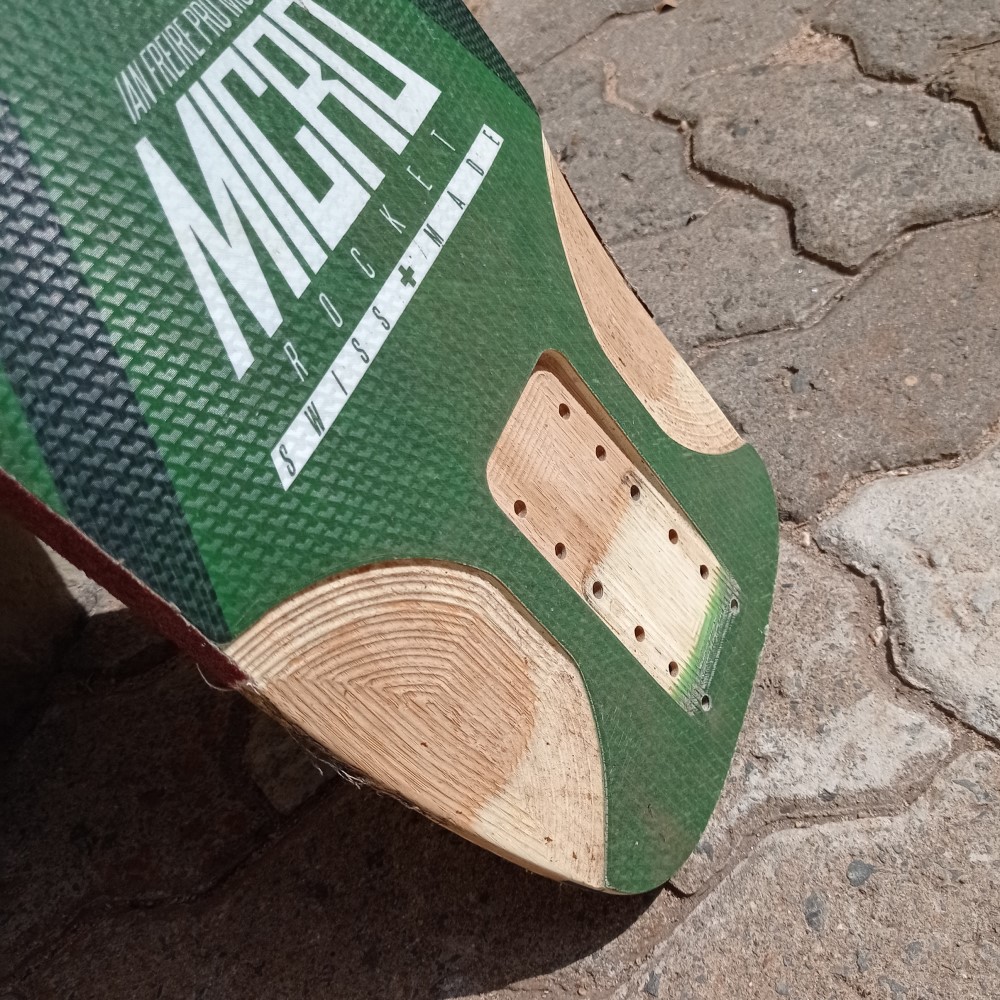 The flush mounting is similarly deep but is mostly there to counter the wedging that the deep rocker provides.
Are the many wheelbase options useful?
Yes, they are, you can get a wheelbase option that works great for you.
However, I find the front-most wheelbase option not that useful (of course, this depends on your footstop placement). If your footstop placement is too far forward when using this wheelbase, your front toe will be ahead of the wheel flare and will also be on the tapered part of the board. 
With your toe there, you won't be able to make the most out of the board, and you will have a lot less leverage for toeside maneuvers. 
I think it may be personal preference at the end of the day, but the aggressive taper means reduced leverage if you use that wheelbase option. 
Because of that, I never set up my front truck on that bit of the board.
The other wheelbase options are awesome and useful, I simply didn't like that one.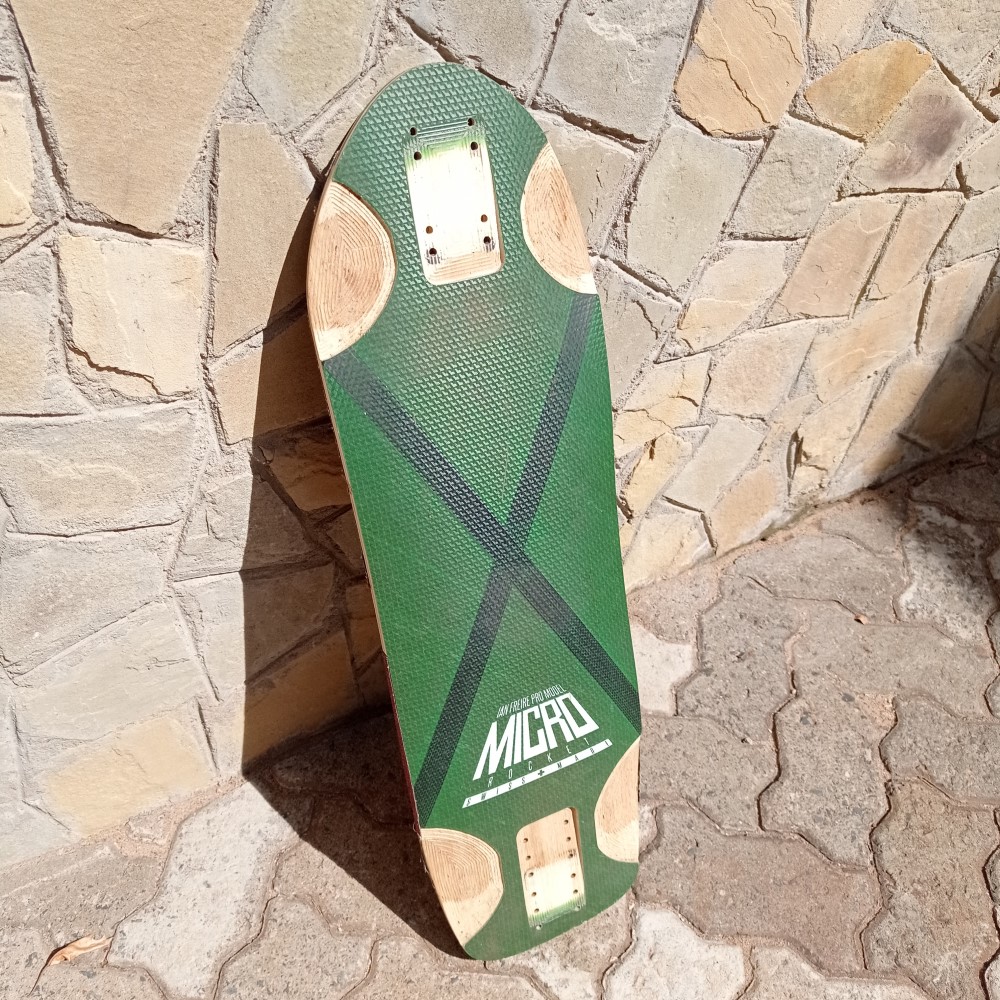 Is it too expensive?
I don't think so. I think it is priced competitively for the materials used and the quality of the deck.
What I didn't like about the Rocket Micro?
I didn't like how the construction held up to dings, I think this is the weakest point of this board. 
I tend to be quite hard on my equipment, and I appreciate gear that can hold up to this for a long time. It's one of the most important features for me. 
But the above said, I may be over-emphasizing on this feature – it may not be a big deal for most.
This won't be the last time I complain about a boards construction though.
Thats it! Did you enjoy this review?
Thank you Rocket once again, for sending me this board and being willing to participate in the short interview! Big thanks to Ian Freire as well!
I hope this review of the Rocket Micro has been insightful and given you all the information you need to know. 
Big thanks to all my patrons for the support – David, Squirrels Adventures, Mike, Jed, Mowgii, Jan, Josh, Jay, Jay, Bryan, @owencampbell777, @dkwan, Alex, Kasajja, Domnik, Reuben, @pablo.vega.andrade, Vlad, Asa, Helge, DeLacoste, Peder, Josh, Mike, Anthony, @issishreds, Greg, Jackson, Slipa, Louisa, Bill, Steve, John, Austin, @bomber_p_, Brian, Jeffrey, Jules, Henry, Austin, Philip, and Justin. I couldn't write articles like this without you guys' support.