You've recently got into downhill skateboarding, right? This article is on the must-watch downhill skateboarding films, movies, and videos to get you brushed up on the culture, or just to allow you to see some amazing DH skating. Check it out.
Must watch downhill skateboarding films
In no particular order.
AND PRO TIP – DOWNLOAD ALL YOUR FAVORITE SKATE MOVIES
Valhalla Skateboards: Kings of the Mud 
Kings of the Mud is THE downhill skateboarding film … at least for me. When I first started DH back in 2016/2017, this was one of the films I watched the most. I watched it every other night – and have rewatched it many times since.
Kings of the Mud feels more than just a skate movie. It evokes an emotional response and draws you in, in a way that other "real" films struggle to do. 
It's in my personal top 5 skate movies. Highly recommend you watch it.
Sector 9: Second Nature
This movie manages to capture something raw and put on film the emotions and insanity of downhill skateboarding. There's nothing else like it tbh … and for some reason, it feels like you're watching a fever dream.
Skating some of the best mountain passes and roads California has to offer, check out Sector 9 boys in Second Nature below.
Red Dirt Motion: Recollections
Of the incredible repertoire of videos Red Dirt Motion has up on youtube, Recollections is easily my favorite. Not because it is necessarily the best Red Dirt has to offer, but because it captures downhill skating in a way that feels polished, but still true to its raw and gnarly nature. Plus Lars Troutwine (and the other skaters) kill it with the skating. The bits with Lars skating in the French alps are some of my favorite skate clips.
Caliber truck Co: Grade
Grade is one of the best downhill skateboarding films EVER. Directed, produced, filmed, and edited by Jack Boston – the mastermind behind many of the best downhill skate videos, Grade does not disappoint.
Grade was filmed all over the world, from the US to Australia, to Switzerland, etc. Not that location has any bearing on the quality of a film – but watching the likes of James Kelly and Liam Morgan descend and chop up the world's best mountain passes to a kick-ass soundtrack with amazing visuals is for sure a treat.
Fellowship of the bearing
If you want some insight into what downhill skating was like in the late noughties and early 2010s, Fellowship of the bearing is a must-watch.
I found Fellowship of the bearing to be quite entertaining and fun to watch. Worth checking out.
Downhill skateboarding exposed 
If you want to know what downhill skateboarding is actually like, downhill skateboarding exposed is the Youtube series to watch.
Covered in 5 parts by Kabob Kabob (this is the same guy who makes Red Dirt Motion videos btw), exposed is a compilation of the shenanigans that we get down to when skating, not skating, and everything in between. It's very fun to watch and you feel like you're right there with them goofing off.
I think of the 5 videos, exposed 3 is the best. Check it out below.
Venom: Eat Shit
Colorado's offering to the world, Eat Shit by Venom Skate is absolute madness, to say the least.
Featuring high-altitude DH skateboarding by some of the world's best, merged with some aspects of the party culture around DH skateboarding (not necessarily representative of the whole community). Eat Shit is an experience. Check it out.
Highway Gospel 
I remember watching Highway Gospel and enjoying it quite a bit. If you can find it online, it is worth the watch. Check out the trailer below.
Prism Skate co:  Toms Wurld
As summed up by a commenter, Toms Wurld is one of the "Most creative and visually stunning skate edit". It's a pretty damn good watch. 
Written, directed, filmed, and edited by Jack Boston.
Thrashin'
Thrashin' is an unbelievably cheesy 80s film starring Josh Brolin. It's sooo damn cheesy but so good to watch. It features a pretty epic downhill montage towards the end which makes sitting through this film all worthwhile.
Gimbal Boys
Another Youtube series. Gimbal boys comes in 3 parts (and maybe more in the future). It's all filmed on a handheld gimbal (who'd have guessed) and features some of the best skaters in the world throwing it down some of the best roads in the world. 
Gimbal Boys is not as polished or as "organized" as most raw runs and films are, which adds to the whole experience. It's more reflective of the experience of actually being out there and skating these roads, hanging out with the boys, girls, etc. Sometimes when something is too "polished" or "planned", it takes away from the authenticity of it. Plus the handheld cam makes it feel like you're in the pack.
Gimbal Boys 3 is the best of the bunch imo. Check it out.
Coast longboarding evolutions
Coast longboarding evolutions is a series of 6 youtube videos from 2006-2010. It features a collection of the yearly shenanigans that go down at the yearly Coast longboarding events and everything in between.
The videos are high energy, fun, and are great to watch. For someone like me (who started skating in 2016), they provide a lot of insight into the culture, gear, and style of skating that I missed out on. A good peek into history I guess. 
Most importantly though, these videos are fun as hell and stoke you out.
Signal Hill speed run
Signal Hill peed run is a documentary on the fastest downhill skateboarding event(s) that took place on Signal Hill back in the 70/80s.
Fun to watch. Interesting to see the gear, techniques, and style of DH they had back then. Gear has come so far … if you're interested in the history of downhill skating at all, it's worth the watch.
Watch it here.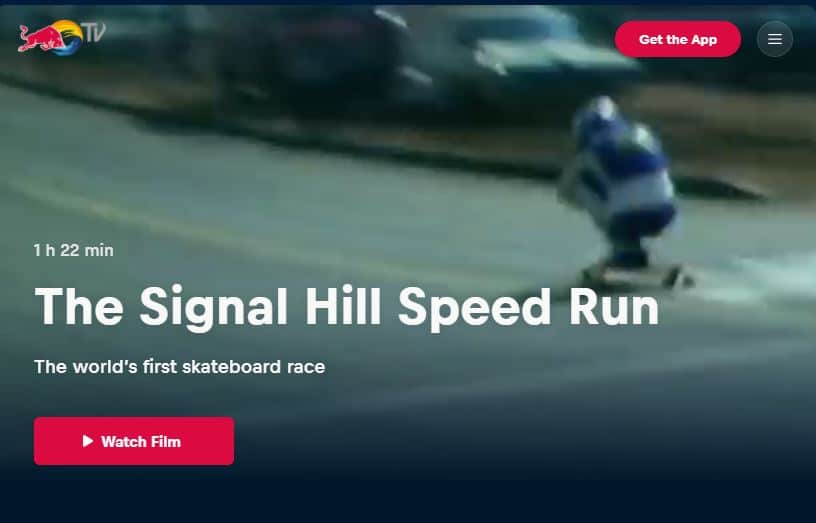 Drop: My Live Downhill
I haven't watched this movie – can't find it anywhere online. The trailer and snippets I've seen look great. Enough people have also recommended it as a must-watch film that I have to share. 
If you can find it online, let me know, I'd like to watch it too.
Not exhaustive …
Of course, there are a ton of other skate films out there that might be better, worse, more enjoyable to watch. This list isn't exhaustive and I've likely missed on a couple of gems. There are def a lot of shorter videos and Youtube channels that I'd have liked to include, but haven't. You still very much have a lot of exploring to do for yourself.
Personal picks
Prglng Tenerife
I think PRGLNGmedia is the most underrated longboarding youtube channel. They have some of the best skate edits. My favorite being the PIVKANARY videos. A compilation of clips where they visit Tenerife (a popular holiday skate spot for DH skaters). It's pretty epic ngl.
There are 3 PIVKANARY videos. I think PIVKANARY vol. I is the best of the bunch. Check it out below. 
Prism Skate co: EVERYTHING
You gotta watch all the Prism Skate videos. Most of the videos are pretty epic to watch. Most (if not all) of them are directed, filmed, and edited by Jack Boston. They're pretty damn good. I think the Faces series is pretty underrated, it's great.
Linus marsh: Endless Summer
The Endless Summer film from Linus is pretty great. Features some dope filming, dope skating, and great music (some of the trucks made by Linus himself). 
I'M GONNA DOWNHILL FOREVER
Very fun series to watch. Aleix Gallimo with a refreshing take on the world tour. Films made by riders always capture the vibes and the feels just right.
Watch it here.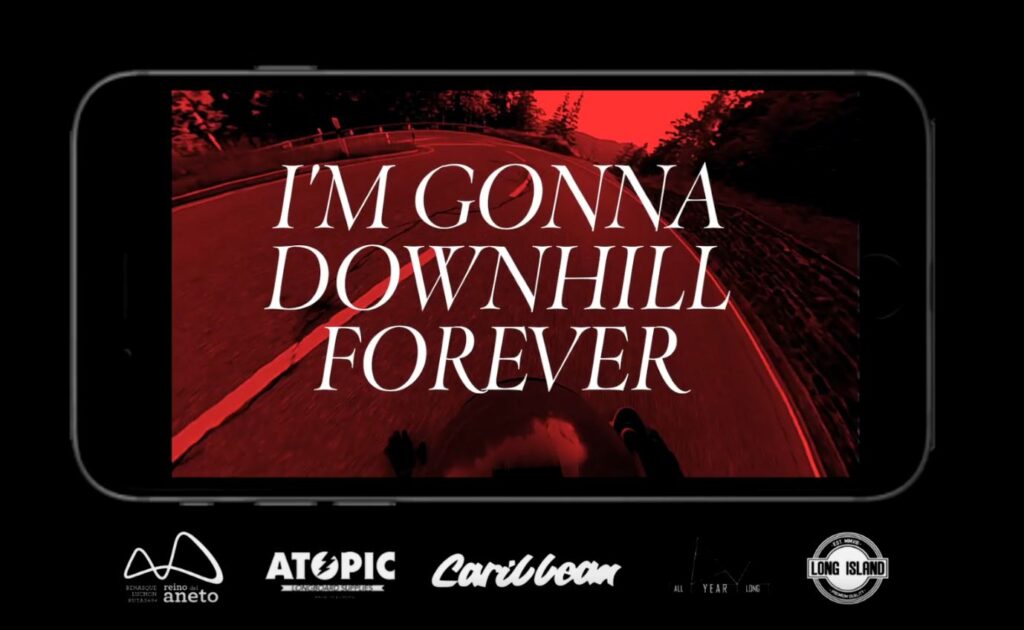 Santa Gnarbara
Santa Gnarbara is run by Tom Flinchbaugh, the main character in the Prism skate co. "Toms Wurld" video above. Not only a great skater, but a great videographer too. He's behind some of the best skate edits in the game, for example, Push Culture Apparel Presents – The Pants Party.
His Santa Gnarbara Youtube channel has some great stuff too and some gems. Gnarly skating, filmed in the best possible way. One of my favorite videos from this channel is the "Space Exploration" one. Check it out below.
2015 Gravity Dogz World Tour
This series gave me better insight into the IDF tour life than any other video/movie ever has. I enjoyed it.
The only bad thing is that it feels like prerequisite knowledge of the events they're going to, about who they are is kinda needed, otherwise you float through some parts of it. Still a good watch regardless.
Landyachtz: Skate and explore
This series of videos from Landyachtz is what got me into downhill skating. It's just great vibes.
Downhill Skateboarding: Tenerife Skatetrip ft. the BROLLBOIS
Another Tenerife skate trip edit. This is one of the best out there. It's a gem.
Perropro
Perropro has a lot of great longboarding content up on his youtube channel. Worth checking out.
What do you think? Anything to add to the list?
Again, there is a lot of good stuff out there. Even my picks aren't exhaustive. There's so much stuff, what I've mentioned is only the beginning. Maybe this article needs a part two eh?
Big thanks to all my patrons for the support – Jed, Mowgii, Jan, Jay, Bryan, Owen, Samil, Daniel, Alex, Kasajja, Leah, Helge, DeLacoste, and Justin. I couldn't write articles like this without you guys' support