It's finally here! The long-awaited Comet Orbiter review. With a dramatic entry into the scene, the Orbiter has been very polarizing for its duration in the market. Today you finally get to find out how it actually rides. Check it out below.
Specs
Deck
Length: 35inches
Width: 9.25inches w/taper
Construction:  7ply recycled Maple + top and bottom fiberglass sheets
Flush mounting: In-built 3* flush mounting wedge
Concave features: None, mellow concave, rocker
Wheelbase: 22.875inches, 25inches  
Trucks
Brand: Rogue 2020 Slaloms
Baseplate angles

Front: 50* (53* with the wedge)
Rear: 20* (23* with the wedge)

Truck width
Bushings & washers
Front truck 

Bushings: 73/78a Venom HPF bushings 
Washers: Flat washer RS, no washer BS
Insert Bushing: 93a Venom HPF 

Rear truck: 95/97a Venom HPF bushings

Washers: Cupped washer RS, no washer BS
Insert Bushing: 95a Venom HPF 
Other 
Wheels: 74a Venom Magnums
Bearings: Zealous steel
Griptape: 60 grit Bluefire (or Seismic 60 grit Lokton)
Footstop: Comet "C" footstop
Risers: 1/4inch risers
Torque block: Yes 
Price: $645 ($613 with "downhill254" discount code)
Next available in summer 2021
Summary
The Orbiter is a pretty great board. It rides well, is stable, confidence-inspiring, and feels great at the limit. It's a great platform to allow you to take your skills to the next level and conquer your local hills in new ways.
With this board, there are surprisingly no deal breakers. It's not perfect, but it doesn't get in your way, in any way that makes it not worth buying.
The board is setup to work great for anyone look to try a modern DH slalom board. Note: These boards are setup differently from traditional boards, which is why it can work well for a lot different people.
Perhaps the biggest barrier is that costs so much. But again, for that cost, you are getting yourself a great deal on high-quality components that cost considerably more if bought separately.
But for sure, the worst part about it is how long it takes to end up in your hands. From purchase, it will take anywhere from a few weeks to a few months for you to get your board. And is the wait worth it? Absolutely.
The Orbiter is a great option for people looking for a taste of the modern DH slalom board, without the hassle of tinkering to get their setup perfect.
Interview w/ Comet
Why did you want to make Orbiter?
C: "We made the Orbiter to be simple an answer to the question of how to set up a board to manage speeds and intensity of modern downhill skateboarding. Most folks today have to scour the internet or already be steeped in the scene to get the information they need to set up a board for today's standard of riding. Even though we are beginning to arrive at a level of consensus, the advice people receive can be misleading or incomplete, and a lot of gear still being touted as suited for this activity is wildly out of date, but still being produced because it still turns a profit. And that's fine, but at downhill speeds, the wrong gear can have serious consequences. We want to remove all worry around board setup so you can focus on your path down the mountain."
Who is it designed for?
C: "The orbiter is designed for anyone who wants to play fast, whether they're just getting into downhill and want to be sure they're prepared for what's ahead, or they're an experienced rider ready to modernize their setup. Much like a quality bicycle, it's ready to go outside of the box—no expertise needed."
What do you like most about it?
C: "Though we didn't end up having a 2020 event season to travel and share the board, the few chances we had to get it under folks' feet were so satisfying. Like the Cruiser, the Orbiter is set up to work right away and it is a treat to see someone take a foreign setup and ride as hard as or harder than they usually do. 
I also love it's ability to be playful in a city. Though there are other boards in our lineup I'd pick first because they are sharper tools for the job (Cruisers and Shreds), if the Orbiter is what I have in hand I can still have tons of fun. The two key details are the kicktail and the combination of deep wheel wells and just enough riser to eliminate wheelbite. They come together to make imperfect surfaces and sudden movements playful rather than perilous."
Any adjustments you could recommend for people who buy it?
C: "We recommend playing with the mounting options on the trucks to see what suits your stance. Taller folks may want to try the inner mounting option to open up the wheelbase a bit. There's also the rear mounting option on the deck which will be home to the forthcoming Aurora setup. We don't recommend mounting the slalom trucks back there, but if you've got something in the 145-155mm range to mount there, you'll be stoked."
What's up with the torque block?
C: "The torque block doubles as a kicktail, offering extra use ability in riding conditions not purely focused on speed. In a city, the ability to de-weight over a crack or off a curb could mean the difference between a broken wrist and a radical day of skating. We wanted to be sure folks weren't limited by their setup.
The torque block sits a bit further back than most people ride theirs, making it less of a support in a tight tuck, geared instead for when you open up a bit and sink into your heel. It also provides a pocket for comfortable standup slides, where a narrower placement would be a bit cramped."
When can we be able to buy it again and how long is the turnaround time?
C: "The next round of boards will sync up with the next round of trucks. I'm hoping for summer 2021."
What will the Aurora look like? Any specifics you can share?
C: "The Aurora setup is the fast freeride assembly of the Orbiter and is mounted on the rear holes of the deck. While Alula features narrow trucks and wide wheels, Aurora flips the script—wider trucks and narrower wheels. With the larger wheelbase riders have a stable base for shoulder-width stance standup slides in a compact package."
Plans for a more affordable/accessible model of boards?
C: "In 2021 we'll see the return of our classic 9-ply maple construction in at least one board—a simple topmount, complete with cast trucks and round lip wheels, perfect for anyone looking to get into speed and sliding for under $300."
Thanks to Comet for taking the time to answer my questions!
Orbiter controversy
What was "controversial" about the Orbiter?
When it first came out, the Orbiter was unlike anything else on the market (and it still is). It was this complete, high-end downhill skateboard, designed to be perfect out of the box … And this caused a bit of drama.
A lot of people were upset by it, made memes about it, complained about it, and basically, thought Comet had lost the plot a little bit. … But why? Why would the mere existence of a complete like this annoy people?
Most downhill skateboards are highly personalized
In downhill skateboarding, you'll find most setups (especially those used at the highest level), to be highly customized and adapted to a given skater. Everything from the bushings, to the griptape, to the torque block, to the footstop position is customized to fit a person's tastes and comfort.
Simply put, it would be difficult to find a one-size-fits-all setup that works for everyone. In fact, you could say it would be impossible. 
But here you have Comet claiming to have a one-size-fits-all solution, which given what the general community knows about DH skating (at the time atleast), is quite arrogant … You'd think a brand like Comet would know better right?
Finally, they were also only selling it as a complete option. You couldn't buy the deck alone if you wanted to …
A lot of people felt left out …
So also not being able to buy the deck, made a lot of people (specifically Comet fans over the years) feel a bit left out.
The reason for this was Comet had not been producing downhill decks for a long time. A lot of people were keen to get Comets take on the modern DH skateboard, or simply buy a Comet board to reminisce and enjoy the nostalgia.
The Orbiter being sold only as a complete option made it unavailable to a lot of people.
It was a bit expensive too …
The initial going price for the Orbiter was $725 (though there was a pre-order price of $625). Whilst this was a fair price for the components and assembly, it was not competitive – at least by my own judgment.
So with the above, you can see why a lot of people questioned the existence of the Orbiter. But like with all things, it is not black and white.
So were Comet right to make the Orbiter?
Absolutely.
So, can you make a "one-size-fits-all" downhill setup?
You actually can, but it depends heavily on the components.
Now with normal downhill boards and normal downhill trucks, there is too much diversity between people's setups to get something that works great for everyone. But oddly enough with slalom downhill boards, things start to look similar between different riders' setups. 
Slalom downhill boards all follow a specific trend. Most have wheelbases between 21-23inches, trucks that are almost always 50* in the front and 20* in the back, and 73/78a bushings in the front truck, and 95/97a bushings in the back truck. 
I am referencing trucks that have an inline trailing-link rear. Not trucks like Ronins, Valk Slaloms, DT Hakis etc. I'm talking about true downhill slalom trucks – Rogues, Bear Slaloms, Exile Hydra trucks etc.
You will find that almost 80-90% of setups have this exact bushing, truck angle, and wheelbase configuration. It's crazy.
And as more people jump on to the slalom DH trend and learn how these boards are setup, you can see more people appreciating the Orbiter for what it is.
What I'm interested to see is what Comet is going to do for the 2021 freeride board they have planned. Aftermarket bushings or no? Those boards are more diverse, so I wonder how they will tackle that problem.
It is actually reasonably priced
The $625 price of the Orbiter is super reasonable. You get an excellent deal on the components alone, factor in the manufacturing, expertise, and assembly, and you've got a steal of a price.
So even if the bushings aren't perfect … what's another $10-20 to get the right feel?
What about people feeling left out?
I understand that it sucks when it feels like a brand that you've supported in the past neglects and ignores you, and I genuinely think this might be the only valid argument against the Orbiter.
And it's also easy to see why it feels as though Comet has skipped over all the people who've supported it over the years and are targeting someone else.
But I don't think that Comet is purposefully leaving people out. Their intention as a brand has changed because of changes in the industry, a need for something fresh etc., and they're working on different things now. 
I do think when the time is right, Comet will do something for the old die-hard fans. Just that time isn't right now. 
But it's up to you to decide if you're ok with that or not.
It makes sense …
It makes sense for people wanting to move away from traditional downhill boards and pick up a more modern setup. 
Instead of playing the guessing, and trial and error game, of – "does my board have too much concave", "what bushings do I use", "where should my foot go?", etc. people are able to get something that works off the jump.
Which as I highlight in the "Why I like the Orbiter a lot" section below, saves you a lot of time in the dialing in process. 
Comet Orbiter Review
Is it worth the money (components break down)?
Below is a breakdown of how all the Orbiter parts add up if bought separately (these are all Muirskate prices as of 26th March 2021).
Trucks – Rogue 2020 Slaloms – $396

Rogues come stock with the same 73/78a, 93/95a bushings.

Insert bushings – extra 95a set – $6

Rogues come stock with a 93a insert bushing. You'd need to buy a 95a to get the split setup on the Orbiter.

Wheels -Venom Magnums – $65
Bearings – Zealous steel – $14
Griptape – Seismic 60 grit Lokton single sheet – $30
Risers – Muirskate shockpad – $4.50
Bolts – Bolts – $5
Cost so far = $520.50
Now for the next few things I don't have an actual cost for. It's a bit of guesswork but below are estimates based off similar things in the market.
Deck – fiberglass, maple deck – $175 (USA made + CNC machining …) ($200-$225 actually)
Footstop – Comet "C" footstop, cast – $25
Torque block – $10
Total = $730 .. or $700 to round it all out.
You are definitely getting great value for money with the $625 price.
Does it ride well straight out of the box?
Yes. Even with the fresh Magnums, I felt confident thrashing this setup, skating fast, pre-drifting, and taking tight lines. 
You might need a couple of runs and slides to adjust to it, but once you get a feel for it it's off to the races.
You have to ride it abit aggressively/hard
If you're not familiar with sliding race wheels, you might struggle a bit though. You have to ride this board aggressively and push it near the limit. If you haven't skated anything similar, you might try feathering the deck and not really pushing it and that doesn't result in the best performance. You need to skate it aggressively.
I would actually advise you to throw on some scrubbed wheels until you feel confident and familiar on this board. However, if you are competent at sliding this shouldn't be an issue. You should be able to ride the fresh Magnums ok.
Keep note of where you place your weight
In order to get this board to perform well, you're going to have to do most of your turning and leaning off your front foot. This will give you the best turning, stability, and performance from this board. Everything just feels right, when you ride it this way.
Is it easy or difficult to ride?
I felt the Orbiter was quite easy to ride. It felt natural to stand on and intuitive … just like the advertisement says haha. I instantly knew where it felt best to place my feet.
When it comes to stability, it is quite stable – it doesn't feel too rigid or too loose. 
When it comes to sliding, the board doesn't suddenly want to break into a slide. It approaches the edge of traction/grip in a gingerly way, before breaking into an easy-to-control slide. When hooking up, it's like the setup sucks/pulls you back into traction – again in a subtle way, not harshly or suddenly.
I felt comfortable approaching the limits of grip with this board, it wouldn't suddenly slip out, but gently scrub if I was exceeding the limits of grip. Because of that, it felt great riding this board near the limit and really sending it – which is really what you want to do with this board.
It's not that grippy/difficult to slide
Whilst it is forgiving to approach the limits of grip and slide this board, it feels like you're not maximizing the slow-down power of the wheels. This is both a good and bad thing. 
It's good because you essentially have an easy-to-ride experience and you can control the board fairly easily when you slide. Allowing you to make it down challenging roads comfortably.
It's bad because you're not making the most out of the wheels. I don't see this to be an issue with open-road or everyday riding, but it could be an issue with racing.
But again, it's not that black and white. When racing, you want a balance between control and awesome braking power. I think the Orbiter gives you enough slow down power that you can still be competitive, but all the control so you can finesse excellent racing lines – which is what wins races imo.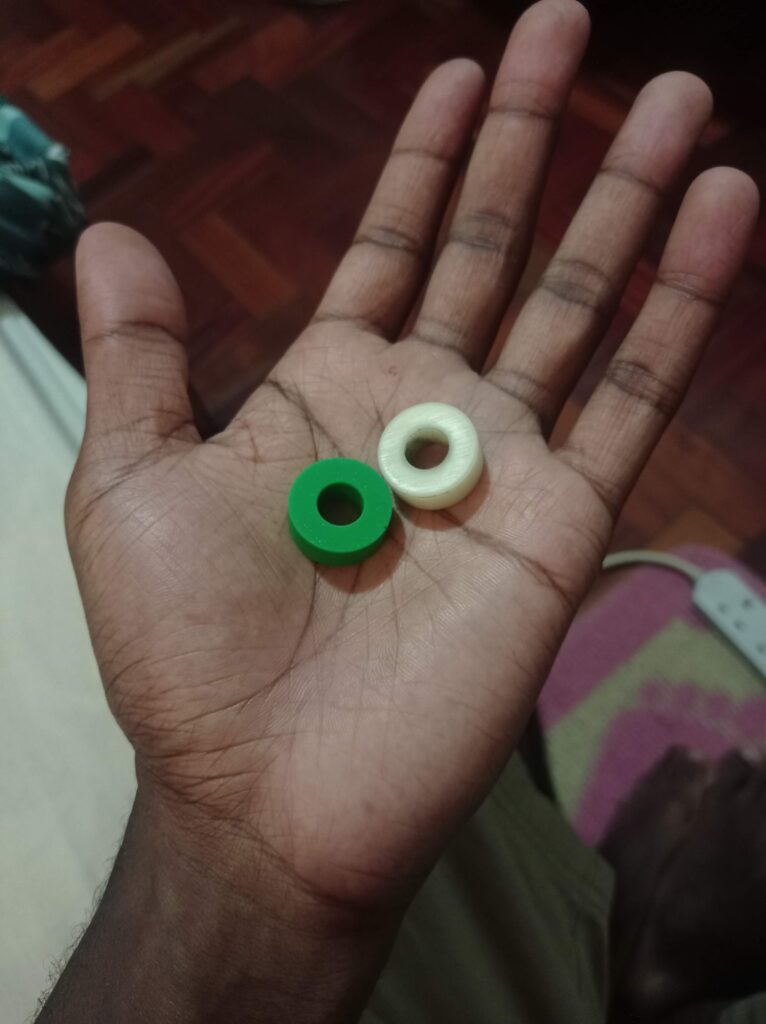 But if you do want more braking power, you can always toss a 95a insert into the front truck (whilst maintaining the 95a insert in the back). The 95a insert allows you to be more aggressive with your weight and makes it feel like the wheels are grippier. It does draw a finer line between gripping and slipping and you'll need to be more on point with your control … but you get what you ask for.
I do think a 95a insert might work well for a heavier (200lbs+) rider. Not necessary but could something fun to experiment with, especially if you want a stiffer feel from the front truck.
Is it stable?
Yes, it is quite stable. It works exceptionally well over rougher roads too. The Rogues feather out a lot of road vibrations and the soft 74a Magnums absorb a lot of road vibration too.
I feel comfortable skating this setup very very fast and it was quite easy to take it 50mph. I'd be happy to take it 70mph given the opportunity.
The Rogues are great trucks for skating fast. They have a strong center point and don't articulate (which is to say turn or lean) without a deliberate action from the rider. And by deliberate, I mean a forceful application of your weight.
This just means you can skate very fast, very confidently, because your trucks are going to be as solid as a rock.
But when you do apply your weight, the trucks do turn and they feel like they could lean forever.
Does it turn well and take good lines around corners? 
Yes. It takes really great race lines. It feels effortless sometimes and like you can take almost any line. And because of the support you get from the insert during the turn, you feel very confident suddenly diving and taking aggressive lines at speed.
There is a direct feel to the turn, as though your input is matched EXACTLY by the trucks. They only do what you want them to do, which is confidence-inspiring.
They don't take some tight turns the best
It does suffer a bit on tight toeside turns for me though. For the most part, it works well, but for tight turns, I feel like I don't have enough leverage over the front truck and I'm forced to use my back foot to aid the turn – which has little success given the low angle of the back truck.
This is not because of how the board is setup, but really because of the nature of Rogues. You need deliberate input to get them to dive into the turn, and sometimes it's hard to get that with toeside turns – forcing your weight into your toes isn't super easy (or natural). 
Application of my weight heelside is significantly easier.
So for the odd tight, toeside turn, it felt a bit restricted. But the problem was solved if I grabbed the rail. Grabbing rail gave me that extra bit of leverage I'd need to make the turn as tightly as I wanted. Problem solved.
Also, switching to double pink (73a) barrels up front solved this issue, but it also brought on other issues.
Is the deck stiff? Any torsional flex?
The deck is stiff. It doesn't feel quite lightweight either. It does have a tiny bit of torsional flex – pretty normal for a maple/fiberglass board. Nothing that would get in the way of your riding/affect your riding exeprience.
Is the concave comfortable?
The concave is quite mellow and comfortable. There are no concave features. There is a bit of rocker but that is not noticeable – I wouldn't have known if it wasn't pointed out to me.
The board does have sharp-ish rails, but they aren't uncomfortable to place your heel and stand on. 
The board is based on the old Comet Takeover. It is very comfortable to ride.
No wheelbite
The 1/4inch risers eliminate any possible wheelbite you can get. Though it is unlikely you'll ever get wheelbite on most decks when you go faster than 20mph.
The riser does also add to the feel of the ride, giving you a bit more leverage, making it easier to compress the bushings and get the truck to articulate. More on this later.
You also do have some really deep wheel wells – about ¼ of an inch deep. So even if you choose not to use the risers, you won't get wheelbite easily.
Is the torque block functional?
Yes generally, but you won't really use it the same way you would a normal torque block.
What the torque block is actually designed for …
The torque block on the Orbiter is designed as a place to place and support your heel when you come out of tuck, rather than being something you push against when you are riding – it would be difficult for Comet to get that perfect as riders' stances are far too diverse to get something that works for everyone.
Is it useable in tuck?
As a rider with a shorter stance, I didn't end up pushing against the torque block in a tuck. But the concave was comfortable enough to push against in tuck and the griptape grippy enough to hold my foot in place. I didn't feel the need to push against anything. I didn't feel like I was missing out.
But if you are tall enough and have a wide enough stance, you can push against the torque block during tucking. I did end up using it this way when I had knee pads on – as my stance was naturally lengthened.
And tbh, it didn't feel as secure as I do when using other steeper torque blocks. The torque block on this board is just too shallow. It just feels like a natural progression of the board and not something hard to push against.
It's great to rest your heels against
But it does feel insanely natural and comfortable to rest my heel against when I come out of the tuck. It feels nice.
I also enjoyed pushing against it with my toes for toesides, and it was a great reference point for my back foot.
I did use it for tucking and stuff (it was the perfect length for my stance) when I set the board up for freeride (with different trucks and wheels) and shifted the footstop back a bit to the innermost mounting option. It felt great to push against with my toes and heels for slides on the respective sides.
It is a bit odd, but I like it
It is different and it works well in most scenarios … So I can't say it's a bad feature. It is a refreshing take on the torque block and I'm happy to have it on board.
However, I do see its position being an issue for people who choose to use their footstop on the inner mounting option (check image below for reference) and have a larger stance. It might force them into an uncomfortable narrower stance. But because the block feels like a natural progression of the board, they could even place their feet on top of it which feels quite ok actually.
I would place the footstop here when I would use freeride trucks and wheels on the board. It gave me the best performance with that specific setup.
The torque block isn't very steep and the change is gradual enough for it to feel quite natural standing on it. It feels like a more gradual kicktail when you place your foot at the furthest point (over the rearmost bolts).
Torque block footage 😳
Watch Zak MG shred the Orbiter down under. This angle shows how he uses the rear torque block in tuck lean situations. Click the link below. (from 0:27 to 0:48)
https://web.facebook.com/thanemonsters/videos/447865686438871/
Is the 60grit griptape slippery?
Not at all. Especially paired with the mellow concave and the current truck setup, You have enough leverage to slide your wheels without feeling like you might slide off.
However, I do skate this board on shoes with brake soles. So if you don't use brake soles, your experience may vary.
Can you use it for freeride?
Yes, you can! It's a great board for freeriding. I used the 25inch wheelbase and set it up with 150mm Aera Rf-1s, 87a Hardcore barrels all-around, and Powell snakes. I had a blast.
I was doing fast standies and big toeside slides. 
It felt nice to be able to use the same deck I use for fast hands down stuff for stand up stuff too. 
If I was on a skate trip, this board makes the most sense. I'd be able to go fast hands down, then switch out for freeride. All I'd need is a freeride undercarriage – trucks, and wheels which is easy enough to carry around. I'd just have to lug one board around instead of two.
Is the kicktail useable?
Yes. Not to pop the board, but to deweight it when you want to kick turn, or kick the board up or go over a crack or road imperfection.
How does the footstop feel?
The footstop is pretty damn good. It's comfortable, functional, and does its job pretty damn well for the most part. It can feel a bit uncomfortable especially if you force your little toes against it, but for the most part it doesn't cause any pain or discomfort – unlike some other large footstops in the market.
Another great thing about the footstop, is how it forces your foot into the optimal position. It makes you place your toes over the wheels – this gives you great leverage when tuck leaning and simply skating the board.
Are the components good?
The 2020 Rogues are great trucks
2020 Rogues are some of the best trucks for downhill skating. You can't ask for better tbh.
And with the way the board is setup, with a narrow (106mm) front and wider (116mm) back, you have a slightly driftier back truck and a front that doesn't want to slide out as easily. It's great and allows for a lot of control.
The way it is setup is pretty perfect. 
If it isn't, you can mess around with how the truck is mounted – Rogues have an 8 hole mounting pattern. You can move the trucks closer together or further apart. Worth messing with.
I don't think there is much else you can improve with the bushings tbh. but Zak Mill-Goodwin in Australia, runs his Orbiter with 73/73a, and 95 (front), 97a (back) inserts with no riser. Might be fun to play with and try.
The Magnums are great wheels but 
Magnums are some of the best downhill wheels out there. The 74as are pretty great. They're fast, accelerate quickly, absorb road vibration, slide smoothly, and slow you down in a controlled way. Honestly some of my favorite wheels to date.
Check out my in-depth review of the Venom Magnums here.
However, they do have the chance to chunk. My set unfortunately chunked. This wasn't very nice but it hasn't affected my riding experience much. 
What changes did I make to mine?
Of course, despite being pretty great out the box, you know I had to mess around with my Orbiter. 
I took off the risers
The first thing I did was take off the risers. You already have great clearance (about 1/4inch deep wheels wells) so getting bite isn't very easy. You don't 100% need them.
What I found was a slightly more stable and stiffer ride, a smoother transition between gripping and slipping, and reduced leverage over the trucks.
It did mess up the formula Comet perfected – the hookup from my slides wasn't as snappy and the trucks didn't react as quickly to my input. 
There wasn't any need to remove the risers but reducing the ride height was nice and it was worth trying out. 
I think I might throw on 1/8inch risers on the board and get the best of both worlds. I really missed the extra leverage and snappier feeling into nd out of the slides.
Edit: I tried the 1/8inch riser and it did not feel as good as I hoped it would be. 1/4riser or bust …
Bushing changes
After taking off the risers, I decided to try 73/73a bushings in the front truck. It felt great! I had more turn and lean in the front, and I was able to make tighter turns. However, it felt as though stability and the center point weren't as strong anymore.
This would be my go-to setup if I'm skating slower hills and want a bit more turn from the front truck.
But the 73/78a combo just felt right and it worked well enough in all scenarios. Not worth changing tbh.
Insert changes
I did also mess with the inserts – I put a 95a insert in the front truck. It made everything stiffer, more stable, and made the slides feel grippier. However, I didn't have the control the 93a insert gave me and I didn't feel comfortable. I went back to the 93a insert.
I went back to the stock setup in the end …
Those changes were great, but the stock setup feels just right. It isn't perfect for all scenarios but it can handle them all fairly well. I do think it is perfect if I'm trying to skate really fast – which is what the board is designed for after all.
What I didn't like about the Orbiter?
The bolts used
Comet used bolts that require an Allen key to remove. I'm a Phillips head screw type of guy … this doesn't affect your riding experience at all.
But given I constantly take off the screws and mess around with the board, this wasn't convenient for me. I like to use a screwdriver to help take off the bolts and having to use a thin Allen key wasn't very nice. 
Size of the board & extra wheelbase
Though you do have a useable extra wheelbase, it does make your board quite long and makes it look a bit funny. It doesn't affect the ride but it looks funny. I don't mind it these days though.
But the minimalist in me always thinks about chopping the tail off to have a more compact board. Always tempting …
Griptape on the tail chips
I don't care that this happens, but the griptape on the tail does chip off. This will happen if your board slides across the ground with the griptape facing down or if you step on the tail a lot. Doesn't affect your riding experience but it does look bad.
Taper?
The taper doesn't affect the riding experience on this board. Only a tiny bit over the front truck where your big toe might go, but the issue isn't significant enough to complain about.
Like the Small blind, you have enough room for your feet. Rather exactly the amount of room you need. 
Turn around time on getting the board in your hands
It takes a while before the board actually shows up for you. These boards are all made to order and it can take a while before they ship. Comet is also a two-man team at the moment, so that also contributes to the longer production times. Of course, COVID and the supply chain being a mess is also a factor.
100% worth the wait though.
Where to buy the Orbiter?
You can buy the Orbiter at the Comet website here. Use the code "downhill254" at checkout to get 5% off.
What if you don't like the Orbiter?
If you rode it and ended up not liking it, it's good enough of a starting point that when you do try something different with it (different torque block, footstop, griptape etc.), you would have enough reference points to guide you to make the correct adjustments (and decisions).
Why I like the Orbiter a lot …
I wish the Orbiter was my introduction into slalom downhill boards. For the uninitiated, Slalom dh boards feature narrow trucks and tiny wheelbases. They don't work and aren't setup the same as normal downhill boards. If you're used to traditional downhill boards, eg. the Landyachtz Cheesegrater, you're going to have to unlearn some things and learn some new things in order to get used to and make the most out of slalom DH boards.
Problems getting used to slalom DH boards
So I started out on the Landyachtz Small Blind with Smokies and Cheetah Hawgs. I really had no idea what I was doing – how to setup the board, where to put my footstop, what washers to use etc. There was a lot of trial and error and headache. Unfortunately, I also had/have no experienced people near me (I'm the most experienced guy in my scene) and no other real-world setups accessible to me to help guide my decision-making. It was all up to me to figure it out…
I did ask for advice from more experienced people (shoutout Dexter Manning), but advice without a practical demonstration can only go so far sometimes. 
I did eventually get quite dialed on the Small Blind and absolutely love it, but it took a while…
Why the Orbiter makes sense as a first "DH slalom" setup
The Orbiter on the other hand was a lot easier to get used to. It was like plug and play. After about my 3rd run on the board, I felt fully confident (even with freshies), and I was sending it down the hill.
I do think my experience with the Small Blind made the transition to the Orbiter a bit easier, but my opinion remains the same.
It was as though I picked up my older brothers board and he was guiding me. Telling me, "put your foot here", "here is how on top of the front truck you're meant to be", "these are the bushings you're meant to use, and these make it easiest to ride a board like this", etc.
It made learning/adjusting to a slalom DH a lot easier. The learning curve was significantly reduced and I was able to enjoy actually riding sooner. 
Yes, trial and error is fun but …
I do get that trial and error and dialing in your board is a fun and fulfilling part of downhill skating, but sometimes it's just a headache. Sometimes, I don't want to bother with adjusting the bushings, washers, and footstop. I just want to hop on and enjoy the feeling of riding as soon as I can.
And the busier I've gotten with life -school, work, adulting etc., the less I've come to appreciate the dialing in process. When I want to skate, I want to skate. I don't want to play around with my board.
And it is this easing into the process that I've come to appreciate and really like about the Orbiter. Obviously, it isn't "perfect", but it comes close.
What do you think? Is the Orbiter right for you?
If you're an experienced downhill skater, looking to try out more modern downhill skateboards you should 100% consider the Orbiter. It's a board that rides great and a pretty awesome investment too.
Big thanks to all my patrons for the support – Jed, Mowgii, Jan, Jay, Owen, Samil, Daniel, Alex, Kasajja, Leah, Helge, DeLacoste, and Justin. I couldn't write articles like this without you guys' support