The Drop Hammer is Landyachtz's take on the classic drop-through longboard. Check out my review of the Landyachtz Drop Hammer below to find out more.
Specs
Deck

Length:  36.5″
Width: 10″
Wheelbase: 27.25 
Construction: 8plys Canadian Maple
Stiffness: Flexible
Max weight: Not sure but hold about 250lbs comfortably
Components

Wheels: 69 Hawgs or Supreme Hawgs. 69mm or 70mm respectively.
Trucks: Reverse kingpin Bear Gen 6 trucks. 50*, 180mm.
Bearings: Bear Space Balls Abec 7 bearings.
Landyachtz Drop Hammer Review
Summary
The Landyachtz Drop Hammer is a surprisingly comfortable and easy to ride board. I was blown away by how natural and easy to ride it felt. Within a few minutes of standing on it, I was riding confidently.
The board is simple. No fancy features, just straightforward execution.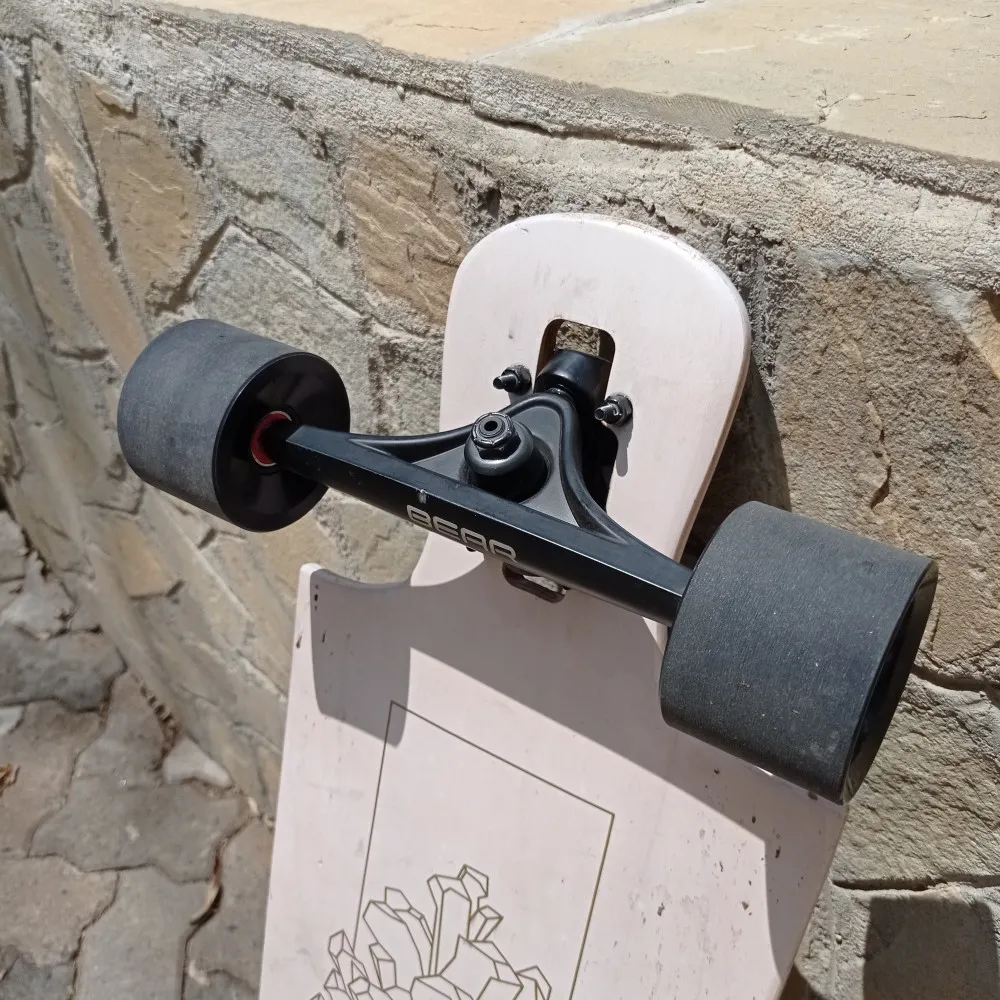 You get a flexible deck that has comfortable mellow concave. It isn't too long or too short and accommodates a comfortable shoulder-width stance. It has a bit of flex which absorbs road vibrations and provides a comfortable ride over all sorts of riding environments. The flex also allows you to bounce in and out of turns, or dig into the board during a carve. It's fun.
The deck also has cutouts that provide great clearance for wheels so you never get wheelbite (even if you use big 80mm wheels).
You get high-quality components too.
The trucks lean and turn smoothly and allow for a ton of control, they're quite stable too. The Bear Gen 6 trucks are some of the best trucks available today and have the best feeling ride in my opinion.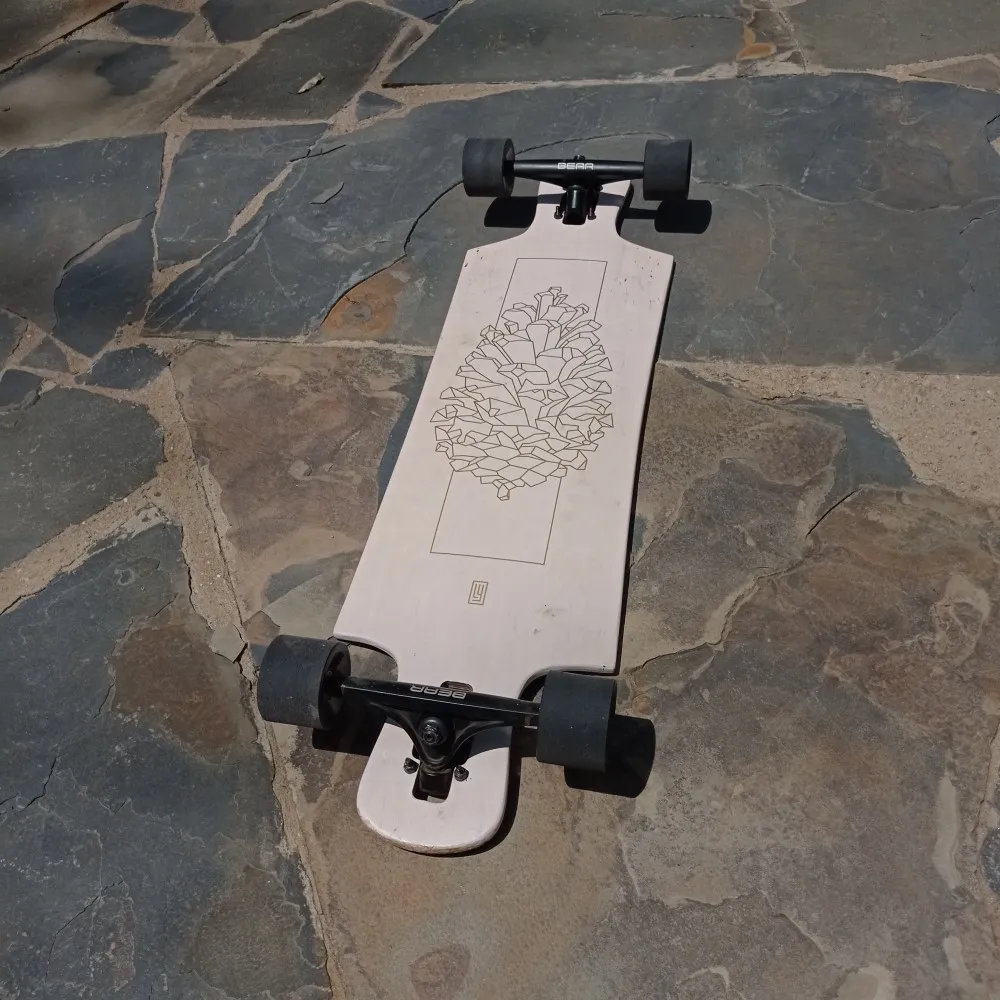 Paired with the 69mm 69 Hawgs (or 70mm Supremes), you get wheels that are easy to push, roll fast, and hold their speed decently. 
These wheels are quite good, but I'd recommend you upgrade to 80mm tall wheels (if you have the money). Trust me when I say, you'll get the most out of the Drop Hammer with them – and no wheelbite either! 
The Drop Hammer is good. It's simple but it gets the job done super well. It's a very easy to ride board and is very beginner-friendly.
So whether you're a beginner or a more experienced rider looking for a stable and easy-to-ride cruiser board, the Drop Hammer is an excellent choice.
Is the Landyachtz Drop Hammer comfortable?
I was blown away by how comfortable and easy to ride the Drop Hammer is.
The board has mellow concave which comfortably cradles your feet.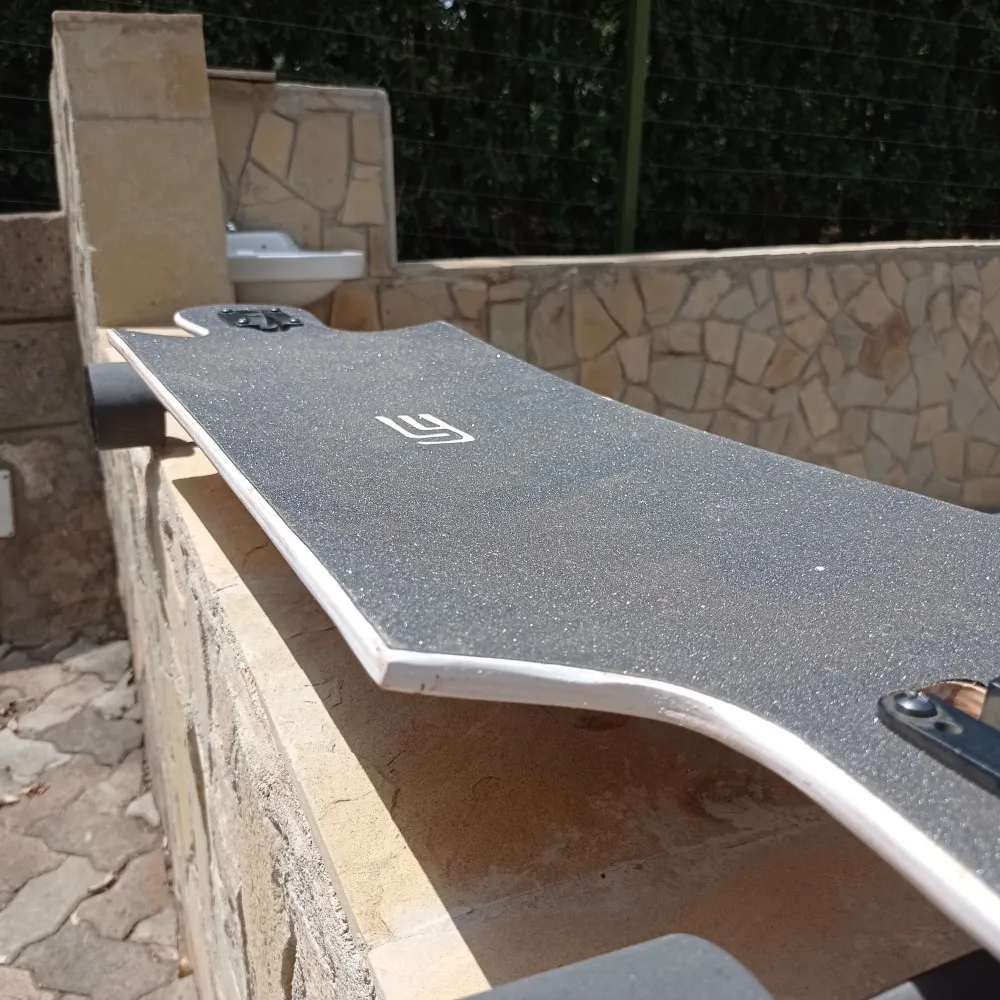 It isn't too long or too short, allowing you to have a natural shoulder-width stance on this board whilst still being able to control it comfortably. Being forced to stand too narrow or too wide on a board can be a bit tiring the longer you have to ride it for.
The board also has a tiny bit of flex. This is super useful and adds a lot of comfort to the ride. When riding over road imperfections (rougher roads, pebbles, stone roads), the flex absorbs some of the vibrations. This stops your feet from getting tired out too quickly when you're riding.
Pro tip: Generally If you ride a rough road for very long, you'll notice the vibrations will tire out your feet quickly. Boards with flex (and big wheels) reduce vibrations and allow you to ride for longer.
Finally, the trucks are stable and don't turn unless you give them a direct input to turn. This is important. Instead of fighting to keep your trucks going straight, your feet can relax and you can comfortably just stand on top of the board and let it go straight. This allows you to ride for longer without getting tired.
Does it turn well?
The Bear Gen 6 trucks turn well.
They lean and turn smoothly, and support you through the turn. They are beginner-friendly and inspire a lot of confidence. I imagine a lot of people are going to be taking aggressive carves with these trucks cause of how well they perform.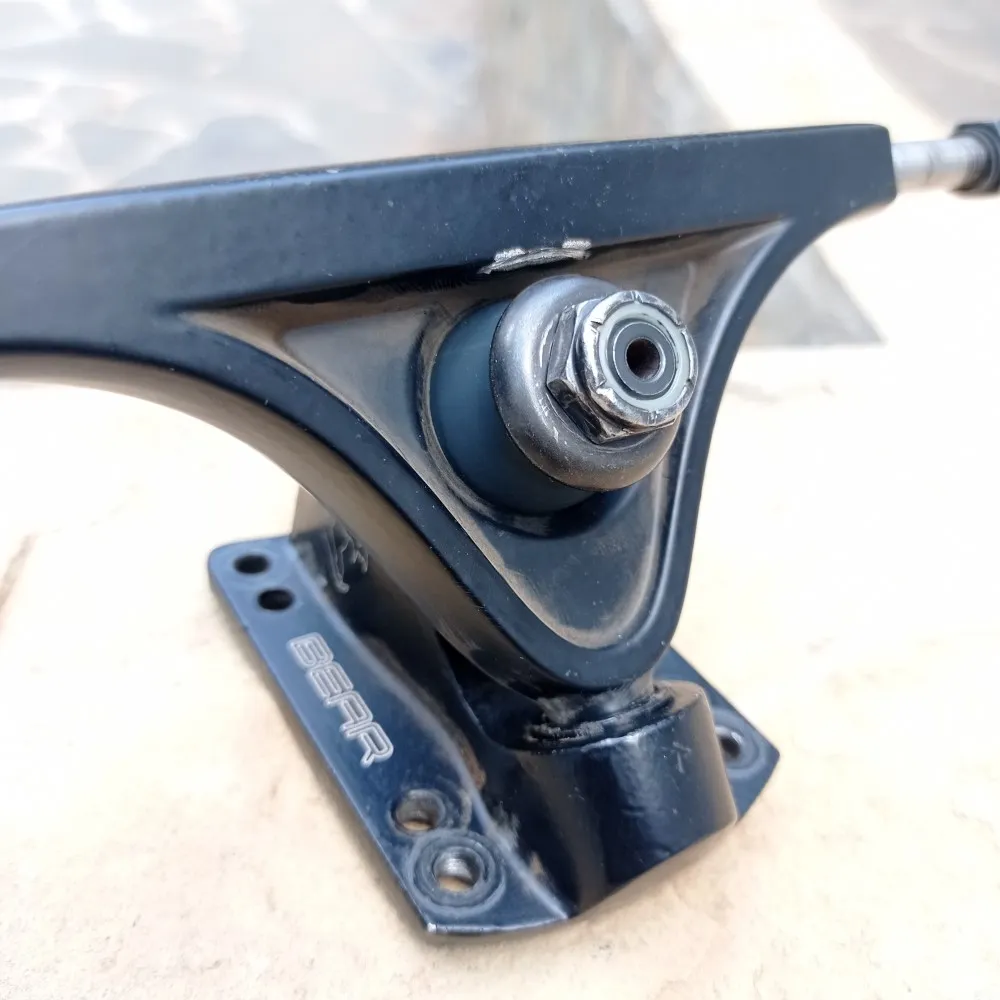 Thanks to the design of the trucks (the plug-barrel system – check out the Bear Gen 6 review for more info), these trucks are inherently stable and offer a kind of effortless riding experience. They want to keep going straight if you don't give them any input.
And paired with the long wheelbase of the deck, it's so easy to keep this board going in a straight line.
But yeah, this deck is turny but not as turny as a mini-cruiser.
Is the Drop Hammer nimble?
The Drop Hammer isn't super long, but it is still a pretty longboard. This means it isn't super nimble.
If you're trying to weave in and out of traffic or in-between tight obstacles, you will suffer. The board doesn't make the tightest of turns easily. 
That aside, it will be turny enough for most uses.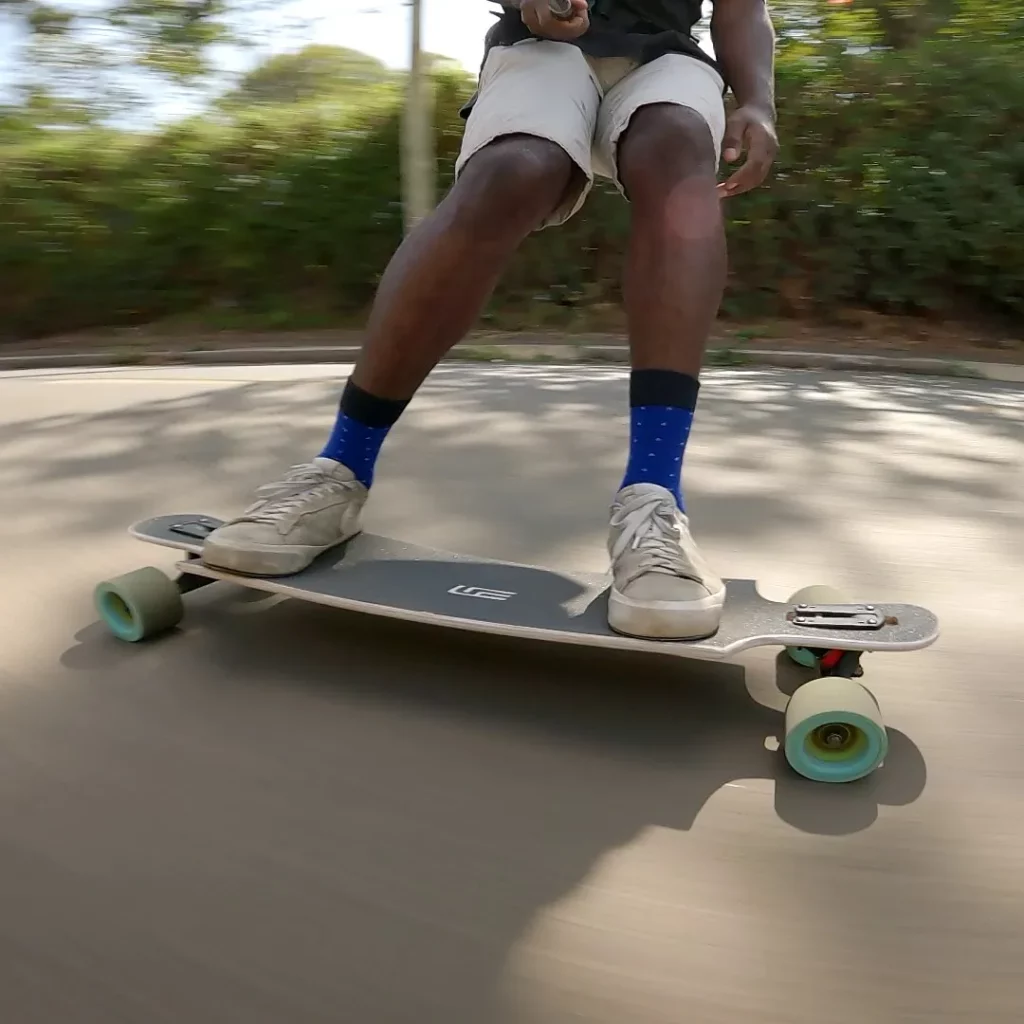 Is it too big (is the Drop Hammer portable)?
No, it isn't. The Drop Hammer is probably the perfect size for a big cruiser. 
It isn't too big, but isn't too small to the point you'd be uncomfortable on it. It's just right.
But in terms of portability, I only feel semi-comfortable carrying it around. I definitely feel the weight and size when I am carrying it around the supermarket or on a bus. It definitely isn't as portable board as the Dinghy or Tugboat.
I wouldn't mind it if I had to carry it around occasionally, but I wouldn't be happy if I had to carry it around frequently.
Can you push far with the Landyachtz Drop Hammer?
With the stock wheels, you can push decently far on this board. I've found myself comfortably skating 5-7km (3-5miles).
If you upgrade the wheels to big 80mm ones as I have. Distances of 10km (6miles) and more will be manageable.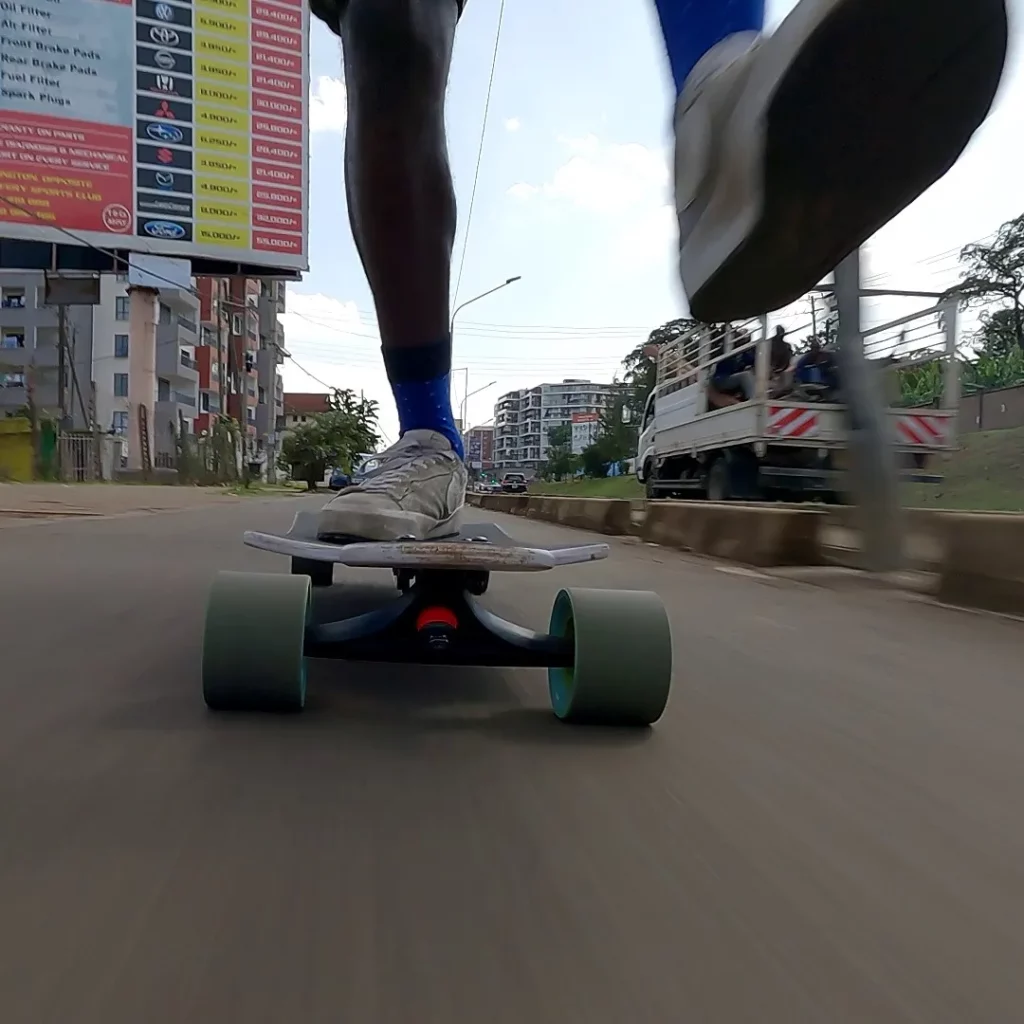 Is the Drop Hammer easy to push and footbrake?
Because the board is drop-through, several things are affected.
Being drop-through lowers the standing platform. It makes the board more stable, and because it brings it closer to the ground, easier to push and footbrake on. You simply don't have to reach far to get to the ground.
Are the Drop Hammer components good quality?
As a complete, the Drop Hammer comes with amazing components. All high-quality.
Are the wheels fast?
The 70mm Supreme Hawgs or 69 Hawgs work great on this board.
They accelerate quickly, roll fast, and have decent momentum. They are awesome.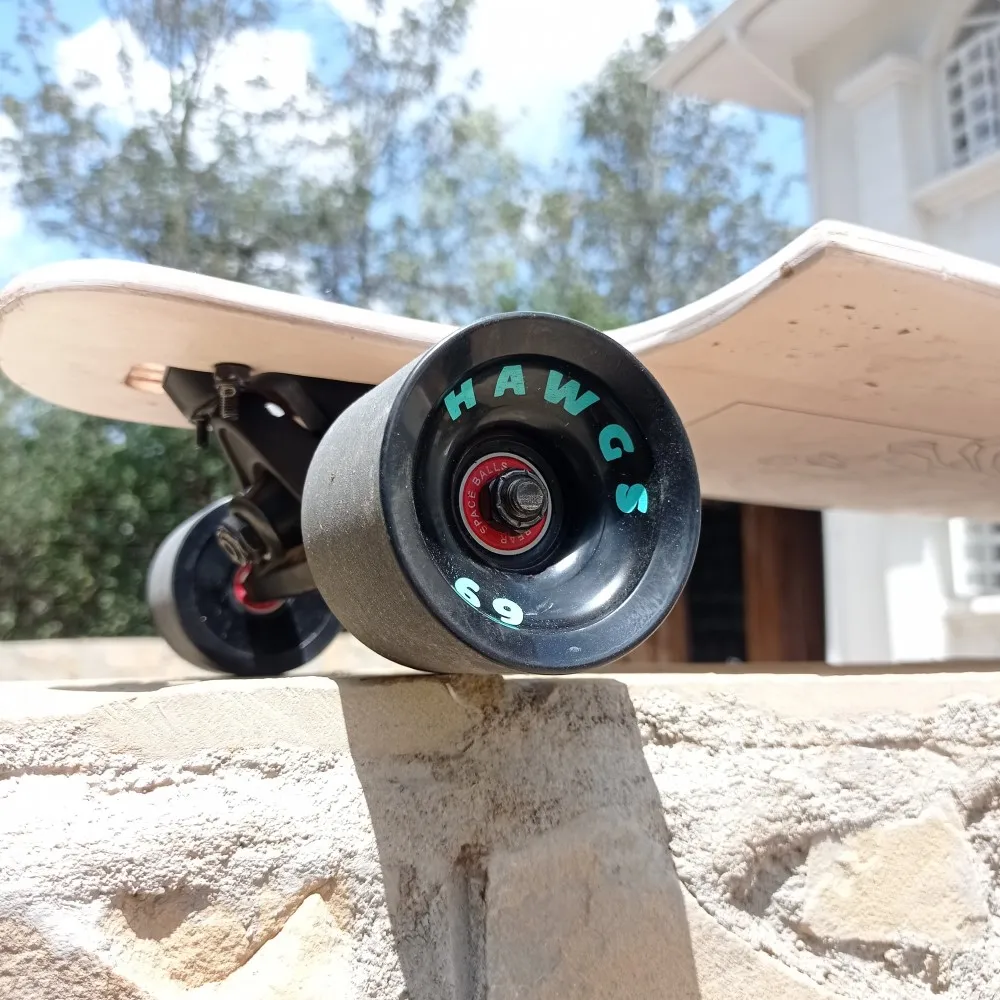 Bearings?
The Bear Spaceball Bearings work great out of the box. 
After some initial riding, the excess lubricant will flow out of them, so make sure to wipe em down to avoid dirt coating them.
And further down the line after a few months of riding, do lubricate them. They use a thin lube that doesn't last as long as I'd like it to. Fortunately, the inner race is exposed so lubing them up is quite easy.
I recommend Lithium grease for your lubricant as it lasts longs and provides a smooth, silent ride.
Are the trucks and bushings high-quality?
The trucks are some of the best in the game. You can't go wrong with them, they're awesome.
The Bear Gen 6 trucks have a leany carvy feel. Paired with the high-rebound stock bushings, you get a truck that carves well, but wants to bounce you out of the turn.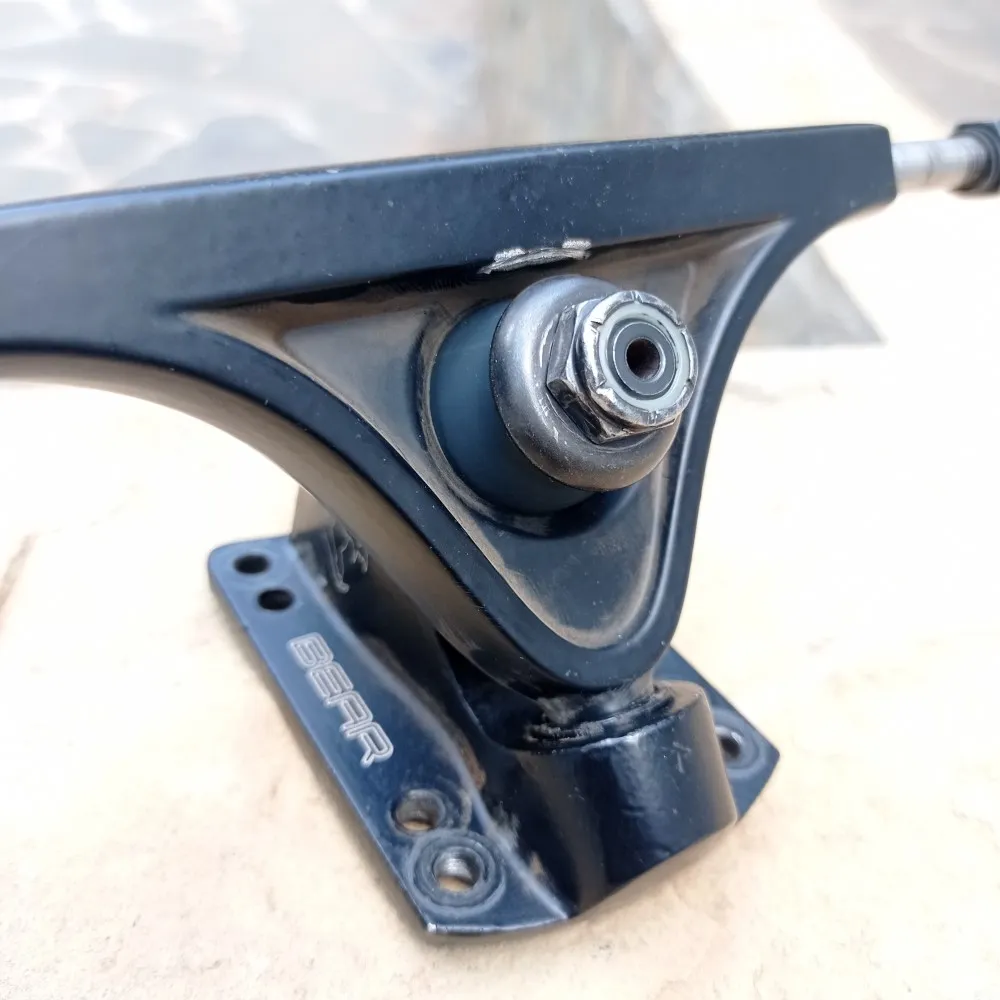 They are so playful and are a joy to have under your feet.
That said, the bushings are on the stiffer feeling side – not good for super lightweight riders. But heavy riders and beginners would appreciate how supportive they feel in the lean and turn. 
If you're a lightweight rider, don't hesitate to get aftermarket bushings that will lean easier for you.
The Drop Hammer looks good
I'm not a big fan of the drop-through look and shape, but the Landyachtz Drop Hammer makes it work.
Most drop-throughs have a rounded shape (on-the-wheel cutouts), and I think this makes them look tacky and a little bit ugly.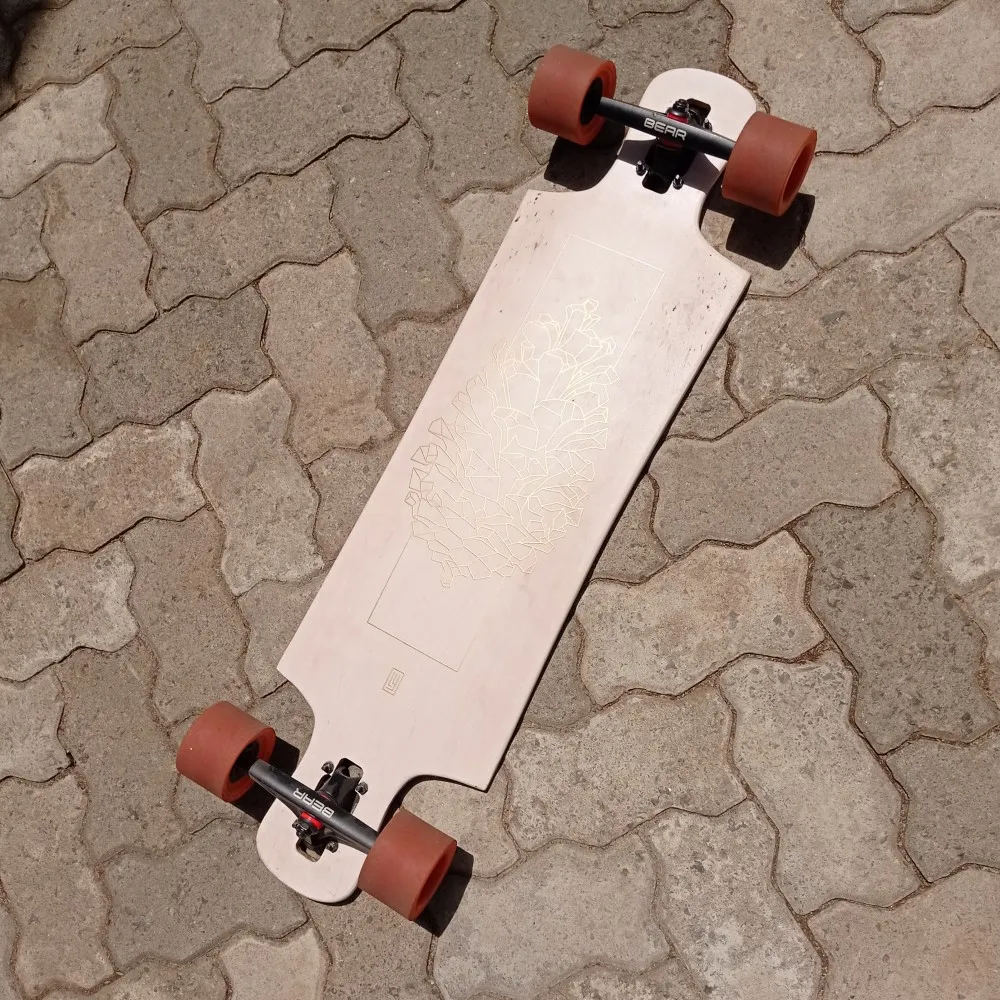 The Drop Hammer with its sharper cutouts and angled shape looks a bit more tasteful in my eyes.
This is all personal preference. But the Drop Hammer and its graphics are def a looker.
The one upgrade you should make
If you can afford it, big 80mm wheels make this board a lot better. It takes it to the next level and improves how it rides.
Apart from an additional expense and a heavier board, there are no drawbacks to doing this.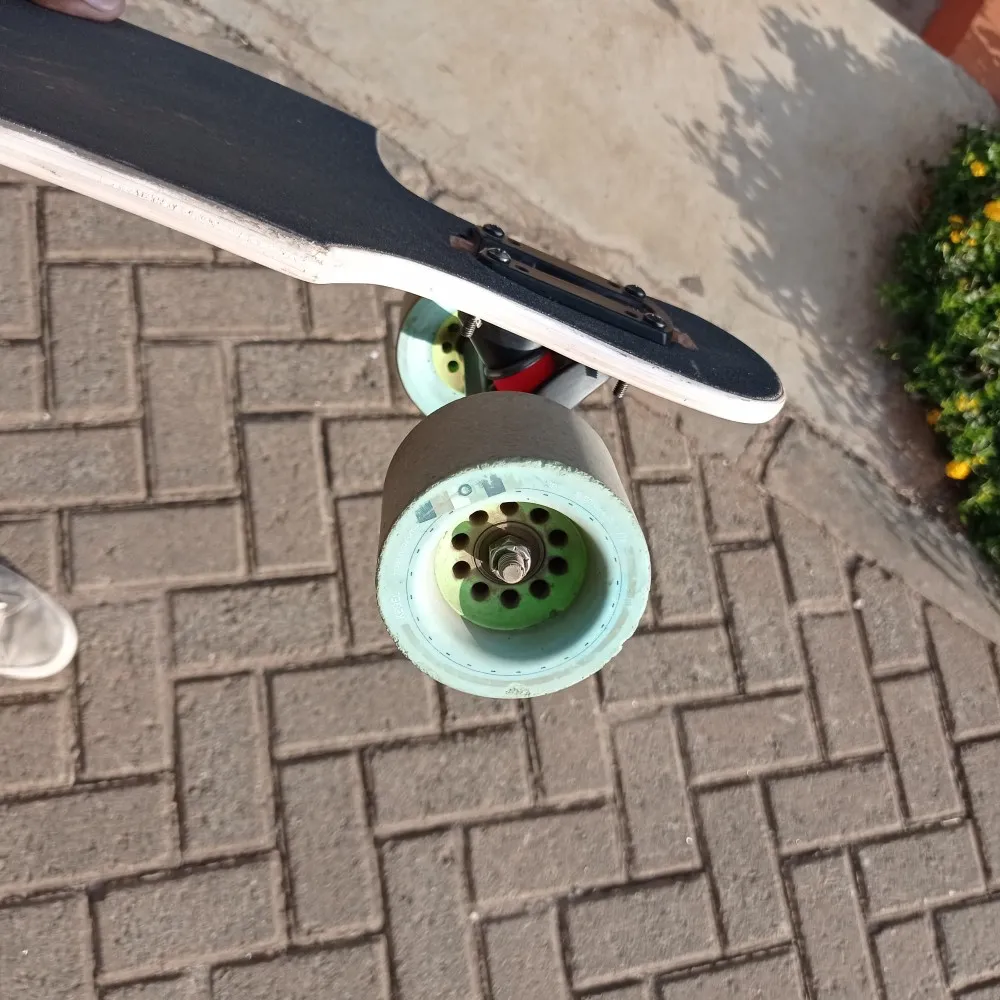 However, if you are a lighter rider (or a kid), the 70mm stock wheels may be better suited for you. It does take a bit of effort to get the 80mm wheels moving and kids may not be able to do that comfortably.
What I didn't like about this board
Honestly, there's not a lot I didn't like about this board. It obviously isn't perfect and there are changes I can make to make it more suited to me personally, but it is executed well with no inherent drawbacks in my opinion. It's an all-around great board.
Of course, there may be some disadvantages of it being a drop-through or big cruiser, but those are inherent to the style and not a fault of the board.
Is it fairly priced?
Absolutely. Before the supply chain cost increase hit this board it was about $200 (and still is here at the Stoked Ride shop).
Even now with the higher costs of everything (seriously, skateboarding got a lot more expensive all-around), its under $300 price point is still fair.
Is the Landyachtz Drop Hammer good for beginners?
Yes, it is. It is easy to ride and comfortable. The trucks are stable and the board is easy to control. It is one of the most beginner-friendly longboards you can get.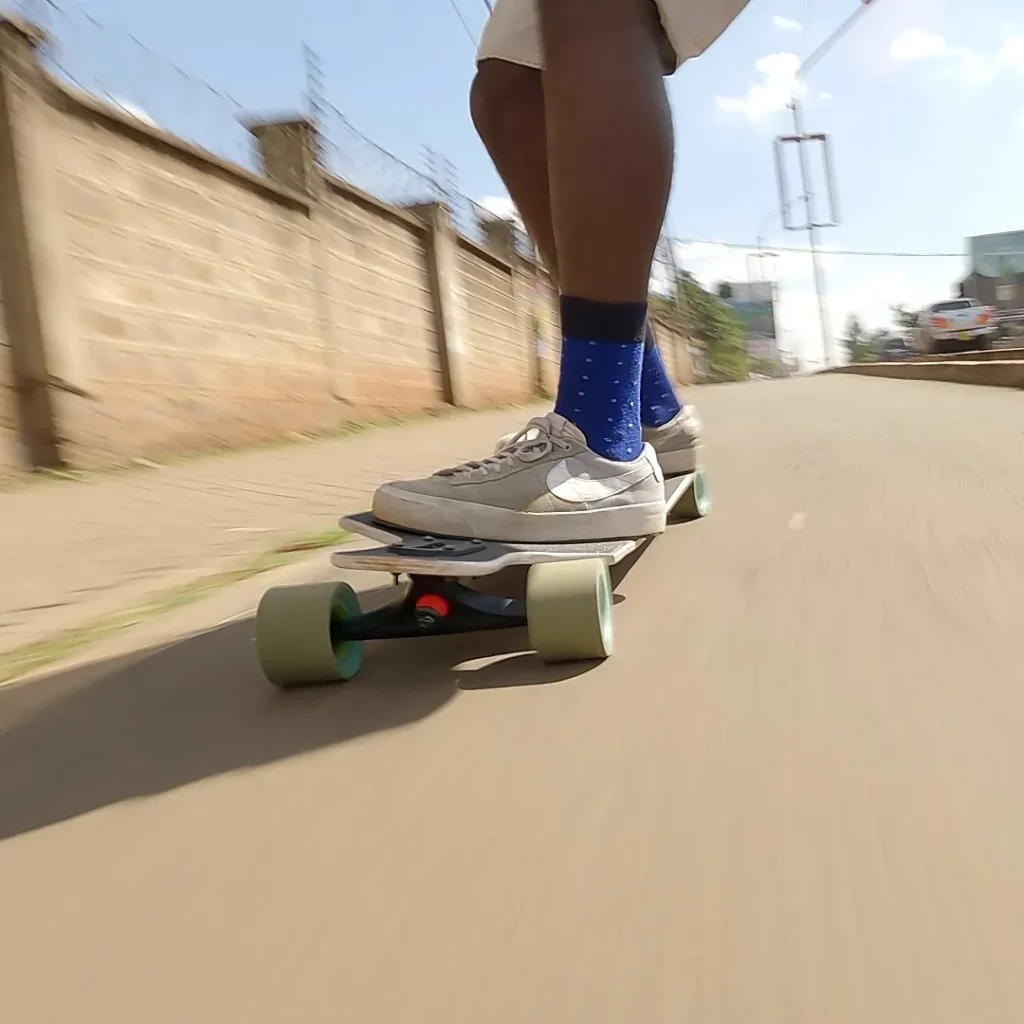 Where to buy the Landyachtz Drop Hammer?
You can buy the Landyachtz Drop Hammer here at the Stoked Ride Shop.
You can also buy the Drop Hammer here at Amazon.com.
Is the Landyachtz Drop Hammer right for you?
You can't go wrong with the Drop Hammer. It will make an excellent first board for many riders.
Big thanks to all my patrons for the support – David, Squirrels Adventures, Mike, Jed, Mowgii, Jan, Josh, Jay, Jay, Bryan, @owencampbell777, @dkwan, Alex, Kasajja, Domnik, @pablo.vega.andrade, Vlad, Asa, Helge, DeLacoste, Peder, Josh, Mike, Anthony, @issishreds, Greg, Jackson, Slipa, Louisa, Bill, Steve, Brain, John, Austin, @bomber_p_, Brian, Jeffrey, Jules, Henry, Austin, Philip, Oliver, and Justin. I couldn't write articles like this without you guys' support.