The Hardcore barrel bushings are the most unique on the market – pretty much nothing else is made with the same technology (bonded insert technology).
But are they good, or is this just another ploy to get you to spend more money (cause these things are not cheap at all)? Let's find out below.
Specifications
Durometers: 85a, 87a, 90a, 93a, 95a, 97a
Height: Standard
Price: $16.50 (for a pair)
Bonded insert technology 
Bones Hardcore Barrel bushings review
Let's jump straight into it.
How do the Hardcore barrels feel?
If we take the Venom HPF Barrels as the standard feel (in terms of stiffness), we'll find for the same durometer, the Hardcore barrels will feel about 3 duros softer.
For example, the 93a Hardcore Barrel feels like a 90a Venom Barrel. And the 90a Hardcore Barrel feels like an87a Venom Barrel.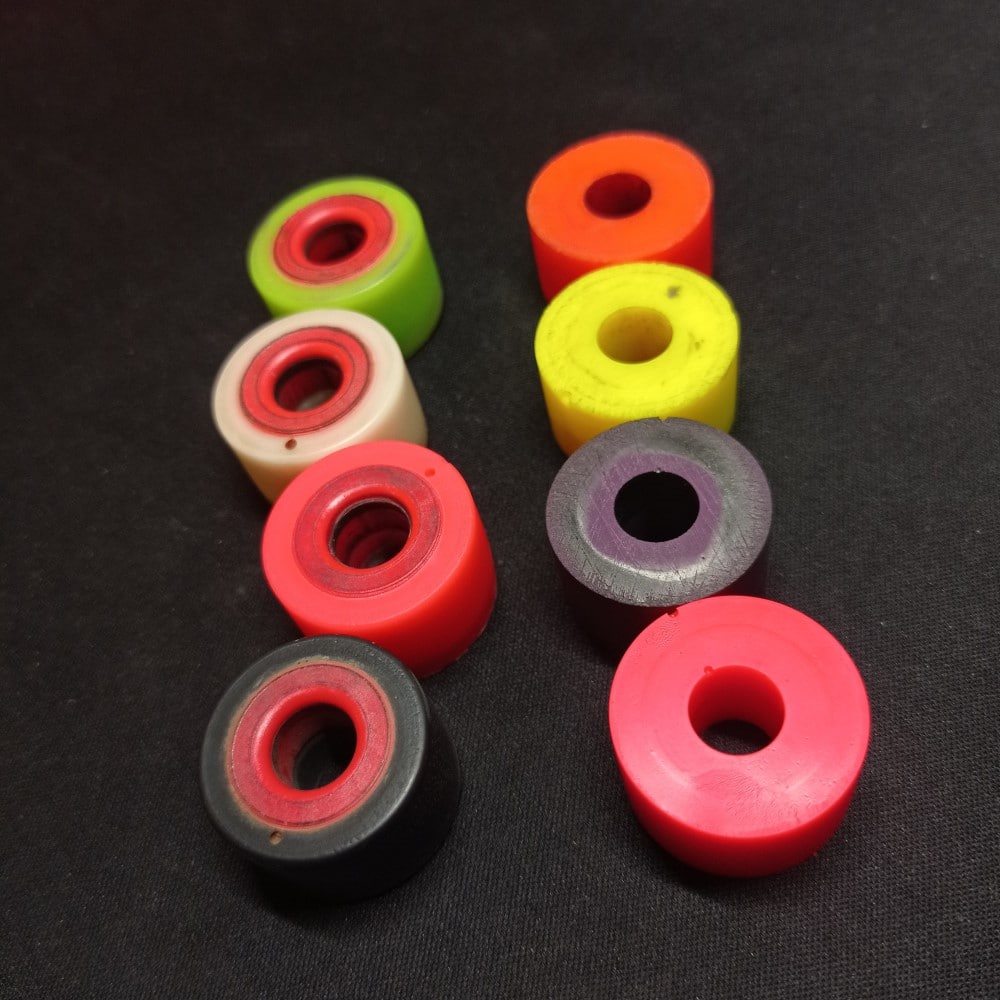 If you're looking for similar stiffness to a Venom bushing, you will have to go harder with the Hardcore barrel of your choice.
However, the Hardcore urethane does have more rebound than the Venom urethane.
How does the rebound feel?
They do have a bit more rebound than Venom HPF barrels.
This is both a good thing, and a bad thing.
In trucks that work bushings extra hard (and making a bushing like the Venom HPF feel like it has much less rebound), this extra rebound gives the hanger better support through the lean, and a slightly better return to center. 
I've found they work great in Aera P2s, Aera RF1s, Valkyrie Voxters, Savants, and Bear Gen 6 trucks.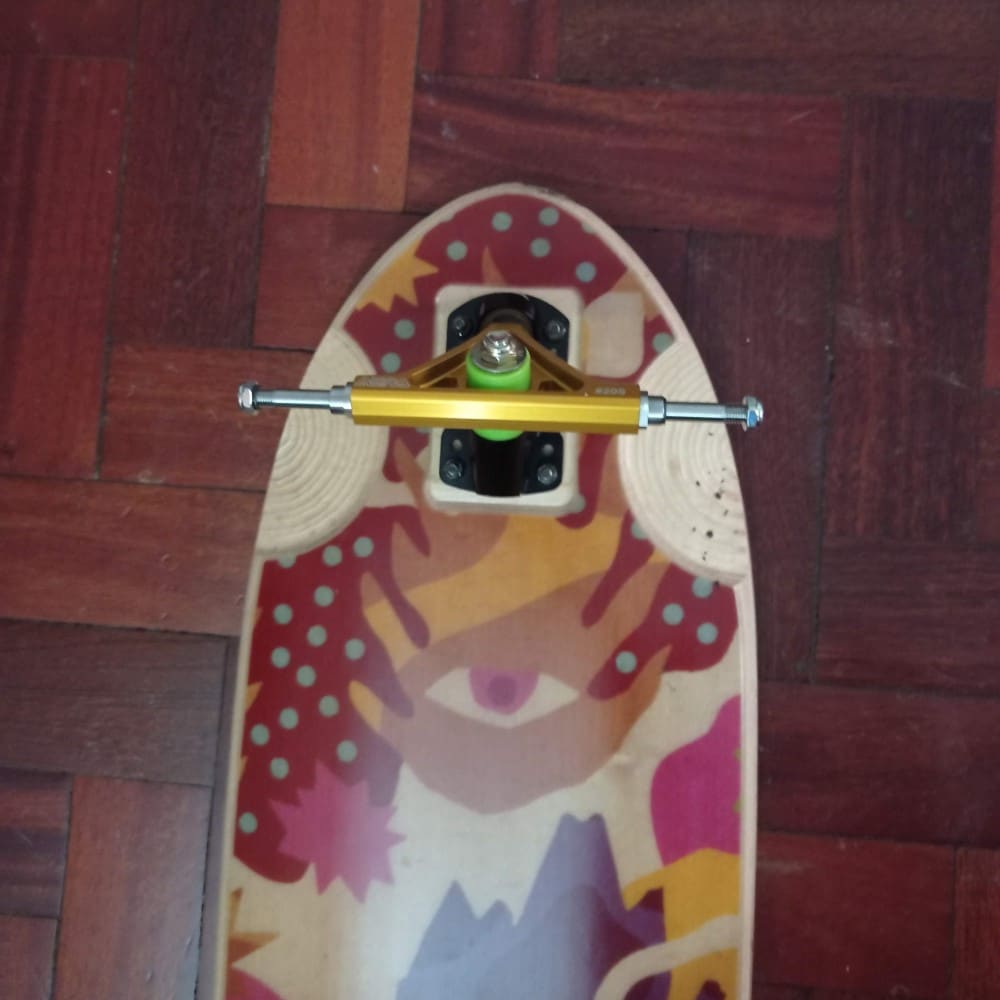 That aside, some people simply prefer the extra rebound and enjoy these bushings in most of the trucks they use – the extra rebound allows for a playful bounce out of a turn. 
These are fun for cruising – and I'm sure they make great bushings for dancing too.
The extra rebound can be a bad thing …
On the flip side, the rebound can be a bad thing as it can cause the bushings to give more feedback and fight your input when you engage them. 
This can be a problem at speed and over road imperfections. 
The bushings can cause the truck to provide a bit too much feedback making you think/feel as though your truck is unstable.
Ofcourse, if you just relax a bit more, or get used to this feeling, this isn't an issue. 
But sometimes you can't get used to a product or are simply not a good fit for it – these are a complete miss for some people and their riding style. It happens.
For cruising, dancing, the above isn't an issue. At lower speeds, the rebound doesn't cause any issue.
So yeah I don't think they will work for everyone. However, if you use them in the above-mentioned trucks, you likely will love em.
Do they have no break-in period?
Yeah, these bushings have no break-in period. I was able to throw them onto my trucks and get them working great straight out of the box. 
They've also felt pretty much the same as new, even after more than a year of skating them. 
The durability is impressive and I love how consistent the feel is.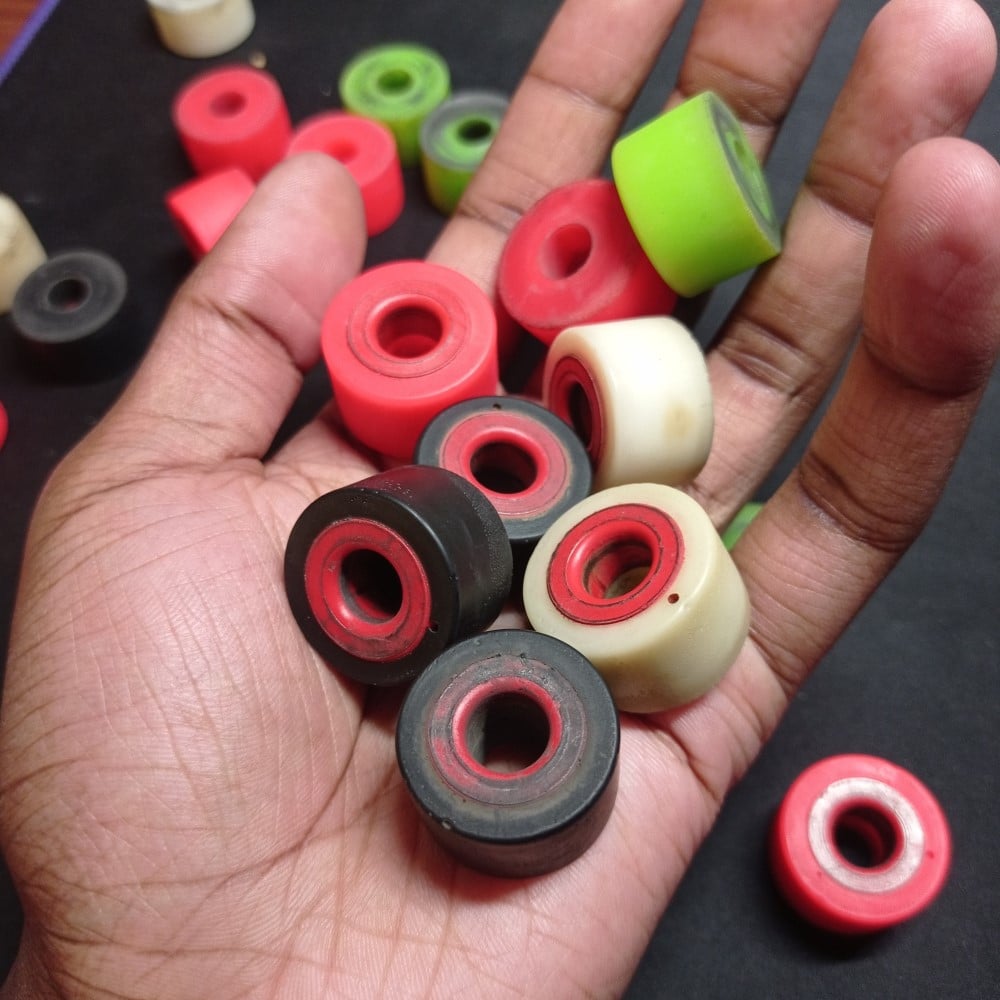 One thing I did …
One thing I did do was sand the bottom of the bushings – they stuck out a bit, made the bushings taller, and didn't allow it to sit flush against the bushing seat. 
Sanding it down allowed the bushing to sit flush against the bushing seat.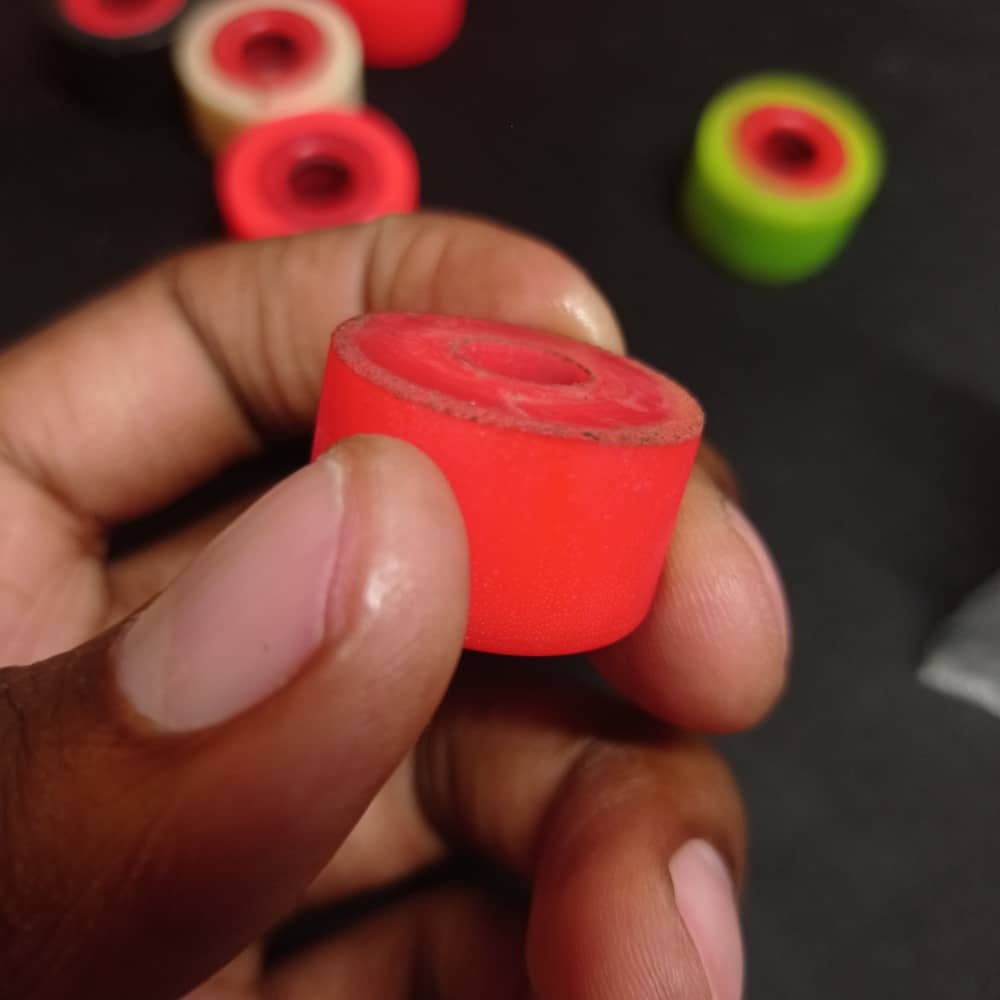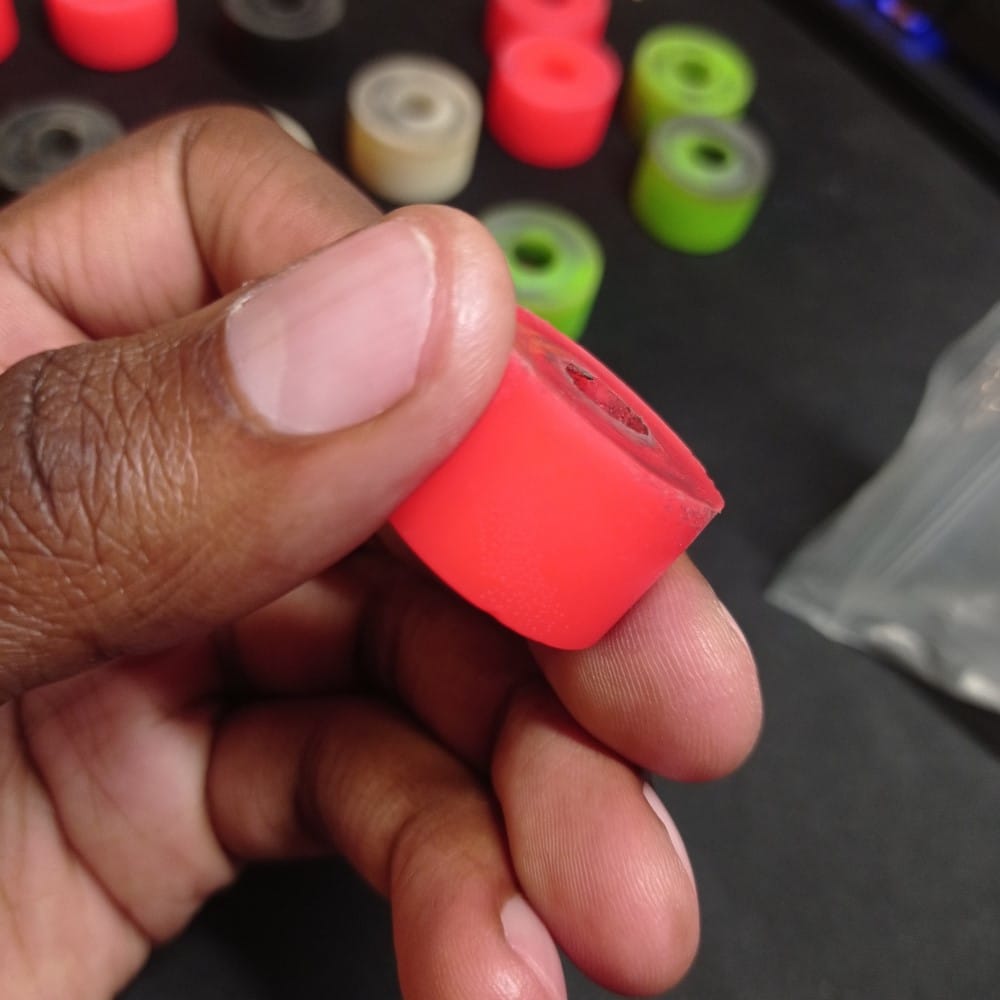 With the "tip", the bushing doesn't sit flat on the bushing seat and I've felt this affect performance – this has also been the case with a ton of other bushings from other manufacturers and I sand those down a tiny bit too. 
This "tip" naturally wears down with use and the bushing can sit flat. But sanding it down just speeds up this process and gives you the best performance off the bat.
Also, I got this tip from a Powell team rider so uhhh, yeah m8.
I highly recommend you do this. And not just with these bushings, but any other that has those weird tips.
Now, you DON'T have to do this. The bushings work fine out of the box. But they just feel better IMO.
How does the insert affect the performance?
In comparison to bushings without an insert, the insert feels like it reduces slop and keeps the hanger in the right place.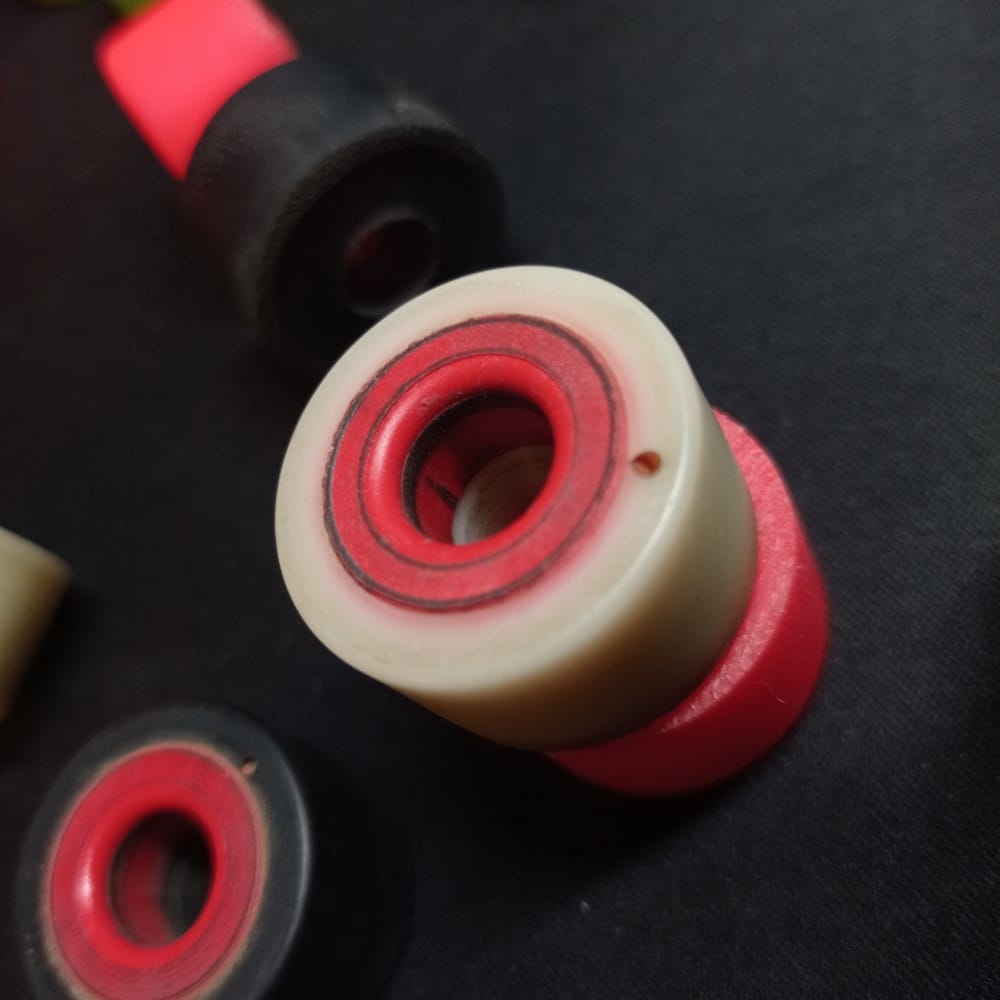 It feels like it provides a more direct feel to the lean and turns.
And this direct feel is a good sign of no slop (or in this case, a reduction of slop). This isn't an accurate way of measuring slop, but most precision trucks with no slop have a direct feel so this kinda works …
So with that, it felt easier to be more aggressive and confident with my input – the truck reflected my input better, so I didn't have to feather my movements as much and worry that the truck might do its own thing.
And whether it was downhill or cruising, I felt very ok being aggressive with my turns.
The insert also does this 
However, it also felt as though the insert binds the hanger a little bit towards the end of the lean – which I felt was a good thing.
With other bushings, I felt the hanger could lean further and deeper but also had a more inconsistent and sloppy feel at the edge of lean – and this was most noticeable on trucks without a slop stopping system (eg. the Paris V3).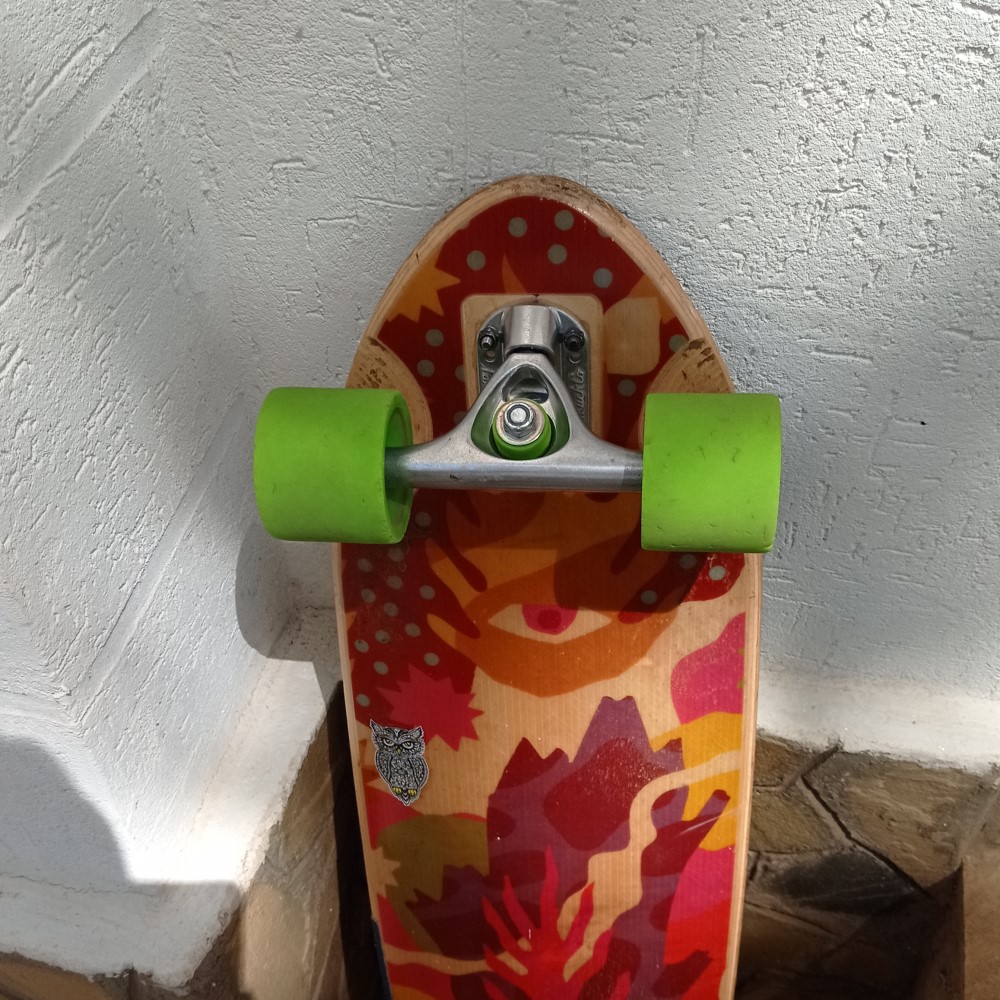 However, with the Hardcores, the same truck felt more consistent at that edge of lean. This led to more consistent feeling initiation into slides.
This binding feels similar to how a cupped washer would hold a bushing …
I can't say I'm fully confident about the above statement, but my experiences so far reflect that.
It also adds a bit of center
Though this may be placebo again – I can't entirely confirm it to be true. It felt like the HC added a bit more center feel to a given truck.
The truck just wanted to keep going straight and didn't want to turn left or right without deliberate input from me.
Amish washers don't work the same
Amish/top hat washers suck and don't offer comparable performance to the Hardcores. They bind the truck too much and feel inconsistent at that edge of lean. Don't get them in an attempt to imitate Hardcores.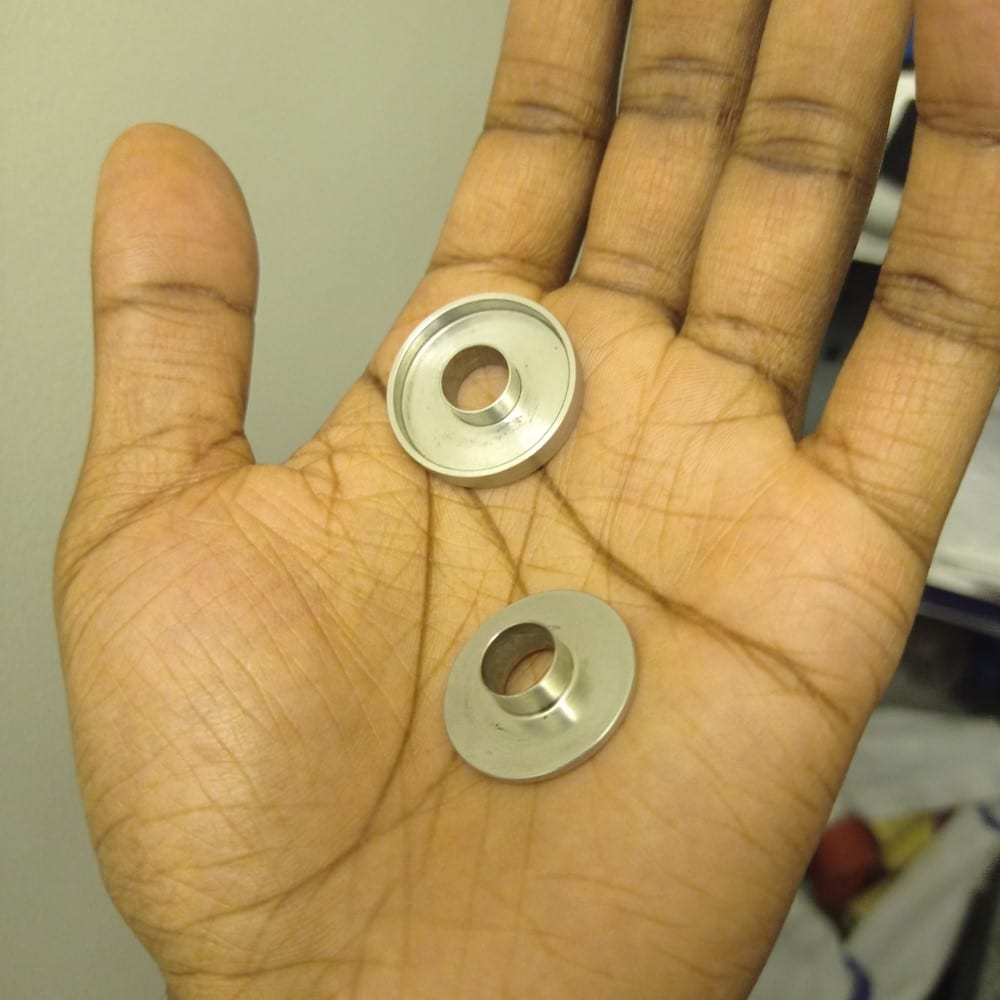 What I don't like about Hardcore Barrel bushings
Hardcore Barrels are pretty awesome and I'm happy to pay more for them than other bushings. However, I wish there were more duro options available. They recently added the harder options which have been great, but I hope there are more duro options softer than 85a available in the future.
Finally, I also hope they have more bushings shapes available. 
Other tips
You should preload em – overtightening them by a full turn of the kingpin (or half a turn) may give you slightly better performance – a stronger center, stronger return to center, and a better feel.
Did you enjoy this review of the Hardcore barrels?
I hope you guys enjoyed this review. Thank you Kevin Reimer for sending me these to review. I didn't review em sooner because I didn't have the right trucks for it haha. 
Big thanks to all my patrons for the support – David, Squirrels Adventures, Mike, Jed, Mowgii, Jan, Josh, Jay, Jay, Bryan, @owencampbell777, @dkwan, Alex, Kasajja, Domnik, @pablo.vega.andrade, Vlad, Asa, Helge, DeLacoste, Peder, Josh, Mike, Anthony, @issishreds, Greg, Jackson, Slipa, Louisa, Bill, Steve, Brain, John, Austin, @bomber_p_, Brian, Jeffrey, Jules, Henry, Austin, Philip, and Justin. I couldn't write articles like this without you guys' support.