Today's post is about where you can buy a quality second-hand longboards on the internet.
With second-hand boards, you can get something that is of decent quality for relatively cheap. You can skip the headache that comes with owning a cheap longboard and have a high-quality setup that rides well for about the same price.
Read on below for my thoughts on this, for ways I've bought second hand gear and good places to hover in case of any deals and second-hand gear worth buying.
Getting second-hand longboard gear
I want to start with a bit of an introduction. I've managed to get second-hand gear in a variety of ways. I've bought some through friends, Facebook groups, Instagram, eBay, Amazon etc. This was all easy for me because there was a mediator (basically 3rd party) that could protect my payment or I personally knew the people and could vouch for their character and that they wouldn't screw me over. I also knew my gear, so I knew what I was buying was of decent quality and the price they were selling it at was fair.
The above said, you can use Paypal to protect your payment (never pay through friends and family), so that's easily handled for most situations.
However, a majority of beginners don't know their gear and probably don't know a lot of people in the longboard community. So to them, I suggest they follow my list and some of the precautions so they can avoid getting screwed over. For example, a beginner should always pay through Paypal to protect their money or buy through a 3rd party mediator (Amazon, eBay) and should always ask more advanced people (or follow my list, or google) if the gear is worth buying.
Best places to get gear
Your local longboard group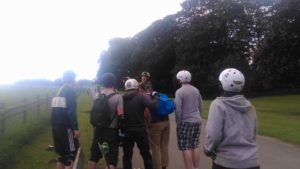 My local group when I started out was Leeds longboarding. You could ask if anyone had a cruiser, wheels, gloves etc. to sell and you would even stumble across some neat gear sometimes.
It was nice because I wouldn't have to pay postage (I could meet someone in town) and could even pay in cash. It was convenient.
Another option for me was London Longboards. It wasn't local to me but it was a bigger group and had more second hand stuff for sale.
To find your local group, simply google "Area name" longboarding. If nothing comes up, try the County, Province name or a bigger town that is close by's name, whichever works.
BST facebook groups
Self-explanatory. People post their gear for sale in these Buy, sell, trade (BST) groups.
Most prices are usually negotiable and they will ask you to pay through PayPal or bank transfer. I highly recommend you use PayPal (not the friends and family method) in case they screw you over.
I don't recommend this method to beginners because it requires you to know a little bit about gear. However, if you simply google a product, look at its specs and how much it costs, you might be able to tell if it's too worn or unusable. You could also ask other advanced riders for their opinion and post in FB groups like #WhatGearShouldIBuy (or even ask me if you really have to).
If you want to learn more about gear, read some of the articles on my website describing them or simply google search whatever you need to find out about.
An example of some BST groups is:
Longboard UK Buy, Sell, Trade Group
Second Hand Longboard Page (Buy/Sell/Trade)
Colorado Longboarding Buy, Sell, Trade
Sydney Longboard Buy/Sell/Trade
eBay
eBay was actually where I got a majority of my second-hand gear when I started out. It was simple to use and I would browse the "Used" and the "New other" options to see if anything nice came up. I would sometimes find companies selling their blemished but function products at low prices.
It was genuinely exciting finding a good deal.
As always, if you don't know if a gear is good quality, ask someone or google.
Amazon
Amazon usually has a "Used" option on some products. They usually tend to be a bit more expensive and are few and far between. Worth looking at though.
Reddit
The Reddit longboard community usually has a weekly B/S/T thing going on. I've never bought anything from there but some people have. Just watch out that you don't get stoked about an item only to find out it's from Australia and will cost triple to ship to you.
As always, Paypal and protect your money.
Friends & strangers
As someone who longboards, I have gear that is in good condition that I don't use. Most longboarders like myself do and most of them wouldn't mind parting with that gear. I've got wheels, pucks, trucks etc., that have been in really good condition and all it took was me asking my friends if they had anything spare to sell.
Same goes if you see someone really good at longboarding at the park, at an event, on the street etc. All you need to do is have an awkward conversation, exchange contact details and boom, they might hit you up with some prices for spare gear they have.
You can do the same thing on Instagram, Facebook, Twitter etc. etc.
You won't be 100% successful with this method but it's pretty sweet when it works. Also, don't feel obligated to buy it because you asked to see it/about it. If it's shit, it's shit. Move on.
Gumtree
Never used Gumtree but always seen a couple boards for sale in the area. Might be worth trying out if you see something you like on it.
Second-hand gear worth buying
Well, not all gear is worth buying. This is especially true when it comes to things that are meant to protect you or that are one use. Yes, I am talking about helmets.
You shouldn't buy these second hand:
Helmets are really sketchy to buy because you can't always tell if they have had an impact or are unusable. You could buy something that looks like it's in good condition, only to fall in it and wake up a month later in a hospital with a catheter up your peepee because you knocked our head hard enough that you forgot how to control your bladder.
So yeah, helmets are the thing you shouldn't cheap out on.
Apart from helmets, some trucks aren't worth buying second hand either. Generic trucks, decks, slide gloves, griptape etc. are usually not worth it. They will go for cheap second-hand, but they will suck so much to ride that the $20 you spent won't be worth it. Try to go for premium products, they are super affordable when second-hand.
Below, I've listed some brands you should look out for when searching for gear, these are brands are mostly premium brands that make good quality gear which is worth buying second hand. I've also listed some thing to avoid.
My list might not be exhaustive so you know, comment below or something.
Decent truck brands and what to look out for
Longboard trucks are the metal things under the board. They dictate how you turn and how your board feels when moving from side to side. Good trucks will give you a fantastic riding experience and bad ones will suck and make your feet hurt after long hours of riding.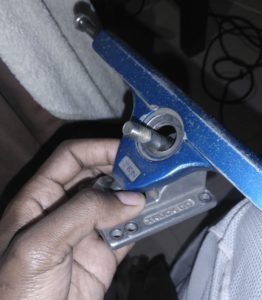 You want to avoid trucks that look very bent, and very worn. Bent trucks provide a poor riding experience and make your wheels wear funny. You want to look out for trucks that look straight and the hanger isn't sooo grinded out.
Cast trucks are most susceptible to bending and getting worn out. Forged and Precision trucks are the strongest and longest lasting, if you can get some for cheap (you usually can), you should go for it. They basically perform like new due to how durable they are. My first set of precision are going to be second hand because that is what I can afford and I can't commit so much money just like that.
Click here if you want to learn more about trucks.
As always, if it isn't listed here, ask about it on a board or in some group to see if it's a good brand.
Truck brands to look out for:
Paris
Caliber
Bear
Atlas
Aera
Rogue
Ronin
Gullwing
PNL
Randal
Arsenal
Bolzen
Sabre
Liquid trucks
Decent longboard deck brands
When it comes to decks, you don't one that is too water damaged, chewed up or too worn. This is a problem because decks don't show damage as easily as trucks or wheels do.
That said, just go for the one that doesn't look ugly and damaged, you should be ok.
Click here if you want to learn more about downhill decks.
There are loads and loads of brands out there … I recommend simply googling and finding out about the brand if it isn't on my list and asking about it on a forum or something.
Deck brands to look out for:
Rayne
Loaded
Arbor
Alternative
Landyachtz
Kebbek
Sector 9
Lush
Madrid
Prism
Long Island
Oslon & Hekmati
Moonshine
Restless
Pantheon
Rocket
Seismic
Riviera
Jet
Original
Decent wheel brands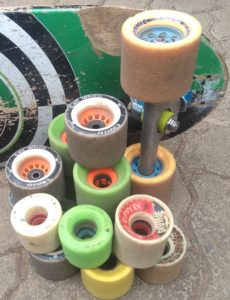 Wheels are the best thing to buy second hand. A lot of people don't use their wheels that much, so you can get a wheel that has seen a lot of miles but that is still really tall and has a lot of meat for you to slide through. I mostly buy second-hand wheels because new are usually too expensive, or I wait for discounts and sales.
Typically when buying wheels, lookout for those that are coned, that are too tiny in diameter and that have chunks missing (little chunks are ok). You want to avoid these as they won't perform the best.
Click here if you want to learn more about wheels.
There are loads of wheel brands out there, so just post in a forum like #WhatGearShouldIBuy if you want to verify if it's a good wheel/brand.
Wheel brands to keep an eye out for:
Powell Peralta
Seismic
Venom
Cadillac
Sector 9
Remember wheels
Cult wheels
Divine wheels
Blood orange
Orangatang
Abec 11
Slide Perfect
Hawgs
Other longboard gear
For slide gloves, make sure they are in your size and aren't too worn out at the fingertips or the pucks aren't too small. Then, google the brand and glove make to find out more about the puck, you want something made from UHMW-PE or Delrin because they last the longest and slide the smoothest.
Is it worth buying second-hand gear? My thoughts
I'd say yes. When it comes to things like decks, forged trucks, precision trucks, wheels and slide gloves it's a good idea. You can get good quality premium items for cheap, and these items will perform better than new but cheap trucks going for the same price.
Someone was selling precision trucks for about half their price, and I was sure I could haggle and get them to sell them for less. That is such a steal given the fact that precision (and forged) trucks will basically perform just like new because of how strong and durable they are.
The issue with buying second-hand gear
It's very hit and miss – You won't be spoiled for choice and will basically have to choose from what's there or keep coming back and checking until something you like shows up.
First come, first serve – You snooze, you lose. If you don't reserve and pay for equipment first, it's basically gone if someone else scoops it up. No loyalty out here.
Conclusion
Buying second-hand gear is very hit and miss, and it can be stressful and take a long time. However, it is worthwhile when you get something high quality for cheap, so even if you don't get something great at once, keep an eye and an ear out.