Today's topic is on the best longboards for beginners. Whilst you can learn to ride on any longboard, some of them will be easier to learn on and will give you a more forgiving learning experience. Check it out below to learn more about this.
Best longboards for beginners
These are just some suggestions from myself. Check out the type of skating you want to do, and pick out an appropriate board.
Best beginner mini cruisers
Magneto Cruiser – budget option but poor components
Up first we have the magneto mini cruiser. This board comes in at 7.5inches in width and 27.5 inches in length. It's gonna be tiny! 
The deck is fairly decent. It's made with 6plies of maple so it should be strong enough to withstand most types of skating. It has a clear sand grit finish on top to keep your feet from slipping off – whilst showcasing the nice wood finish.
Whilst the deck is decent, the components are poor. It has knock off Paris truck TKPs. These will ride ok, but won't work as good as the real thing. The wheels are also quite tiny at 60mm. They aren't gonna be super smooth and won't handle road imperfections and things like pebbles that well.
I'd say this is a good board for a kid learning to skate but wouldn't recommend it to an adult or anyone as big. It is fairly decent for the price though. Find out more about it here on Amazon.com.
Check out my guide to the best mini cruisers (and how to pick them) here.
Stoked blank cruiser –  best value for money good for tricks too
This might be the best all-around cruiser on my list – when you account for affordability and quality of materials and components.
The Stoked blank cruiser is essentially a skateboard, but with the wheels switched out for bigger softer ones. This means a smoother ride. It will be able to handle rougher roads with ease and you won't feel cracks and be bothered by pebbles as much.
In terms of dimensions, the board is the standard popsicle length of about 32inches. You can pick various widths from 7.75inches to 8.5inches, but basically the wider the option you choose, the more comfortable it will be. Because it is wider and bigger than the other mini cruisers on the list, it's gonna be more comfortable to ride.
Finally, unlike the Magneto above, this one has real Paris trucks. These provide a smooth ride and don't give you wheelbite!
I think this is the best longboard on my list if you're on a budget – it's only about $90 and comes with high-quality components. Check it out here on the Stoked ride shop website. 
Landyachtz Dinghy – great quality, good for kids
This is THE mini longboard. Apart from the Penny, it's likely the most well-known cruiser out there.
The Landyachtz Dinghy has a pretty small size. It is only 28.5inches long and has a width of 8inches. It's made with maple and it comes with high-quality components.
The Dinghy comes with high-quality parts. It has trucks from Bear truck co and Hawgs wheels. 
The wheels are 63mm tall, which are a bit taller for mini-cruisers. This gives them a slightly smoother ride and means they can roll over cracks and pebbles better.
You can buy the Dinghy here on the Landyachtz website. Use the code – "AroniSkate&Explore15" for 10% off.
If you're in the market for a mini, this is a good option. With the many graphic options, Landyachtz has available you can find one to suit your tastes. Check it out here at the Stoked ride shop.
Best beginner longboards for cruising
Sola Bamboo longboard – budget option but poor components
If you're in the market for a cruiser board, this one is fairly ok. It has a really good design, but the components aren't the greatest. It is affordable though.
It retails for about $70, which isn't too bad. But as I said, the components and overall quality isn't that great. But if you're pressed for money, it's not a bad longboard to go with.
The Sola Bamboo board is 38inches in length and 9.75inches in width. Unlike other cheap longboards, this one is made with a drop. It means the standing platform is gonna be lower than where the trucks are mounted – illustrated in the picture below. 
This drop is gonna make it easier to skate and more stable. Great for beginners.
However, the board comes with cheap components. The trucks aren't very good and don't turn super smoothly. The wheels are 70mm tall made from poor quality urethane – they're not going to be the fastest but they are gonna roll and perform ok for the most part.
You get what you pay for with this board – it is a budget board after all. I don't think it's gonna last you too long, but it is ok to start on if you can't afford any better. Check it out here on Amazon.com.
Landyachtz Drop Cat 33 –  great value for money
The Drop Cat 33of the best longboards I've tried stock – I think this is one of the best beginner longboards out there. If you're having trouble deciding on one, this is the option I recommend to you.
This board is low to the ground, easy to push, and flexible. It has great wheels which are 72mm tall. These will roll fast, coast for long, and absorb a lot of road vibration – giving you a smooth ride. The Drop Cat is comfortable, stable, and fun to ride – it is surprisingly nimble. You can read my in-depth review of the Drop cat here.
It comes with high-quality Hawgs Plow King wheels, Bear Gen 6 trucks, and Bear space ball bearings.
Finally, because it isn't super tall at 33inches, it isn't that difficult to store and carry around.
For about $190, you're getting a high-quality, easy to skate cruiser that has great components. If you're genuinely in the market for a cruiser, this will make you happy.
You can buy the Drop cat here on the Landyachtz website. Use the code – "AroniSkate&Explore15" for 10% off.
Comet Cruiser – the best money can buy (best hybrid too)
If you want a high-quality cruiser that rides great, turns great, is stable enough for hills, and that you can ollie? The Comet cruiser is the board for you.
The Comet cruiser is about 34inches long, 7.9inches wide, and has a standing platform that sits low to the ground. This simply means it allows you to adopt a comfortable shoulder-width stance, whilst being low enough to aid in stability whilst also making pushing and foot braking easy.
The quality of this board is the highest on my list. It comes with great components too, with every component coming from a high-quality brand. Aftermarket parts have also been installed to ensure the board has the best feeling ride. A lot of care and thought has gone into this board. A lot of experienced riders call this the best cruiser ever made and it really might be.
The cruiser is quite expensive at $225 and does take a while to ship. But if you want a board you will absolutely love and skate forever, it's an excellent choice. Pick up the Comet cruiser here at the Comet website. Use code "Downhill254" at check out for 5% off.
Pantheon Ember (cruiser/commuter) – best money can buy
Another excellent longboard, this one is a hybrid between a commuter and a cruiser. 
Like the Comet cruiser above, this one comes with high-quality components all from high-quality brands.
When it comes to its size, it is surprisingly small – coming in at 32inches in length and 8.5inches in width. But what matters here is the standing platform – it's gonna be long and wide enough where it counts. You're gonna have enough room to assume a comfortable shoulder-width stance.
The Ember is a double drop longboard, meaning it is both drop through and dropdown. This means it sits close to the ground making it stable, easy to skate, and easy to push. 
Finally, it has big oversized 85mm wheels. These wheels will hold their speed well and will be able to provide a smooth ride even on rougher roads.
The one drawback is that it is quite expensive (about $200), so it will set you back quite a bit. But it is worth it if you want to start off commuting on your longboard.
Best longboards for dancing and freestyle beginners
Magneto dancer – budget option but poor components
For about $140, the price of this board is almost irresistible – I can see why a lot of people choose to get it. But of course, you get what you pay for. The components on this particular complete are lacking.
The deck is actually of fairly decent quality and will be an alright option if you're looking for a beginner longboard dancing deck. The components hold it back though, and you'll be doing yourself a favor if you replace them with aftermarket wheels and trucks.
The trucks are cheap knock-off copies of Paris V2 trucks. They come with cheap parts (bushings and pivots), which squeak and squeal and provide an inconsistent feeling when you lean and turn -not what you want for dancing. I recommend you replace them with the real things.
Finally, the wheels and bearings aren't the best. You might be ok with the wheels but replace the bearings as soon as you can.
If you follow my advice, you'll end up spending about $200 altogether to get it to ride decently – decently enough for you to learn dancing well. I recommend the simpler option of getting the affordable beginner models below. But within that price range, it's your best option.
Check out the Magneto Dance board here on Amazon.com.
Landyachtz Stratus – good quality beginner dancer
For 2020, Landyachtz has blessed us with an affordable version of the Stratus. You can now pick one up for about $220.
I know the cost is still quite high, but if you're serious about getting into dancing it's your best bet. It's quite difficult to get an affordable quality longboard for dancing (unless you buy second-hand), and this is one of the best value for money options out there. Anything cheaper (like the Magneto above) will have poor quality components or won't ride well at all.
For freestyle, you can go with the 40inch version (or even the Tony Danza dancer), and for pure dance, the 46inch version would be best. Find one at here at the Stoked ride shop.
You can also buy the Landyachtz Stratus here on the Landyachtz website. Use the code – "AroniSkate&Explore15" for 10% off.
Rayne Nae Nae 44" – best value for money
Coming in at 44inches in length (with a 40inch option too), you have this budget offering from Rayne longboards. The Nae Nae your best choice for quality on a budget.
It comes at a length of 44inches and a width of 9.5inches. The 44 inches length makes it a good option for either freestyle or dance – perfect for a beginner not sure what style they want to focus on.
The components are fairly good. It has Rayne wheels and Atlas trucks. I'm personally not a fan of the Atlas trucks – they don't feel as smooth and consistent as other trucks. Which is why I'd pick the Landyachtz Stratus complete over this one. 
But for the price, this dancer wins. For about $200 you get a decent quality complete that's gonna be great for learning to dance and freestyle – that's an incredible deal. This is your best option if you're on a tight budget. Find one at your local longboard shop.
Other dance boards
The Zenit Judo is gonna be an affordable option that won't break the bank too much.
Best beginner longboards for downhill and freeride
Pantheon Gaia
The Pantheon Gaia is a fan favorite. This egg-shaped board has proved to be popular amongst a ton of riders.
The Gaia is one of the best beginner downhill longboards. It comes in at 37inches in length, with a width of 9.6inches. It has a solid construction of maple and fiberglass, meaning it will be strong enough to withstand a beating. The construction also means it is stiff, giving you great control over your trucks when you start picking up speed – not easy to wobble.
Finally, the board has a micro-drop – the standing platform is 0.2 inches lower than where the trucks are mounted. This aids in stability and makes it a bit easier to slide. For a more in-depth review, check out my write up here.
I think you get a fairly decent deal for about $225 (approximate complete price). You get a quality board with quality components which will allow you to learn downhill skating and progress well with your skills. Find it at your local skate shop.
Excellent beginner alternatives to this board would be the Rayne Skyline, the Landyachtz Cheesegrater, and the Zenit Marble. 
Earthwing Hoopty – affordable option
Currently, the best-priced downhill deck, the Earthwing Hoopty's are selling for about $90 – which is ridiculously cheap for a downhill deck (most quality boards start at $120). And as a complete, you can get this with great components for $208. It's an excellent deal.
The Hoopty is gonna be an excellent option for beginners. It has a stiff deck made of 9plys of maple and has a long 25inch wheelbase. This means that it is going to be stable at speed and provide a smooth initiation into the slide when you decide to take it sideways. 
It's not going to be as beginner-friendly as the Gaia (and the alternatives) listed above, but it is gonna be a solid option for anyone on a budget.
Check it out here at Muirskate.com.
For more about beginner longboards, check out this article – best longboards for beginner downhill skaters.
Niche types of longboards
Best longboards for commuting
Pantheon Quest
Pantheon Trip
Pantheon Ember
Zenit ATB
Rocket
Bustin Sportster
Best longboards for heavier riders
Unless you're heavy (300+lbs), most longboards on this list will work for you ok. But below are some stronger longboards that will hold up well for you:
Pantheon Quest 
Bustin Sportster
Landyachtz Evo
Most Zenit boards – they can add extra plys on request to make their boards stronger.
How to pick the best beginner longboard for you?
You first need to look at the type of skating you want to do. This will be the determining factor to the type of board you get.
Below, I talk about the different longboard disciplines and the right boards for them.
Types of longboard disciplines and the different boards for them
It's hard to put some of these "types of skating" and disciplines into fixed categories. You can use so many types of boards for so many different things and the styles are often merged and intertwined. And some boards are designed in a way to overcome the shortcomings of their disciplines.
But below I will try to make clear distinctions between the styles so it is easier to know what you want to pick. However, it isn't that easy so bear with me if one or two things aren't clear.
But yeah, you can use different boards for different styles. But you will be best suited if you get one focused on the style of skating you want to do.
Mini cruising/mini's
What is "mini-cruising"?
Ok, no one has ever called it "mini-cruising", but I couldn't think of any other way to title it.
This type of skating is mainly geared towards portability and shorter rides. Yes, you want a board, but you would also like something easy to carry around and store – you can imagine using this type of board to quickly get to your next class but then also being able to comfortably put it away under your desk or in your locker.
Smaller boards that roll fairly well are the best fit for this type of skating.
What are minis used for? Some examples
Mini cruisers are often used for:
Quick skates to your next class.
Runs down to the corner store.
Quick skates to the bus stop.
That last mile to your place of work, etc.
They're characterized by their portability and compactness rather than what they can do.
So yeah, mini's are designed for those quick skates under 2miles/3km. They're designed to be lightweight, nimble, and portable. They're easy to store and don't get in your way when you have to carry them. Great boards for kids too.
What type of board is suited to this type of skating?
For this type of skating you're going to want a (you guessed it) mini. These types of boards are small in size. They will be easy to carry around and easy to store wherever you go. 
Mini-cruisers will have the dimensions described below. They are roughly about:
Less than 30inches in length, 
About 8inches in width, 
Most will have TKP (Traditional kingpin) trucks
And most will have wheels between 60-65mm in size.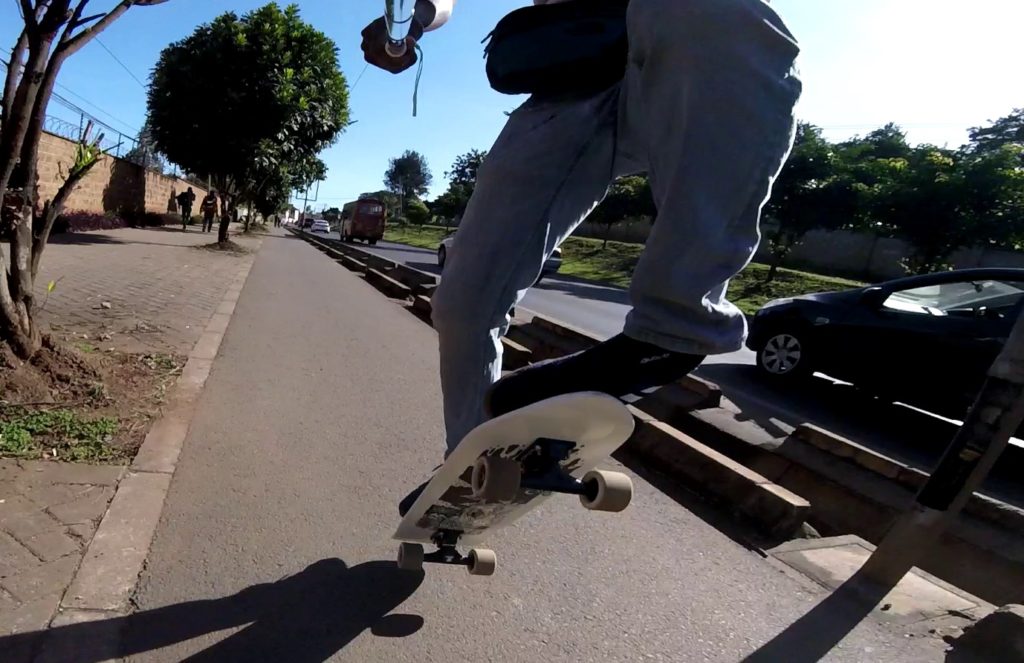 Check out the best cruisers and minis from 2020 here.
What are mini-cruisers not good for?
They aren't very good for long-distance skates (longer than 5km) as they're narrow and hard to balance on – they're quite reactive to input and react to your slightest nudge and you have to actively work to keep them going straight and that can get exhausting. 
And because their wheels are small they don't keep momentum and don't coast for very long – you're gonna have to push and push and push to keep their speed up. This can get exhausting. 
If you're skating longer distances, you'll be better off with a cruiser that is longer, wider, and has bigger wheels.
Finally, these mini-cruisers aren't going to be good for learning tricks. You're not going to have enough room to ollie, and in some cases, the kicktails are waay too small to do any tricks with them.
Are mini-cruisers easy to learn on?
No, generally speaking, they have a steeper learning curve than other types of boards. This is mainly because they're small and very reactive to a rider's input – not great for someone still figuring out how to balance on a skateboard.
You can learn on them with some effort, but they will be harder to start with.
Kids can learn on them quite easily as they're smaller and better suited in size to those boards. They're the type of boards I recommend for kids.
You can get minis that are a bit wider/longer and more comfortable to skate. Those are gonna be more beginner-friendly and easier to skate.
What is a fair price for mini cruisers?
Price isn't an exact indicator of quality – you can get some great boards for cheap and some terrible boards for an expensive price. You have to know what you're buying if you want fair value. But on average, this is what you can expect in terms of quality when it comes to price.
Low-quality – $50-$80
Decent/high-quality – $100-$150
High-quality – $180+
You should buy a mini-cruiser if …
If you want a board that is super portable and easy to store, then a mini will be a great choice for you. 
If you want something nimble and quick turning, for short but fun skates.
A board that is really fun and really turny sounds good to you, but you're only going to be using it for less than 10minutes.
If you're looking for a decent board for your kid to learn to skate on.
Other than those two scenarios, they don't make very good cruisers/longboards. There are better tools out there that will give you a better riding experience.
You shouldn't buy a mini-cruiser if …
Looking to ride a board more than 3km? A mini-cruiser isn't a good choice.
Looking for something comfortable to cruise on? A mini-cruiser won't be the best choice for that.
Cruising
What is cruising?
Cruising is the type of skating, where you don't have a destination. You're just in it for the ride, to enjoy how skating and how your longboard feels. For this, you're going to want a board that provides a comfortable and low-stress/low-effort skate experience.
Cruisers are also gonna be better for those slightly longer (5km+/3miles+) rides.
What types of boards are suited to cruising?
You can cruise on any type of board, but some are gonna be better for it. My suggestion is to pick something easy to ride and comfortable. If you're gonna enjoy skating and the feel of it, something that makes it super easy and doesn't get in your way is the move.
A cruiser that fits these requirements will be:
Long enough – about 35inches long,
Wide enough – about 9inches wide,
Low standing platform – Drop through or drop mount (but top mounts are good too),
A flexible deck,
Big 70mm-75mm wheels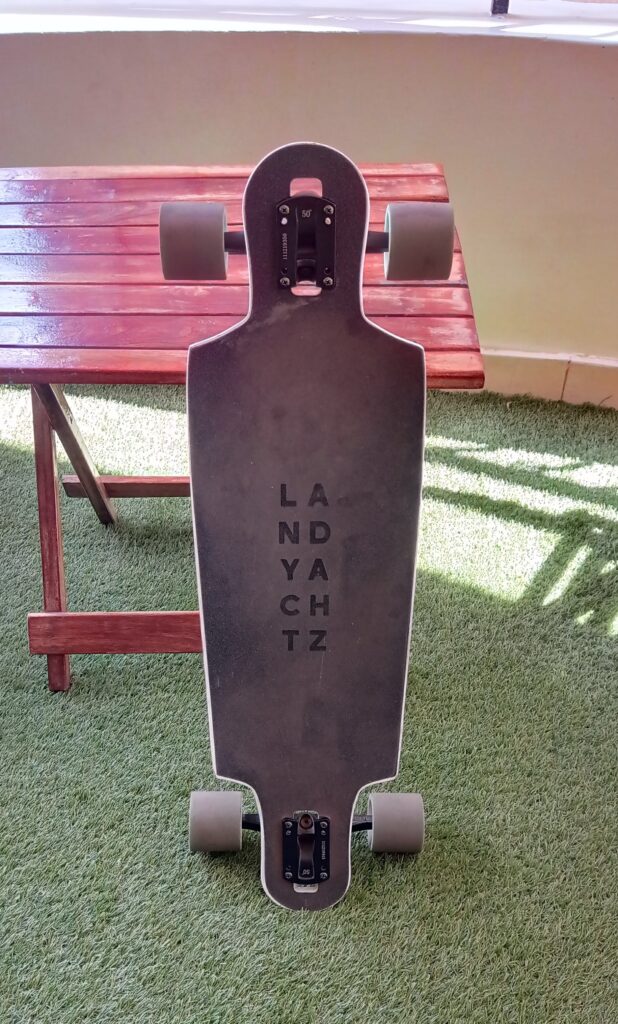 A flexible deck will add more comfort to the ride. It will help dampen vibrations/roughness from the road making the ride feel smoother. 
Big wheels will roll and coast for longer – you won't have to push too much to maintain speed. They will also absorb vibration, making the ride smoother, and will roll over pebbles and roughness in the road better.
A drop-through or drop mount will be easier to push and footbrake on, but feel free to get a top mount that has those specs too. It won't be as stable/easy to ride, but it will still cruise well.
What are cruisers not good for?
Whilst cruisers are great for those longer, more comfortable rides, most of them are usually bulky and hard to carry around. They aren't portable and it's quite awkward to carry them – I've had trouble with them in hallways, in queues, etc. They just seem to get in the way. Don't get one if you want something portable.
They're also often not very nimble. It's hard to weave in between objects with them. This slowness makes them more stable and forgiving to ride, but also means you lose some maneuverability. 
Finally, they're not a good option for downhill and for skating fast. Most cruiser boards are flexible and are too maneuverable for speed skating. Both those features can lead to wobbles when you skate fast.
What is a fair price for a cruiser?
Again, price isn't the best EXACT indicator of quality, but it generally is a fair indicator.
Low-quality – < $100
Decent/low-quality – $100-150
Decent/high-quality – $150-220
High-quality – $250+
You should buy a cruiser longboard if …
If you're looking for a board to catch a vibe on and enjoy the feel of skating, a cruiser is an excellent choice.
If you want something to skate slightly longer distances with, cruisers are a great choice.
Looking for something more "all-terrain" that will handle different road surfaces with ease (think about all the different road conditions across a city)? A cruiser will work well for you.
You should not buy a cruiser longboard if …
If you want something to bomb hills and skate fast with.
You want something super nimble, that you can use to weave in and out of obstacles with.
Portability and storage is key for you.
You want something to do tricks with.
Dancing and freestyle
Dancing and freestyle are closely related longboard disciplines. But they are distinct. Longboard dancing is when you do fancy footwork on your board. Freestyle is when you do a trick, or maneuver that causes your wheels to leave the ground. 
What types of boards are suited to dancing?
You're going to want a board with kicktails that is about 45inches in length. Longer boards are better. They're gonna take longer to turn and feel smoother, and you're going to have enough room to do cross-steps and other dance moves.
What type of boards are suited to freestyle?
For freestyle, boards that are 40inches are best. They're gonna be easier to pick up, flip, spin, etc. 
For a hybrid between freestyle and dance, pick boards between those sizes. Of course, you can dance on a 40inch board and freestyle on a 45inch board, but the right length will be better suited for either activity.
What are dance/freestyle boards not good for?
Because they are longer, they tend to be slow to turn – they aren't very maneuverable. They also are not super portable and are very unwieldy when you carry them in your arms.
They're also not good for downhill and going fast. These boards are flexible. Too much flexibility in a board decreases how much control you have at higher speeds which could lead to speed wobbles.
What is a fair price for a dance/freestyle Board?
Dance and freestyle boards tend to be quite expensive, surprisingly the most expensive types of longboards. I haven't seen a decent quality dance board under $200.
Low-quality – < $200
Decent quality/High-quality – $200-300
High-quality – $300+
You're going to want to pay up for a decent quality dancer. Learning on a cheap one is gonna hold back your progression and give you a poor quality riding experience.
If you're a bit savvy and up to talk to more experienced longboarders (at places like R/Longboarding and Longboard family), you can be steered to websites with excellent deals or even get high-quality gear for cheap second hand.
You should buy a dance/freestyle board if
Doing longboard tricks and longboard dancing interests you and is the main type of riding you want to do.
Don't buy a dance/freestyle board if
If you want a board that will be convenient for getting from point a to b.
If you want something easy to store.
Downhill, freeride, and sliding
What is downhill skating/longboarding?
This type of skating is characterized by high speeds (speeds over 30mph), with slides and other braking techniques to control and manage your speed. It's the type of skating this blog is built around!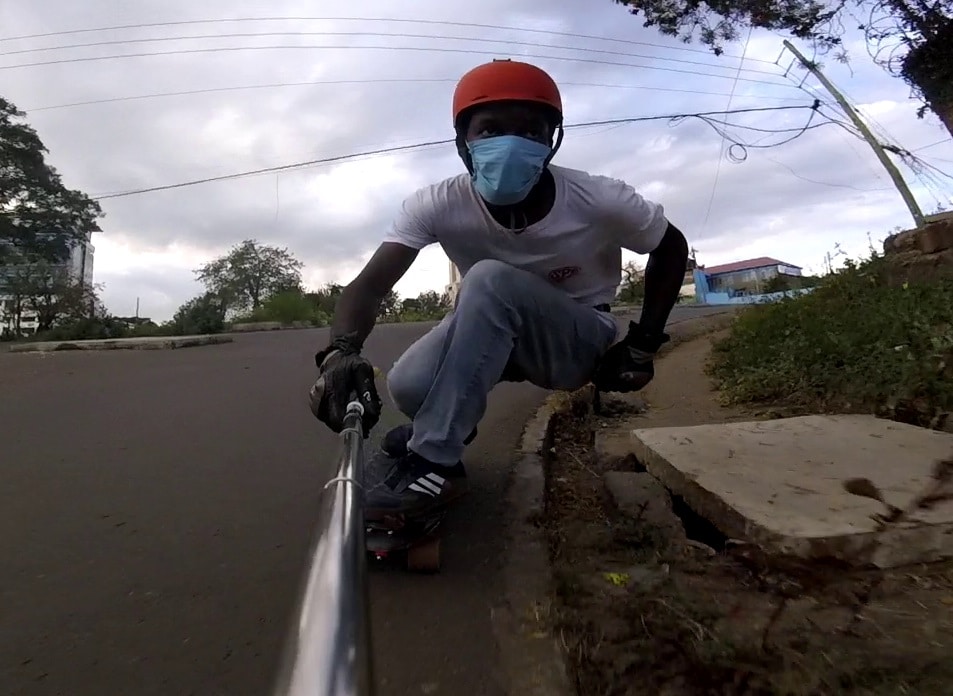 What types of boards are suited to downhill skateboarding?
Downhill skateboarding has specific types of boards. They are usually about:
35inches long,
9.5inches wide,
Speed stiff – not flexible at all,
Have big wheels around 70-80mm tall,
Have coarse griptape,
Reverse kingpin (RKP) trucks, with baseplate angles around 45 degrees.
These boards have to be stiff. A stiff deck means you have accurate input and control over your trucks and wheels. This allows you to keep your board going straight at higher speeds and your trucks do exactly what you tell them – meaning a lower chance of speed wobbles. Finally, it means better control when you're sliding.
RKP trucks with a 45* baseplate offer superior control and stability when you go fast. They're gonna be best for downhill skating.
What are downhill skateboards not good for?
On average, these boards gonna be uncomfortable for cruising. Most aren't going to turn super well and the stiff deck is going to reflect a lot of road vibration. I'd still say they would make ok cruisers, but there are better tools for that job.
They're also not gonna be good for dancing. Most are gonna come with coarse griptape. Coarse griptape sticks to your feet and doesn't allow your feet to shift easily.
What is a fair price for a downhill longboard?
Like dancing above, you're going to want to invest in a decent quality board. Cheaper boards will give you a poor quality experience and hold back your skill progression. The prices are:
Low-quality – < $180
Decent quality/High-quality – $200-300
High-quality – $300+
If you're a bit savvy and talk to more experienced longboarders (at places like R/Longboarding and Longboard family), you can be steered to websites with excellent deals or even get good condition second-hand gear for cheap.
You should buy a downhill longboard if …
If you want to skate fast (25mph+), a downhill longboard will be the best and safest option.
If you mainly want to skate down hills.
Looking to learn to slide? You can technically learn to slide on any board, but downhill longboards are the best option for that. 
If you want something stable for higher speeds, a downhill skateboard is your best choice.
Avoid buying a downhill skateboard if
You want something flexible that will provide a bouncy ride.
You want something nimble, to weave in between obstacles and such.
If you're looking for something comfortable that will absorb a lot of road vibration.
Commuting
What is longboard commuting?
Commuting is a style of skating where you use your board to get from point a to point b. I'd say the board is your main type of transportation and you're not linking with any other sorts of transport (perfect for corona and not interacting with people).
You might be skating over 5miles/7km or any sort of significant distance.
It's certainly a niche of longboarding but I know there are a number who are interested in it. If you're interested in this type of skating also look into long-distance skateboarding and pumping.
What types of boards are suited to commuting?
Some manufacturers make longboards specific for commuting and skating over longer distances. In a nutshell, these boards are usually:
Very low to the ground – drop mount and/or drop through
Flexible – "suspension" that adds comfort and vibration absorption. Some models are stiff though for heavier riders.
Big wheels 80mm+ in size – these coast for longer and roll over everything. They give a smooth ride too.
Some notable models to check out are the Pantheon Ember, the Zenit AB Maze, and the Rocket Rambler (EU).
Commuter boards are also gonna be EXCELLENT for cruising around and catching a vibe. They're great boards for just coasting along and enjoying the ride.
What are commuters not good for?
Most commuters are not going to be good for downhill, tricks, dancing, etc.
What is a fair price for a commuter?
Low-quality – < $200
Decent quality/High-quality – $200-300
High-quality – $300+
You should buy a commuter longboard if
If getting from point a to b in a fast, efficient, and comfortable manner sounds good to you
If you want something that coasts for long-distance
Looking for a board that will roll over all sorts of road imperfections with ease? The big 85mm+ wheels on these boards make the ride feel super smooth
Don't buy a commuter longboard if
If you want something to do tricks with.
You have to constantly pick up your board to avoid obstacles like curbs. These boards often don't have kicktails and aren't easy to pick up.
Other niches not talked about
What features make a longboard easy to ride/beginner friendly?
A low standing platform
When the standing platform of a longboard is low, this makes it easier to push, easier to footbrake on, and easier to balance on. 
It's easier to push because you don't have to reach too far down to get to the ground to push with your leg. Same for foot braking.
It's easier to balance on because your center of gravity is closer to the ground. This makes it more stable and allows you to relax more. You're not working as much to keep the board going straight.
A wide enough standing platform
A wide enough platform makes a longboard comfortable to stand and balance on for long periods. 
If a board is too narrow, it will feel like you're skating a tightrope – your feet can even get cramps from the narrow platform. A wide enough board (say 8-10inches) will allow you to balance and stand in a relaxed way.
A long enough standing platform
A long enough standing platform will allow you to have a comfortable relaxed stance.
It can simply feel awkward to stand and control a board that makes your stance too narrow. A longer board that allows you to stand with your feet about shoulder-width apart is desirable. You'll have a more comfortable, relaxed ride.
A longer-standing platform also means more stability and a smoother ride as a result of the longer wheelbase (distance between trucks).
In the case of minis for them to BE "minis", they have to be that small shape with a tiny length and width. So when you choose to ride one, you actively accept the sacrifice of comfort and an easier ride. And that's why I only recommend them for shorter rides and shorter distances – and if portability is important to you.
High-quality components for an overall positive riding experience
The quality of your components (trucks, wheels, bearings, and bushings) matter. Cheap longboards often sacrifice these components to save costs. You can feel it in the ride.
Cheap components mean a board that rolls slow, isn't stable, twitches when you turn, has an inconsistent feel, is hard to balance on, and will likely give you wobbles when you pick up speed. It simply means a poor quality riding experience.
I started learning to skate on a cheap longboard. The difference was like night and day when I was finally able to get my hands on a high-quality one. It was smoother, rolled faster, and had a more controlled turn. It was less stressful and so much easier to ride. I felt like I would have progressed sooo much faster if I had started on it.
In summary, a high-quality board with high-quality components will allow for an easier (and safer) learning experience. And most importantly, it will allow you to progress faster with your skills.
Why to not buy a cheap longboard
Most cheap longboards have been made poorly.
Their decks are often manufactured poorly – with several often being pressed in a mold at a time to save costs. This means decks with inconsistent shapes that are prone to delamination.
The wood plys and glue used are often of poor quality. Low-quality plys that aren't quite strong are often used. This means your deck might not be strong enough to hold your weight – a lot of them snap as a result.
The components are consistently bad, with trucks that bend easily and wheels that are super gummy leaving them with a slow roll speed.
The bushings and pivots are often quite bad as well, and their trucks don't turn consistently and smoothly. They twitch and aren't stable. 
A cheap longboard might be ok if
Understandably, not everyone has $150+ to spend on a longboard. If you really can't afford any better, then go ahead and buy one of the cheaper longboards. They will be better than nothing. 
And you can always hit up second hand/used good platforms and forums to get great deals on quality gear. It might take a bit of searching/research, but you'll be grateful you spent the time doing so in the end.
But I will say this, if you're looking to do any sort of technical riding (dance, freestyle, downhill, etc.), you must save and look towards getting quality gear. As I said earlier, you can also hit up second hand/used goods forums and platforms to look for more affordable (but quality) second-hand longboard gear.
Is right for the type of riding you want to do
Make sure you get a board that is appropriate for the type of riding you want to do. 
There are different types of longboards and all are suited to different styles of riding.
If you have a type of riding you want to do, make sure you pick a board right for that style of riding. If you pick an inappropriate board for a certain style of riding, have realistic expectations. Don't expect it to perform well. For example, don't buy Dinghy for tricks, a cruiser for downhill/learning to slide, etc. 
A word of advice, don't believe hype and marketing from brands. They often sell boards as the "greatest thing ever", which isn't always accurate. Always seek a second opinion from more experienced people if possible. R/Longboarding and Longboard family are good places to get second opinions and advice on boards.
Something else that matters – cost/price
Have realistic expectations. If you pay a very cheap price for a longboard, don't expect it to perform super well. You very much get what you pay for, so expect to pay a fair amount to get a decent board.
What do you think? Has this article been useful?
This article is just the beginning, there is a lot more info you can look at in order to get yourself the perfect board, but this should get you started. If you've read this far, thanks for reading!
Big thanks to all my patrons for the support – Jed, SuperbadJuju, Mowgii, Bryan, Andrew, Jan, Jay, Owen, Samil, Daniel, Alex, Kasajja, Leah, and Justin. I couldn't write articles like this without you guys' support.