Helmets are the most basic bits of kit a skateboarder needs to have. My article below describes 11 of the best helmets you can get and what makes them stand out.
I also introduce you to some of the worst helmets on the market, so that you know what to avoid. Check it out below.
This article is part 3 of a 5 article series on skateboarding protection. Check out the other articles here:
11 helmets for skateboarding, longboarding, and rollerblading reviewed
Triple 8 Gotham Helmet Review – the high-end option
The Triple 8 Gotham is one of the best looking helmets on the market. Triple 8 made sure to create something slick, stylish, that would have a long-lasting impact – I've gotten loads of compliments since I started wearing mine.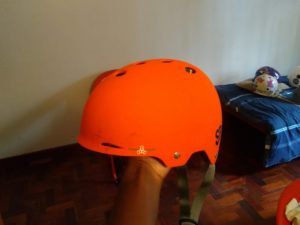 The helmet meets all the relevant regulations (both the US CPSC and ASTM F1492). It comes with grooved EPS and lots of ventilation holes – this helmet keeps your head cool … whilst looking cool.
Finally, it has a little adjuster at the back. It helps your head fit snug if it is slightly smaller than the recommended size, or if you would simply like a tighter fit.
However, the helmet is overall-y, kinda overrated. It doesn't really add anything new to the whole helmet experience. I will say, the dark light option is pretty damn cool and you should get it if you do a lot of night riding, the reflectivity will make sure you're seen.
If you like this helmet, you can find out more about it find it here on Amazon.com. However, if you're on a budget, check out the Brainsaver below for something more pocket-friendly.
S-One lifer – one of the best options (but expensive)
I recently had a fall on the orange Gotham above and have had to replace it (July 2020). I chose to go with the S1!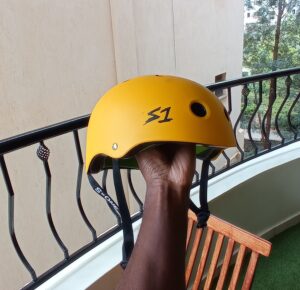 S1 is regarded as the best helmet manufacturer in the industry by many. A lot of skaters are die-hard loyalists and you won't see them riding anything else. But are they actually special?
The quality of the helmet is pretty good. The outer shell feels solid and sturdy. The straps don't feel cheap and the liners the helmet come with are comfortable and feel good. My head feels very at home in it. I'm happy with my purchase.  It certainly is a high-quality helmet.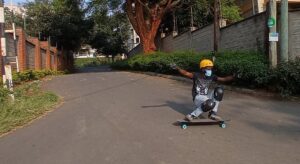 You can read my in-depth review of the S1 helmets here.
So is the steep $60-ish price justified? Tough to say. The extra liners it comes with are nice. It's especially useful for me whose head size changes as my hair grows or gets cut so I can always be assured of a tight fit. And it is quite comfortable … But at the end of the day, it does the same thing every other certified helmet on this list will do, it protects.
I would say it's a little bit better than the Triple 8 options, but not by much …
But if you're looking for a bit of extra comfort and style, the S-One Lifer will be a good fit for you. And the broad selection of color choices does make that much more of an attractive choice. Otherwise, the other budget options below will work just as well.
You can get the S1 lifer here at Stoked Ride shop.
You can also check it out here on Amazon.com.
OutdoorMaster Skateboard helmet Review – best budget option
OutdoorMaster recently sent me their skate helmet (Feb 2021) to review.
Check out my in-depth review of this helmet here.
The OutdoorMaster helmet comes with both the ASTM and CPSC and even has the European CE certifications. It will protect you from brain damage when you fall.
It comes in 3 shell sizes. You can pick between the small, medium, and large. There is an option for kids too.
The helmet fits great, has good ventilation and the pads absorb sweat decently. I skated it in 30* C weather and my head didn't feel uncomfortable. It also has a dial at the back that allows you to tighten the helmet for a better fit.
That said, it is quite bulky and doesn't have a low-profile. It makes my head look a bit like a bobble-head, and it does make me self-conscious. Definitely the biggest drawback of this budget-helmet. But if you're on a budget you couldn't ask for more. For about $30 you get a certified helmet that will protect you. Check it out here on Amazon.com.
You can also find it here at the OutdoorMaster website (free shipping too). 
Triple 8 Dual-Certified Brainsaver Review – the best all-round option
I've had a bunch of these helmets over the years. And one thing I can say is that they definitely keep you safe. From a really gnarly backward fall at 30mph to a really silly one at 1mph. Helmets from this series have kept my head safe from brain damage and I couldn't be more thankful.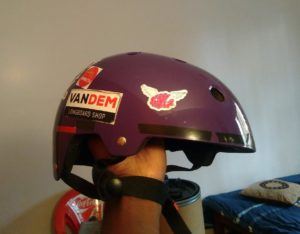 These helmets are certified. They fit the ASTM F1492 and US CPSC regulations. Not only limited to skateboarding, but they can also be used for cycling, rollerblading and scootering.
They come with 2 sets of sweat-absorbing liners, one thick and the other thin. You can change them for either a tighter, looser, or more comfortable fit.  Finally, they have a really comfortable chin strap, it doesn't chafe your jaw like other straps do, but cradles it comfortably. Look at the photo below to see how stylish the black and neon green version looks on me.
https://www.instagram.com/p/Bs3eCrgBuVz/
These helmets are my standard for protection. They are simple but they fit well, look good and work. After having gone through three of them myself (and will probably go through more as time continues), I highly recommend them.
Check out the Triple 8 Brainsaver here on Amazon.com.
JBM Skateboard Helmet – the budget option
This is helmet is great if you are on a budget. Whilst it doesn't come with a lot of bells and whistles, it doesn't compromise on the most important feature – protection. The helmet comes with both the CPSC and ASTM certifications for bike and skate helmets respectively. Bottom line, the helmet will protect you if you do fall over.
But not everything can be perfect within that tight price point, right? True. The helmet does come in an odd shape – perhaps they cheaped out on the PVC shaping process to cut down costs. But with that said, the inside does fit alright … just that the overall shape of the helmet will look a bit odd on your head.
Another thing is ventilation. More expensive helmets like the Triple 8 Gotham above have ventilation 'systems' that help keep your head cool. This helmet simply has holes which sadly have not been 'designed' to appropriately help with ventilation. Your head can get quite warm whilst wearing this – not ideal if you live somewhere hot or humid.
All-in-all this is a decent helmet at a very affordable price point – not much more you can ask for. I recommend it to beginner skaters who are on a tight budget.
Have a look at the JBM Helmet here on Amazon.com and see if it's right for you.
If you would like something better designed, but still affordable, check out the Triple 8 Brainsaver above.
TSG Evolution Skate Helmet – most underrated option
In my opinion, this helmet simply doesn't get the limelight it deserves. Designed by the same guys who made the downhill skateboarding full-face below, the TSG Skate helmet has been worn by pros like Tony Hawk and Kevin Reimer over the years.
The helmet is compliant with the CE EN1078 and CPSC. However, it doesn't meet the more stringent ASTM F1492 regulation which asks that a given helmet can withstand more than one impact (think of a ball bouncing … yikes). So once you hit your head with this helmet on, dispose of it asap.
However, this helmet is super-light and not as heavy as the other ASTM-compliant helmets on my list (they have more/thicker EPS foam). As such, the helmet is super comfortable, light, and fits well.
Unfortunately, this helmet does come in a 'one-size' fits all shell. Forcing you to use pads of different thicknesses to make the helmet fit perfectly. This is fine if your head is between 54-60cm in diameter (the diameter they sell the helmet in), but not okay if it is any smaller or larger. You simply can't wear this helmet as it won't fit.
All the above said and done, this is a great helmet at a decent price point and at a superior level of comfort. It does falter a tiny bit when it comes to protection, but it will still prevent concussions and head injuries. It's my recommendation if you are looking for comfort. Check it out here on Amazon.com.
Triple 8 Little Tricky – the best kids helmet
What differs for kids is that they need helmets that will fit snuggly on their tiny heads. The Little Tricky is appropriately small – with it being designed specifically for small children. 
Another thing I think the Little Tricky gets right, is that it looks good. Kids need helmets that look good and this could simply be through a nice design or some nice colors. They need a helmet that looks good so that they can enjoy wearing it – if you get them something dorky and big, they ultimately won't like to be seen in it which is a bad thing if you want them to be protected and safe.
Looking to buy your kid their first longboard? Check out my guide on the best kids longboards in 2019.
So yes, make sure whatever helmet you choose for them fits well. And also make sure they actually like the design – and the easiest way to do this is to actually involve them in the picking process (as difficult as it might make it), to ensure you both settle on something they like.
I believe the Little Tricky ticks all the necessary boxes. Like all the Triple 8 helmets above, the Little Tricky is both comfortable, fits good, looks good and satisfies all the relevant regulations (ASTM F1492-08 and CPSC for kids age 5+).
Find out more about the Little Tricky (sizing information, color options) here on Amazon.com.
Little Nutty – safest option for kids
The Little Nutty is one of the safest options for kids. It features all the relevant certifications (ASTM and CPSC certs) and also has MIPS.
MIPS is a fairly new helmet technology which helps cancel out the rotational and torque forces in an impact, keeping the head safer and less prone to injuries. It's not as prevalent now across most helmets, but soon it will be (give it a few years).
Learn more about the best helmets for kids here.
That aside, the Little Nutty comes in different cool colors and designs that will make it easy to pick for a kid. It also comes in a smaller size and it has dial at the back that can be twisted to make the helmet fit more snuggly. These features make it easily the best helmet for kids on the market.
However, it is quite pricey. But if you're looking for the best of the best, this is the choice. Check out the Little Nutty here on Amazon.com.
Triple 8 Sweatsaver Helmet Review – the worst you can get (comfortable but bad)
The reason this helmet is bad is simply because it isn't certified. It doesn't meet the regulations and standards set by the CPSC (Consumer Product Safety Commission) and ASTM (American Society for Testing and Materials) bodies. Or even the easier to pass EN and CE standards set by European bodies.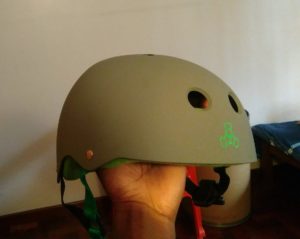 Check out the helmet here on Amazon.com to get a good look at it.
In short, all the relevant safety bodies are saying that this helmet is bad and won't keep your head safe. So yeah, you should simply avoid buying this helmet.
But why do people like this helmet and still purchase it despite it not being certified?
The main reason is how comfortable this helmet is – it fits really really snugg and feels much nicer than the hardshell options. This is because it uses EVA foam which it uses, can compress and contour to the shape of your head. Providing a really nice fit.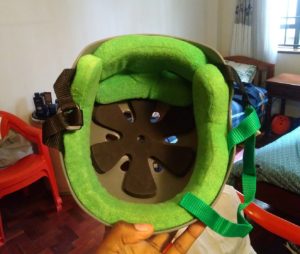 If you look at the photo to the right, you will see the lack of EPS foam inside this helmet. ***I bought mine by mistake when I overlooked reading through the product description before hitting buy.
Another big reason is that people simply don't know about certifications. They are unfamiliar with them and don't understand their importance. It is something important, but easy to overlook if you're not careful.
Fortunately, Triple 8 has addressed this comfort problem. They've designed a helmet that will be as comfortable but still provide the necessary protection. Check out the CERTIFIED Sweatsaver here on Amazon.com.
Pro-tec Classic Helmet Review – another really bad option
Another helmet that doesn't meet any safety regulations. The Pro-tec Classic helmet is, unfortunately, a best seller on the market. You can check it out the Classic helmet here on Amazon to get a good look at it.
A lot of people buy these helmets because they aren't educated on helmet safety. They simply see a helmet and think that a shell and some padding is all you need – which is true, but not entirely … and ultimately you can't really blame them for thinking that way. Helmet safety isn't a topic generally known by your average individual, even given how important it is.
Still, don't believe this helmet is terrible? Check out the video below for a demonstration how little force an uncertified helmet absorbs in comparison to a certified helmet.
(To keep it short for you, a helmet should reduce an impact force from 1000Gs down to under 300Gs. Certified helmets can do this. Uncertified helmets only absorb 5Gs, letting 995Gs go directly to your head – more than enough to rattle your brain and put you in the hospital for a long time).
TSG Pass, full-face helmet review – the one for pro's
This is the helmet you should get if you're looking for full-face protection. And it should be at the top of your considerations if you regularly break 40mph/65kph on your skateboard, rollerblades or even bicycle (having a visor is really nice especially in winter).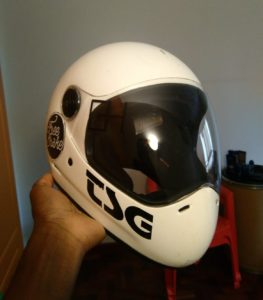 It was created by legendary longboarder Martin Siegrist. A 3-time downhill longboarding world champion who had a background in industrial design. Supported by TSG, they were able to produce one of the best full-face helmets on the market.
Want to read more about this helmet? Check out my indepth review of it here.
This helmet has great visibility. When you wear it, you can pretty much see everything, it gives you a huge field of view. It also comes with a removable visor that comes in two colors – clear and electric silver, both of which are rated for 100% UVA and UVB protection. The electric silver is nicer for some shading during those really sunny days.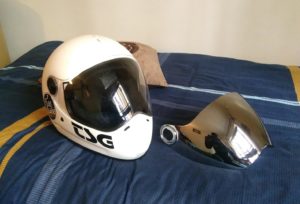 Finally, the TSG pass is both EN 1078 and ASTMF1952 certified. This means it will protect your head in a crash and prevent you from getting any concussions.
And because it has much thicker EPS foam than the half-shells above, these helmets can generally take more than one impact. So you don't have to immediately throw away your helmet after one crash.
You can buy the TSG Pass here on Amazon.com.
https://www.instagram.com/p/BzqtmAfhW3b/
What to look out for when buying a helmet
It's usually pretty straightforward what you need to be looking at. You typically want something that looks good, fits good and will protect your head when it needs to.
If you then had to compromise on something out of those three things, it should be on what looks good. You may get the perfect helmet – both fit and protection wise, but it simply doesn't look good … and honestly, yes it sucks that it doesn't look good, but it will keep you protected which is the important thing here.
Decent comfort
Comfort, in general, is provided by the helmet liner. This stuff is important as it will generally determine how enjoyable your use with a helmet is.
Always go for removable liners that you can wash (they tend to absorb sweat and become stinky over time). And always choose helmets that come with thicker padding, as those are generally more comfortable.
Most helmets do come with extra liners – both thicker and thinner, so you can adjust and get the perfect fit for head shape and comfort.
Certification by the relevant bodies – ensure protection
This is the most important property a helmet needs to have. All helmets must come with the below sticker (in the picture below), displaying what regulations they have passed. If it hasn't passed any regulations, it won't have it.
It essentially describes to you, how well your helmet will protect your head. All the ratings below simply ensure that whatever force affects your head will be less than 300Gs. Any force above 300Gs may cause permanent brain damage, so helmets make sure to absorb any impact for to a value below that.
These are the certifications you should keep an eye out for:
Half-shell helmets safety ratings 
Full-face helmet safety ratings
The best of which is the ASTM ratings. It requires that a helmet protects you from more than one impact.  You know how a ball bounces right? Well, a helmet can sometimes do that depending on the surface it hits. An ASTM helmet will keep you protected on multiple impacts like those.
A decent fit
Helmets come in different sizes, from XS (extra small) to XL (extra large).
Most companies have a sizing guide unique to their helmets, with different sizes according to the diameter of the helmet. You can find your size by measuring the diameter of your head and comparing it to the sizing chart.
A good fit is important as it will help keep your helmet locked onto your head. It will also prevent it from slipping off and inadequately protecting you if you do hit your head.
https://www.instagram.com/p/Bz3tK6qBGMF/
Bike vs skate helmet; what's the difference?
Whilst often similar in design and shape, bike and skate helmets are quite different. Here are some of the main differences:
Certifications: Skate helmets have the ASTM F1492 for multi impacts. Bike helmets have the CPSC for 1 high impact force. MTB helmets have the ASTM F1952, which is actually used to certify downhill full faces too.

The shape: Bike helmets don't sit as low as skate helmets. They don't cover the forehead or back of the head that much. They don't need to as it's uncommon for cyclists to fall backwards or get hit that low on their head. Skate helmets cover more of the head.

As for design, I guess think about cycling 100km in a skate helmet. I don't think it will have enough ventilation keep you cool.
This article is part 3 of a 5 article series on skateboarding protection. Check out the other articles here:
Conclusion: which helmet should you get?
Out of all the gear on the list, the best option I think you can get is the Triple 8 Dual Certified Brainsaver. When you consider how much it costs, how well it protects you, and how comfortable it is – its the obvious option.
I'd say a helmet like the TSG Pass is more appropriate if you will be a more dedicated downhill skater. I don't recommend it much to beginners, as it is unlikely they will be hitting 40mph speeds, rather skater small neighborhood hills and corners.