Downhill specific products can be one of two things: They can either turn out to be really great products that enhance your ability to skate, or they can turn out to be over-expensive gimmicks that add no real value to your skate experience. Fortunately, the TSG DHP Knee Pads are the former.
With that said, today's article will be about what's good and what's not so good about these downhill skateboarding knee pads. After reading it, you'll know exactly how these pads perform and if they are right for you.
This article is part 3 of a 5 article series on skateboarding protection. Check out the other articles here:
Specifications and Sizing:
Hardshell construction
Multi-layer EVA Foam around the knee
Knee Cap with Slide Extension
Pre-bended design
Cordua Fabric
Open=back design
3 sets of straps:

Neoprene butterfly straps
Top – Double Velcro strap
Bottom – Velcro strap with snap buckle

EN 14120 CE Certified
Sizing:
Small – Thigh (34-38cm), Calf (30-35cm)
Medium – Thigh (38-42cm), Calf (35-40cm)
Large – Thigh (42-46cm), Calf (40-45cm)
Extra-Large – Thigh (46-50cm), Calf (45-50cm).
TSG Sk8 DHP Knee Pads Review
Expectations:
I had heard good things about these pads from a lot of different riders. I had also seen that riders who previously didn't wear knee pads were wearing and enjoying using these. So naturally, I had high hopes that they would work well for me too.
I personally don't like knee pads, but I really needed a good set to allow me to push my skills, as I hit those higher speeds on my longboard.
I also really wanted a knee pad that was non-intrusive. One that didn't get in the way of my skating but would still manage to do its job. I was hoping that these would meet that expectation.
If you think these pads are right for you, you can pick up a set here on Amazon.com.
How did the knee pads fit?
The first thing I wanted to look at was how the pads fit. Putting them on was a bit of a struggle – I had to figure out how all the straps worked and which went where. Which I'm sure anyone will be confused by, as these straps don't work the same way as straps on other knee pads. They had more 'parts' that made them more adjustable.
But once I got them on I found that the pads fit fairly snug and felt comfortable. The horseshoe-shaped EVA foam allowed the pad to rest comfortably against the outline of my knee.
The pre-bended design made them feel awkward on my knees as I stood up straight, but felt more natural once my knees were in a more bent position.
Finally, the added adjustability of the pads made a difference too. I was able to play around with them so I could get the perfect configuration for myself. I was able to really lock-in the straps on my thigh and loosen the ones around calves for a fit that allowed the pads to stay locked in, but loose enough around the knees they didn't get in the way of the knee bending, and ultimately my squat when sliding.
Check out my guide to other downhill safety equipment a beginner might need. Click the link to read more about it.
Where the pads as ergonomic as advertised?
After putting them on, the pads felt bulky, awkward and out of place. I was a bit disappointed by this but I wanted to hold my opinion until after a few skate sessions.
However, after skating with them I found that they were super non-intrusive. Yes, they did feel a bit heavy on my knee, but they didn't get in the way of my skating. They naturally fit in with my movements, positioning, and posture in the slides.
In summary, yes the pads were ergonomic. They were non-intrusive and fit well with all my downhill skateboarding 'techniques'.
I also think these are really great knee pads for kids. For most beginner kid longboarders, they don't want something that feels awkward and intrusive to wear. Fortunately, these don't (and look kinda nice too). I think a lot of kids will appreciate and actually enjoy wearing these … * no child was consulted in the making of that statement.
How did the pads feel in the tuck?
Given that I found them to be bulky and a bit heavy above, I was worried that they would affect my tuck and feel uncomfortable. Fortunately, it turned out to be an entirely opposite situation.
The pads felt super ergonomic and non-intrusive in the tuck. In fact, they felt like they weren't there at all.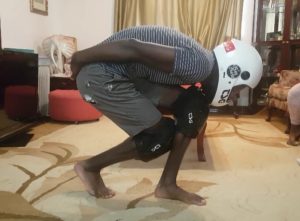 The only place that was affected was my chin and front knee. Every time I would tuck, my chin would touch the front pad and would remind me that the pads were there.
I also couldn't bring my back knee as high up the calf as normal but that was to be expected given the thickness of the pads.
Other than that, these pads didn't feel intrusive at all.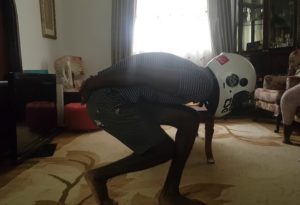 Did the pads affect my ability to slide and skate?
Not at all.
I mean, sometimes the front pad would scratch up the inside of elbow when I would do a toeside slide. Which is annoying but is really something I can live with. As well, it would really depend on where I would position my hand as I grabbed rail.
If I tightened the straps down too much, they would also affect my ability to squat comfortably and ultimately doing heelside slides. But I found that if I kept the top strap tight and bottom strap kinda lose, that it wouldn't affect my technique as much.
In summary, they kinda did but not really. Not in anyways that put a big damper on my skate experience.
What's up with all the straps?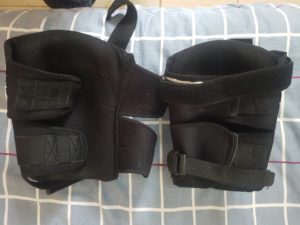 I said earlier, the TSG has a ton of straps which can be confusing to use the first time. However, they do solve a problem that other knee pads have when it comes to downhill skating.
The strap on other pads often gets shredded when you fall off your board. this is because we tend to slide on the side of our knees when we fall – which is kinda unavoidable in some cases.
The TSG straps are built in a way that allows them to stay at the back without getting in the way and thusly getting shredded.
Finally, the little extra curve of plastic on the side plays a part in protection. So if you do fall on your side, that little part takes all the impact and keeps your straps safe.
What's not so good about the TSG DHP knee pads?
Even though I have talked about how non-intrusive and ergonomic they are,  they are still some bulky pieces of kit at the end of the day.
It will affect you in your tuck (though not so much), but you will find your self placing your knee lower than normal – if you usually place your knee up high on your calf.
They mostly felt kinda weighty on my knees and would affect my squat if I had the calf straps too tight.
You shouldn't get these pads if …
If you are anything other than a downhill skateboarder, these pads will be lost on you. They won't work well for any purposes other than that. Yes, they are high-quality pads, but you will suffer if you don't use them right.
I believe if you are a downhill rollerblader, these may be good for you too. But take that with a pinch of salt, I don't have much experience in that sort of field.
So if you are a dancer, park skateboarder, do rollerblading/roller derby. These pads simply aren't for you.
What are some alternate options then?
If you haven't settled on these pads and what something more all-rounded, cheaper or more low profile, check out my alternative option below.
Killer 187 Knee pads – Good all-round alternative
These pads are great if you are looking for an all-around option. They come with tons of cushioning and protect the knee well from impacts, almost better than the TSG DHP.
They will be suitable for a variety of skate activities, so you can use in the park, bowl or ramp after your downhill session.
If you have sensitive knees and need extra cushioning, they are an option you should seriously consider. the extra thick padding they come with makes them great for absorbing damage and impact protection.
Finally, they are also a bit more affordable than the TSG DHP. You can check em out here on Amazon.com.
Demon d3O Knee Pads – low profile, great protection
These are soft shell knee pads that fit under your clothes. They are made with the d3O technology that allows them to be slim but still have great impact protection.
They won't protect you from getting scrapes as they are softshell, but they will absorb any impacts if you do fall over.
I don't recommend these for beginners, but they may be good for more advanced riders looking for something to wear under leathers or just looking for a little bit more protection.
Get them here on Amazon.com.
Triple 8 Knee pads – budget option
These are the knee pads I first bought when I started skating. They aren't amazing but they do the job.
However, the strap does tear after some falls. This can suck but some super glue and duct tape can go along way to preserve and maintain the straps.
The pads also don't feel that great in a tuck and can kinda feel uncomfortable. They don't rest as comfortably on the back of your calf as the TSG DHP do.
They are non-intrusive when it comes to sliding – but can scratch up your arm on toesides. Also, be careful not to over tighten them so you can't squat and heelside properly.
They are a decent option if you are on a budget. Find out more about them here on Amazon.com.
TSG DHP Pads, are they worth the money?
At the end of it all, these pads are quite costly. Almost double the cost of other high-end pads on the market – like the Smiths Scabs or Killer 187 knee pads which are decent all-round options. So they are a serious investment if you do choose to get them. For most people, they simply have to be absolutely worth the cost.
Fortunately, I believe they are. I believe they are worth every penny, and will even last you years and years unlike the other non-specific knee pads out there. Despite the cost, I recommend every downhill skater to consider buying these.
You can buy the TSG DHP pads here on Amazon.com.