Boxing day has come and gone without me receiving the gifts that I really wanted – or that would have been really useful. Though it is understandable because getting gifts for people can be a headache. Unless you're some sort of secret psychic, you'll never truly know what they need, or want.
So in today's article, I'll be describing some gifts longboarders and skaters would love. After reading it, you'll understand why these gifts will be useful and why you should consider purchasing some, for them.
Ten gifts longboarders and skaters will love
New shoes
As any skater will tell you, we are always going through shoes and are always trying to replace them. This is because our shoes wear out quickly from using them to footbrake (to stop/slow down) and from doing flip tricks. So it's not uncommon that you'll find a skater replacing their shoes once every two months – definitely one of the more annoying (and expensive) bits about skating.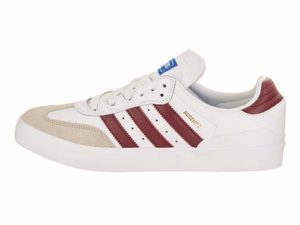 You should check out what shoes they are currently using and try to buy them something similar, if not the same shoe. Most skaters gravitate to one type of shoe and tend to use it throughout their skate 'career'.
Some skate shoes like the Adidas Busenitz are perfect for your average skater. They are designed around skating and generally outlast and outperform any generic old shoe.
A skate tool
Also known as a "t-tool". This is a small all-in-one tool you'll find on most skaters. It's very handy and it's what we use to take apart and put together our skateboards. However, they do have a way of getting lost and finding their way out of our pockets. It's not uncommon to find as many skaters with one as without.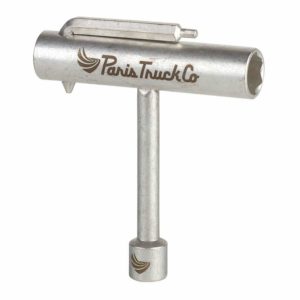 They are cheap and make nice thoughtful gifts. You can get cheap plastic ones on Amazon for around $5, or you can splurge a bit more and get them a premium t-tool like the Paris Multi-tool – but warn them to take good care of it!
Bearings
These are the little things we put into our wheels to keep them spinning and to help us roll fast. We wouldn't be able to skate without them, period. So yeah, good bearings are a big deal.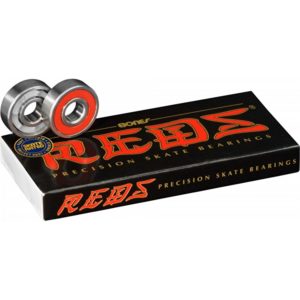 That said, we typically don't have to replace bearings THAT often, but the problem comes when we lose one (or it gets ruined) and we don't have any spare. It can really be a soul-destroying moment … ok not that big of a deal, but it can be frustrating if you really want to skate.
A set of good bearings go along way, they last longer and ride good for a long time. I suggest checking out the Bones reds bearings for an all-around affordable option.
You can also check out the Fireball Dragon bearings too. They make for a pretty good set when paired with the spacers and speed rings. They fit perfectly and you can tighten your axle nut all the way down.
Skateboard hardware – Nuts and bolts
Another piece of kit that we don't have to replace that often. Nuts and bolts are what hold our skateboards together and they range from simple bolts to kingpin and wheel/axle nuts.
The issue comes (again) when you lose one. Your skating is literally paralyzed cause you basically can't skate without them. They are always good to have on hand. Check out these set of nuts on Amazon.com.
You should also think about getting them some kingpin and wheel/axle nuts too.
Protective gear
A ton of skaters, unfortunately, do not use helmets and protective gear. It's not because they want to get injured, but because the gear is often bulky, protruding and doesn't feel good to wear at all. If only there was a solution that was low profile, sleek and comfortable enough to be worn under clothes … Hmmmmmm, would you look at, there is!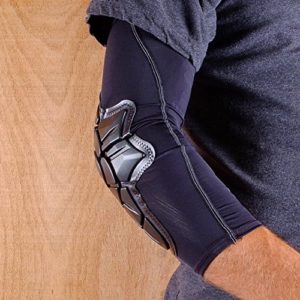 Allow me to introduce you to the G-form and Demon D3O body armor. Both these products (and family of products) use proprietary technology to provide protection. They are basically pads you can wear under your clothes but they stiffen up and absorb energy when you fall on them, cushioning your fall and keeping your body bruise-free.
They come in a variety of selections and you can pick from elbow, knee, hip and even chest pads.
However, because they use proprietary tech, they are a bit costly so be prepared to part with some money.
A lot of skaters, mountain bike riders and downhill skateboarders swear by them and use them every time they are out doing their thing.
The above said, there are those who would like stronger protective gear. Particularly, some downhill skateboarders, longboarders and small children. For these groups, I would suggest you get protective gear like hard knee and elbow pads. These are great because they have a hard cap. This cap allows them to slide across the pavement when they fall at speed, allowing them to come to a slow controlled halt. It also protects them from abrasion better than the soft pads I mentioned above.
These hard cap pads are also generally more affordable, so they are great if you're on a budget.
Some great brands you should look into include Protec, Triple 8, Killer 187 and Smith scabs. They also include sets where you can get both elbow and knee pads.
Fresh slide pucks
Now heading into longboard territory. This bit of kit is mostly used by downhill skateboarders.
The slide pucks are part of slide gloves and are what allow the hand to glide along the pavements as you slow down or as you control your board around corners. Because they are in contact with the asphalt, they wear out with use. Sometimes you even lose them at a skate session or as you skate down a hill.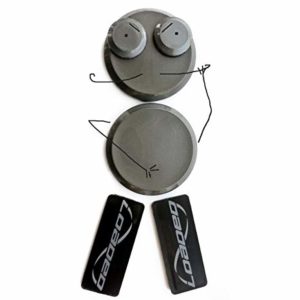 As a downhill skater, it is comforting to know that I have back up slide pucks somewhere in case of anything, especially if my current pair wears out. Check out the Loaded slide pucks for a set of high quality, durable sliding pucks.
Fresh grip tape
Another accessory that skaters love to have on hand in case they need to replace their current one. Griptape is typically sandpaper that helps keep us on our board when we are doing tricks, skating fast and doing slides.
In the case of traditional skaters and longboard dancers, grip tape is usually cheap and affordable. They basically use the same brand of grip (like Grizzly or Jessup) and you can get away with buying such for them.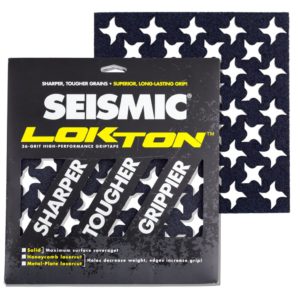 The problem child is the downhill skateboarder. Their grip tape is usually very coarse and must be so in order to keep them on their board when they are sliding. Their griptape is also slightly more expensive than your normal skateboarders.
Buyers have a few options, but in my opinion, the Mob coarse griptape and the Seismic Lokton griptape are your best options. The Mob is affordable, will last long and will grip very well, whilst the Seismic grip will grip EXTREMELY well and last basically forever. That said, the Seismic is quite expensive.
Word of warning, the downhill skate grip is very coarse and shouldn't be used for tricks. It will literally rip your shoes to shreds.
Tickets to an event
Maybe my favorite present on this list. Tickets (and maybe transport too) to go watch or participate in skating can make really fantastic gifts. They can be the gateway to providing an unforgettable experience for a young upcoming skater and really fuel that spark inside of them.
There are loads of competitions going on around, particularly skate ones. You simply need to go down to your local shop to ask if they know of anything going on around or you can hop on the computer and Google if anything is going down near your area.
The same goes in the longboarding community:
In the downhill skating community, we have events where we (legally) close off roads and skate them for two or more days. The events have uplifts which allow us to skate the hill/mountain to our heart's content each day and are super safe as they have haybales to cushion us if we fall around corners and ambulances on site for first aid. These events are really popular throughout Europe in the summer and you'll find loads going on around different countries.
There are also races and other competitions at these events. There is even a whole racing world tour based on events like these. These events are typically called freerides. You can find all the events from around the world here and simply use Google for more information.
In the longboard dancing community, we also have events. Some are really popular like the SYCL (So you can longboard dance) series going on in Europe.
There are also dock sessions in California, but those are more chilled weekly events, and then the Brighton battle of the boards in the UK.
To find events, you can simply Google events around your area, ask the local skate shop or be sneaky and ask your potential giftee what events they wish they could go to (idk, be stealth about it).
A new skateboard
This will be easy to do with traditional skaters, but harder for downhill skaters and longboard dancers.
If you've noticed that your kid replaces his skateboard every now and then, or if it's simply looking worse for where. You should buy them a replacement.
Now, this is easier said than done as skateboards come in different shapes and sizes. I recommend you take their current board and take measurements and then go down to your local skate store and buy them a similar shape. This is the easiest thing you can do and it will guarantee you get something they like.
For our problem children (longboard dancers and downhill skaters), I recommend you don't buy them a new deck. This is because they are so many options out there and people usually use certain decks because they like them due to certain features they have. Getting them a new deck could be such a hit and miss scenario, so it's best avoided if you want your gift to be a hit.
This leads to my last point below.
Money?
Well if all else fails, it's best to simply admit defeat and allow your giftee to be able to get themselves the gift that they want. In my opinion, it's better to admit you don't know anything about longboards and skateboards, instead of thinking you do and then getting a shitty gift. As well, no one ever complained about getting a roll of $20s, thats all I'm sayin'.
Bonus round – skateboard magazines & other accessories
Shoe goo – This is a shoe repair glue that a lot of skaters use. A skater can use it to elongate the life of their shoe greatly. It is such a useful accessory to have and it is very cheap too.
Magazines – Skaters love watching, reading and digesting information about skating. They would love to get and read magazines. Some magazines you should get them include Thrasher, Transworld, The Skateboard mag and Skate Slate for longboarders.
Skate wheels & Trucks – These are a bit harder to replace because they don't wear out as quickly. However, you can simply buy your kid/giftee the same trucks or wheels they have so they can have a fresh set waiting for them when they'll need it eventually.
Health insurance – (by reddit user _pope_francis) – It only takes one pebble … I really hate it when people comment that on viral videos.
That said, it sometimes takes only one injury to mess up a skaters year, life and/or bank account. Health insurance allows the money part to be taken care of so if you can afford it, get some for yer loved one.
Stickers! Skaters love stickers and a sticker pack would be a great gift. Check out the sticker selection here at Stoked ride shop.
Which one will you pick?
You can always go for a combination of each and even buy sets that include bearings and a t-tool. You need not be limited by just one option and should mix an match if you're budget will allow – no one ever complained about having too many useful presents.
This is definitely quite a bit of work but will pay off when you see the smile on your giftee's face. Buying them a useful gift will show that you truly care and that you've put a lot of thought behind it.