As part of my on-going skills to bomb hills series, I'll be talking about how downhill skating beginners should set up their trucks.
Your trucks determine how stable you will be when going fast, how you'll slide, and basically how comfortable you will be when skating. They are arguably one of the most important parts of your longboard so it's essential you set them up correctly for what you want to do.
Find out more below.
This is the fourth in a series of articles and videos geared towards beginners. I'll be discussing tips, gear, techniques, and other small things beginners need to know. Check out the others here:
You can also read my post on the best longboard trucks in the world for more information on different brands.
How to set up your trucks for downhill skating
What are the right trucks to have?
Reverse kingpin trucks are the best to have for downhill. They give you the best lean, turn, and the best stability when you go fast.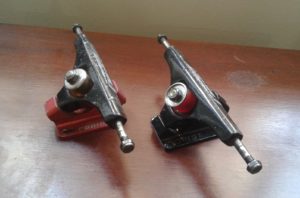 The other option is the traditional kingpin trucks. These are what you'd typically see on a skateboard. They are good for slow speeds and turn well at those speeds. However, they don't give you the best stability for high speeds – so they aren't a good option for downhill skaters.
Check out the video below if you want to learn more about longboard trucks and what the different parts do. I recommend watching it so you can better understand the following parts of this article.
How to choose the right RKP trucks for downhill
RKP trucks are the best for downhill. This is because of a few features they have. The first is their baseplate angles. I explain the different features below.
What are baseplate (truck) angles?
You will come across trucks that have two main angles. The 50 and 43/44/45* variety. If you want to cruise, carve and such, the 50* is better. If you're looking to skate fast, slide well, and take corners fast, the 45* is better.
You can do either on either trucks; there are riders mobbing hills on 50* trucks. However, if you want to give yourself the best learning experience, pick the one designed for what you want to do. Once you have that experience, you can then decide if you want to deviate from the 'norm'.
Now before you run off and pick any 45* truck, you should know that some are better than others. I think you should read reviews, ask more experienced riders and basically find out more about a truck before deciding to buy it.
If you want feedback from experienced riders, communities such as the #whatgearshouldIbuy, Reddit Daily General thread and the reviews on my channel etc. are good places to get info, recommendations, and different experiences from various riders.
My recommendation for a beginner would be Paris trucks. Check out my review of them here.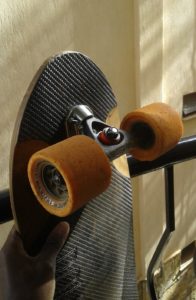 Some other good trucks are: Calibers, Arsenals, Rogues, Ronin trucks, Bolzen and Bear trucks. These are all from dedicated longboard brands. They are high-quality and will perform well. You can't go wrong with either.
*I have not mentioned precision or forged truck companies/trucks because they are overkill from complete newbies. Don't look at them for now. They only really make sense as purchase once you start regularly riding above 40mph+. Even then, they are a luxury purchase.
Why are 45* trucks better for downhill?
45* is the angle at which the kingpin intersects the baseplate. This angle means that the truck will lean as much as it turns. This gives the rider the best of both worlds when skating. It allows them to have enough stability when going fast but also enough turn so they can take corners comfortably.
*also when I say 45*, I am also including trucks that have baseplates around this number. So 43, 44 and 42.5 trucks too.
As a caveat, stability is improved when a truck leans more than it turns. If it turns too much, this can give you wobbles when you're going fast. The flipside is that if it leans too much, you won't have much turning and it will lack maneuverability at slow speeds. This is why riders use 50* for carving and DH riders use 45* trucks for downhill.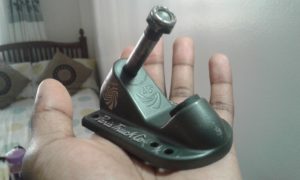 45* gives you the best of both worlds. It will allow you as a beginner to be comfortably stable up to around 30mph (this speed will improve with your skills), whilst giving you good turning.
Finally, when it comes to sliding, I believe the 45* a better. They have enough lean that you can comfortably sit on your trucks and have a smooth transition from gripping to slipping. They are more beginner-friendly than the 50* trucks for sliding.
Split trucks
I just want to quickly touch on split trucks. Your trucks are "split" when the front truck has a higher angle than the back truck. For example, the front truck is 45 degrees and the back truck is 30 degrees. This makes your board turn like a car with most of the turning coming from the front – note that this is an extreme example to help illustrate how the board will turn.
This also gives you more stability at speed. Because wobbles come from the back, reducing the turn of the back truck can give you more stability. (And also as mentioned above, too much-turning can causes wobbles, reducing the turning in the back reduces the chances of wobbles).
Majority skaters who go 60mph/100kph have split trucks. Some have 50/30 setups, or 45/25, or 43/28. 47/20 etc. … Using various trucks, and baseplates to get the right setup for their needs and riding style.
I skate my trucks 43/28. I've gone 80kph on them. Check them out in the pic below.
The truck on the left has a baseplate angle of 43. The truck on the right has a baseplate angle of 28*. If you notice, the 28* trucks hanger is more parallel with the ground than the other. The lower the angle, the closer to parallel the truck will seem to be with the ground.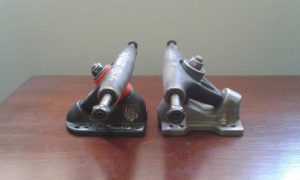 But ultimately split trucks are a whole can of worms you don't need to worry about as a beginner. I mean you should read about it because it is an interesting topic, but shouldn't start investing in them as it will be an expensive/frustrating affair. Between getting the right baseplates, bushings, washers, and hangers setting up split trucks can be really time-consuming. Finally, it will also be overkill and make it harder for you to slide. So for now, stick to the 45/45 trucks.
When should you start messing with split trucks?
I think once you've gotten the basics of sliding down and can reliably stop from 30mph. They are also a good idea once you consistently start skating faster than 40mph.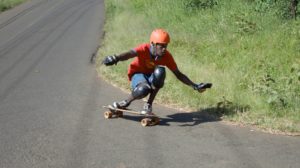 I say this because it is extremely important you get the basics down and get them down well. They will serve as the foundation for the rest of the things you do when you skate. Split trucks kind of alter how you skate and can encourage bad habits and bad form – which if you don't know otherwise can lead to problems further down the line. So they are appropriate to use once you know what you're doing.
For example, a bad habit would be putting too much weight on your back foot. At slow speeds, split trucks allow you to do this with few repercussions. However,  this could lead to wobbles when you start going faster. Symmetrical trucks allow you to build the right habits by punishing for doing wrong things at slower speeds.
Obviously, this is simply my opinion and recommendation. Other riders may tell you otherwise.
But I recommend beginners stick to symmetrical trucks.
Which hanger size should you go with?
A hanger is basically the bit of the truck that the wheels go on to. Check them out in the picture below.
They typically come in widths from 150mm, 165mm to 180mm, (8.5inches, 9.2inches, 10inches axle to axle respectively). So which should you choose?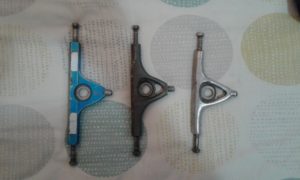 The best practice is to pick a hanger width that matches that of your longboard deck.
For example, if you have a 10inch deck, go for the 180mm hangers. If you have a 9.5inch deck, go for the 165mm trucks.
By picking a matching width, your deck will be just as wide as your trucks. This important and is called rail matching (or matching rail).
By matching rail, you will be able to get the best control over your trucks.
For beginners, I recommend you stick to either the 165mm or 180mm hanger widths. Hanger's widths narrower than 165mm will are very reactive to rider input. They may feel a bit uncontrollable to a beginner rider, especially if they intend to do sliding with them.
What bushings should you have?
OK, so you've finally gotten the right trucks. You should be able to go out and mob and slide like the pros? Not just yet. You first need to get the right bushings.
Bushings are the rubber things in your truck. They act as suspension and dictate how your truck leans and turns. They come in different durometers (or levels of hardness).
If you're heavier, you get hard bushings. If you are light, you get soft bushings.
Finally, bushings come in different shapes and sizes. For a beginner to downhill, your first bushing shapes should be the barrel ones. These give the best balance between lean and turn. They will give you a good place to start and will help build your skills.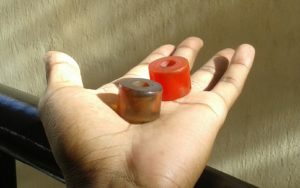 Your trucks should come stock with bushings from the truck manufacturer. These usually aren't good so it is recommended you replace them asap.
Some good aftermarket bushing brands are Riptide, Venom bushings, Hardcore, and Skate Blood Orange. These brands are reliable and produce high-quality equipment.
I have the most experience with Venom so I will be recommending their bushings today.
Some good bushings setups to start with are:
If you weigh less than 130lbs, 85a bushings will feel good,
If you're around 140-160lbs, 87a bushings all around,
If you're around 160lbs-190lbs, get 90a bushings.
If you're 200lbs+, 93a or 95a bushings will feel good.
Check out the Venom selection of bushings here on Amazon.com.
To get the right feel from your bushing setup will take some time. I highly recommend you ask around and experiment with different bushings of different hardness to get the right feel.
If you have a longboard shop around your area or experienced people you could talk to, ask for help with your bushings. They may even have some extra they could lend you to see what you would like.
How do washers affect the ride?
Washers interact with the bushings and can affect how they compress. This affects how your truck will lean and turn, and ultimately how your truck will feel.
You have a few types of washers:
Cupped washer,
Flat washer
Small Flat washer
Amish (tophat) washer
Amish cupped washer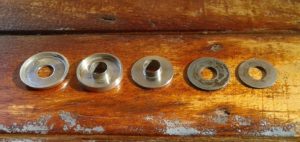 The ones you will encounter as a beginner are flat washers and cupped washers. The others exist so I think it is good to mention them.
The cupped washers restrict the turn of your bushings by forcing them to compress more. The flat washers allow for more movement. The Amish washers engage the bushing more and add a bit more resistance – in practice, it will feel like your bushing is fighting against you when you turn. Some people like this as it helps them bounce out of the turn and gives a nice bite when they start turning. Others hate it because they prefer a smoother lean when turning.
For a beginner, I recommend a cupped washer setup all-around. This will give you a lot of stability when riding and doesn't restrict turning so much.
If you later want a different feel or a bit more of a challenge, try flat washers all-around.
I recommend you completely avoid the Amish washers … for now.
What wheelbase should you use?
What is wheelbase? The wheelbase is the distance between your trucks. It can be measured from axle to axle, or from the inner mounting holes on your deck.
The first picture demonstrates axle to axle distance between the trucks.

The second picture below illustrates a mounting hole to mounting hole wheelbase measurement. This is the most common one you'll come across.
When buying a longboard, this is the measurement deck manufacturers use to describe the various wheelbase on their decks.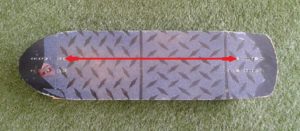 Short wheelbases are the hot thing these days. Riders use wheelbases from 22in to 24in.
If you're a beginner, don't worry about that. I would recommend you focus on a wheelbase between 25 and 27inches. This will work well with most trucks. It will give you good stability, decent maneuverability, and won't be too difficult to slide.
Shorter wheelbases work well when paired with split trucks. However, they make sliding more difficult and make the board react more to rider input. For experienced riders, this means more control – which is a good thing. For inexperienced riders, this means too much control, which leads to a very unforgiving experience.
Other tips:
Do not overtighten the kingpin.
A lot of people over-tighten their kingpin, to the point that their bushings are bulging out of the bushing seat.
This is a bad practice.
It will make you more stable, yes, but it will not make you a better rider. Your truck won't perform as designed and your bushings will wear down very quickly.
You also won't build strength in your muscles – you won't become a better rider.
If your trucks feel too loose, you should instead get harder bushings.
Experiment with your bushings
As I suggested earlier, you should play around with your bushings. This is so that you can get the feel you want from your trucks.
My bushing recommendations are very general. Some riders may like a harder or softer feel from their setup. It is recommended you get a bunch of bushings to mess around with, so you can get the right feel from your trucks.
Play around with the washers
Playing around with your washers is a cheap and easy way to change the feel of your trucks. Initially, you won't feel the difference. As a beginner, your feet aren't as "tuned in" or sensitive to how your trucks behave with subtle changes. That said, here is generally how different washers make your truck behave.
Cupped washer top, flat washer bottom. More of a center like feel. A lot of lean. Good for getting a dig in when sliding.
Flat washer top, flat washer bottom. Less of a center feel. A lot of lean and range in the movement of your truck.
Small flat washer top, flat washer bottom. Little to no center feel. A lot of lean, range in movement, and it feels like your truck has a bit more turn towards the end of lean.
Flat washer top, cupped washer bottom. Good turn. Less lean and your truck turns but doesn't lean much.
Amish flat washer bottom, flat washer bottom. Less of a center feel. A lot of lean and movement range. Your truck fights you throughout the movement, especially towards the end of lean.
Flat washer, Amish flat washer bottom. A lot of bounce when you lean. You get to the end of lean quicker. Trucks don't want to lean as far.
Cupped washer bs and rs. Good center, but lean and turn restricted. You get a bit more feedback from your trucks. Great for doing stand up slides on symmetrical trucks.
If you want to hold out stand up slides easier. Cupped washer top, flat bs. More center, but will still lean. Cupped washer all round will work too, but you won't have as much lean to dig into your wheels –  might be good for riders who want to "float" on top of their wheels..
For DH, cupped washer top in the front truck (or allround) might give you that stability you've been missing.
For slides, flat washer bottom. More lean, easier time pushing into the wheels, making em slide smooth.
Tighten the back kingpin …
If you need a bit more stability, there is no shame in tightening your trucks a little bit. And I mean, just a little bit.
I recommend you tighten the back half or 1 full turn. This will make the ride a bit more stable and may even give you some confidence when skating faster.
Finally, it will make the back truck slide out before the front. This will make learning to slide slightly easier.
Yes, skating will suck and feel scary … at first
It takes time to get used to your trucks. How they turn, how stable they are etc.
The mistake some people make is they try skating a few times, fail and think they can't do it. Or they blame their equipment for being bad. It's important you don't do this.
Like with everything else, you are going to suck the first few times. Give it time. Give your body the room it needs to build strength in the relevant muscles.
If you have a high-quality gear – such as the equipment I've suggested in this post, then you just need to keep skating. You will get good naturally. Just don't give up.
What do you think? Learned something new?
Dialing in your trucks is one of the most exciting aspects of downhill skateboarding. It is a very personal and intimate thing.
My guide should get you started. But once you feel comfortable you should start branching out, reading more, experimenting etc.
One of the most satisfying feelings is dialing in your trucks to how you want them to feel and perform. It takes time, can be frustrating, but is every bit worth the effort.
If you like this article and want to read more, let me know on social media! Getting feedback from people is how I know these articles are helping people. Alternatively, you can also support me through Patreon. Whichever works for you 
Thanks to Patrons Jed, Mowgii, and SuperBadJuJu for the support so far.
Check out other relevant posts here:
You can also read my post on the best longboard trucks in the world for more information on different brands.