The Pantheon Pranayama is a special board. It is highly recommended across multiple longboard forums and regarded as one of the best longboards in the game. But is that all hype? Check out my review below to find out more.
Specifications
Deck

Length – 31.5 inches
Width – 9 inches
Wheelbase – 26 inches
Mounting – Double drop
Construction – 6-ply maple core, Triaxial fiberglass top, and bottom, encased in wood veneer
Concave features – Double drop with crescent drop 
Max weight (recommended) – 240lbs

Trucks

Brand – Paris TKPs
Width – 149mm
Bushings – Stock

Wheels

Brand – 88wheel co. Mc Flys
Height/Diameter – 86mm
Width – 55mm
Contact Patch –  50mm
Durometer – 76a 
Core Position – Offset
Core – Proprietary (it looks like the Kegel core but isn't)

Components

Bearings – Built-in Pantheon bearings
Hardware – Panhead Hardware w/ washers
Griptape – Pantheon laser cut grip
Interview with Pantheon (Jeffrey Vyain)
1. Who did you design the Pranayama for?
Jeff – I originally designed the Pranayama for people who were wanting to lower their Trips by putting TKP trucks on it. I hated the way the board looked with the axles and wheels being pushed so far away from the body. Additionally, it was increasing stress and flexing the neck more than I wanted, so we decided to make a deck that was specifically designed for TKP. Tight fits had been a core design foundation for my company since day 1, and this was in line with that foundation.
2. What were some design goals you had?
Jeff – Reduce flex at the neck and tighten up fit of one of our best decks (The Trip) for this particular setup.
3. Why TKPs instead of RKPs? Any benefits?
Jeff – I didn't realize TKP trucks were so great for pushing until I started doing it regularly. This started with our Ember deck. That board was just straight fun. Nice loose center and a lot of playfulness. Easy to control on one foot, which is very important for pushing. The fit on the Ember was a bit looser, and when we switched over to the Pranayama design and really tightened things up, they became more than just playful and now they're my preferred trucks for anything less than 20 or 25mph, with the exception of holding slides and gripping tight turns. RKPs are better for that.
4. It's great stock, but any improvements you'd make? What would you pair it with an unlimited budget?
I wouldn't change anything. Part of what I love so much about the Pranayama is how great it is as a stock board. I wouldn't even change the bushings. I like how it feels as stock, and because it's so simple, it makes me like it even more.
5. Any upgrades to the Pranayama on the horizon?
Jeff – We may pull off the top veneer soon. Flipping the board isn't a concern. Pulling off the top veneer will make the board just a hair lighter. We are testing the theory and making sure flex is still right. Other than that, we haven't considered any changes since our last mold change about 2 years ago.
6. Worst use case for the Prana?
Jeff – Don't use the Pranayama as a downhill deck. It will fall short with stability and grip. It will slide very easily. It's totally fine up to a point, and then beyond that, it's a no go. For me, that point is about 35mph. I will just put my hand down and scrub speed if I'm threatening higher speeds than that.
7. Best recommended use case?
Jeff – I think it especially excels in urban environments on flat-ish terrain. Small hills are fine. It belongs in the road, though. Less so on the sidewalk. It's fun to push at a medium to high speed. Super slow and you might find yourself wanting a kicktail. I can't wait to take it to NYC for Broadway Bomb.
8. Using other wheels on the Prana – eg. if I use Speed vents do I need to change something to not have wheelbite?
Jeff – Speed Vents and Caguamas in 85mm are fine with stock bushings. If you end up changing the bushings to double cone or something, you may find that the wider inside lip on the Caguama can force bite, but you shouldn't have any trouble with 88 McFly or 85mm Speed Vents with just about any setup.
Also, this is assuming Paris 149mm trucks. There may be some slight nuance differences between other trucks that could affect some of this.
9. Bonus (some info about different TKP trucks on the Pranayama)
Jeff – Only thing I would add is truck setups: The board is really designed around Paris trucks. We have tested Indy 149s, and I like those quite a bit. Not as much as Paris but I think they're quite good trucks, and they're a touch lower, if someone wants them for that purpose. There are no other trucks that I would recommend, currently. I especially do not like the way Atlas street trucks or Bear TKPs feel. The centers feel weird, and it's fine when you're going slow, but you're going to notice a lack of stability/agility when you get going at speed. This may be different on top mounts. I know a ton of people are out there running Bear street trucks on cruisers.
I'm just speaking to my personal experiences with these trucks on double drop setups. Tensor Mag Lites are super lightweight and are pretty cool at lower speeds, too, but they can start to lose stability at speed faster than a Paris would.
10. Thanks
Thanks Jeff for answering my questions! Your responses are really valuable and have gone a long way to enrich this review! As well, massive thanks to 88wheel co Jeremy for answering some additional questions about the McFlys, the Pantheon bearings and other tid bits. Thanks again to you both. 
Pictures selected by me btw.
Pantheon Pranayama Review
Summary
There's a lot to say when it comes to the Pantheon Pranayama, but let us keep it simple.
It works great as a commuter board – it is easy to push, easy to footbrake on, and goes in a straight line very well. It is stable and offers a forgiving and easy ride. Any rider of any skill level will feel at home on it from the first push.
As a commuter/distance board, it is excellent. You can cover massive distances with extreme ease (the other day I did a 12mile/20km ride like it was nothing).
With the big wheels and the flex of the deck, the board provides a comfortable ride over all sorts of road conditions – pebbles, cracks, and off-road sections are not an issue.
The complete turns a lot but isn't nimble (in comparison to a top mount board). It will turn but you need a "big movement" to get a quick dive/turn out of it if you need to make a very quick change direction. It is easy to turn though … I expound on this more in the review – it is a bit confusing to understand, but the board turns enough generally.
The complete is high-quality and if you are an average person, you will not need to switch anything out for years. It is worth the money and is a solid investment. I will likely keep mine as is forever.
With this board, there are surprisingly no deal breakers. It's close to perfect – it doesn't get in your way, in any way that makes it not worth buying. I have said that statement only once – when describing the Comet Orbiter.
And my words in the above summary are pretty straightforward and maybe abit underwhelming in building the hype of this board. Because it is so effective, so simple, so natural, that when I ride it I quickly forget that it is doing something amazing. It's like it becomes an extension of myself – when something feels natural and intuitive, you don't think about it, you're just there with it in the moment. With the Pranayama, you forget you're riding it at all … 
It's like I'm constantly in the zone when I'm riding it – I don't have to think about pushing, worry about wheelbite, worry that my wheels won't ride over a rough patch, or worry about slowing down. I don't have to think about where my feet go, how they are positioned, or if my board will make that turn. I don't even think about pushing up a hill – I just do …
Anyway, point is, the Pranayama, is so good and ergonomic that you forget you are riding it at all. And honestly, it's one of the highest compliments I can give a skateboard.
How is the Pantheon Pranayamas' overall size?
It's pretty compact …
The Prana is as tiny as it can be. It is essentially the mini-cruiser of the commuter longboarding niche.
There is no wasted space on it, you have as much standing room as you need, and no more. You have about 23.5inches in length and 9inches in width to work with.
But this allows for a tiny overall 31.5inches in length. This board is extremely compact for what it is, and this makes it fairly portable.
It's portable but …
So the Prana is relatively tiny, and that size puts it in mini cruiser territory. It can fit into fairly small spaces and doesn't really get into your way when you have to carry it around.
I've felt kinda ok the odd times I've had to carry it on the bus, or into a store. I've found it far more comfortable to carry around than the bulkier Nexus, but not as portable as the Comet cruiser, for example.
I can see it fitting in alright under your desk at work, or in the odd locker.
Don't roast me for my poor cable management pls. Be kind. Thank you.
However, with the big wheels sticking out, it can sometimes feel like it can get in your way …
But for what it is, and what you are to use it for, it is impressively compact. It's essentially, a highly functional commuter mini cruiser with the astonishing ability to cover long distances very easily.
Enough standing room?
But with that compact portable size, do you have enough standing room?
I felt the 23.5inches long and 9inches wide standing platform is enough for me to assume a comfortable shoulder width stance – I'm about 5ft 10inches tall. 
With that space I never really felt like I needed more standing room.
If you're taller than 6ft, maybe you might feel a bit cramped on deck, but i think the majority of people should be perfectly comfortable on this deck, even those with shorter stances.
The crescent drops work as a reference
To add to that comfort and the illusion of "enough standing room" I felt the crescent drops or rather the neck of the drop played a part.
They felt comfortable to rest my foot against, and also acted as very comfortable reference points – I never really needed to look down to know where my feet were onboard. 
They also don't really get in the way, so they aren't a nuisance. I believe they help the compact shape make sense and feel normal.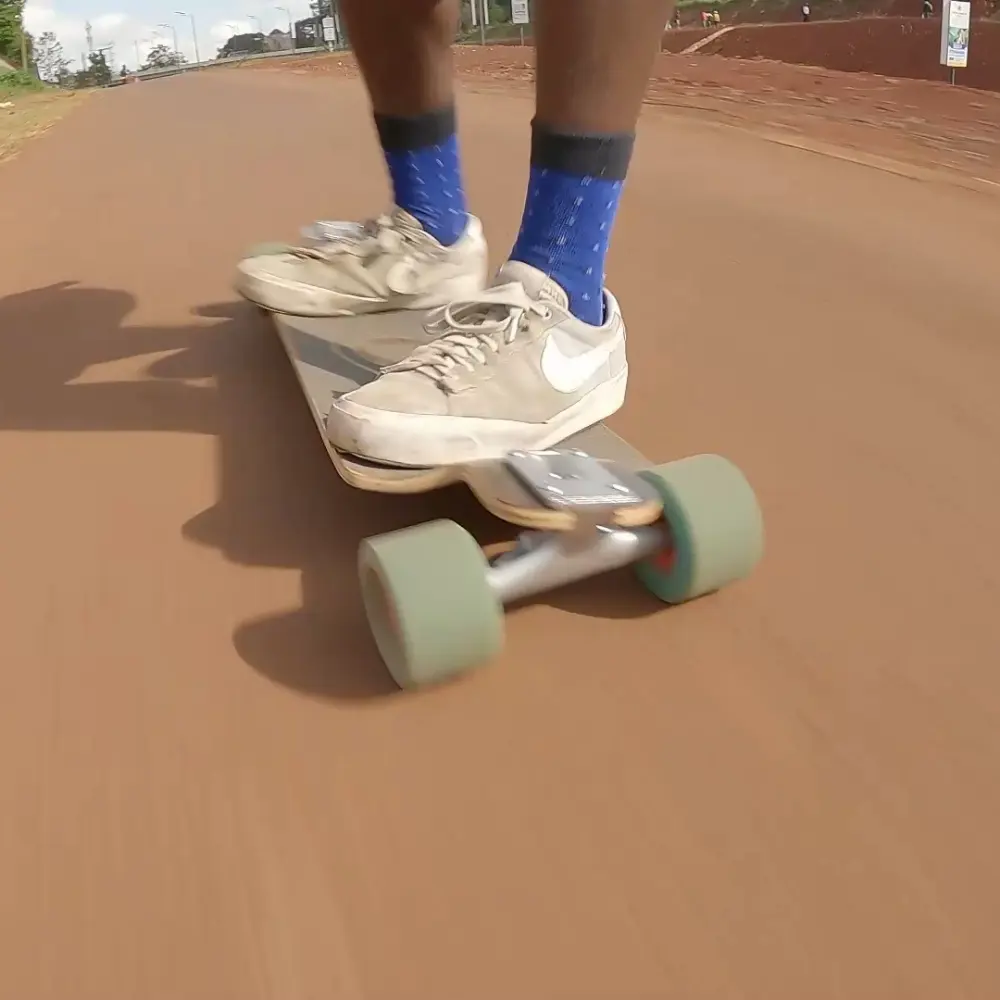 How does the Pantheon Pranayama deck perform?
Is it comfortable?
The Pranayama deck is pretty comfortable. I can assume a comfortable shoulder width stance, and the flex absorbs a lot of road vibration. The double-drop platform and long wheelbase adds a lot of stability, so my legs don't work much to keep it going straight. It's a very easy comfortable ride, I don't have much to complain about …
The crescent drops also don't feel uncomfortable to push against with your foot … that said this is my first double drop board so idk, I don't have anything else to compare them against.
How is the flex? 
The Prana is a bit flexy. But it feels like it is a flex that cushions, as opposed to a flex that bounces you up.
I don't know if this is a consequence of the construction or a result of the combination of the mounting, wheels, trucks, etc. Or if I'm just tripping. But it definitely didn't feel it bounced me as much as the Drop Hammer did …
I do like this though. It helps me keep the board straight, while the deck absorbs and dampens most of the road feedback (bump steer) from all sorts of road imperfections.
But I will admit I am not 100% confident about the above statement … feel free to comment and share if you agree or disagree with that.
The flex absorbs a lot and adds comfort
But yeah, the flex adds comfort to the ride, and paired with the massive wheels it absorbs a ton of road vibrations and you can skate super rough roads without feeling incredibly awful.
I tell you, this thing can go almost anywhere relatively comfortably, it is really impressive.
Maximum weight?
With the flex, it is rated for riders up to 240lbs/108kg.
How low does the Pantheon Pranayama ride?
With the double drop, use of TKPs, and the flex, you get a very low ride on the Pranayama.
The board stands about 2.5inches off the ground without you standing on it. Compared to the 4ish inches of height a mini cruisers standing platform is at.
2.5inches is extremely low and close to the ground.
*It's hard to get a proper reading of how high it stands when you are on top of it.
Is a low board better?
When the board is lower to the ground, it becomes easier to push, easier to footbrake, and it also becomes more stable.
You can really feel the ease of pushing when riding the board. It's so much easier to push (even up a hill), and after several miles you don't feel as exhausted as you would from pushing a taller board.
The height makes a significant difference in the riding experience and how easy it is to cover long distances. 
It also feels like I can put more power behind every push and can push even faster than I ever have. I feel like I go further with every push than on a taller board – I think the board not being too heavy helps with this too, but I digress.
It's so low that sometimes I feel like I'm walking instead of pushing a skateboard. Feels like you're riding a magic carpet …
Loads of bottoming out?
Because of how low it is, you can expect to bottom out the Pranayama once or twice.
I bottomed out my Prana and scratched the graphic multiple times quite bad. That said, this was because of a lot of uneven pavement, off-road excursions, and taking my skateboard places it doesn't really belong.
If I was in an urban environment, and mostly stuck to paved roads and bike paths, this wouldn't be an issue.
But it likely will happen when you use your board, so expect it. 
Fortunately, the Prana has wood veneers that protect the sensitive parts of the board. So scratching it will damage your graphic, but it won't affect the board performance.
Watch out for this
Also if you are dismounting down a curb, it is highly likely that your Prana will bottom out. 
If you are interested in protecting your graphics, be wary of this. I recommend picking up your board and getting down the curb before riding again. It will help keep your graphics pristine for a bit longer.
Compact – no nose or tail
Part of the compact design, and ease of life design as well, is having no nose or tail. 
This makes it a little bit easier to put your trucks on – you can slide them on instead of taking the baseplate apart.
It also allows the wheels and truck to hit a curb/object before your deck does, and this does increase its overall life expectancy.
But it reduces how easy it is to kick up the board. You don't have much leverage over the trucks, so it's much harder to bring the board up.
Ultimately not a massive deal, but it's just one of those things – I have to take a bit more time picking up the board as opposed to just kicking it up as I usually do.
You can still kick it up but it is much harder. An Insta user puts griptape on his baseplate to make this easier. I didn't try this myself but it is an option you could try.
Does the Pranayama turn well?
The Pantheon Pranayama uses TKP trucks
The Pantheon Pranayama uses TKP trucks and this allows it to achieve that low ride height and small length.
It also ONLY works with TKP trucks, so keep that in mind when you buy it – it won't work paired with other trucks.
Using TKPs has its advantages and disadvantages – I won't expound more on this, it's not in the scope of the review.
How does the Prana turn?
It's not nimble – but it kind of is .. and it's not turny but has a lot of turn … OK, how does this make sense?
In order to get a quick turn out of the Pantheon Pranayama, or make it turn a lot, you really need to dig into it.
Compared to a top mount board, which reacts/turns off the smallest initial input, the Prana doesn't.
You need a big input in order to get it to change direction quickly. And this takes a bit of getting used to.
But once you really dig into it and put your weight behind your turn, you get that nimble, quick change in direction.
It's not as turny as like, a mini cruiser, but it turns a lot compared to boards of a similar – for example the Landyachtz Drop Cat 33" …
The above said, it is reactive/turny enough that you can turn on it with one foot (though not too much). And this is extremely useful when commuting. You can turn whilst pushing/footbraking.
It's not the turniest of boards
So on a bike trail, or just riding around on roads, the Pantheon Pranayama turns enough. You'll never need more turning.
But when it comes to dodging obstacles, weaving in between people and changing direction very quickly, it lacks. So in an urban environment with loads of pedestrians and traffic, you might be walking more with the board in your hands than skating.
But in fairness, for what it is (a double drop board), it turns a lot.
Speed makes it turn a bit better
I've also noticed that picking up speed makes the board turn a little bit better – it's a bit easier to get it to change direction quickly … Idk why that is, but that is my experience with it.
However, at speed because the back isn't locked down, it can sometimes wash out from under you. I've scrubbed the back wheels a few times because I tried turning too aggressively when going too fast.
So do keep that in mind – in turns better at speed, but if you're too aggressive you risk washing out.
Can you pump on the Pranayama?
I felt like a got a bit more speed pumping down a mild downhill road, but generally, I'd say it's not very good at pumping.
The Paris TKPs aren't turny enough to do that – especially paired with the double drop platform. I think if I messed with the bushings this could be done but perhaps I'd be asking too much from a double drop board …
Does it slide easily?
Surprisingly, the Prana was easy to scrub. All I had to do was turn aggressively at a decent speed. And I did do a couple of mini speed checks … 
That said, I wouldn't use it to learn slides or I wouldn't even do slides on it. That platform just didn't feel intuitive or right for it … I also don't feel I could progress pretty far on it at all …
Is it stable?
Surprisingly yes. With the double drop and the long WB, this board is actually fairly stable.
On my 100km ride, I took this board up to about 50kph (30mph) – I'm not sure if this actually happened, or if Strava just wigged out as it does sometimes. But I do remember going quite fast down some hills at times …
But yes it is generally quite a stable board and I've been able to handle all the downhill roads I encounter when I am out skating around the city. I don't think I've worried about stability as I usually would with other cruisers.
Funny enough, it is so hard to gauge speed on this board. It always feels quite fast. It's that magic carpet effect…
Are the Paris trucks good?
I'm totally satisfied with how the Paris TKPs are holding up and how they are working.
However, I have been told there are much turnier TKPs trucks out there. I wouldn't mind experimenting and pairing the Pranayama with them. I think some of the Surf Rod trucks look good – especially those with the adjustable baseplates. I'd love to use them and see how they feel, an experiment for another time.
But as Jeff highlighted above in the interview, he tried a bunch of trucks and felt Paris was the most suitable …
If anyone has paired Surfrodz with their Prana, let me know! Interested to learn about your experience with them.
Is the Pantheon Pranayama fast?
Are the 86mm Mcflys good?
The 86mm McFlys are really dope. They're fast and absorb a ton of road vibration.
Interestingly, they were ACTUALLY designed primarily to fit on the Pranayama. They literally have the profile of the wheel indented a little so that they don't cause bite on the Prana … talk about attention to detail – them Pantheon/88wheel co boys are crazy for it.
They're also made from a different process than other wheels (same same but different), and they are much less likely to chunk.
So you get a wheel that is low duro and high rebound, but that won't chunk as easily as 78a Caguamas, or Seismic Defcon Speed Vents. This is awesome obviously.
And with all the f*cked up terrain I encounter when riding and how much I boop my wheels, less likely-ness to chunk is an awesome feature – especially given how much an investment these wheels are these days – over $100 for some sets.
And according to Blue Ridge project, they have some of the lowest rolling resistance – which is awesome if you want to max out speed. 
Mcflys vs Caguamas vs Kegels vs Speed vents?
I got the chance to test the Mcflys against some 77a Caguamas and Kegels.
I found the Mcflys accelerated quicker and absorbed a bit more road vibration than the Caguamas. They also had more grip (but I didn't test that extensively ngl so take it with a pinch of salt).
The Kegels accelerated a little bit quicker, but reflected a bit more road vibration than the Mcflys, and obviously didn't have as much momentum.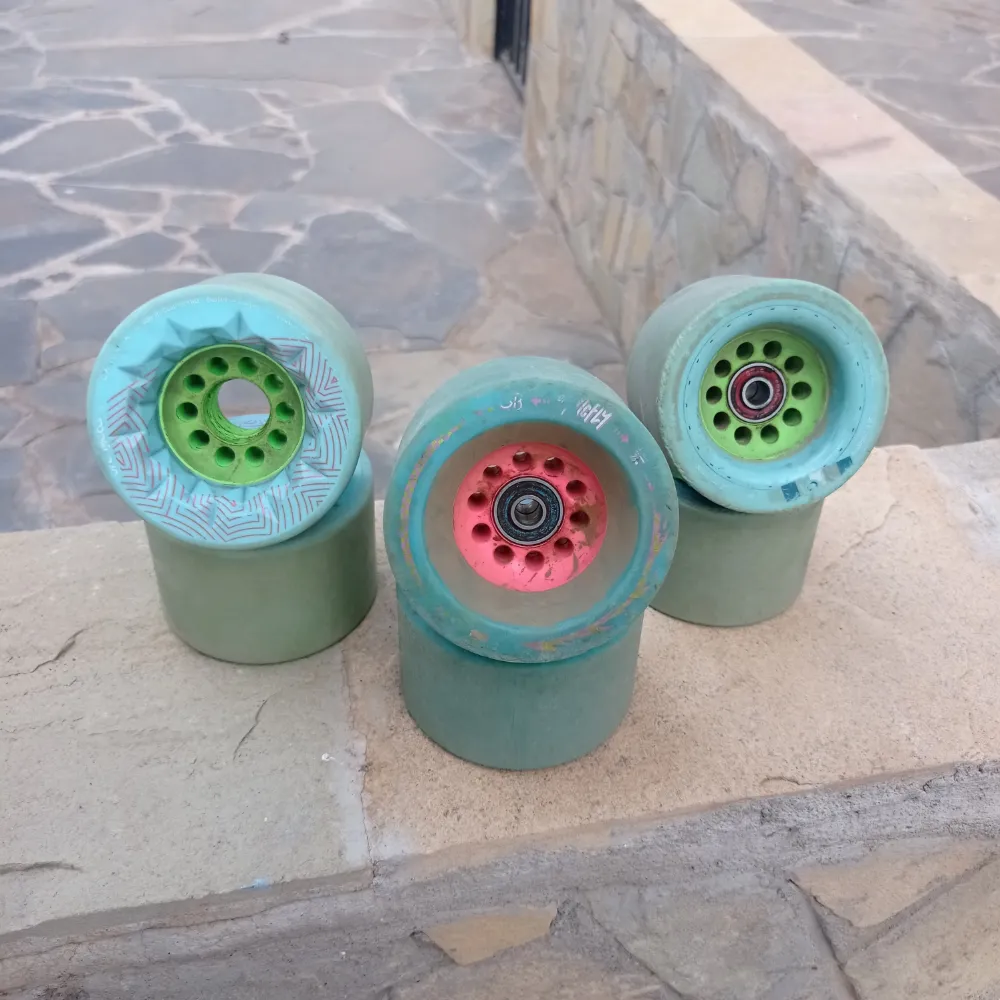 I was really surprised how well the Mcflys are performing … I think the quicker acceleration is due to the slimmer profile of the wheels.
That said, I didn't test this too much and just tried the wheels in a small space, to get a little bit of data.
I don't have any Speedvents on hand unfortunately, so I can't test them against the Mcflys. But I reckon they may be evenly matched in the case of speed/acceleration with the Mcflys absorbing more road vibration.
Also … Kegel core?
No, the core on the Mcfly is not the same. The internal mechanics are different. It is a proprietary core.
Wheelbite when using other wheels?
Kegels, and Caguamas fit on the Prana with the stock trucks without any wheelbite.
I can't comment on Speedvents, but I'm sure with that side set core, they don't bite either.
Are the Bearings good?
Yes, they are excellent, and mainly for two reasons.
The built-in speed ring
So the first is the design – these bearings are built-in. But what is different about them from other built-in bearings, is that the speed ring on them is thicker than average. 
I've found on most non-built-in bearings, you dent the bearing shields if you don't use a speed ring. 
But I've also found, that on most built-in bearings, you STILL dent the bearing shield – even though they come with a speed ring built-in. I've found that I need to use an additional speed ring on top of the built-in one to stop denting the shield.
And this has happened to literally all the built-in bearings I've used – Zealous, Bears, Loaded Jehu etc. I just thought it was a thing that happens …
Anyway, the built-in speed ring on the Pantheon bearing is longer than average and this prevents the shields from getting damaged. 
In a practical sense, you crank down the axle nut and not be worried about the shields getting dented. 
It also ensures that dirt stays out of the bearing and your bearing keeps working for longer.
The lubricant
The second thing is that they use nano-ceramic lube for lube. This polishes the bearings, coats them, and keeps them lubed up for a long period of time.
It also means no leaking, because there is no excess lube – I'm not even sure if the nano-ceramic lube is a liquid … but yeah.  And they work perfect out the box.
And basically, both these things allow the bearing to work for a super long time without any need for maintenance – granted you don't ride in the rain or wash out that lubricant.
I gotta say, they have really held up. I've skated over 300km and I have not had any issues. I even took a look at the inner race and I have not seen any gunk build up at all …
I honestly think these will be the bearings I will likely be using in future … for all applications, but I don't know, I wonder how they'll hold up to downhill abuse.
As a complete package …
Let's appreciate the attention to detail …
The attention to detail on the Pantheon Pranayama is insane. Every component compliments the other – including you as the rider, and it culminates into an amazing ride.
But I feel it could limit how much you can upgrade your complete – like what if I wanted different trucks that turned more? You see what I mean? I'd be afraid to ruin the formula or end up with a combo that didn't work well.
However, as a complete it is great. It would work for the vast majority of people, and you really don't need to change anything, for a damn long time.
Is it worth the money?
Yes. The Pantheon Pranayama is 100% worth it.
What I didn't like 
The Paris TKPs aren't as turny as I'd like them to be. But really, not a big deal. The board excels in the environment its design for. 
And apart from wanting a tiny bit more turn, I have no issues with the Prana, genuinely. It's pretty close to a perfect longboard.
Did you like this review of the Pranayama?
Thanks for checking out this review. Feel free to leave a comment of your experience with this longboard below.
Cheers, Abuga