A tiny cruiser is an essential part of any skateboard quiver. they're great for quick trips down to the store, quick skates around the neighborhood, or slashing driveways down your local hill. Whilst not the most versatile sort of boards, they are unbelievably fun to skate and every quiver needs one.
Fireball recently sent me their cruiser to ride and review. After skating it for the last few weeks and months I finally have enough information to write a review. Check it out.
Specifications:
Length – 29.5inch
Width – 8.5inch
Trucks – Paris TKP 128mm
Wheels – Fireball Tinder Wheels 60mm, 81a
Griptape – Mobgrip
Bearings – Fireball Dragon Bearings
Hardware – Fireball hardware
Fireball cruiser review
Disclaimer – though Fireball did send me this deck for free, that will not affect my opinion. I'll be honest and critical where I need to be.
Expectations
I had my eye on this cruiser for a long time – it ticked all the boxes for me; it had the perfect length, just about the right width, and came with fantastic components – all for a relatively affordable price. Seemed too good to be true tbh.
Now I have to admit, I'm not the biggest fan of tiny cruisers. They're usually not very comfortable to skate and that makes them undesirable to do anything with. But based on the specs alone I had confidence in this cruiser. I'm glad I was finally able to get it under my feet and put it to the test.
High-quality components
Even coming with really high-quality bits and pieces, this cruiser isn't all that expensive. If you compare it to other options in the market you start to see how cheap it actually is. It costs about $20 to $30 less than its closest competitor, whilst using components comparable in quality. In short, you get excellent value for money with this complete.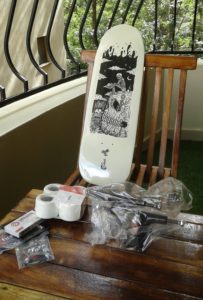 If any other brand sold this same board, with the same bits and pieces, they would probably price it at $150 or more. It's crazy that they can sell this for as cheap as they do and still make money …
Finally, the actual components themselves out pretty good, the Paris trucks turned smoothly and consistently and the Dragon bearings roll great out of the box. I think the Dragon bearings and spaces set is the best bearing combo I've ever used (and I go over why below). Finally, the complete has high-quality mob griptape and fireball hardware.
It looks amazing
The first thing that struck me about this deck was how good it looked. The graphic was really simple but beautifully drawn, and the contrast between the black and the white really made it pop. This was honestly one of the best skateboard graphics I've ever seen.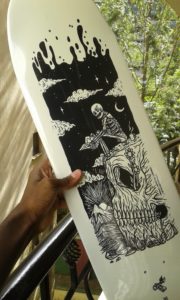 And I believe the same is true for the other graphics the sister boards share – Fireball teamed up with three artists to make unique graphics for each board in their line up. And they all look pretty good.
If the art and design of a skateboard is important to you, this skateboard is a good option for you. Check out some of the other graphics in the line up below.
The deck feels just right – it's not too narrow
The Fireball cruiser deck feels just right. It's not too long and it's not too wide (or too narrow either).
If a board is too narrow, you won't have enough room to comfortably rest the length of your foot, and it's going to feel like you're balancing on a tight rope. You're going to be uncomfortable and you likely won't be able to ride the board for long.
For example, a deck like the Dinghy is unpopular with big riders because of this issue – thankfully Landyachtz also has the tugboat in the lineup so you can go for that if you prefer a wider (but still compact) board. But yeah, some riders don't like it because it's too narrow.
But fortunately, the Fireball Cruiser is wide enough that it's actually comfortable to ride around. I think 8.5inches is just touching the boundary of un-comfortability for me – I haven't had a positive experience with anything narrower usually.
So in summary, the Fireball cruiser feels just right because it's wide enough that it's comfortable, whilst still being small.
The wheels rolled smooth and fast
I was surprised by how well these wheels performed, especially considering how small and hard they are. I was worried that they would reflect a lot of road vibration, would be slow-rolling, and wouldn't have the most enjoyable ride. However, they exceeded all expectations I had and I was pleasantly surprised.
The wheels used on this cruiser are the Fireball TInder wheels. They are 60mm tall, have a durometer of 81a, and have a large fiberglass core.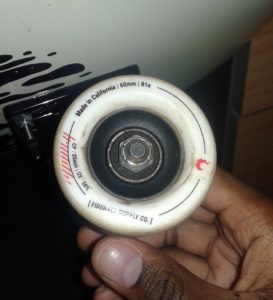 Despite being 81a the urethane is very soft and cushy. It does a lot to absorb road vibration so that you have a smooth ride and so that roughness in the road isn't too much of an issue. Surprisingly though, the wheel isn't as slow rolling as you'd expect. The wheel has a large core which supports and helps stiffen up the wheel, and this also allows it to have a decent amount of roll speed. Paired with the quick acceleration you get from a small wheel, these wheels felt nimble and were fun to ride.
*Though they did fine at this size, I think they wouldn't perform as well if they were bigger. The urethane wouldn't be as well supported (because of the larger size) and that might actually slow down the wheel when rolling a little bit.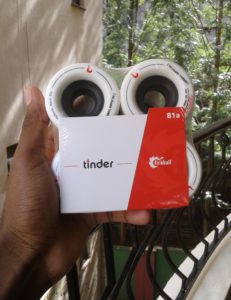 For comparison, these wheels are very similar to the Morgan pro wheels made by Blood Orange wheels.
Finally, if you want to slide this board then you're in luck because these wheels slide really easily and do it smoothly – they have a smooth initiation and a decent hookup. They even make thane lines! However, they do wear down quickly so be careful you don't flat spot them or wear one side of them down too much.
The trucks turn well and are stable
Admittedly I'm not the biggest fan of traditional kingpin trucks (TKP). With reverse kingpin trucks, I heavily rely on the front truck to do most of the work. But to get the same turning from tkp trucks, I have to turn -rather, I have to apply pressure over both trucks as opposed to one.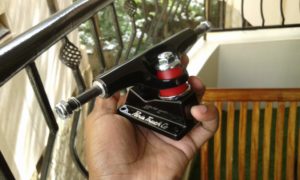 **Interesting to see how disengaged the back truck is on this if you choose to not engage it.
That said after I got used to these trucks I found that they turned decently and they had a smooth lean.
The trucks were also surprisingly stable. I didn't go to any crazy speeds but I didn't get any twitch when I was bombing my local hills or when I was trying to go a bit quick and do a few slides on them.
Finally, the bushings were also pretty decent. I'm used to taking out the bushings in any truck a ride but I had no desire to do this on this board. They didn't just work well enough, they were pretty good.
The Paris tkp trucks are a solid truck and they didn't leave much to be desired, especially from a cruising perspective.
The bearings are amazing
These are some of the best bearings i've ever used. They have shields that are durable and that don't let dust or any another gunk in. But in that regard, they aren't really special; there are loads of other bearings that have that too.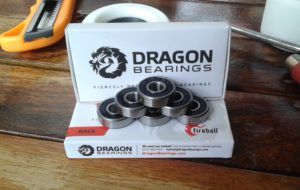 What makes me a big fan of theirs is the spacers and speed rings that they come with. This allows the bearings to have a perfect fit in the Tinder wheels (and in any other wheel I've tested them in). I like this because it guarantees no clacking or clicking and you can tighten down the axle nut all the way without affecting the performance of the bearings. This gives me the confidence that I'm getting the best performance out of my setup.
**Other bearings click and clack even if you tighten them properly. And sometimes it feels like the bearings get pressed in because the spacers don't fit properly. Once you use a proper set you can really feel the difference!
Though I'm yet to see how they stand the test of time – in terms of durability and how well they perform after maintenance. I have confidence that they'll keep performing well. It seems Fireball has really thought these things through, so I expect that they'll keep working well. But again, so far they have blown me away and I like them a lot.
No wheelbite
Despite weighing about 150 pounds (or 70kg), I would not get wheelbite on this deck no matter how hard I turned or leaned. I think mainly thanks to the big wheel wells.
Though this isn't a big deal for me, it might make the difference if you are looking to buy this deck and this feature is important for you.
The kicktail is useable
The kicktail has a decent amount of pop and I was able to do ollies, jump up curbs, jump down curbs, and jump over one or two obstacles. However, the pop isn't so good if you use it on a calbro surface and it feels best on asphalt. And whilst you can ollie, this deck is not the best for doing tricks so don't get it if you were hoping you'd be able to learn tricks on it.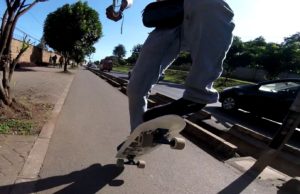 **Again, I don't really do tricks, ollies are really the most I can do consistently. I can do kickflips and heelflips sometimes, and skateboard decks feel natural to me. But in comparison, this deck feels awkward and not really friendly for doing tricks.
Amazing price
Though I did mention it earlier in the article I do think it's important to reiterate this. For the price you pay, this is one of the best value-for-money complete cruisers out there. It comes with high-quality components that are guaranteed to perform well – some of the best trucks and wheels in the market. and it doesn't cost much more than $100. You can check out the price here at Stoked ride shop.
What I didn't like about the Fireball Cruiser?
They only sell 100 of each
Though I'd argue that this makes them more special and more desirable, Fireball only makes a handful of these cruisers – they only make about 100 for every graphic option.
That said they also have a blank version of these that go for under $100 but it's nowhere near as special and I'd recommend you get your hands on one with a graphic.
The concave is ok – nothing special
I would much have preferred that this deck had even less concave. By concave I mean it has wheel wells that are raised. I didn't feel particularly uncomfortable standing on the wheel wells, but I could see it being a bit uncomfortable for some riders, especially those with bigger, flatter feet. I'd rather they mellowed it out in the next iteration of the board.
The nose kick doesn't do much
Whilst it does look attractive and gives the board a nice shape, the front kick on this board wasn't very useful to me. Though some riders might find it useful and may be able to do one or two things with it, for me it felt kinda unusable …
I would much prefer they increase the wheelbase of the deck rather than to have a nose tail that doesn't do much. But again most people would just use this for cruising so it doesn't matter if it's useable or not, and it does add to the aesthetics – so it is quite nice at the end of the day.
Who would this deck be a good fit for?
If you want a compact cruiser that is comfortable to skate, this is the deck for you.
I also think it's a really good deck for kids especially those starting out and want something to learn how to skate. it doesn't break the bank but it comes with high-quality components that won't hold them back when they are learning to ride.
Who is this deck not right for?
If you want a cruiser you can use to do tricks with, this isn't the best option. Something like the landyachtz ATV ( that comes with soft wheels but in a traditional Popsicle shape), would be a better fit for you.
Where can you buy the Fireball cruiser?
You can also pick it up here at the Stoked Ride Shop website. Though this link is for the complete with the darker graphic.
This link links to the version of this board reviewed in the article. However, it is for the deck only.
It's in my opinion one of the best small cruisers in the game right now and you should get your hands on it before they decide to stop making them – or before they run out of them.
What do you think? Is it the right cruiser for you?
I would hesitate to use the word perfect cruiser, but this one comes close. And whilst it is pretty good in my eyes, there are a lot of popular options out there that I have yet to try. but I guarantee that anyone who gets this will have a lot of fun.
Big thanks to Fireball for sending me this cruiser to try out.