I know money has been tight, but that the burning desire to skate simply won't go. It's like that itch you need to scratch. A simple solution would be to buy one of those cheap cruisers you see online, but I know that you're scared that it will break as soon as you step on it, or not ride too well at all.
So in today's article, I aim to dispel the myths surrounding cheap longboards. I take apart the options available in the market today and describe to you how to figure out which longboards are quality and which aren't.
After reading the article, you'll understand which parts matter, which parts don't and how to choose between them to get the right cheap longboard for yourself.
Is it okay to buy a cheap longboard? (Buying guide)
Short answer yes, long answer no.
One argument against buying a cheap longboard is that the money goes to brands that don't support the industry, they simply don't set up or support events and basically do nothing for the longboarding community. They simply take the money and run away.
The other argument is that cheap longboard suck to ride. Whilst this is true in a lot of cases, there is actually a low barrier for what feels good and even if you buy a cheap board you can swap out some parts for aftermarket ones to make it feel better. As long as you got a board that rolls well and turns smoothly, you'll be ok.
Humble beginnings
I myself started skating on a cheap longboard under $50. I used it for 6months before upgrading to something better. As a beginner, it skated pretty well for me. It turned great and rolled nicely. But some parts of it were bad, it was narrow and I couldn't stand on it comfortably and it would make my feet hurt after a while. This is what I could tell as a beginner and what stood out to me.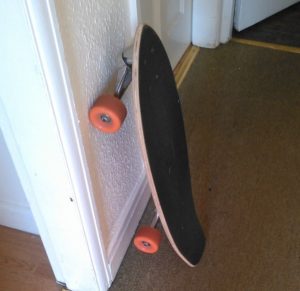 Anyway, all these experiences led me to figure out what makes a good cruiser board good. I had so much fun on that thing, it really laid the foundation for my love of skating and snowboarding. Though now as a more experienced rider, such a board wouldn't work good enough for me cause I'm more sensitive to what feels good and bad. I would later build my own cruiser board to fit my needs.
Will I be sacrificing a lot on quality?
Yes and no. Definitely, most cheap boards cut corners here and there and end up being pretty bad to ride. But if you know which parts make a board feel nice, you can eliminate the cruiser boards that you think will feel bad and go for the ones that will probably feel pretty good.
I expand on what you should look for in a cheap longboard below. And to be honest, longboards under $100 or about, probably have the same equipment as the ones I have mentioned.
You'll definitely not be getting the best ride experience, but you will have something you can still have a lot of fun on. Finally, if you make one or two aftermarket upgrades, you could seriously improve how a board will feel when you ride it.
What cheap aftermarket upgrades can I make?
New bearings
Most of the bearings that come with cheap longboards end up being pretty bad. They don't roll good and make it hard for you to push your board. Upgrading them will improve how your board rolls and rides.
That being said, generally, bearings don't matter. Most of them will work pretty decently and you won't have any issues. But to be on the safe side, it's a good idea to replace them.
Check out this set of high-quality bearings – the Built in Dragon bearings by Fireball. They're on of the best I've tried and will serve you well. You can find them here at the Stoked ride shop.
New bushings
These are basically the suspension of your longboard and they go in your trucks. They determine how you turn, and how twitchy or smooth your trucks will be.
They are usually pretty cheap and go along way in improving how your board feels. If you have to choose one upgrade, this would be the one.
You can check the Riptide bushing selection here at the Stoked ride shop. If you follow the instruction, you can easily pick the right one. Don't be hesitant to ask for help.
What features should I look for in a cheap longboard?
Big wheels
Wheels are super important, you can have the best deck, best trucks etc. but having shitty wheels will make your board ride disgustingly. Longboard wheels typically come in sizes from 65mm to 70mm. Some longboards come stock with wheels that are slightly smaller.
Small wheels don't roll so great and pick up a lot of road vibration, this, in turn, makes them provide an uncomfortable riding experience. Big wheels (70mm preferably) will roll great and provide a smoother riding experience. They will also roll over cracks, pebbles and rough terrain easier and won't suddenly stop and jerk you off your board.
Finally, I suggest getting riser pads if you have 70mm wheels. This will prevent wheelbite at slower speeds and even give you a deeper turn on your truck.
Reasonable standing platform
When you have a narrow longboard or cruiser board, it is going to be hard and uncomfortable to skate on it. It will feel like balancing on a tightrope and won't provide a good riding experience.
This is why I don't think Penny cruisers are good cruising boards, 5 minutes on one of those things and your feet will start hurting. Ideally, you should get a board that you can stand across without having your toes or heels hanging off. Such boards are typically 9-10in wide but can be smaller if you have tiny feet.
My first cruiser was narrow and sucked to ride for more than 5minutes. I'd skate it for 10min or more every day and put myself through a lot of unnecessary torture. Comparatively, my current cruiser is 9.5in wide and is by contrast, a lot more comfortable. I paired it with big wheels and it skates it feels like riding a cloud.
Not too big or too long
Another mistake is getting a board that is 40in or longer in size. Yes, it's a longboard but that is too long gaddamit. When your board is that size it is slow to turn (because of a large wheelbase), too heavy to push and won't provide you the best riding experience. You want something either 40in or less in size. This will guarantee that it will turn decently, be easy to push and light to carry around.
Best cheap longboards under $50
Enkeeo 40 Inch Drop-Through Longboard
This is a longboard that would suit a lot of beginners well. It comes in at 40in in length and 9in in width. It has drop through mounting and features 70mm tall urethane wheels.
You can expect a board this long to be super stable and comfortable to skate. The drop-through mounting aids in stability when riding and it will make it easier for you to push and footbrake. This is because the center of the skateboards gravity is lower and you don't have to bend so far to push/footbrake.
Check out my review of the Enkeeo brand here
However, because of the large size and the mounting, it might be a bit sluggish and slow to turn for some. Lighter riders would probably be affected by this so I suggest they instead look at longboards like the SOLA top mount below as they are more suitable.
It has RKP trucks (reverse kingpin trucks) which are most appropriate for cruising. You can expect a smooth, consistent turn with these and decent maneuverability.
Finally, you should also watch out for wheelbite and consider different mounting options if you get it. You should also replace the bearings if it doesn't roll too good. Check the price of the board and more pictures of it on Amazon.com.
SOLA Top mount Longboard – best all-around
Coming in at 36in in length and 9.5in in width. This longboard makes for a great addition to my list. Its design is pretty cool and makes it stand out from other boards, with a surfy kind of vibe. It has clear griptape to show off its bamboo finish.
The longboard itself is great and features a top mounted truck. A top mounted truck (truck mounted underneath the board) makes it maneuverable and allows you to have deep turns when you are riding it just watch out for wheelbite).
The deck also rises at the back giving you a semi-functional kicktail, but kinda makes it look ugly.
This affordable longboard features 70mm polyurethane wheels. This means it will give a smooth riding experience and go over cracks and pebbles like they ain't even there.
This board might be the best one in my list. However, I do recommend you replace the bearings for a smoother and faster ride. You can check out the longboard here on Amazon.com.
Quest Rorshack Longboard
This longboard is an affordable offering from Quest. It has a classic pintail shape with a width of 9inches at it's widest point. This narrow width makes it more suitable, especially if you have smaller feet.
The board itself is 34inches long and features a small functional kicktail. It's made from a combination of maple and bamboo. It is top mounted and has sanded wheel wells to avoid wheelbite. Though some heavier riders might get wheelbite if they aren't careful.
The wheels used are only 65mm tall so won't ride as smooth or roll as good as their 70mm counterparts, heavier riders would be most affected by this. All in all, the longboard is fairly decent and would work well for lighter riders and even kids. Heavier riders should look at a board like the SOLA top mount for something more accommodating.
Otherwise, heavier riders could simply use truck risers to reduce the risk of wheelbite. You can check out the longboard on Amazon.com here and find out more about the price.
Stoked ride shop BLANK cruiser – best budget board
Designed to be affordable, but to still have a great riding experience. This is THE budget board. For only $84, you get a high-quality cruiser with amazing components – it's nothing short of surprising that it's priced this way …
The Stoked blank cruiser comes with basic hard rock maple deck (made in California). It comes with 129mm, high-quality Paris TKP trucks, big 60mm Fireball Tinder wheels and Fireball Dragon bearings. All these components are fairly high-quality and would cost a lot more than this complete if bought seperately. So yeah, this is a very good deal. In fact, the components on this board are the best quality wise on this list …
However, this board wouldn't work as the best cruiser/longboard. It's more of a hybrid between a cruiser and skateboard. Its big 60mm wheels will handle rough surfaces and pebbles well, and it's trucks will be smooth turning too, but it won't be as comfortable as the wider and bigger boards on this list … It would be a good option if you want to learn some tricks but still be able cruise around too …
Altogether, if you're looking for quality on a budget, it's certainly the board to go with. Check it out here at the Stoked Ride Shop. **(thats an affiliate link, I'll make a small commission at no cost to you. You'll just see the coupon "downhill254" at checkout 🙂
SOLA Bamboo Longboard – best beginner board
I couldn't resist putting another SOLA longboard here cause I was impressed a lot by both. It's essentially the same as the other SOLA longboard up top but slightly different. This one is 38in long and 9.75 in wide, it is top-mounted like the other but features a dropdown.
What is a drop-down? A drop down is when the standing platform is lower than where the trucks are and basically the wood of the skateboard is shaped/bent down to make this happen.
A drop-down lowers the longboards center of gravity and makes it easier for you to skate, push and footbrake. This also makes the board super fun to skate and it's why it's one of my favorite shapes. It gives a really super fun feel when you're cruising and carving hard and it makes it feel like you're on the edge of traction.
But yeah, this longboard is also great for commuting and everyday riding. You should seriously consider it if that type of riding is important to you. You can check this longboard out here on Amazon.com.
ReDO San Diego Palms Longboard – best for kids
Coming in a classic pintail shape, the ReDO is an ode to the OG era of longboarding. Though the pintail offers no performance advantages, it is stylish and nice to look at. The longboard itself does have a pretty great design, and the gold/green color scheme is nice too.
The longboard comes with TKP trucks and 65mm tall, 78a wheels. This truck combo will be low to the ground, making pushing and cruising easy. And thanks to the big wheels wells on the pintail, wheelbite won't be much of an issue – unless you're a really heavy rider.
The ReDo is a decent budget longboard, only costing a hair over $50. It will fit most budgets with ease. However, it's narrow 8inch width will make it uncomfortable for older, bigger riders. It won't be easy to balance on and may even feel unstable for some riders. That said, it should work pretty decently for younger kids and riders with smaller feet. Find out more about it here on Amazon.com.
Volador 42inch Drop-through – best for heavier riders
Similar to the Enkeeo above, this drop-through longboard from Volador will be good for beginners too. Especially heavier riders. Its 8ply Hardrock maple construction makes it suited to carry riders. It can hold weights as heavy as 250lbs without any worry of breakage.
The Volador is 42inches and 9inches wide. It comes with RKP trucks and big 70mm wheels. It has drop-through mounting and large cutouts. All these features just mean it will be good for cruising and for a smooth ride.
The large cutouts ensure no wheelbite will happen no matter how deep you turn. And finally, the drop-through ensures for an easy ride. It lowers the height of the board making it easy to push and more stable when riding.
That said, this board is a bit expensive. One of the more expensive ones on my list, costing over $100. It won't fit most budgets. But if you're a heavy rider wanting a beginner board, it might be worth the investment. Find out more about the Volador here on Amazon.com.
Retrospec Zed – good option for old beginner riders
Maybe one of the prettiest longboards on my list. the Retrospec Zed is a cruiser made from 8plys of maple with a bamboo finish. It will be good for heavier riders, or people simply wanting a really solid cruiser. At 44inches, it's a bit too long for my tastes. It will be a bit heavy and unwieldy to skate with around. That said, it will have plenty of room.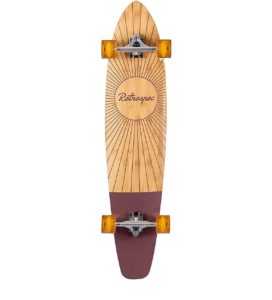 If you want a longboard that is wide and tall, this is the one to go for. Wide and tall boards are more comfortable to stand on and are better for long cruises as you have loads of room to relax and place your feet. They also turn slower and smoother than smaller boards and thusly feel a bit more stable.
The Retrospec comes with RKP trucks and big 70mm wheels. The deck has small wheel wells, but wheelbite won't be an issue. It comes with big risers which allow you to turn as deep as you want, without worry of bite. Finally, the wheels are harder at 85a than the average 78a. This will make them roll a tiny bit faster across the pavement. The ride will also be a bit more bumpy, but that will be mostly negligible.
The Retrospec comes in with a cost around $60, which is quite affordable. Find out more about it here on Amazon.com. If Volador isn't your thing, check out the similarly priced Merkapa drop-through below.
Magneto Longboards Bamboo drop-through – comfortable ride
One of the more expensive boards on my list, the Magneto is a board beginner riders love. It's simple, looks good, fits most budgets, and has decent components. What's not to like? It has the stylish bamboo finish that most riders find irresistible and it comes with slightly better components than the boards above.
What stands out the most about this deck is that flexes when you stand on it. This flexing allows it to have a super comfortable ride. This is because the flex acts as suspension and flexes whenever you go over a bump or anything rough, and really works to dampen those road vibrations.
That said, whilst the flex will be good cruising and carving at low speeds, it could give you wobbles and bounce you off your board at higher speeds. So I recommend you only use this board for speeds under 25mph. Finally, the deck is made from Bamboo and fiberglass. And whilst being flexible, it will be able to support riders up to 275lbs in weight.
Altogether, the Magneto isn't bad value for money. You get fairly decent components for an affordable price. Check it out here on Amazon.com.
Merkapa 41 Drop-through – good value for money
Coming in at 41inches in size. the Merkapa is an affordable drop through. It comes with an 8 ply maple construction, so it's good for heavier riders or someone looking for a sturdy, stiff and durable board. And it comes with a skate tool too, so you can adjust your board on the fly.
The Merkapa comes with big 70mm wheels and 7inch trucks. The trucks are knock-offs of Paris trucks. Because they're knock offs, they won't have the same construction as the real thing so they won't be as strong and the hangers will bend with time. That said, they will have the same geometry so will ride in a similar fashion.
Altogether, the Merkapa is a decent longboard. It has a great design and comes with decent components too. It would make a good board for a heavy beginner rider. Finally, it only costs about $70, so it doesn't break the bank much, or at all. Check it out here on Amazon.com.
So get out there and skate!
There is no shame in buying what you can afford. Skateboarding is for everyone and we should all be able to enjoy it. You shouldn't let money be a barrier to your happiness and you can get started out for such little cost.
I started out skating on a cheap board and I loved it, You can do the same.
That being said, I definitely recommend you upgrade the parts as you go along and save up for a better longboard in future.