Today's article is on the best mini cruisers. These are some of the funnest boards you can buy. Check it out below to find out which are the best.
There's also a buying to help you find out what makes a mini-cruiser great, check it out below.
Best mini cruiser longboards
Fireball artist series cruiser – great-quality complete
The artist series cruiser skateboard is part of an ongoing limited edition series by Fireball – only 100 of each version are made. It's a good option if you want to pick up something special and unique.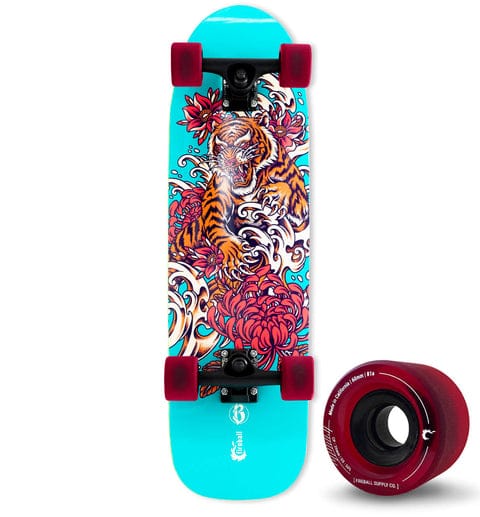 Check out my in-depth review of the Fireball cruiser here.
The Fireball cruiser comes in at 29.5inches in length and 8.5inches in width. It's pretty wide for a mini cruiser. It comes with high-quality components, featuring 129mm Paris tkp trucks and big Fireball 60mm Tinder wheels. The bearings are Fireball Dragon bearings which are pretty great too.
As a mini cruiser, the Fireball cruiser is pretty comfortable and beginner-friendly. This is because of how wide it is. The wideness just means it's going to be easier to balance on it and keep it going straight. It also means it will be comfortable to ride for longer periods. Finally, the wideness also makes it better for riders with bigger feet. 
It's easily the most beginner-friendly mini-cruiser on my list. Check it out here at the Fireball website.
Stoked ride shop cruiser – best budget option (good for tricks too)
If you want a cruiser you can do tricks on, this is a great option. It's also great if you're on a tight budget. It's high-quality but affordable.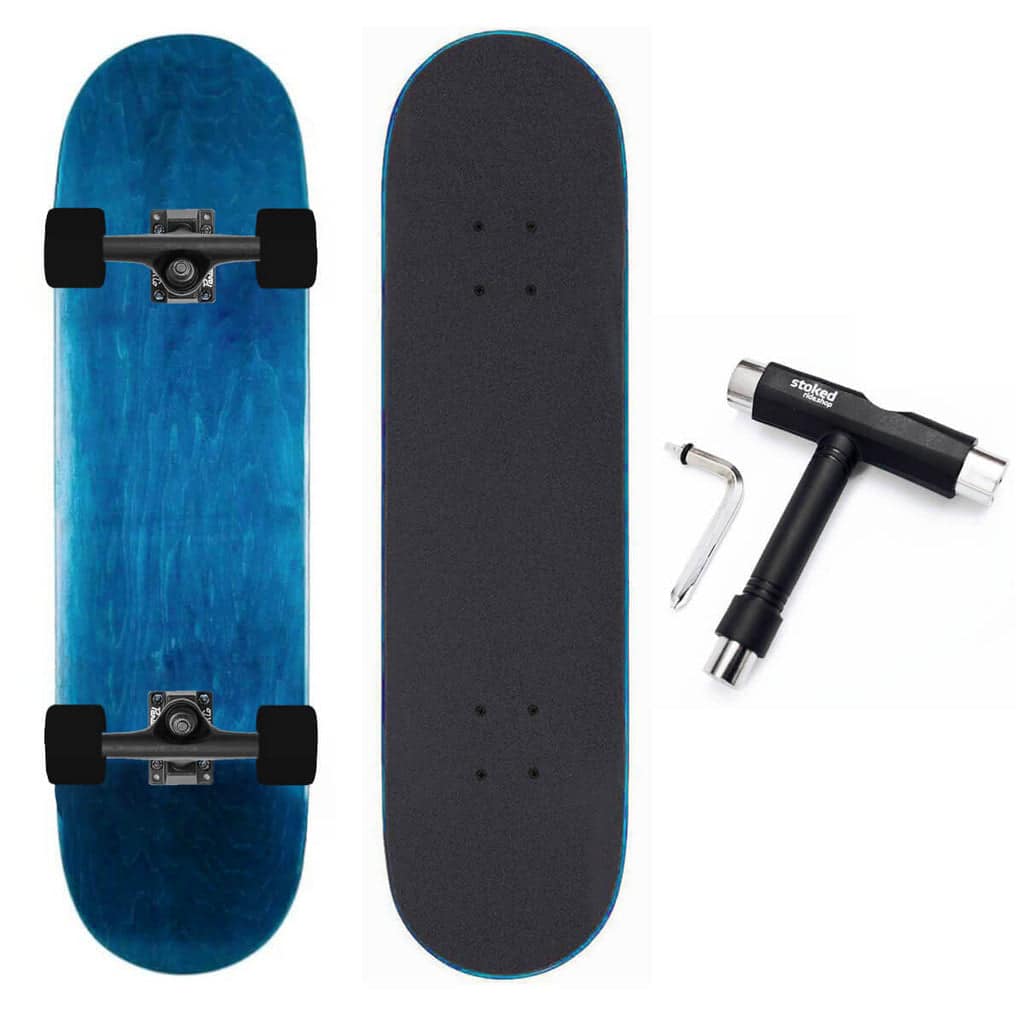 The Stoked ride shop cruiser comes in a length of 32inches. You can pick from various widths, starting from 7.75inches to 8.5inches. The 8inch width should be great for most riders. When it comes to components, the cruiser has similar ones to the Fireball cruiser above. It features high-quality Paris street trucks, 60mm tall Fireball wheels, and Dragon bearings. These are great components.
Because this is a traditional skateboard, it's gonna be great for learning tricks too. The wheels will make it a bit heavier, but it's the best choice if you want a go-between a cruiser and a proper skateboard.
The Stoked blank cruiser only goes for $90. It's this cheap because the deck is blank. Stoked doesn't have to pay artist royalties. They also don't have to add any distributor/supply chain margins as they source the deck themselves. This complete would be about $120 anywhere else.
Check it out here at the Stoked ride shop website.
Landyachtz Dinghy – high-quality option (the best mini cruiser)
The Landyachtz Dinghy is easily the most well-known cruiser on my list, and for good reason too. Not only does Landyachtz have great marketing, but the Dinghy rides great too.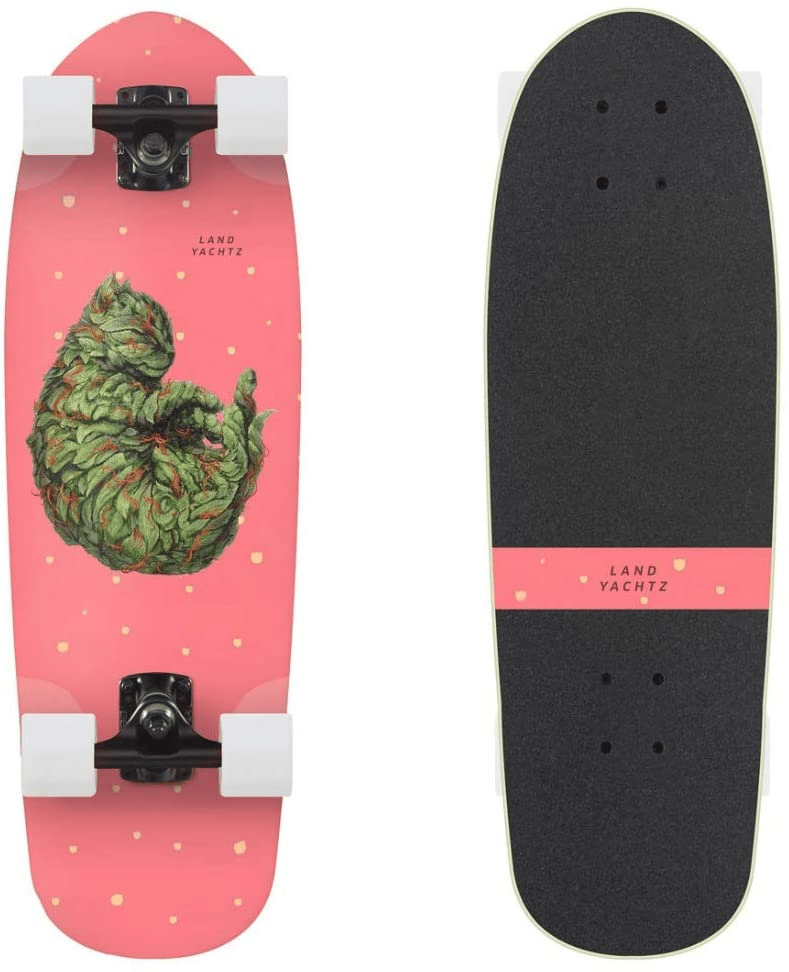 Check out my in-depth review of the Landyachtz Dinghy here.
The Dinghy comes in at 28.5inches in length and 8inches in width. However, there are a ton of different shapes, some varying sizes, and loads of different graphics you can choose from. It's easily the cruiser with the most diverse options on the market – there's something for everyone.
You can buy Dinghy here on the Landyachtz website. Use the code – "AroniSkate&Explore15" for 5% off.
When it comes to components, the Dinghy has high-quality Bear TKP trucks, Spaceball bearings, and Hawgs wheels.
The Dinghy is a really fun board. It picks up speed very quickly and is very reactive to your input. It feels playful underfoot and is just enjoyable to ride, it's one of the best cruisers I've ridden. However, because it is so reactive it's not the most beginner-friendly board (the Fireball board above is more friendly). But anyone can adjust to it with some time.
Check it out here on Amazon.com, or you can also check it out here at the Stoked ride shop website.
Magneto cruiser – budget option (but bad components)
The Magneto cruiser is another popular board. Mainly because it looks good and comes at a very attractive price. But you do get what you pay for.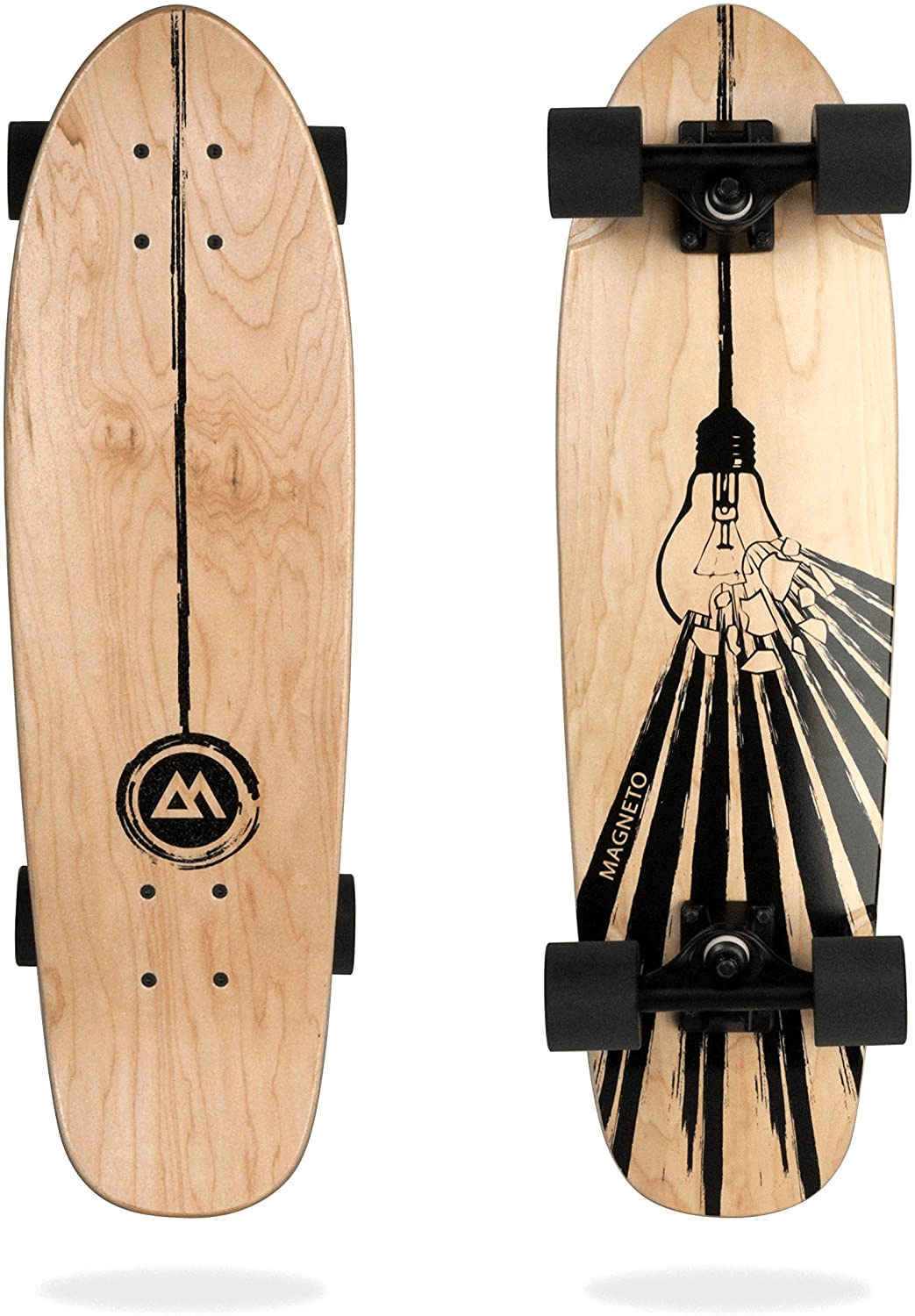 The Magneto cruiser comes in at 27.5 inches in length and 7.5inches in width. It's on the smaller side of cruisers on my list (and it might be best for kids/people with small feet). It comes with 63mm tall no brand wheels and knock-off Paris trucks and cheap bearings. The trucks are what breaks this complete.
Because the trucks are cheap, you're not going to have a very smooth lean and turn. The ride is going to feel twitchy. The bushings are also very soft, heavier riders will have to tighten the trucks to get the right feel of stiffness and control. 
For the price (about $80), the board isn't bad. But for real performance, go for any other high-quality board on this list. I do think this board will be ok for a kid just starting. A higher-quality board would be better but not everyone has the money to afford them.
Check out the Magneto cruiser here on Amazon.com.
White wave board – bad option (poor everything but great looks)
Another budget board, this one isn't so great. As popular as this one is, it doesn't necessarily mean it's good. It has great looks but falls flat on its face in terms of performance.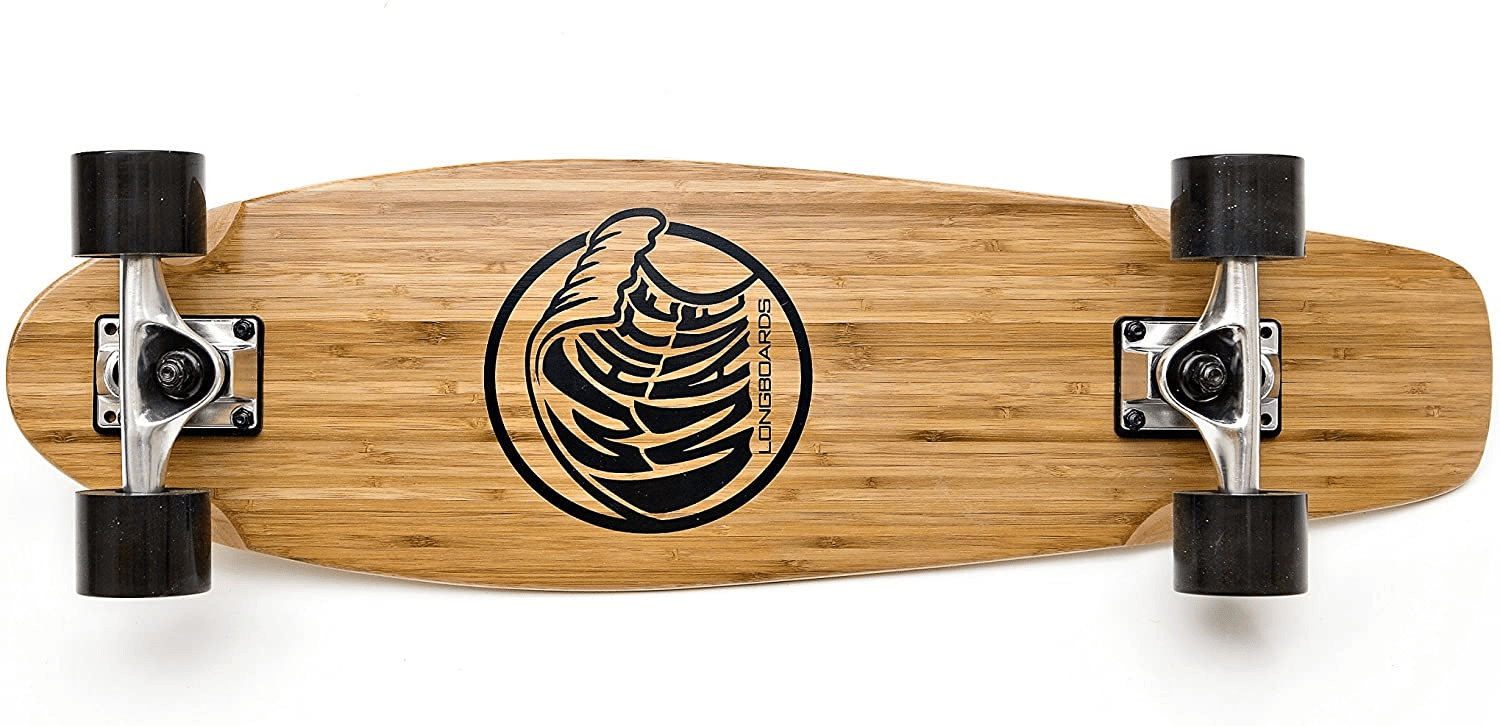 The White Wave cruiser comes in at 28inches in length and 8inches in width. Similar in size to the Dinghy. It comes with low-quality 5-inch aluminum trucks and big soft, 60mm wheels. 
The White Wave is a great shape and size for a cruiser. However, the components and the deck are quite low quality. The trucks are cheap – they have cheap bushings and pivots and aren't going to feel the nicest. The wheels aren't going to roll the best, and this board may not feel very fast.
The price and looks of this board are great. I think it's gonna be ok for a beginner (on a tight budget) and kids. It's not gonna ride the best, but you get what you pay for. Check out the White Wave board here on Amazon.com.
Arbor Pilsner – high-quality option
The Arbor Pilsner is a great looking board. It's been made with recycled material and has been created through eco-friendly processes. Arbor as a brand is big on finding low-impact, environmentally friendly ways to create longboards.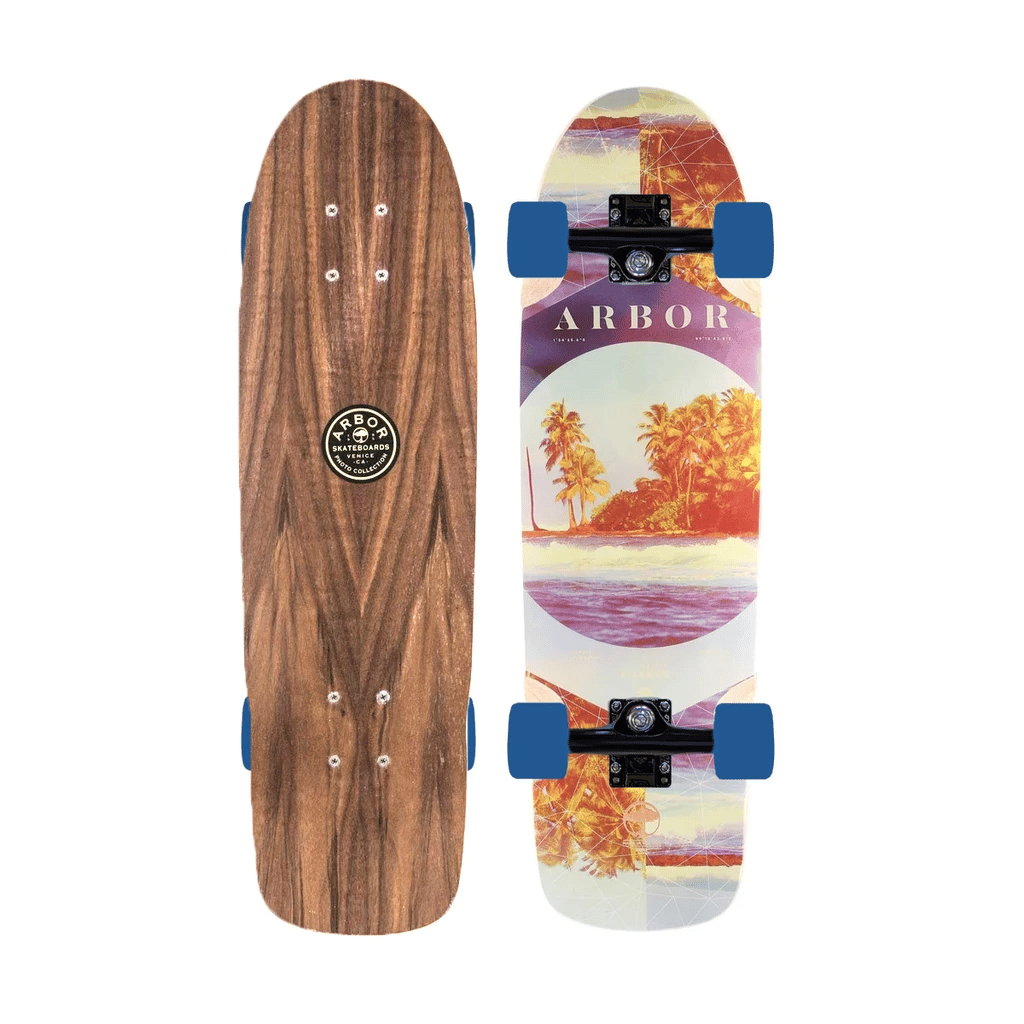 The Arbor Pilsner is eerily similar to the Stoked ride shop cruiser and Fireball cruiser. It comes in at 29.75inches in length and is 8.25inches wide. It comes with clear griptape on top and a beach vibe graphic on the bottom. The components used on this one are high-quality Paris trucks, Fireball Dragon bearings, and Fireball Tinder wheels.
In terms of the ride, the Pilsner is going to feel similar to the Fireball cruiser. It's not going to be as reactive as the Dinghy – it's going to be slower turning and will have a more forgiving feel. This is gonna make it feel more beginner-friendly. 
I think between the two boards (Fireball Cruiser and Pilsner) you have similar performance. You should just go with the one you vibe with the most. Check out the Arbor Pilsner here at the Stoked ride shop.
Penny Skateboards 22″ – popular but not that great
From the land down under, Penny skateboards are known all over the world. They're instantly recognizable wherever you go. However, they aren't as good as their reputation suggests.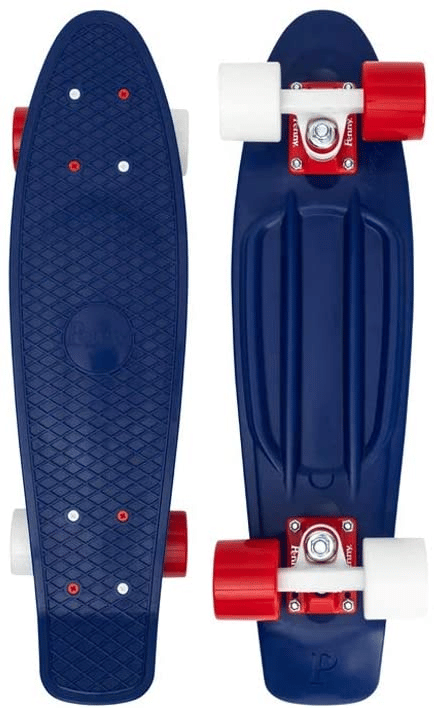 The Penny 22inches comes in at 22inches in length and 5.9inches in width. It comes with high-quality Penny aluminum trucks and 59mm tall Penny wheels. The bearings are made by Penny too.
What's special about the Penny is its deck. They use a proprietary plastic formula that leaves the deck both waterproof and flexible. You can ride in the rain without worrying about damaging the deck (RIP to your bearings though). Finally, it has no grip but a waffle pattern on top to
Whilst it is high-quality, the Penny is far too small to be comfortable or ergonomic. You simply don't have enough space to stand on top of it comfortably. You can ride it, yes, but you're going to feel awkward the entire time. The bigger Penny (27inch) Nickel is slightly better. 
But yeah, the Penny is going to be best for really small kids. Check it out here on Amazon.com.
Penny Nickel 27inch – popular but not great
The Penny Nickel is the big brother of the Nickel above. If you must buy a Penny board, this is the one I recommend. It is the slightly more comfortable option.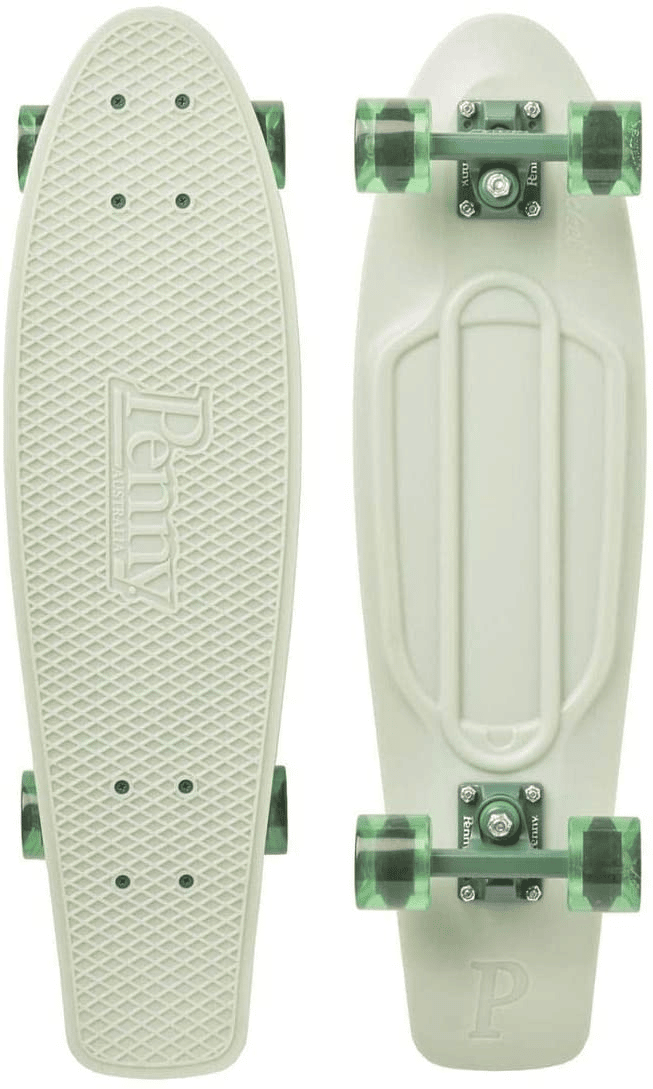 The Penny Nickel comes in at 27inches in length and 7.4inches in width. It comes with slightly wider trucks than the Penny above, but the same 59mm tall wheels. It features the same proprietary plastic deck with the waffle sole on top.
The Penny Nickel is still quite small for a mini cruiser. It's going to be tiny for most riders (might be ok for kids though). It is bigger than the 22inch Penny and it will be more comfortable to ride around on. I'd recommend it over the 22inch version for all riders. But for the same price, you can pick up the Arbor Pilsner or Landyachtz Dinghy. Check out the Penny Nickel here on Amazon.com.
How to pick a mini cruiser (buying guide)
What type of skating are mini cruisers best for?
Mini cruisers are best for those short skates. They're gonna be great for most skates under 3miles/5km or under 10minutes long. They're also gonna be fun for just messing around. Most of them are really maneuverable, fun, and just really enjoyable to skate.
Finally, they're a great option if you need to get over a short distance quickly. I personally love using mine to get around and mess with over short distances.
Mini cruisers are not good for …
If you have to skate long distances (further than 3miles/5km) or skate for a long time (longer than 10minutes), a mini cruiser isn't the best choice. 
Their small wheels make them unsuited for long-distance skating. They don't hold speed very well so you have to keep pushing and pushing to keep a reasonable speed up. This gets tiring quickly.
And because mini cruisers are so maneuverable and reactive to your input, you have to actively work on balancing to keep them going straight. Your ankles get tired from this very quickly and some people experience foot cramps too.
Not the best for "specific" types of skating
Finally, they're not gonna be the best for learning tricks, sliding, and doing more "specific" skateboard stuff. You can do them if you're experienced with these things already, but there will be a considerable learning curve if you've never done these before. Mini cruisers aren't good for learning these things – you're better off with sharper tools for each job.
What to look for in a mini cruiser longboard?
Not too small
You don't want your mini-cruiser to be too small. If it's too small you won't have enough room to stand comfortably and skate. You're going to be cramped and uncomfortable.
I would recommend average-sized adults to not go for any board that is smaller than about 28inches in length and 8inches in width. Kids will be ok with slightly smaller boards though.
If you have the chance to try out a board first, do so. You can decide whether it feels right for you or not.
High-quality components
High-quality components simply means high-quality trucks, wheels, and bearings. 
A skateboard with poor quality trucks, bearings, and wheels are not going to perform very well. The trucks aren't going to turn smoothly, the bearings are going to be slow and the wheels gummy and hard to push. You're going to have a poor riding experience.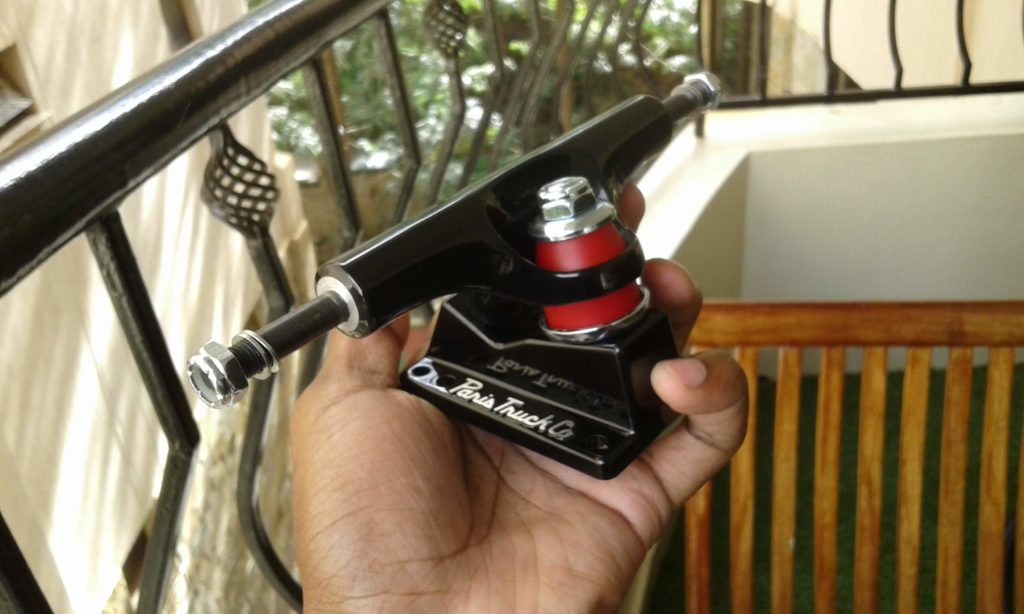 High-quality components mean a great riding experience out of the box. They're going to feel good underfoot and you're going to be able to skate with confidence. That said, a lot of beginners don't notice the difference. 
Big enough wheels
You're going to want wheels 60mm in diameter or bigger. Anything smaller will not be able to handle most urban environments.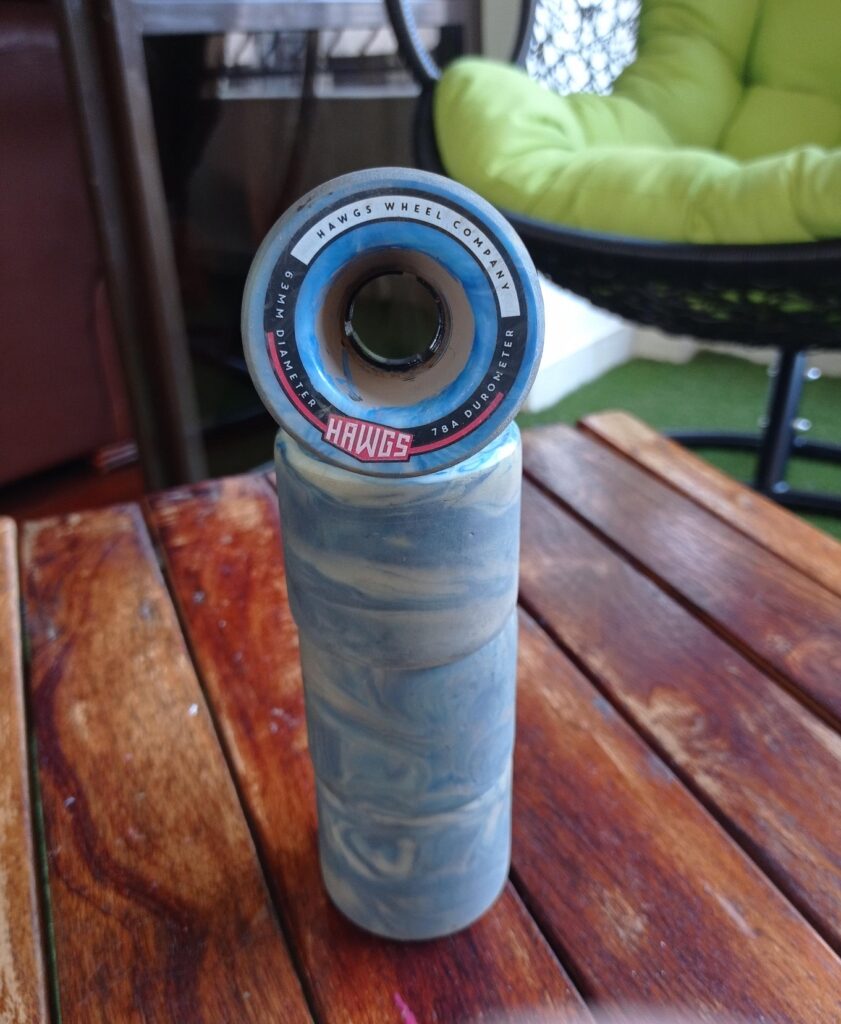 If your wheels are too small, they won't provide a very smooth ride. Rocks, cracks, and small pebbles will be able to stop them. In the unpredictable urban environment, you should get equipment that can handle all situations with ease.
How much should a mini cruiser cost?
$50-100 low quality
90% of products under $100 are going to be low-quality. Some of them might have a decent deck, but most are going to be cheaply made. They might break with use.
Most components are going to be low-quality too. You'll find no-name trucks, wheels and bearings under completes in this price range.
The decks are gonna be the most worthwhile parts in this price range. But the low-quality components make these completes not worth it. 
Not everyone can afford more than this much though. If you can't spend more, then the completes in this range are gonna be better than nothing. But you can always look towards second-hand boards for quality on a budget.
$100-150 good/high quality
You are getting your money's worth in this price range. The completes in this range are gonna have well-made decks with high-quality components. 
This price range accommodates most big, high-quality brands. 
You'll get mini cruisers that will ride great out of the box. You aren't going to need to tune any parts or replace anything. You can just ride and enjoy your mini cruiser as much as possible the second you get it.
$150+ high-quality/overpriced
More often than not, boards priced over $150 are going to be overpriced. You should only pay this much if you have a specific board you like, a design in mind or the board is unique (or special somehow). You aren't going to be seeing any performance improvement. 
Are mini cruiser longboards good for kids?
Yes, mini cruisers are excellent boards for kids. Kids have trouble handling bigger boards – they have to stand with their feet very wide, and shift them to turn left or right. Mini cruisers are just the right size for them. 
Mini cruisers' smaller width allow most kids to have their toes and heels on the edges of the board. This gives them the best control. They can turn left or right and control the boards with ease. Finally, they can stand on top of both trucks as the board isn't too long – this aids in control too.
Are mini cruisers good for commuting?
Mini cruisers are good for commuting over short distances and shorter rides. They're great if you have to get anywhere less than 3miles/10minutes away. You'd rather use a proper commuter longboard if you have to get anywhere further away.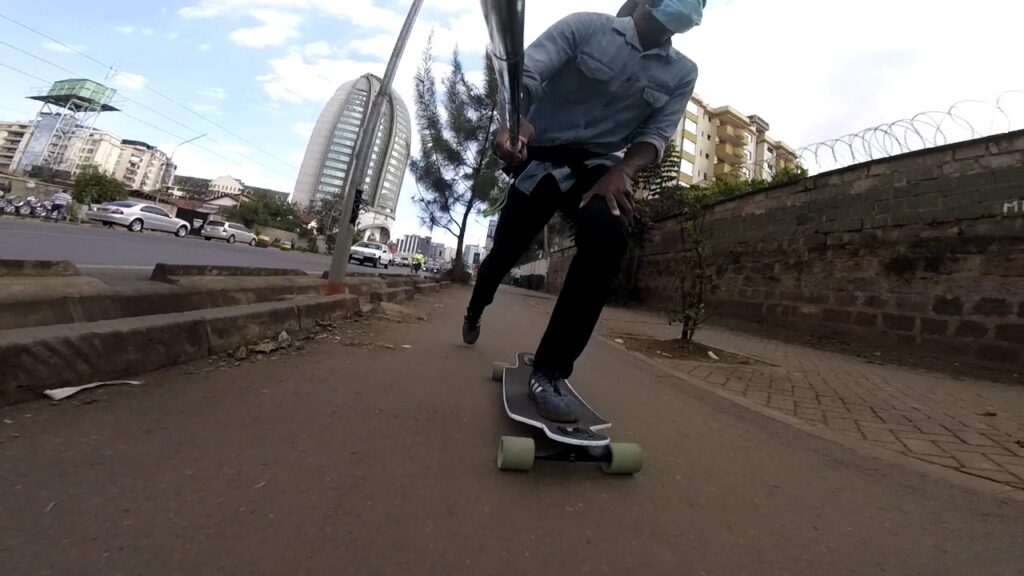 Mini cruisers have small wheels about 60mm in size. These wheels accelerate quickly but don't coast for very long. You have to push continuously to keep up their speed – this is quite tiring.
Finally, mini cruisers are very reactive to your input. You have to actively work to keep them going in a straight line. This tires out your legs and ankles very quickly – it gets tiring after about 10minutes. 
In summary, mini cruisers are great for commuting short distances. Proper commuter boards are best for longer rides.
Are mini cruisers good for complete beginners?
Mini cruisers are ok for complete beginners. They do have a steeper learning curve though. Because they're very reactive to a rider's input, they often feel too twitchy for some beginners.
Not ideal for people trying to get their balance on a skateboard. 
But if you're up for the challenge, mini cruisers are ok to learn on. A lot of people get them as their first boards.
Best mini cruiser for beginners?
If you can find a board that is wide and long enough and that has high-quality components, then you've got one that is a good enough for a beginner.
However, if you'd want the easiest time learning. I recommend a bigger cruiser. Check out my list of the best cruiser longboards here.
Are mini cruisers good for kids?
Yes. Because they are small, they are more appropriate in size for kids. Kids (and smaller riders generally speaking) often struggle to handle bigger boards. Cruisers put the wheels directly under the balls of the kid's feet and allow them to stand over both trucks in a comfortable shoulder-width stance. This allows for a lot of control and comfortability when riding.
Can you Ollie on a mini cruiser?
Yes, you can. Most of them have kicktails that are usable. If you know how to ollie and do tricks on actual skateboards, it's easy enough to do them on a mini cruiser. There is a significant learning curve if you want to learn to ollie on a cruiser. I recommend a proper skateboard for that instead.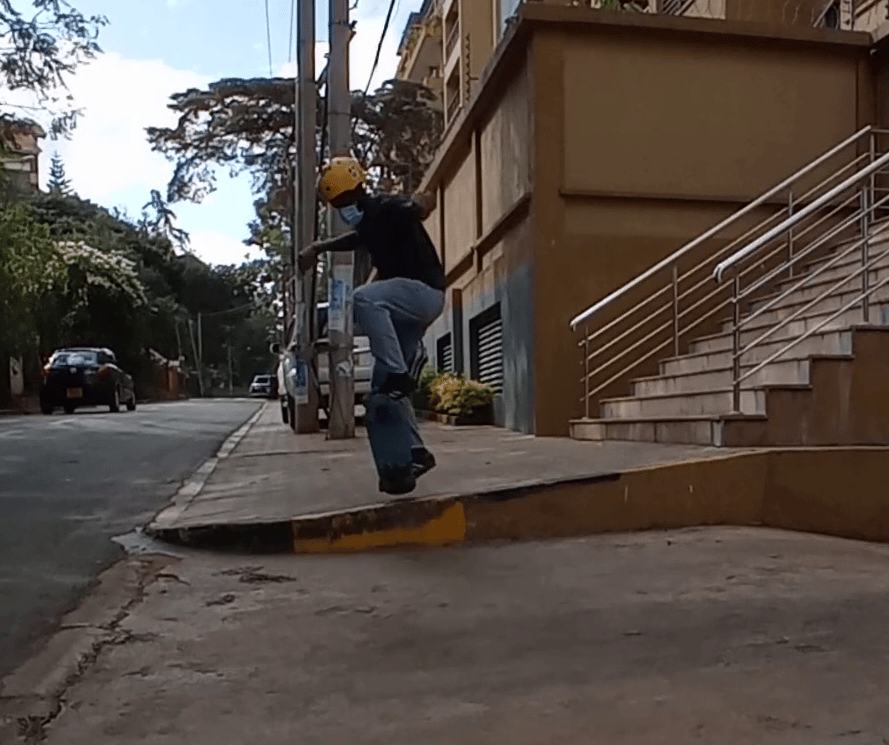 Are mini cruisers good for learning to slide/dance/tricks?
Not really. You can slide and do tricks on them if you already know how to, but they are quite difficult to use to learn to do these things. They are very reactive to your input so you have a lot less room for error. Not ideal learning conditions for complete beginners. 
I recommend picking up a proper skateboard for tricks and a sliding setup for learning to slide. Get the right tools for the job is usually best.
What is the best mini cruiser skateboard?
Best is subjective – there is no best mini cruiser longboard. Some are very good but none can be the best. If you find a high-quality board with great components and design you like, then count yourself lucky – you've found the best board for you.
What do you think? Which board are you gonna pick? 
If you're still on the fence, then the Landyachtz Dinghy is one of the best options. It is comfortable and will work well for most people. The Magneto cruiser is a good option if you're on a tight budget.
Big thanks to all my patrons for the support – Jed, SuperbadJuju, Mowgii, Bryan, Andrew, Jan, Jay, Owen, Samil, Daniel, Alex, Kasajja, Leah, Helge, DeLacoste, and Justin. I couldn't write articles like this without you guys' support.