This week's article will be on the best European longboard brands. I've looked at companies, brands, and people that make high-quality longboard gear. After reading it, you'll know where to look for your next longboard.
By no means is this list exhaustive! There are brands I have unfortunately missed out on. Also, it naturally leans towards brands focused on downhill skateboarding – because that's what I do and know about. I have included some freestyle, dance and "all-around" brands so all skaters are catered for. Luge riders too!
Check out my "best of the best" article series:
Best Longboard brands UK
I was fortunate enough to do my undergraduate degree at Leeds Uni – in the UK. Whilst studying, I picked up longboarding as a hobby. As I got more into the scene, I naturally started meeting and interacting with people behind brands, companies, groups, etc. I got to learn more about them, try out their products and even learn about the processes behind making them.
Below is a shortlist of brands and companies that I interacted with. I can verify firsthand the quality of their products. If you get a board from them, you won't regret it. They're also really good people too haha. Check them out.
Slide Perfect, Street Sledge & Gravity House
Known for: Making affordable longboard wheels that last a long time. Cater for downhill, dancing, freeriders, and cruisers.
Owned and operated by the same dudes who are behind the Gravity House shop and Street Sledge. These guys are down to earth, friendly, and are approachable. They produce high-quality wheels that are priced at a fraction of their competitor's retail price.
Their wheels are also known for being slidey, consistent and are usually the best choice for beginner skaters. I recently reviewed a set of their Fluxx wheels too.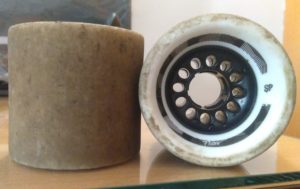 Whether you're a longboard dancer, a freerider or someone looking to learn how to slide, they have a wheel in their line up for you.
Check out their website here.
Also, check out the Gravity House store/webpage if you're looking to get bushings, trucks, a new board or even a bike, they can sort you out.
Finally, these dudes are also behind Street Sledge. Street sledges are affordable "Luge like" sleds for kids. I think it's a great concept. Kids get to enjoy gravity sports and have an appropriate product made just for them. They can use it at the park, the local hill and get a real feel for what luge and gravity sports are like. Adults can use it too which is pretty cool. Bodhi (one of the owners), has even taken them up to 50mph! Pretty great for a kid's toy.
Sp8boards
Known for: Making high-quality custom longboards and luges. 
Every board is hand-built by Andy Speight in his basement in Leeds, UK. I had the fortune of meeting him back when I was studying at Leeds Uni. Andy is a great guy and an awesome board maker. He builds every board by hand, cutting them himself, and hand painting every design.
Andy also started building luges and is getting some recognition for that too. If you're looking for an affordable Luge, there's no better place to look for one than at Sp8boards.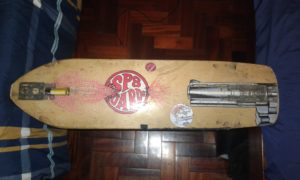 He does a lot of work to keep the stoke going in the Leeds skate community, bringing boards and Luges for everyone to use at most sessions. It's also no surprise that most Leeds based longboarders ride his products.
Hit him up on Facebook, or his website here if you want a custom skateboard (or luge) tailored to your needs.
BoardLogic
Known for: High-quality, custom made longboards.
These guys push the limits with their skateboards – using creative construction, materials, composites and such to produce them. Honestly, pretty exciting stuff. That said their stuff doesn't come cheap – but it is fair when you consider the work they've put into it. Check out their line up here.
Their decks are under the feet of some of the best downhill skaters in the UK – I think that speaks a lot. So if you want to be like the best, you know what you need to get.
They also do custom shapes, so you can get something that fits your exact preferences from them.
BTR Leathers
Known for: making high-quality, but affordable leather suits.
Every EU rider and their mother is wearing a BTR suit. They are affordable, high-quality, fit well and look great. In terms of competition, they have almost none in the EU.
All types of riders wear their suits. From downhill skateboards, gravity bikers, lugers, etc. They even have riders all over the world choosing to buy them. Some notable non-EU riders are Davis Lanham, Dane Hanna, Morgan Owens, etc.
Find out more about them here.
Vandem Skate shop
More than just a simple skate shop, Vandem distributes and sells high-quality gear around the UK. I've personally bought a lot of stuff from them; including wheels, slide gloves, skateboard decks, griptape, etc. They stock high-quality equipment from around the world too, and you can get really good foreign brands.
Their website also has a bunch of how-to-guides that are quite useful. They cover most skate related things.
Essentially, they are a one-stop-shop for everything you need to get started skating; whether that's information or gear.
They also sponsor some events here and there when they got cash, so that's nice too.
It's owned by the same guys who own, operate, and design gear for the brands below:
Lush Longboards
Known for: Making high-quality longboards for all disciplines.
Have an extensive lineup of everything. From decks for downhill to cruising and dancing. They use high-quality materials and constructions in their decks without being too expensive … most of the time.
I've so far owned about 3 decks from them and I can tell you, they are worth every penny.
Cult Wheels
Known for: High-quality, game-changing, longboard wheels.
Often overshadowed by other brands. Cult wheels are a severely underrated wheel brand.
I've used a bunch of their wheels over the years and never had a bad experience with them. They roll fast, slide smooth and last a long time. Not much to complain about.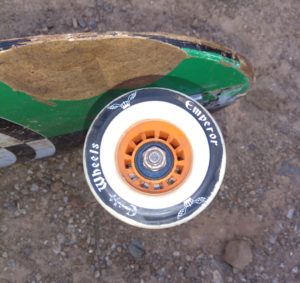 Sabre Trucks
Known for: High-quality trucks and Pete Connolly.
Pete Connolly set the downhill speed world record on their trucks and I think that says everything you need to know. Still, if that's not enough, Dominic Schenk regularly does 50mph+ stand up slides on them – if that doesn't convince you, I don't know what will.
Still, these high-quality trucks don't break the bank. They are friendly on your pocket and work well.
That said, their cast trucks aren't the best IMO. Some skaters like them, but I think they are too restrictive.
If you do choose to get a truck from them, pick the forged precision options. Those trucks are incredible … and also cheap for the quality you get.
Optional Death Stare Longboards
Known for: Making bespoke longboards with hand-painted graphics
This brand started because the owner "lost two longboards in one year due to being excessively drunk so my logic told me if I spent some time and crafted my own deck then I was certain to care for it."
If that doesn't crack you up and make you want to find out more about this brand, then I don't know what will.
I'm not super familiar with them, but a bunch of Scottish homies ride their decks and love them. I think they are worth checking out.
Read more about them here on Thrill Magazine.
Newton's Shred Longboard Shop
Known for: Stocking all sorts of brands and sponsoring a handful of events
One of the most beloved shops by UK longboarders. Newtons is a skater owned shop that has everything you need. From downhill wheels, to surf skates, to dance decks. They got it all.  And they can also order stuff on request too.
Though a bit pricey, they are worth supporting. They in turn have sponsored a handful of UK events and just generally support the scene. It's a great idea to support shops that care about the community.
Check out their shop here.
Best Swiss longboard brands:
Fibretec
Known for: High-quality, hand made longboards. 
These guys make boards for downhill and slalom. They also have a bunch of cruisers, longboards, and skateboards in their line up too. You can tell a lot of hard work goes into their skateboards and it's why they are the choice for so many different riders around the world.
They've also been around for a long time if I'm not mistaken. Any brand that has been around this long definitely knows what they're doing.
I've always wanted to own a Fibretec skateboard, and probably will buy one, one day.
Check them out here.
Rocket Longboards
Known for: High-quality longboard decks with crazy concave. Also, Dominic Shenk.
These guys have amassed a cult following over the last few years for their skateboards. Honestly, people who like their skateboards, REALLY like them.
And you can see why. These guys have high-quality stuff. Their boards stand out from others and you can see that a lot of love and hard work has gone into them.
Finally, they have some of the craziest downhill media rn. Their team riders are all incredibly talented skaters. Check out one of their insane videos below.
They are also really great guys. They put me in a draw to win a setup worth 800Euros last year. I didn't win, but it was still very cool of them to do.
Find out more about them here on their website.
TSG – Technical Safety gear
Known: Their high-quality, downhill-specific safety gear.
These guys have every piece of safety equipment you'd need to get into downhill skateboarding. With downhill-specific gear, like the TSG DHP knee pads, the TSG Pass, etc.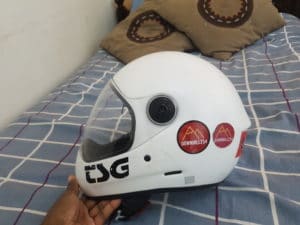 Other safety brands have very few downhill-specific bits of safety equipment. These guys have all that plus knee pads, slide gloves, among other things. Everything you need (sans a back protector).
They've worked with some of the best skaters in the business to make sure this gear is right for us. This includes Kevin Reimer, Martin Siegrist, etc. Their stuff is high-quality and worth every cent.
Check out the TSG website here.
9.81 Longboards
Known for: Making downhill skateboards, particularly for racing.
It's all in the name. 9.81 (the value for acceleration due gravity), is a Swiss-based brand that makes ONLY downhill skateboards.
They sponsor a bunch of EU riders – the 2019 EU champion Yanis Markarian is one of their team riders.
And I think that kind of dedication is cool – you like downhill skating so you only make downhill skateboards. No time wasting on other types of boards or focusing on things you don't care about. That kind of focus is sure to yield some incredible results.
Check them out here.
Bam Bam Skate
Known for: Making downhill skateboarding accessories.
You'll often see their equipment on the hands, feet, and boards of the best riders in the world. Notably, the 2019 World Champion Harry Clarke uses their stuff. These guys make high-quality gear and it shows by their clientele.
If you're looking for quality gloves, slide pucks or brake soles, you can't go wrong with their products. They also have Vegan-friendly products available too, which is great too.
Check out the Bam Bam website here.
Cheetah Skate Products
Known for: High-quality downhill skateboarding accessories.
I think there is something in the water in Switzerland – too many great brands!
These guys make gloves, pucks, and bearings. They used to make wheels too, but I think that fell through for them.
Still, the products they do have are high-quality and worth checking out. I would love to get my hands on the Nick Broms Pro Gloves hehe,
Check out Cheetah Skate Products here,
Best Longboard brands EU
Admittedly, I don't know or have much experience with the following brands. It's also hard to find information as it is often not in English. However, I have spoken to the general EU longboard community and a lot of them have had positive experiences with the following brands. I trust these riders and their opinion on what high-quality gear is. So in part, I can guarantee their reliability and quality of the following brands.
Check out the FB comment thread here if you want to see which riders suggested which brands.
Austrian Longboards brands:
Icone Longboards:
Known for: Decks and their great team EU riders.
These guys have been around since 2001. They sell a bunch of longboards, from cruisers to dancers, to boards built for going fast. You can find something that fits your style from their line up. Check out their line up here.
German Longboard brands:
Gog Trucks
Known for: Their high-quality precision trucks and THE SHARK.
Short for Gang of Germany (not an extremist group), these guys are one of the older truck companies. Their trucks were once widely used across Europe and still regarded as some of the best today.
They still hold their own today with team riders like Sebastian Hertler winning races and taking names on their trucks.
Their trucks are used for slalom, freeriding, racing, etc.
They've got some updates for their trucks coming up in the next few years (or months), so that's something to look forward too. I know I'm excited about whatever they are going to put out.
Find out more about them on their Instagram here.
Bastl Boards
Known for: Making pretty longboard decks and spreading good vibes.
This is a board making brand based in Germany. They make decks for all types of skating; dancing, freestyle, cruising, street skating, downhill, etc. There is something for everyone. They also have made fingerboards in the past too! And I think that is very cool.
With the explosion of longboard dancing across Europe and Germany, these guys have pivoted and seem to serve that type of skating more. They feature more dancing decks in their line up, than any other discipline. I think dancers and freestylers are served well in their line up.
I've ridden a classic version of the Haka – which was built for all-around skating. It rode great and felt good underfoot. If they ever make a modern version of this deck, I think it would be a good do "everything" (sans freestyle) board.
They also work as a skate and coffee shop, so they can serve all your skateboarding and caffeine needs too.
Check out the Bastl website here.
Risch Design
Known for: Making badass helmets.
These guys make some of the best looking helmets in the scene. Their products are some of the most sought after.
Risch also makes aero helmets. These are primarily designed to help you skate faster. Whilst there is debate about whether aero helmets help you aerodynamically – there's is no doubt that they make you look a lot more stylish.
Check out their Instagram here. I recommend checking it out and seeing some of their beautiful creations
Olsen & Hekmati
Known for: Making pretty looking skateboards. WALNUT AESTHETIC.
This company is operated by two guys. With one of the guy's brothers being a team rider and a pretty great downhill skateboarder too – one of the best in Europe. This allows them to produce high-quality decks.
They also produce a bunch of different gear apart from decks. They have their own wheels, hats and even shoes in their line up!
All in all, they are a pretty cool brand, and they might fit just right with some people's aesthetics. Check out Olsen Hekmati here.
Other great German longboard brands:
There are too many German brands to write about, so I've listed the rest here.
Pavel
Quinn Boards
Area longboards (AOB)
Root Longboards
Pogo
Wefunk
Hackbrett Longboards
Graveyard Longboards
Italian Longboards brands:
Victorwood Longboards
Known for: Making downhill skateboards and their crazy team riders.
Another brand that makes handcrafted skateboards.
These guys hold nothing back and always try to make the best skateboard they can, regardless of cost. And honestly, their skateboards look incredible – as expected of anything Italian. Maybe it's because of the Italian spirit haha, I'm not sure.
If you want a skateboard you'll enjoy looking at as much as you will enjoy skating. I think it will be worth checking out their line up.
Take a look at the Victorwood line up here.
Zero 31
Known for: Being a great Italian longboard brand.
Yo, what is it with Italian brands and producing gorgeous skateboards?
You can pick all sorts of shapes from their line up. From pintails to drop throughs, to cruisers, etc.
If you want something stylish, their half wood, half carbon Doge DH board is particularly breathtaking.
Catch Rachel Bruskoff (Bagels) skating their deck in the video below.
Zero 31 also makes surfboards, balance boards, and even snowboards too!
Check out their stuff here.
Sk8bites
Known for: Being a rad skate shop and making hungry every time I see their name.
If you're looking to get started skating, this is a good board shop to get all your gear from. They ship to most of the "main European countries", so their range isn't limited to Italy only.
They stock all sorts of brands from around the world too – you can sample wheels from Brazil and Canada. Finally, they also have moderate pricing which is pretty great too.
Check out the Sk8bites website here.
Other great Italian brands:
Owl longboards
Algal Boards
Spanish longboards brands:
Long Island Longboards
Known for: Great affordable skateboards. All-round team. Sponsoring some of the best in Spain. 
These guys have all-round skateboards in their line up. Whether you're looking for something to cruise or go fast on, they got it. And they have the team to back it up, their riders are some of the best in Europe.
They ship throughout the EU and have some affordable equipment. Worth checking out if you want to sample a new deck or are looking for something different.
Check out the Long Island line up here.
Goat Longboards
Known for: High-quality longboards, Oscar 666.
Goat has a wide selection of longboards to choose from. Whether it is downhill, freestyle, dance, cruising, etc. You can find something for what you wanna do.
Apart from being well known in Spain, they are also surprisingly popular in Asia too -primarily South Korea and Taiwan.
They also sell a buttboard that they designed together with Mikel Echegaray (one of the best Luge riders ever). That is a good choice if you're looking for an affordable way to get into the sport (luge).
Check out Goat longboards here.
Atopic Supplies
Known for: High-quality downhill skate accessories.
Another brand used and recommended by the best. These guys make high-quality downhill skate accessories. They primarily make gloves, foot brake soles, precision washers, and slide pucks.
Notable riders are Emily Pross, Josh Evans, Aleix Gallimo, etc.
Check out their Instagram here.
Freebrake
Known: High-quality, durable brake soles
These guys are known for one thing and one thing only – their brake soles.
They seem to know what their doing, as 80% of riders on the skate scene who do use brake soles, use their products. It's also easy to see why they last forever and grip a ton! I've had the same sole on my front foot since last year – which is mad!
They are also really affordable too, at only 20Euros for a pair of soles. In my opinion, a must have product to increase the durability of your shoe.
Check them out here on Instagram.
Urethane Burners
Known for: Durable slide pucks and brake soles. Make great skate media too
I remember seeing a shit ton of media from these guys back in 2017 all the way through to 2018. A crazy video out weekly. With their talented team of riders, it's easy for them to make stuff like that happen.
If you're looking to get stoked (and stay stoked), check out their extensive line-up of videos here on youtube.
Finally, they make high-quality products too. If you're looking for affordable pucks, brake soles, or puck risers, it's worth checking them out.
Find their website here.
Other great Spanish Skate brands:
Kaina Skate Shop
North Point Shop
Best Polish Longboards brands:
Alternative Longboards, Core Longboards, and Black Ballet
Known for: High-quality skateboards with pretty cool designs.
Owned by Land-mfg, these guys make some cool products. They use some of the best manufacturing and materials to make their decks. This results in really impressive skateboards that come in crazy shapes with unique graphics. Great stuff really.
That said, these products tend to be quite expensive. Fortunately, these guys also have a separate brand to cater to beginners and those on a budget – Core Longboards. This brand uses more affordable manufacturing techniques and products to produce reasonably priced products.
Finally, they created Black Ballet –  a brand that will focus on city boards.
I like the thinking by the guys at Land-mfg. Wishing them success and stoked to see what becomes of them in the future (they may set an example for other brands to follow).
Expensive boards are usually out of budget for a lot of skaters – especially beginners. Affordable completes allows beginners to dip their toes into the sport without breaking the bank. In my opinion, every brand should have affordable beginner completes – it also allows the brand to remain competitive against cheaper Chinese brands.
Check out Alternative here and the other Land-mfg brands too.
Luca Longboards
Known for: High-quality, lightweight longboards, with crazy construction.
These guys make great skateboards using creative construction. This results in durable longboards that can take a beating. The downside though is that they aren't cheap.
A lot of people like the owner for just being an awesome human being – which is often a good indicator of the quality of the brand.
Finally, they offer one of the craziest complete downhill skateboards I've seen. For the price of 525 Euros, you are getting high-quality precision trucks, a high-quality deck, race-winning wheels, and the best accessories on the market. For the price you pay, you get insane value. If I was in the market for a completely fresh DH setup I would be looking at this.
If you're looking for a high-quality dancer, downhill deck or something for freestyle, it's worth checking Luca Longboards out. Take a look at their website here.
Exile MFG & Antidote Longboards
Known for: Long distance pushing oriented products and their new Hydra trucks!
Exile MFG started back in 2015. They mostly focus on LDP equipment. Exile is the sister brand to Antidote Longboards. Antidote longboards build the decks, and Exile does the other stuff.
Exile has also recently come out with the HYDRA trucks. These are getting a lot of attention across the community, with a lot of skaters saying they're the most stable, smooth turning, etc. Which is pretty exciting.
It's a shame the 2020 race season has been postponed – because of COVID-19. But the race season results will tell the real story.
Exile primarily built the Hydra for both downhill racing and long-distance pushing. If you're looking for a new truck to try out, they are worth looking at. The 120 to 140mm adjustability is quite good.
Check out both the Exile and Antidote Longboards products here.
French Longboard brands:
Majutsu longboards
Known for: Selling skateboards and stuff. Being French.
Majutsu is a Paris based brand that primarily makes longboards for dancing and freestyle. They have a line up of boards that are both affordable and expensive – depending on what you pick of course.
It's not clear, but I believe they hand-make every one of their boards.
These guys sponsor a bunch of great French longboard dancers. Include lgbd_smoothoperator.
Check out their online store here.
DTC wheels
Known for: Great wheels with the aluminum cores.
These guys blew me away with their Aluminum wheel design. I thought it was very cool when I first saw it – it made me want to learn more about the wheel, the concept behind them, and even the brand.
They've been around since 2005, pushing the limits ever since. Need proof? Just take a look at their Ray Setae wheel. The goal with this wheel was to push the limits of grip and traction. As such, it had 4 lips, two on the inside and the normal 2 on the outside. It also featured a large contact patch and an aluminum core for support and stiffness.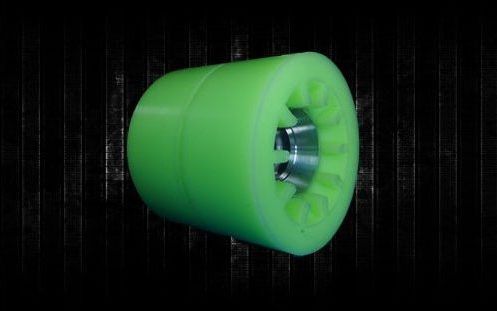 Unfortunately, I don't know what happened, but we didn't see much of this wheel on the race circuit – it did get on a few podiums though, but didn't gain the popularity I thought it would. That said, I do love the energy behind its creation. It's this willingness to try something different that often leads to amazing things. I'd love to skate this wheel if I could get my hands on it.
I don't think DTC is very active anymore, but we'll see. I have a strong feeling they'll be back on the scene sooner or later.
Blackkross Skate Shop
Known for: Designing all sorts of boards and selling gear too.
These guys offer all sorts of boards. They've been in the business since 2006 and have been manufacturing and shaping boards since.
They don't just sell their own boards, they have stuff stocked from other brands too. You'll find most European brands stocked here. They also have electric skateboard accessories too.
Blackkross is a one-stop-shop for all your skate needs. Check out their website here.
Wigga skateboards
Known for: Making sick handmade downhill skateboards
These guys make all sorts of boards but are known for their high-quality downhill stuff.
They also make accessories and have concave modifying shapes on sale. You can pick wheels, hardware, and griptape from their website too.
"HEADED BY A BUNCH OF WIGGAS OF THE WIGGAGANG WICH MANUFACTURES SKATEBOARDS, DRINK BEERS AND SLAPS BIG BUTTS SINCE 2013."
It's clear these guys are passionate about skating .. and beer haha. Check out their website here.
Alkemist Longboards
Known for: Alchemy and such. They make beautiful skateboards too.
These guys primarily make skateboards for downhill skating. They stand out because of how pretty they are. Honestly, I would feel guilty skating these works of art down a hill. They are worth taking a look at.
Finally, for the quality you get these boards are surprisingly affordable. For example, their Ghost Knight longboard is only 160Euros, but is made with sublimated foil, triaxial fiberglass, and has a birch-ash core. Some companies would sell such a deck for 230+ Euros.
I think I know where I'm going to buy my next longboard. Check them out here on their website.
Thing Wheels
Known for: Making great wheels
These guys are a small brand based in France focusing on DH and freeride wheels. They've been around since 2009 – which is quite an impressive thing given the nature of our sport and the way it has a tendency to eat small brands.
Thing wheels manufacture all their products entirety in France – if you're looking to support guys who keep the flow of money within your countries economy, these are the guys to buy stuff from. Brands like this help keep others employed, and just generally help the local economy grow. They're important!
Their products look really good too. Really hope to test a couple of their wheels in the future.
Check out their website here.
Other great French brands:
Arkaic Skateboards
Fulkit skateboards
Dutch Longboards brands:
Timber longboards
Known for: Making high-quality, but affordable longboards.
Surprisingly, their skateboards aren't all that expensive. This is great if you're looking for a beginner dancer but are on a budget –  most high-quality options tend to be quite expensive so this is nice to see.
They also stock trucks, wheels, and griptape; everything you need to setup up a complete dancer.
Check out Timber skateboards here.
Sickboards
Known for: Being the most popular EU skate shop. Also for hiring James Kelly.
These guys hardly need any introduction. If you're an EU rider, you've probably bought from them. They stock everything from local to foreign brands – even the more obscure stuff. If it's longboard related, they probably have it in stock.
However, some riders don't like them. Some say they have shady business practices and try to undercut the competition. What do I think? C'est la vie. I've yet to see concrete evidence of this so I'll probably keep buying from them until I do.
Check out the Sickboards website here.
Camp WoodWings – best skate camp
Known for: Being the only longboard focused skate camp. 
You've heard of skate camp, scout camp, and science camp, but now we also have longboard camps.
Honestly, if you have a kid that wants to learn how to longboard – whether it is dancing, downhill or freestyle, longboard camp will help them get a lot better. They'll have professionals to take them through each skill step and by step, and they'll also have every bit of safety and skate equipment they'll need. It's the optimal environment for learning.
Adults can also go to this camp too, which is cool!
Finally, Camp Woodwings has this very cool library of gear. They have wheels, trucks, and decks from all sorts of brands. You can try all of them out and figure out if they are ultimately right for you.
Find out more about Camp Woodwings here.
Best Belgian Longboards brands:
CrownBoards
Known for: Making dance longboards and sponsoring Hans Wouter.
These guys make great handcrafted skateboards primarily catering to the freestyle and dance community. They have 3 main models of boards.
Their stuff is pretty expensive but is worth getting if you want a handcrafted high-quality dancer. It might not be right for beginners, but it makes a lot of sense if you've been dancing for a while and want to invest in something high-quality.
Check out CrownBoards here.
Chunder cult skateboards
Known for: Providing truck chopping services. Being a great skate shop.
I came across these guys when I was looking for an affordable place to get the hangers of my trucks shortened. They aren't super expensive and are a good option if you are an EU resident looking to get your trucks chopped.
They also make decks too!
Get in contact with them here on Facebook.com.
Best Longboard brands from Finland:
Reindeer Longboards
Known for: Being Finnish. Reindeers.
Hand made longboards from Finland!
They aren't as active as I'd like them to be. But if you're Finnish and want a high-quality skateboard, you might have some luck with them.
Check out their Facebook here.
Best Swedish brands:
Kahalani
Known for: High-quality trucks, blonde hair.
Despite having (in their own words) like 2 big hills in their country, Sweden produces both high-quality downhill skateboard products and riders.
Their riders are a force to reckon with on the scene, no thanks in small part to the gear they have available to them.
Kahalani products have been ridden and designed by the best. Notable team riders are Adam Perrson and Mauritz Armfelt.
Apart from trucks and boards, they also have a board shop in Stockholm. Worth visiting if you're a local or want first-hand advice when buying a skateboard. Finally, they don't just stock their own products, but that of other brands too. You'll find the best products available there.
Check out the Kahalani online store here.
Urskog
Known for: Uniquely shaped cruisers with an exposed wood aesthetic.
I first came across this brand on Ben Browns vlog. They made him a custom cruiser, which had a unique shape. I thought it was really cool and went to check them out.
If you're looking for something unique that has a pleasant aesthetic, they are worth checking out. They have beautiful boards that come in all sorts of unique and pretty shapes, with everything from downhill decks to cruisers. All affordably priced too.
Check out the Urskog website here.
What do you think? See any brands from your own country?
The whole point of this article was to bring together the brands that riders love in one central place. I remember trying to look up EU brands, but not getting any satisfactory information. Hopefully, riders looking for new brands to try out or for companies from their home country will find this list helpful.
Contact me if you'd like me to add your brand or any other information!
If you like this article and want to read more, let me know on social media! Getting feedback from people is how I know these articles are helping people. Alternatively, you can also support me through Patreon. Whichever works for you 
Thanks to Patrons Jed, Mowgii, and SuperBadJuJu for the support so far.